The Evening Times has started a bit of a scare story regarding visas for the upcoming trip to Khazakstan. With a couple of players abroad on international duty, there may be a problem getting their passports to the Khazak emabassy for visa approval. so the story says, anyway. The possibility of  the club  having already sorted it, or block visas being available hasn't crossed their minds.
People who work abroad, and often have to cross borders at short notice often havetwo passports, but again this hasn't occured to the Woodwards and Bernsteins of the Scottish press.
Tomorrow they will do a feature on Shakhter-The new Artmedia.
However, if it is a problem, we could always enlist the help of Army General Mukhtar  Altynbaev, the former Khazak defense minister and current Senator. Thats him in the picture above. I think i met his brother one time, but cannot place him.
Incidentally, for those unable to make the short hop across Europe, the game will be shown live on ITV4, with a 4pm kick off.  Theres a four hour time difference between Scotland and Khazakhstan, and it will be 8pm over there. Married men will understand the concept of time differences, as there always seems to be a big difference between what time we say we will leave the pub, and what time we get home. This is also known as " crossing the international dateline "
Alfred Finnbogasson will not be going to Khazakstan, well, not as yet  anyway. Heerenveen have turned down Celtics latest  bid, believed to be £4m or thereabouts.
Augsberg and Lazio are now interested-the Germans also having had a bid rejected-and with the lad in action tomorrow against the Faroes, there may be one or two more. We may well have missed the boat here, but its also worth remembering that Finnbogasson might just want to concentrate on that game, and deal with his move afterwards.
Voetbal International, a Dutch tv programme, claims he has been told he can go, and a replacement is being sought. So there is movement, just not in the right direction yet.
Anthony Stokes, pictured here leaving Irishtown Garda station yesterday, has been questioned and released over the head butting of an Elvis impersonator back in June. The player was said to be all shook up, but saw no need for anyone to be crying in the chapel as the issue was way down on his list of things to worry about. Uh-huh. While he was in there, Kris Commons had it away with the numbers on the registration plate, the cheeky wee scamp. After the Elvis impersonator got a broken nose, it was rather brave of the guy doing Tom Hanks to be near Stokes.
With one set of youngsters recording a great win over Liverpool, its only fair to mention another set, the under 17s, who came from behind to beat Manchester City under 17s 3-2. They continue their programme with a game against Ireland u-17s on Wednesday, behind closed doors, which will be opened after the game, which is a relief.
International week brings with it the worry of injury to players, and this week will be no different. England and Scotland face off for the first time in fourteen years, and these games are always lively. Celtics James Forrest is the sort who can hurt himself tying his laces, and you would rather he sat this one out-even then he runs the risk of getting skelfs on the bench-but he is looking forward to playing.
Watch him score a hat trick, then end up at West Brom or something.
Incidentally, goal- line technology will be used at Wembley tomorrow for the first time. Not to help the referees, but the police,  in case anyone fancies a wee swing on the cross bar again.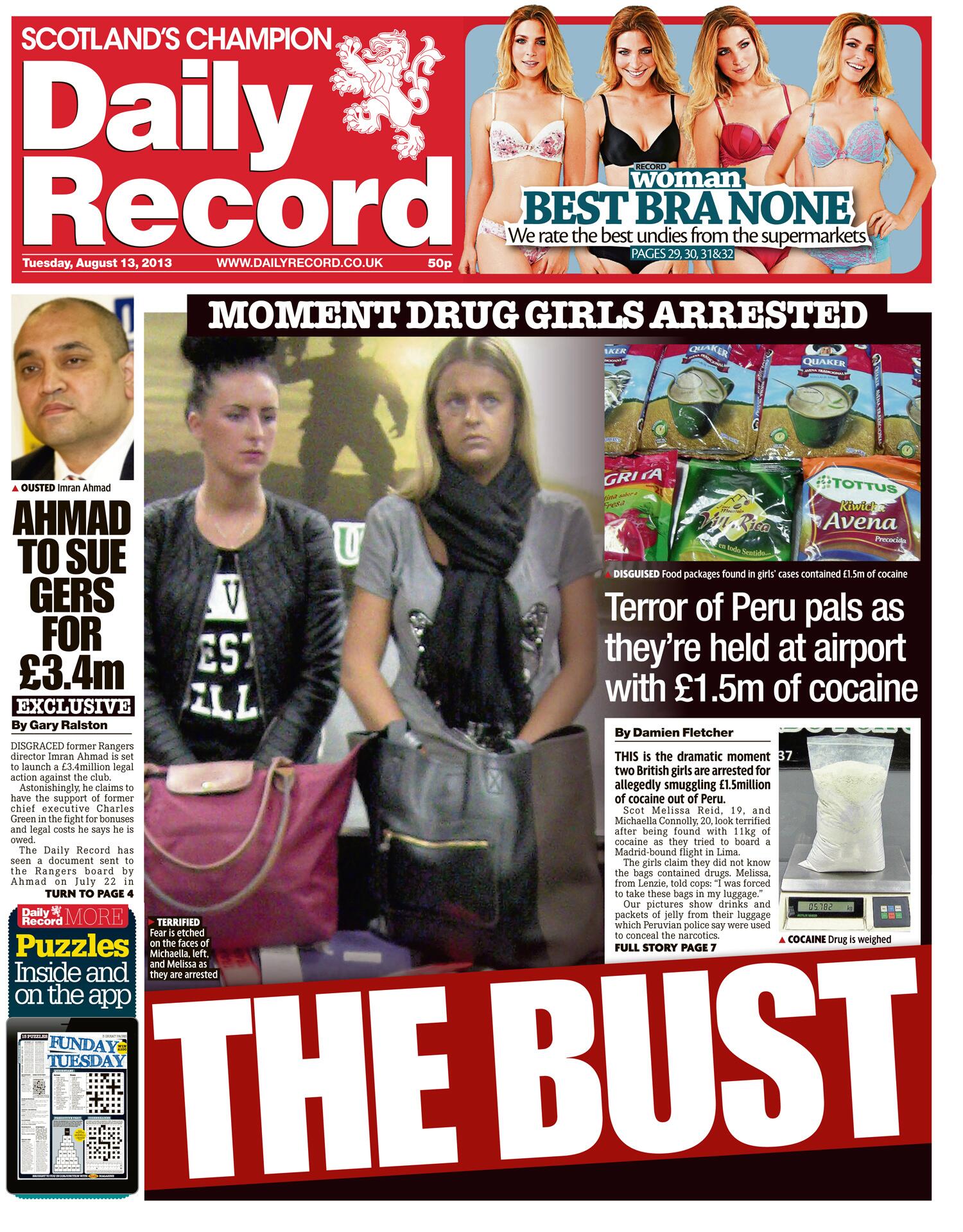 Todays Daily Record has the story of Imran Ahmed suing Second Rangers for money he claims is owed in wages, bonuses and expenses. The sum of £3.4m is mentioned, though he would accept £500,000 as a settlement.
However, we hear the whole case depends on the result of his mum nipping out to the bank and checking her account, to see if his wages have went in.
Thats not what caught the eye with that cover , though. In the bottom left there is an advert for the puzzle section, known as Hunday Tuesday. At least, thats what I think it says.
The biggest sporting and finacial doping story in Scottish history rumbles on, and the Record has somebody reporting on where to buy the best bras. The future of independent reporting  is safe in their hands.
Still with Second Rangers, another name change is on the cards. With Hull City adding "tigers " to their name, the Glasgow side will add the word " Cheetahs " to their name, hoping it will make them more recognisable world wide.
Charles Barnett of BDO, in a report on footballs finances, claims that the loss of Rangers has not adversely afffected other clubs, and Scottish football remains optimistic about its future.
The report isn't the most revealing, but it does point to a new found hope for the game. Slowly but surely, things are improving. Except for one or two clubs, for example Hearts and Dunfermline, everyone seems to be better off. If only a link could be found between the problems of  these two clubs, and perhaps cross reference it with the basket case from Govan way, then we could deal with it and move on.
Maybe it would be worth some enterprising journalist looking into this, banks and former chairman could be a good place to start.  There might be one or two other places as well.
Davie Hay was the quiet assassin, depicted with John Wayne from the "Quiet Man " and Sylvester Stallone from "Assassins"
How about this one ?
Probably a bit more cryptic , this one…