And we're off.
Scottish football roared back onto the scene over the weekend, and as is usually the case, there were a few opening weekend surprises.
Celtic kickstarted the season by raising the league flag, courtesy of James Forrest, who hung around long enough to get the last twenty minutes or so, but Ross County immediately showed they weren;t there to just make up the numbers.
Hoofing the ball up front from the kick off, they managed a shot on goal and a corner or two, and even a penalty claim before Celtic restored order and raced into a 3-0 lead.
At least they tried, and whilst it was refreshing to see a team have a go at Celtic Park, it was nowhere near the "bright start " or "Celtic not having it their own way " burbled out by the BBC sportsound commentary team.
The transition from Postecoglou to Rodgers has been fairly smooth off the field, so it was reassuring to see the players continue their tradition of blowing out of their arses on the hour mark, something Rodgers clearly didn't expect, but lets face it, he knows now.
Other than that, the star of the show was David Turnbull, who scored, assisted and showed us that when Reo Hatate goes, we won't have to buy a replacement.
One thing that was noticeable was that one of his team mates, Matt O'Riley, singled out his contribution, and in a post match interview, praised the former Motherwell man for his hard work and attitude.
The manager may have changed, but the players remain as a unit.
Well, those that do stay will remain as a unit.
Carl Starfelt has fulfilled his side of the bargain and waited until a replacement is bedded in, and will be allowed to leave for sunnier climes.
And , of course, the real reason he wants to go…. Jacynta Prema de Nieva Galabadaarachchi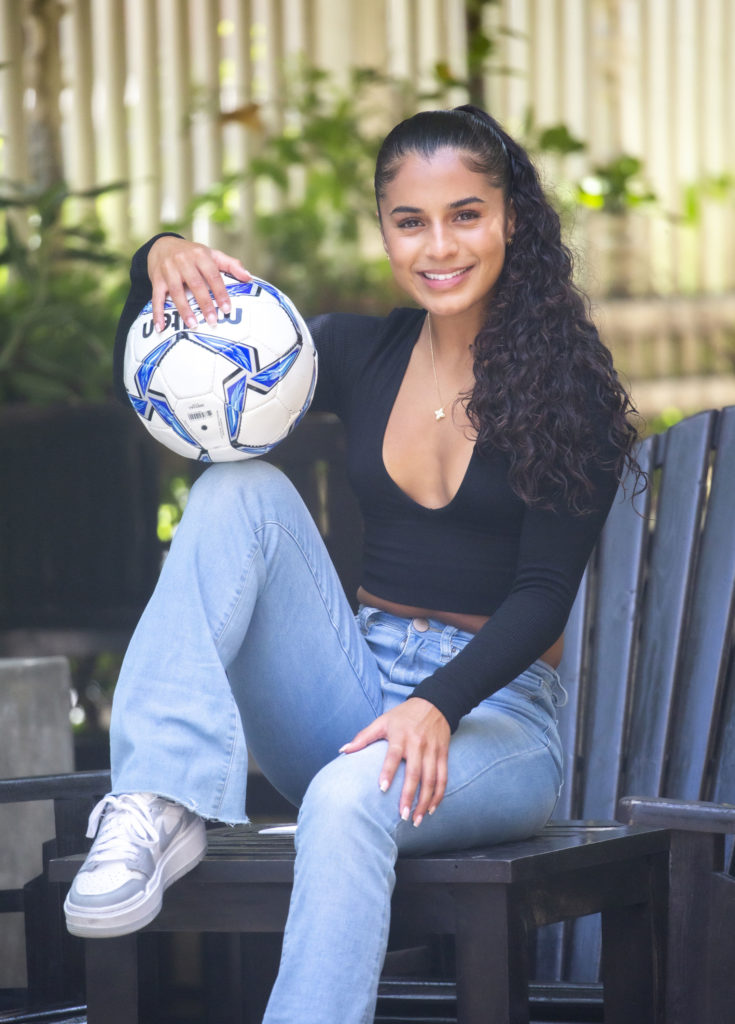 Fair play to him for chasing loves dream.
Though to be honest, most men would have required one of these to tear us away from this delightful young maiden….
With Ange Postecoglou starting to realise that his charges at Tottenham think they've already hit the big time, he's finding it frustrating and difficult to motivate them. So don't be surprised if he puts in an offer for Reo Hatate, who hasn't looked as happy as he was last year.
We expected to lose a couple of players, and we will.
Haksabanovic is another who doesn't seem to want to hang around, and over the next few weeks the requests from the manager for a quick chat with individual players will increase.
Football, like life, goes on.
Whilst BBC Radio was a little more than peturbed about the Celtic result, their counterparts on television held court in a studio that lacked pretty much everything you'd expect from a national sports show.
During the opening credits, the camera moved towards the three man panel, presenter Stephem Thompson and "experts " Neil McCann and Charlie "I mean " Mulgrew .
They held the expressions of teenage brothers greeting their parents on a monday morning after holding a house party in their absence, each waiting apprehensively for their dad to ask "who the fuck put my car on the bastard roof ? "
Though to be fair, Sky sports managed to find an even cheerier profile…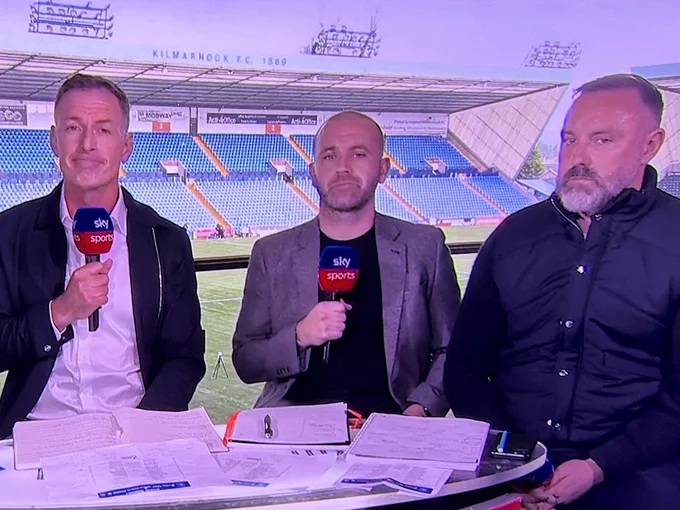 Someone needs to point out to the former Celt he doesn't need to say "I mean " in every sentence, as it diminishes the point in the previous one, which kind of negates everything he says.
The theme on the telly was pretty much the same theme running through the mainstream media….Celtic need to make some big money signings, and are actually not as good as last year.
Which, incidentally, matched this statement from Malky MacKay, the ross county manager….
https://twitter.com/i/status/1687825311461728256
Presumably his point is that County could have scored whilst Celtic were focused on a third side on the pitch,
Elsewhere, Hearts began their campaign with a win over St johnstone in Perth, and they looked lively, to say the least.
If they keep their players fit and healthy, they will cause us problems this season.
Aberdeen dropped their first points which was a surprise, but elsewhere, everything went pretty much as we could have expected.
Plucky newcomers "rangers ", having lost almost an entire first team to a much needed financial restructuring, and they can't do another share issue for a few weeks, started a number of their cut price and freebie recruitments at Rigby Park , Kilmarnock, and it was clear almost from the start that they had recruited from the bottom end of the market as they slipped to a 1-0 defeat.
Derek McInnes apologised to the Ibrox board afterwards, but also said that he couldn't help it as the team were just not good enough to even pretend to lay down to.
There had been real fear among some supporters , and real hope among others, that this new "rangers " new look side would take the game by storm with a mixture of skill, strength and passion, with Todd Cantwell dominating as a master of all of these traits….
Absolutely no one is bullying this lad https://t.co/tiSLHb987h pic.twitter.com/G7ZIRA6UVv

— Tam sellic son (@TamseIIicsonIII) August 6, 2023
The mainstream media will shrug this off as a glitch, probably using this weeks UCL qualifier as an excuse for a far from acceptable performance from their heroes, but the scales are falling from even the most staunch of eyes…those that have two, at least, and not one in the middle of their foreheads……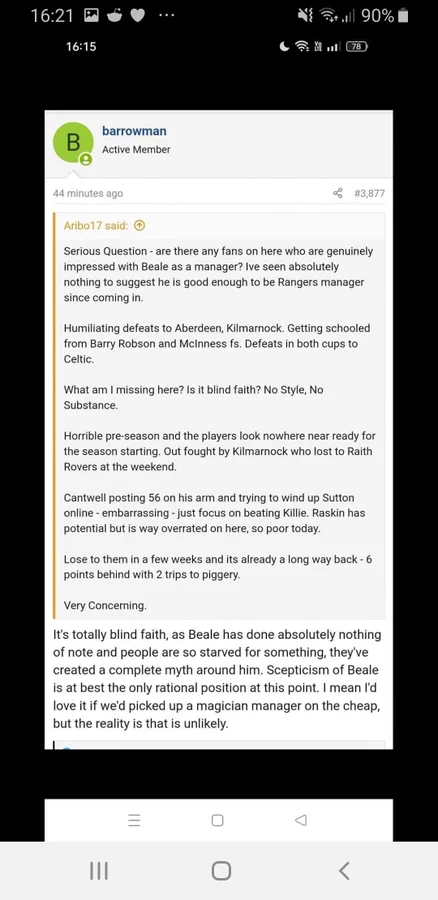 But only some of them…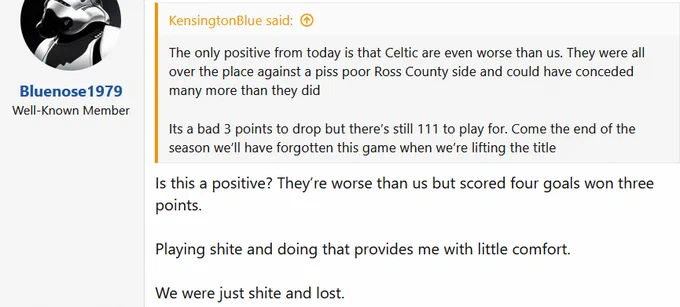 Though there may have been another problem….
The SFA will be hearing about that ball on Monday.
Never mind, when their backs are against the wall, and the breaks are beating the boys, someone will answer the call.
It wouldn't be Scottish football if we didn't mention the referees, and there was one incident at the weekend that intrigued me.
Is this a penalty ?
Stonewaller. @Rhutchison9 pic.twitter.com/PH1v3s4LwX

— ᗰᗩᖇK ᗰOᒪᒪOY (@MarkMolloy82) August 5, 2023
And here's something else to think about, on this the happiest of happy mondays….
what's going on here ?