Celtic manager Ange Postecoglou is expected to make a statement about his future later. We've been handed the draft.
" Leeds ? Isn't that what you put on your dog ? Don't talk shite, mate. " 
I'm not even going to repeat the oft quoted mantra about him inevitably leaving for the EPL one day. Instead, I'm going to repeat my own view, which is that he wants to build his own team, and manage the first Asian team to win the European Cup.
A project he has already started and his own single minded determination will see that through.
That project took another step yesterday when want away striker Georgios Giakoumakis finally got his move. The ambitious Greek has signed for Atlanta United in the USA, for reasons best known to himself.
We got him cheap, for whatever reason, and he did well while he was here, scoring 26 goals in 52 matches, mostly from the bench against tired defences.
That might sound harsh, and the one up front strategy means he rarley got the chance to play alongside Kyogo Fuhruhashi, which may well have been a devastating frontline, but their inclusion would have excluded either Jota or Maeda, both of whom contribute much more to the team.
What was also telling was his instagram farewell….
"Well, that difficult time has arrived! 
"It was an incredible journey! I loved and was loved by the incomparable, amazing Celtic fans!
"Thank you very much! You will forever be in my heart and mind!
"I will be forever grateful to you! Goodbye 
Your GG  
No mention of the manager or his team mates……
We wish him well.
Celtic face St mirren in the Cup this weekend, and somewhat ludicrously, the game is one of only two which will use the controversial VAR system.
Gavin Berry in the Record explains…..
VAR will be in operation at just two of the four Scottish Cup ties involving host Premiership clubs this weekend after Dundee United and Livingston failed to stump up the cash for the technology.
Celtic and holders Rangers will both have VAR at their respective last-16 ties against St Mirren and Partick Thistle. However, it will not be operational at any of the other eight fixtures taking place. The technical infrastructure isn't in place at lower league grounds and the cost is prohibitive to install it for a one-off tie.
But it IS in place at both Tannadice – where the Tangerines take on Kilmarnock in an all-Premiership clash – and the Tony
Macaroni Arena where Livi take on Inverness. But the clubs involved have opted against using VAR for those fixtures with the cost around £10,000 which it is left to the clubs to agree on how to foot that bill. VAR was introduced in October with the £1million-plus fee per season shared around the clubs to cover Premiership matches. The SFA cover the costs of the technology for Viaplay Cup and Scottish Cup semi-finals and final at Hampden.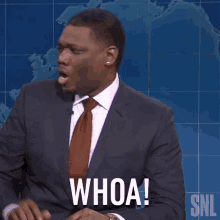 We're paying them to cheat us ?
Helpfully, I've prepared a statement for Celtic to give to the SFA.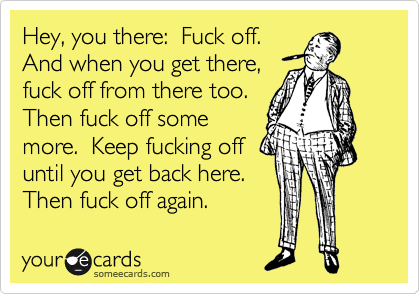 I can understand our neighbours over the river paying for it, in fact they've probably registered it as a player, but one has to ask of the Celtic board …
We might as well offer to make the Cup a handicap event, giving the opposition a couple of goals head start.
Sometimes I genuinely wonder if those who run our club hold a monthly meeting during which they think up ways to piss me off.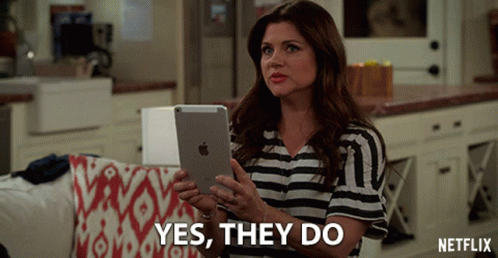 Well, you can tell them it's working.
Anyway, when i'm pissed off i always find it cheers me to laugh at those less fortunate than myself, and today is no different…
Rangers have allotted another 4.2m shares. Likely converted £1.05m of charity into worthless shares. Stuart Gibson got 4m of the shares, giving him 44m. Don't know who got the rest. Apparently, the £10m & £5m facilities from Bennett & Park weren't enough.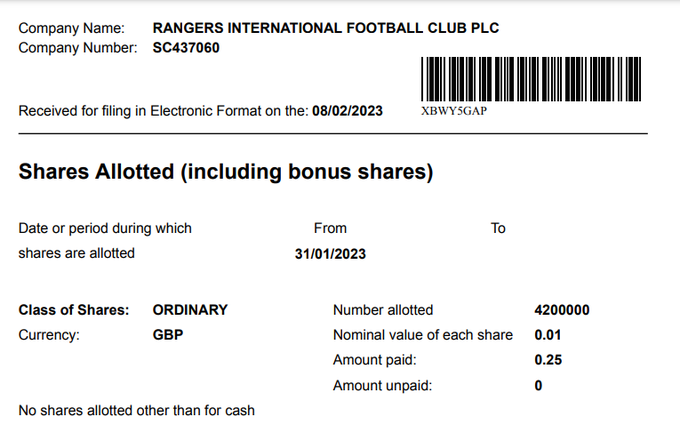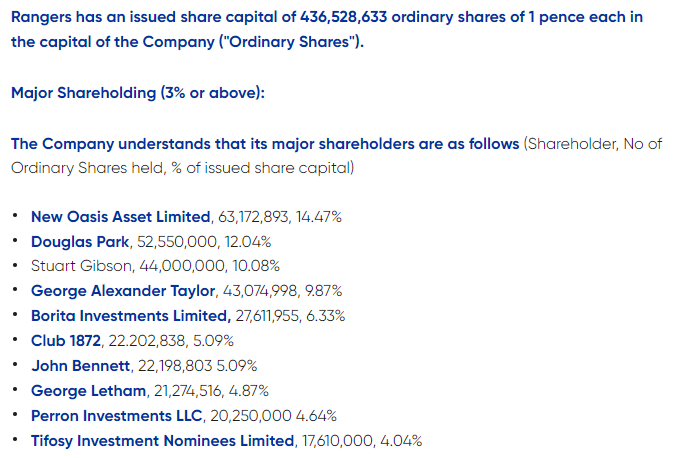 The transfer window, the main vehicle for raising short term cash if needed, has just closed. They managed to raise a few quid for charlie McCann and that's about it.
That, combined with this share issue, means that they may well be up the proverbial creek not only without a paddle, but they've just noticed there's a great big hole in their boat.
Of course, the media called it a cash injection.
The Sun triumphantly announced
CASH INJECTION 
Rangers issue a further four million new shares as Ibrox side
generate February cash boost.
Cash boost ?
i think it may be prudent to stock up on jelly and ice cream, as reports indicate we may be about to encounter a shortage.
To lose one club is careless, to lose two would be fucking hilarious.
The Manchester city story has all but disappeared now from the Scottish media, so any comparisons will not be made with the demise of the now defunct Rangers.
Just so we ….and they….don't forget, Rangers Tax Case on Twitter has posted a helpful remnder of how it all went wrong for our original rivals….
The Man City case will be of passing interest and will generate lots of comparisons to the Rangers' case. Let's not lose sight of what happened at Rangers and why it mattered.  
From very soon after taking over Rangers in 1988, the club started giving off the books loans and other tax-free payments to players. It was cheating. It was also carrying a high risk. 
Simultaneously, HMRC (as it became) and the tax avoidance industry were engaged in an arms race. Ever more creative ways were sought to pay people (usually business owners & execs) without deducting tax. HMRC, courts, and Parliament would close any legit loopholes in turn.  
Rangers tried some schemes for players (see Wee Tax Case) but they wee failing in tribunals and court. There was still a big risk if the SFA ever found out about them. Not to worry. Rangers controlled the SFA then. But with McCann's Celtic resurgent, another tax scam was needed 
Offshore trusts had long been used by Britain's great and good to keep their wealth away from the UK Treasury. Paul Baxendale-Walker conceived a way of leveraging existing case law, offshore trusts, and loans to make it difficult for HMRC to prove that such payments were taxable. 
Key to the Baxendale-Walker EBT strategy was that payments had to be discretionary. There couldn't be contracts (or side-letters). But that wouldn't work for footballers. So initially David Murray just used the scheme to enrich himself. 
But EBT's seemed quite secure and secret. Rangers itself first used the EBT scheme to make payments to the managers of Blackburn Rovers and Everton. The SFA never investigated these payments to Graeme Souness and Walter Smith. 
Next came Christian Nerlinger. His post-tax wage demands were huge. No worries. Run a chunk of his pay through an EBT and avoid tax. Big savings- leaving money to spend on other players. Genius. Except the entire arrangement needed 2 contracts, one kept secret from the SFA. 
Why did it have to be kept secret from the SFA? If the EBT payments were declared, HMRC would have immediately pushed for a tribunal. We know today that the scheme failed but that wasn't the only reason it had to be kept secret? If it was proven legal Celtic could have used it.  
Celtic had one brief dalliance with a contract termination payment to an EBT used by Juninho. On review by the Celtic board, this was reversed and all taxes due were paid. No sporting advantage accrued from it. Back to Rangers.  
Rather than lie about it, Rangers could have declared the payments to the SFA (and HMRC when asked) and tested the scheme in court. If it failed, Murray could have easily borrowed the money from HBOS to pay any bill in 2005/6. The amounts then were small. But lie they did.  
Why did they lie and deny for years? While HMRC were persistently asking about payments to players and demanding to see records, Rangers doubled down paying more and more players through an increasingly risky scheme. Why did they do this?  
Because it gave them a sporting advantage. If their EBT scheme failed at FTT/court, they would immediately lose their financial advantage in signing players. Even if ruled legal, it would be public. Celtic could then go all in on the same scheme. They would have had no benefit  
They had to lie. They had to break SFA and SPFL rules to preserve their on the field advantage. That is why Rangers' use of disguised remuneration was cheating. But the SFA & SPFL lied to fans and conspired to have a fake investigation. 
And Rangers were not relegated. Liquidation meant they no longer fulfilled the criteria for SPFL membership. If others can quote selectively from Nimmo Smith then so can I "Rangers ceased to be a club".  
The crucial difference between Manchester City and the now defunct Rangers is that the Englsih club can easily afford to pay any fines or penalties or unpaid bills.
Rangers couldn't, so they went to the great football league in the sky, where they play Gretna, Clydebank and Third Lanark on a round robin basis, for eternity.
Airdrie also died, but St Peter wouldn't let them in , for fear they might bring some of their support with them.
He was off the day Rangers crept in.
Now, whilst I still don't feel good about paying the SFA to cheat us, I do feel a little bit better reminding myself that there is always someone worse off than we are.
Yesterday, we had this….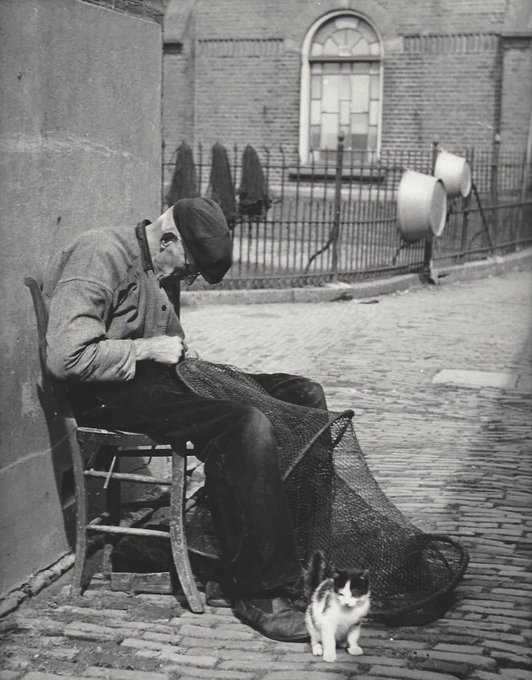 John E Mitchell 
 Hugh Keevins analysing the rainjurs Net Spend during the transfer window 
Today