As expected, the narrative in the media has changed just ever so slightly…it started with our players wanting away, and now it's shifted with questions about the manager taking centre stage…
Could a change of scenery be good for Ange The Irritable?
 Writing in the Mail, though god alone knows why, no one in Scotland reads it, Keown asked;
 Oh hang on, it's behind a paywall, and I'm not paying into the Mail's coffers, imagine if the police went through my hard drive after I passed away ?
 The embarassment for my family ?
 But we can take from the headline that this particular hack is the one who is irritated, because Celtic are the dominant side in Scotland with the potential to succeed in Europe, and it's all down to a modern, progressive coach that our board, alone, took a punt on when,  despite his track record, no one else in Europe was interested in.
 The general consensus among our esteemed experts was that he wouldn't last five minutes, but he's still there, and we're still progressing as a unit.
 Then there was the Glasgow Times, who tried to find their own negative slant….
Ange Postecoglou's hidden Celtic transfer downside
Which, according to James Cairney, boils down to this;
For all of Postecoglou's achievements at Parkhead, promoting youth players and giving them opportunities in the first team is not among them. The formation of the Colts side and their introduction to the Lowland League, the fifth tier of Scottish football, has surely played its part – after all, the team's entire raison d'etre is to give young players an opportunity and regular game-time – but it is difficult to ignore the lack of academy players being given a shot in the senior side of late.
 It appears as though it's difficult for Cairney to notice something about that Academy team, as anyone who has watched them will have spotted.
 They play in exactly the same way as the first team, so if they are called upon, they can step in. It's also worth noting that if they do make the grade, they will get a shot, but for now, they are learning their trade away from the spotlight, much as Alex Ferguson encouraged with his golden generation.
 When one or two of them do seem to be ahead of schedule, clubs such as Bayern Munich, Manchester City and Liverpool have hooked them away, and it will be interesting to see if they make the grade before the ones who have stayed to learn.
 When you add these stories to others such as the upcoming sale of players, now apparently for less than they are worth, it all seems to be designed to make us a little more miserable, and perhaps to shine a little doubt towards how things are going at the ranch.
 That's usually because something is going on somewhere else.
 And, as we have seen yet again, there is something brewing on the other side of the river.
 It will soon be time for clubs to apply for a European licence to compete next time around. I've no idea if the new club from Ibrox meet the criteria, bit I do know that this time it will not be up to the SFA to decide.
 UEFA placed them on a watchlist so they can, er, watch them.
 The feelgood stories surrounding Michael and his Invincibeales are to distract the hordes from this simple fact.
 One almost wonders if the VAR controversies are a part of that, after all. it's got everyone talking and it's fairly superfluous to the bigger picture of a club being banned from Europe for beoing a bit dodgy.
 Such blatant cheating via VAR as we have seen recently is tantamount to match fixing, something that is not entirely an unknown concept over the river, and it follows that we might be witnessing the last desperate throw of the dice from our neighbours.
 They need European football to survive, and are getting all the help they need.
 The media are calling this a conspiracy theory, and all of us who are aware that something is not right in the game are being tagged as a little paramoid, when we have learned that being a little paranoid is not nearly enough.
 A conspiracy theory, by definition , is;
 (Cambridge dictionary….I'd have used the Oxford one but since Boris johnson is a former pupil it's probably lying. )
 Rangers Tax Case tweeted on this subject a day or two ago….
Those mocking conspiracy theories, please address this one. Neil Doncaster's
signed a 5 Way Agreement with Oldco, Sevco, SFA, and SFL in July 2012. Then the
executed a secret side-letter with Sevco promising no punishment for any of the EBT fraud.  
Except the 5WA had a side-letter. Yes, it's that scourge of Scottish football, the side-letter. The SPL gave Sevco a sneaky wee note promising to not punish them for EBTs. Nimmo Smith inquiry was just a theatrical production. It was a rigged, 'garbage in-garbage-out' set piece.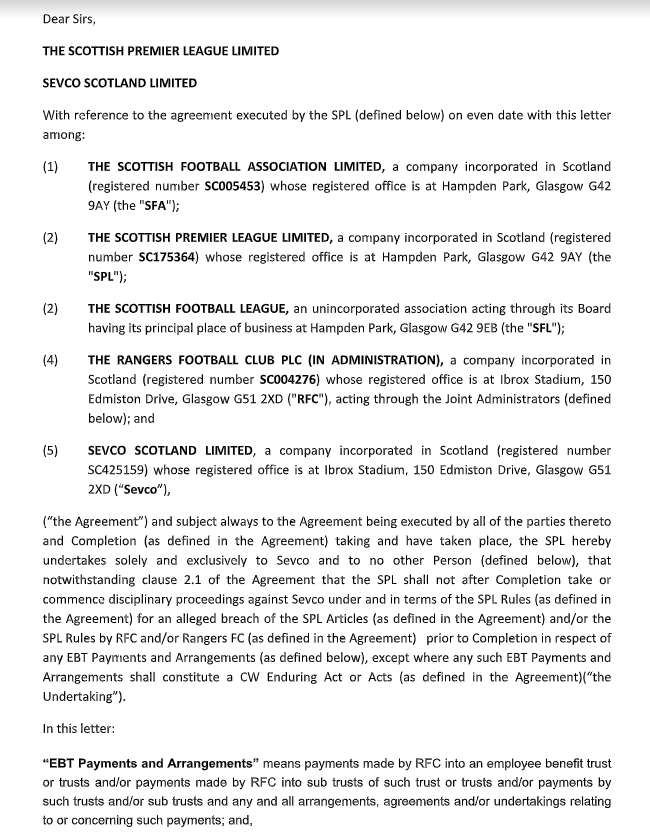 Despite already promising to not punish Sevco for anything related to Rangers' EBT fraud, they created the Nimmo Smith enquiry to create a smokescreen. The evidence submitted to LNS was filtered to ensure only one outcome. This is the very definition of conspiracy.
The proof has been circulating for years. The mainstream press won't touch it. Why? Yet we are supposed to just accept the compliant whimperings of TV panel fraudsters as fact? We've been lied to for years. Why would we suddenly start to believe them now?
 It's not really a theory if there is proof out there to back it up.
 The SFA have a deep love for all things Ibrox. they cannot bear the thought of a dominant Celtic, and it burns into their very souls.
 For whatever reason, the media, on the whole, with just one notable exception in Andrew Smith of the Scotsman have sold their own souls for the cause.
 Smith has pointed out one or two anomolies…..
Few considered that the ball striking the arm of Connor Goldson in the area during the Ibrox men's 2-0 victory over Dundee United merited a penalty – unlike the defender's hands-up contact in the box against Celtic at Ibrox seven days earlier. The fact neither led to a spot-kick means Rangers have now gone 38 league games – essentially an entire top flight campaign – without conceding a penalty. Moreover, owing to their involvement in the Viaplay League Cup this weekend, a year is guaranteed to pass without it being deemed by officials that any Ibrox player has been guilty of an offence to warrant a spot-kick on the domestic scene. A result of the fact the most recent such incident occurred in the top flight encounter at Pittodrie on January 18 last year, which allowed Lewis Ferguson to convert for Aberdeen in what proved a 1-1 draw.
Pretty remarkably, this follows on from a 44-game run without coughing up a league penalty that Rangers experienced between January 2020 and April 2021. A span sandwiched between Ryan Christie missing one in Celtic's 2-1 derby defeat at home to their ancient adversaries on December 28, 2019 and Liam Craig netting for a 94th-minute equaliser from the spot to claim St Johnstone a 1-1 draw against Steven Gerrard's side on April 21, 2021. Essentially then, across only three years, the Ibrox club have enjoyed two sequences avoiding any penalty punishment in the Premiership of a longevity only occasionally witnessed throughout top level football. However dominant a team may prove to be.
 The questions are, regarding the SFa and their lapdogs in the media, how deep is that love and how far are they prepared to go to defend it ?