The mainstream media relies heavily on people reading or clicking on it's material, and as a result, often tries to upset the reader, especially if that reader has decided that it cannot be trusted as a reliable source of information.
For example, a recent Daily Record podcast…it seems they want to make our ears bleed as heavily as our eyes….had Keith Jackson claiming that Ryan Kent was comparable to Lionel Messi.
So someone said, at least. I have no intention of listening to the Record sports team burble out their opinions, but such a statement can only be designed to get people talking.
Unless the listener concerned misheard and Jackson actually said "Kent's contract is up and things could get messy. "
Which would make more sense. As, indeed, would a spot of investigative journalism as to why the player wants away, or what it would take to make him stay.
But the mainstream doesn't bother with that.
Another example saw Tom English, of BBC Sportsound, ponder if Ange Postecoglou would get bored of winning. Which makes no sense. If your aim is to put together a winning team, then you're unlikely to be annoyed if it goes out and does exactly that.
As for a challenge, the manager has repeatedly said that the Champions League is there for that.
Interestingly, English also discussed with Allan Preston the idea of Scott Arfield, the Benny Hill impersonating midfielder from Ibrox, replacing Reo Hatate in the Celtic midfield, because he scores goals…. Arfield has scored four in seventeen games this season, whilst Hatate scored two at the weekend, From right back.
Again, it's designed to provoke comment, as opposed to genuine thought, as anyone capable of rational thought wouldn;t be listening to this nonsense anyway.
The Glasgow times joined in….
Rangers' Ibrox named best British stadium as Celtic Park pipped
FourFourTwo selected the Glasgow ground as the top stadium – pipping Celtic Park to the number one spot.
Both Rangers and Celtic earned major praise for the atmosphere – particularly during derby matches – but Ibrox prevailed in the opinion of the football magazine.
"If you're looking for the best atmosphere in British football, Glasgow is the place. For its sheer vibrancy, passion and intensity, on and off the pitch, nothing on these shores compares to the matchday experience at an Old Firm fixture. Few games in the world can equal it – arguably only Boca Juniors versus River Plate.
"Big European nights at Ibrox and Celtic Park are pretty special too, as various legends like Lionel Messi and Gigi Buffon have attested over the years. There's very little to choose between the two grounds, and FFT does its best to maintain neutrality on all Rangers vs Celtic matters, but by the sheer nature of a list like this, there has to be a number one (inevitably dooming us to a deluge of angry letters).
"Ibrox just about takes top spot, even though its capacity is smaller by around 10,000. Fans are close to the pitch on all sides of the ground, with good views from pretty much anywhere. Three sides of the stadium are aesthetically smart, modern two-tiered affairs, while the main stand provides the nod to history – and not only because it's named after legendary manager Bill Struth.
"Designed by legendary architect Archibald Leitch, the three-tiered stand is a Category B listed building with an impressive red brick facade that backs straight on to the main road, and a plush interior which includes a famous marble staircase leading to the boardroom and trophy room. 
"Just about within walking distance of the city centre, the local area is abuzz on matchday. Inside the ground it's even more raucous – they don't call it The Ibrox Roar for no reason. Whichever of the two Glasgow grounds you choose, visit for a big game if you can – you may not see anything like it elsewhere."
 They don't call it the Ibrox roar. It's more a sort of squeal when they play Celtic.
 Quite simply, they know that Celtic fans will respond, which helps raise their profile.  That's because we take these things personally, and can;t help but point out how ludicrous these claims are. Note also that they said Buffon and Messi are testament to the atmosphere….when both were actually talking about Celtic Park.
 Things are pretty glum around Ibrox these days, and the transfer window isn't going to let in much light. they look set to lose Kent and Morelos , who want out, and since they will get little, if any, money for them, others will have to be sold to raise money.
 Those new rules may have come too late, but better late than never, as they will put a stop to any cheating.
 Have a look at what it really means…..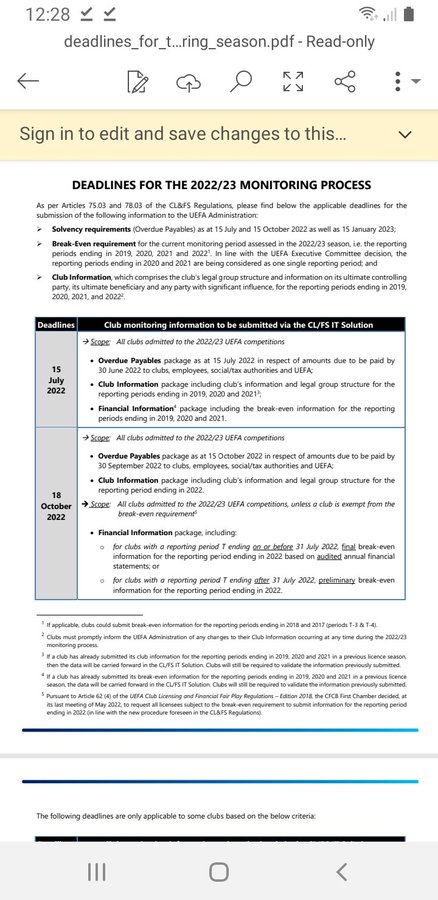 This has to be submitted to UEFA, and not, as in the past, the SFA, who turned a blind eye to such problematic issues as "Overdue Payables ".
 And, of course, UEFA will not allow anyone to compete in Europe who does not meet their criteria, which could darken the mood further over the river.
 In short, they have to pay all their taxes, and they still owe a fair bit, we believe, from the Covid years……which may explain the recent drawdown from one of their directors…..
 Meanwhile, you can make up your own mind on how things are at the ranch by watching this interview with our manager, who seems considerably relaxed for someone who should be getting fed up of Scottish football by now…..
 Yesterday, we wondered what he was thinking…..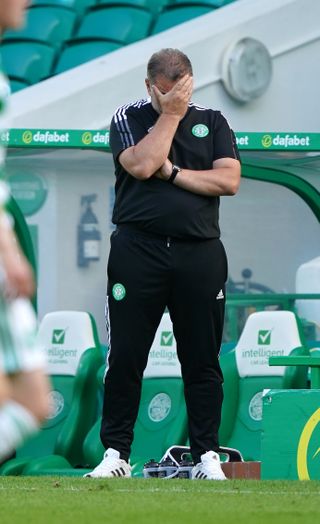 "Jaysus, yerman on the Etims site has.just said he does a diary MOST MORNINGS"  
Today….. what is he thinking ?