Hello..just one hello, obviously, it's been a while.
From us all here at Etims, as seen recently on Countdown…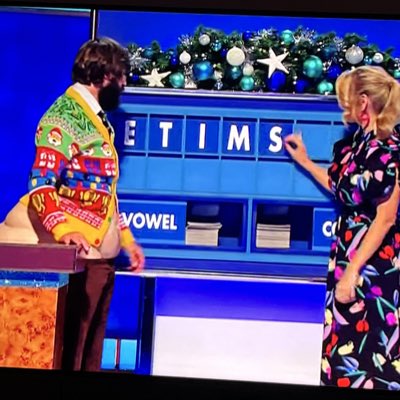 we wish you all the best during the holiday period.
Well, nearly all .
The SFA, for instance, can take the proverbial flying fuck at a rolling doughnut,
Even though there has been some recognition that persistence finally did beat resistance, with Celtic starting to leak details about how they used the smoking gun of evidence handed to Peter Lawwell all those years go, which it seems, has ultimately led to the new financial fair play rules and fledgling new club Rangers being placed on a watchlist for dodgy bastards.
The old club may have gotten away with it, but the new guys won't.
Which, given the possible legal ramifications of title stripping and any other penalties brought on the soon to be finally liquidated entity is about the best we could hope for, practically speaking.
Had UEFA gone after Rangers , other clubs and associations would have sought compensation, and the whole mess would realistically only have profited the legal profession.
And as Anders Traverso, the then head of club licensing said in his letter, they are dead so what's the point ?
Their removal from football via liquidation was punishment enough, and although the media and the SFA treat the new club like it's the old club, deep down they know it isn't, and their shouts of 55 and all the other guff is simply hiding from reality.
Which, now that they have to adhere to the same rules as everyone else, and are being actively examined in all of their moves, means that they will soon find themselves back in the doo doo again.
It's only a matter of time.
Celtic took time out to recognise the part played by the original requisitioners, the shareholders who initially brought everyones attention to the collusion between the SFA and the old club, which allowed the rules to be ignored about overdue tax payables, which should have prevented Rangers from obtaining a UEFA licence to compete in the Champions League.
That was evident in this statement from the Celtic Foundation…..
Celtic FC Foundation are delighted to announce that we received a wonderful donation of £11,266 earlier this week thanks to the Club and a group of Celtic plc shareholders.
The group, who had come together a number of years ago to seek to address certain governance issues in Scottish football, engaged with the Club and worked independently over a number of years, with the objective of highlighting the value of continuing to evolve the governance rules underpinning Scottish Football and European Cub Competition.
The group of shareholders also privately funded legal costs in the process and the Club agreed in principle to make a contribution to these costs in recognition of the effort and funds that were committed.
Thankfully for Celtic FC Foundation, with the agreement of the Club, the shareholders have directed this contribution to Celtic FC Foundation's 2022 Christmas Appeal. We would therefore like to express our sincere thanks to all of those involved. We are exceptionally grateful for your wonderful support in helping us to 'Share the Magic' this festive season.
One of those rare instances where everyone is happy.
Well, nearly everyone.
What I can say is those who fought the fight are happy with the outcome, and it's clear that the incidences of collusion and corruption cannot happen again, which is probably the best we could all hope for.
As Auldheid, one of those who fought the noble battle,  says over on Sentinel Celts…..
We all can give anything any meaning we want in the absence of actually knowing.
What if The Board to whom MN reports thought although our shareholders have been annoying pests, their activity was actually helpful in seeking FSR changes and shareholders can do things Celtic cannot for fear of being ridiculed or sanctioned or simply do not have the time to work on?
One of the lessons I learned from the St Mary's Open Meeting resolution by supporters in 2010 was that supporters can say and do things the Board simply cannot because the SFA or SPFL Articles of Association forbid it. That is one of the reasons I think The Board should be more open to quietly using the support as a means of change. A point I've made during the year when meeting on The Foundation subject.
On the PLC I have formed the view that if the truth about Rangers behaviour had come out it would have been impossible to allow them to continue to play in Scottish football and the financial consequences for the game not just Celtic would be disastrous for all clubs.
In a parallel situation in Greek football where the UEFA Club Financial Control Body paid a visit to inspect the books of Giannina FC re an overdue payable they found five private wage agreements not covered in the clubs accounts. The CFCB deemed that a separate breach of their "fair presentation" of accounts rule . Giannina appealed but CAS upheld the decision to refuse licence on the overdue tax issue but no ruling was made on the private agreements.
However if the dots are joined and private wage agreements not fairly declared are equivalent of side letters to ebts not fairly declared then we are talking about every club who lost to a Rangers EBT scheme fuelled player since 2000 having a compensation claim along with the right to award a licence taken from the SFA. UEFA knew in 2012 about Rangers use of side letters.
I speculate but it has to be something really big to cause the secrecy and cover up and fear of the wider consequences from UEFA might have played its part in Celtic's reluctance to take Res12 to UEFA and why the PLC remain silent still.
At the end of the day we just do not know the full story over the Res12 years, Rumsfelds unknowns being a factor.
However on events leading up to the decision to channel the legal cost reimbursement to the Foundation here is an account from another shareholder involved how it all happened:
=============================
Basically, the club agreed to reimburse the financial contributions that private shareholders made towards the legal fees paid to the solicitors who took their Res 12 concerns directly to the SFA and UEFA.
You might recall that the SFA ultimately brought charges against RFC but decided not to pursue those charges with the Court of Arbitration for sport because "It was not expedient to do so".
You might also recall that in the midst of a flurry of correspondence the SFA attempted to direct shareholders to take matters up with a UEFA employee who might have been able to answer our enquiries?
Without warning anyone, the shareholders decided to ignore that advice and through their solicitors went straight to a chap by the name of Andrea Traverso instead.
He was, at the time, the head of UEFA Club Licensing and is now the Managing Director of Financial Sustainability Regulations and as such it is he who is in charge of the new FSR regulations and monitoring scheme which has been implemented by UEFA to oversee the activities of clubs AND ENSURE THAT COMPLIANCE IS ASSURED VIA/WITH NATIONAL ASSOCIATIONS.
Traverso has implemented a quiet revolution at UEFA and has set up a new innovation unit to steer things for the future.
To engage at the right level with both the SFA and UEFA, shareholders had to engage a national firm of solicitors with no conflict of interest (not an easy task at the time by any means) to carry out their instructions and conduct the necessary research and communications.
This came at a cost (£11,266 to be precise) and was funded by a number of shareholders (though I suspect that the legal bill could have been far higher but was heavily discounted by the partner in charge – who incidentally was a fan of another club).
It had always been mooted with Celtic that any such verified and documented expense could be reimbursed by the club notwithstanding that, at times, the club itself might prefer to follow a different route, or be forced to take a different path as a result of being bound by SFA committee voting where the club have but one vote (Ref the expediency decision referred to above).
Accordingly, yesterday's announcement and the donation made to The Foundation is the culmination of almost 14 months of negotiations and discussions between shareholders and the current board representatives..
The principal of reimbursement was established and agreed very quickly with shareholders representatives followed by a longer period to obtain agreement that any reimbursement should be donated to the Foundation rather come back to individuals.
Further, The Foundation wanted to ensure that any such donation was used at a time and in a manner which did the most good and so the sum concerned was rolled into the Christmas Appeal and to help others during the cost of living crisis.
These things take time, a lot of discussion, a fair amount of document drafting and detailed consideration of exactly how to implement a plan that everyone agrees on.
Most of all it takes persistence, persistence and then some dogged persistence.
But you get there in the end and the true spirit of Celtic sees the most needy benefitting.
That is the Celtic Way in action.
==================================
On that final note and in the hours just before Christmas Day itself, for all the misgivings some understandably have , a meaning we can choose to give the whole saga is that the spirit of Christ that led to Celtic's creation has never left.
A joy filled Christmas to everyone.
The good guys won, and whilst the bad guys are still around, they know they are being watched.
Which may, if I were to put my tin foil hat back on for a moment, have led to the increasingly noivel and refreshing interpretations of the Laws of the Game, which do appear to be suffering a lack of clarity and consistency of late.
As we feared here at the Etims, the introduction of VAR has not made the game simpler to understand, or made the referees job easier, it has merely allowed for more debate about the preception of bias among the Scottish refereeing community.
In short, there are now more of them able to influence the outcome of a game which suits their motive, which is, of course, the continuation of a successful club-or company-at Ibrox.
It can no longer be done at boardroom level, since as we have seen, UEFA have placed them on a watchlist which means their unique accounting system can no longer function, and limits them to spending pretty much only what they earn, other ways to guarantee access to the pots of cash available in the Champions League must be found.
Under the guise of improving the game, VAR was introduced to, er, improve things.
As we feared, however, it's backfired spectacularly, and raises one or two issues.
The first is that the perception of bias has become more than a perception.
It seems those off the pitch are far enough away from events to make their judgments completely without fear, and it would be interesting to hear their conversations, which must surely be the next step if VAR is to retain any credibity.
So, in a nutshell, if one team needs a hand, the guys with the monitor can spend as long as they want looking for a possible rule breach to give them that hand…and if they look like they are in trouble, then the referees can simply ignore it.
Since it's introduction, "rangers " have yet to concede a penalty, despite several convincing claims against them.
Celtic have been denied a few, as have opponents of "rangers ", which points to an agenda.
All of which fits the bigger picture, that Scottish football apparently needs some form of a club playing out of Ibrox, which itself should have been sold at the market price to pay bqck the creditors of the original club.
Yes, it's still a mess, but if we are to move away from the old firm tag then we have to disassociate ouselves from them at every opportunity.
Whilst the Resolution 12 campaign has changed things for the future, the past still clings on to our coat tails,
However, the long term effects have yet to unfold, and I don't think we'll be disappointed.
On the field, things are coming along nicely, thank you. Three wins out of three during the traditionally unpredictable Christmas period so far mean that the hoops are still nine clear at the top of the league.
16 wins out of 17 games…the only loss coming to St mirren when it's fair to say Celts simply had an off day, is truly relentless form.
Some supporters will never be happy, and in a way are contributing to the media campaign to stir up unrest at the ranch.
One or two players might want out, remember they are not like supporters in that when someone offers you several times your wage to move, it's quite easy for them to up sticks and change their loyalties.
If someone offered me several times my salary to become a Crystal Palace or Brighton fan, and throw together a Diary for them most mornings, then off I'd go….and anyone who says different is a bloody liar.
However, there is an emotional tie to the club within me, and within pretty much all of us, that would mean we;d at least think about it for a while…..and you know what they say about never truly leaving your first love…
Juranovic has had a move on his kind for a while, and here's something else worht thinking about.
Ange Postecoglou is quite a ruthless manager, and he's fully aware that it could be said the forwards let us down in Europe.
IOt;s certainly not unthinkable that he has pointed this out to them, and whilst Kyogo Fuhruhashi seems to have taken this on board…13 in 16 starts now…Giorgios giakoumakis may not have.
As the manager says he sees the players every day and picks the team accordingly, and he has no favourites.
As his time with Celtic continues, we may see a revolving door fitted as those who don't meet his standards leave, although the ones who replace them tend to come in before they're gone.
It's still not January yet, and Celtic have already moved on to their third …it might be four by the time you read this… signing of the window.
Times they are a changing indeed..it seems the imminent arrival of Peter Lawwell has made no difference to Ange Postecoglou's method of work, despite our fears.
Then again, if he's buying low and selling high, with domestic success guaranteeing European money, Lawwell..or anyone else will have little to moan about.
And if the club do the sensible thing and cut him a commission for developing these players from their eventual sale porice, then the bigger salaries of the south won't tempt him away, and that in itself removes a distraction and allows him a free hand to build a team to realise his own ambitions,
We'll see.
Most of us are fairly sure that Josip Juranovic will be the first to leave, but if you look at Transfermarkt,com, which somehow has gained a bit of credibility for their work, the Croatian is valued at £9m…..considerable less than one or two others, who at best could be described as journeymen…
Player
Club
Market value
Difference
€9.00m 

 

€2.50m
€5.00m 

 

€1.00m
€1.00m 

 

€400k
€14.00m 

 

€-3.50m
€11.00m 

 

€3.50m
€10.00m 

 

€-3.00m
€10.00m 

 

–
€8.00m 

 

–
€8.00m 

 

–
€7.50m 

 

–
€7.50m 

 

–
€7.00m 

 

–
€7.00m 

 

€-500k
€6.00m 

 

–
€6.00m 

 

€-500k
€6.00m 

 

–
€5.50m 

 

€2.50m
€5.50m 

 

–
€5.50m 

 

–
€5.50m 

 

€-1.00m
€5.00m 

 

€2.70m
€5.00m 

 

–
€5.00m 

 

€1.00m
€5.00m 

 

€-2.00m
€4.50m 

 

–
Juranovic is valued at less than James Tavernier, which makes you wonder how these things are worked out, and why anyone takes any notice of them, as their work seems to make quite a few outlets, mainstream included..
Well, it seems despite looking quite credible, the man who puts it together is a familiar face…..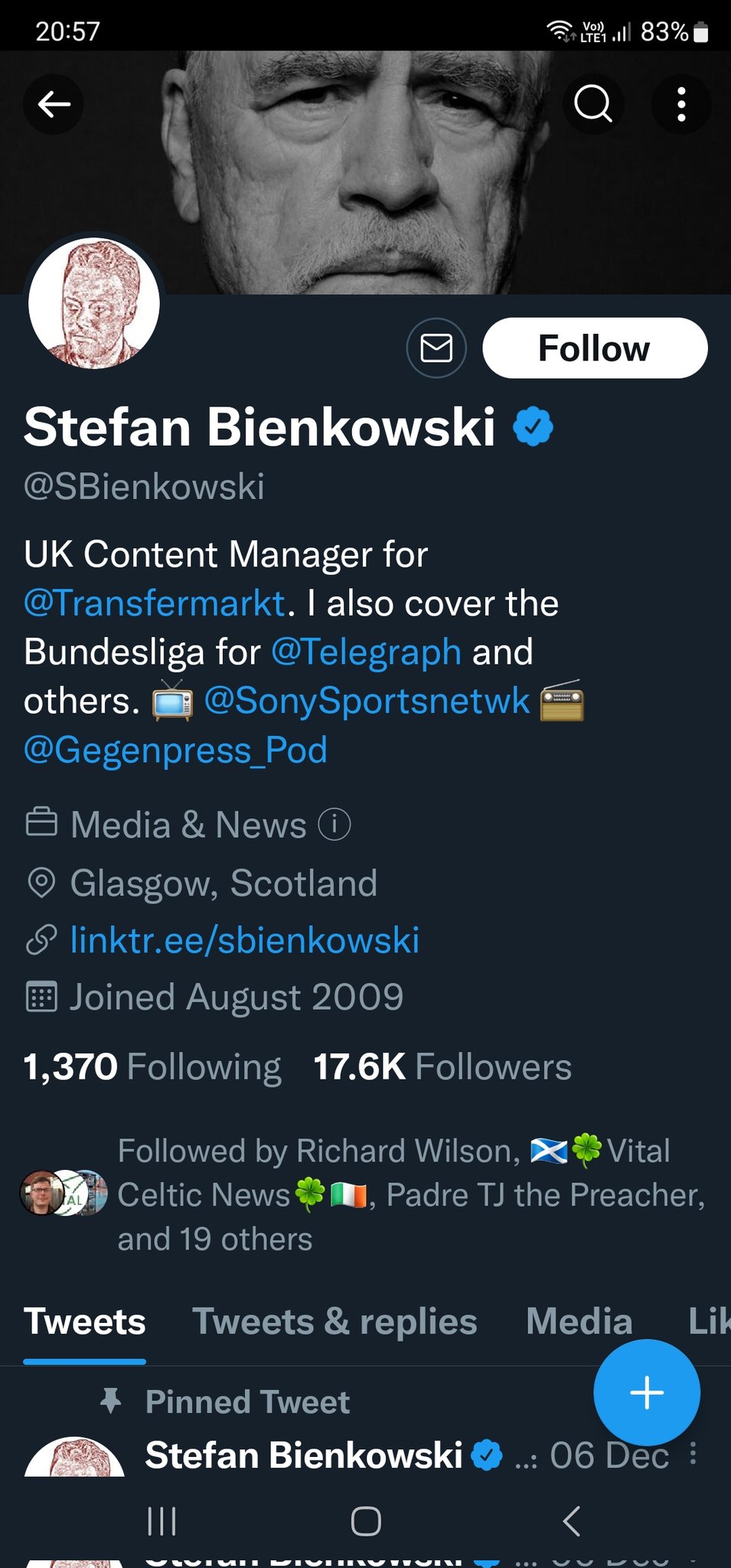 And he still thinks Rangers are the same club, which kind of shoots his credibility down somewhat, although it does explain the somewhat inflated values of his heroes.
Maybe Transfermarkt.com will be checking his work in future now he's reduced them to a laughing stock…. imagine if some club used that info to bid for one of the donkeys at Ibrox and ended up paying over the odds……
Which might also explain a few things.
Anyhoo, John Beaton has got the January Glasgow Derby, and no doubt he'll do his bit as a staunch fan, trying his best to disrupt play and award as many fouls as he cam to his favourites.
Sooner or later someone from the club is going to have to ask questions, and as a heavy defeat for the Ibrox club/company could signal a collapse in their season, meaning even a place in the UCL qualifiers is at risk, you can be sure there will be plenty to ask questions about.
Maybe having worked wonders at UEFA, new chaiman Lawwell can take on the SFA next, a task I'm certain he'll relish…. and it'll give him something to do, away from the training ground and the actual football.
Next up for Celtic are a troubled side, at Easter Road on Wednesday night.
Just keep winning, and there's nothing anyone can do to stop another title.
Meanwhile, here's some advice from the New York Post to make you think, and to remind you that there are some strange people out there… and we know where most of them are every fortnight or so….
Here's one way to ensure you have a happy and healthy XXXmas.
A United Kingdom doctor is raising eyebrows across social media by warning people of the dangers of masturbating with ornaments come Christmastime — which is apparently an actual trend.
"It is not advisable to masturbate with Christmas ornaments," Dr. Sarah Welsh, a gynecologist, told NeedToKnow.Online. She was listing the dildo's and don'ts of the scandalous Yuletide tradition, which sees people hospitalized after getting frisky with everything from glass baubles to candy canes.
Indeed, trying to make Christmas come early with ornaments is apparently hazardous to one's health.
"Christmas ornaments can have sharp aspects or pieces that can break during masturbation, which can cause soreness, the risk of trauma and are just generally unsuitable for your vagina," warned Welsh, who co-founded the condom brand Hanx. In other words, leave your elf on the shelf come Christmastime.
Meanwhile…penny for his thoughts ….