Celtic set a new record way win with a 9-0 drubbing of Dundee United yesterday, a result that surprised a few experts….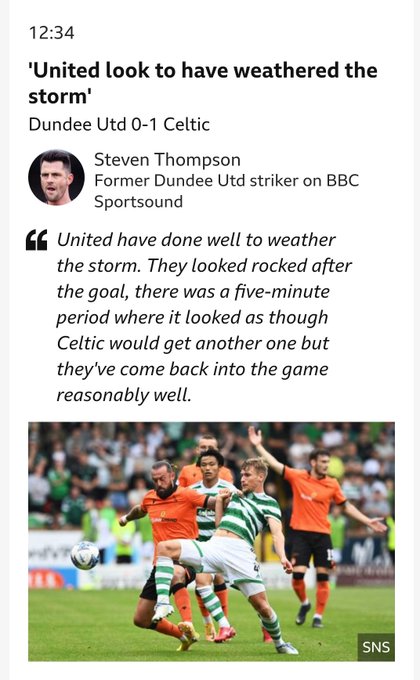 One can only wonder what would have happen if they had folded.
An early injury to Joe Hart, who was forced to have a bit of his head stapled back on after a collision with Stephen Fletcher delayed proceedings, but as Celtic settled into their stride against a competitive United side, the result was never really in doubt,
Kyogo Fuhruhashi scored a first half hat trick, which was added to in injury time by Jota, and after the break Liel Abada got a hat trick, with the prolific Carl Starfelt and Josip Juranovic, after a clever one two at a free kick with a Celt in the wall, which when put together meant we'd seen something that will stay long in the memory.
With the midweek games starting next week with the League cup visit to Dingwall, and two games in quick succession against sides who contested European finals just a few weeks ago, then we might have just hit form at the right time.
The well established pattern of play meant that Abada came in to replace Maeda who started on the bench as he was earmarked to replace Kyogo on the hour, as Giorgios Giakoumakis stayed at home with some sort of illness.
The change was seamless, which shows that the work on the training ground is paying dividends, with all hands knowing exactly what their job was and how to do it.
Five wins out of five, five great performances and already a few enforced changes in personnel, although you wouldn't notice.
One other thing you probably haven't noticed is how much thought goes into the players movement and overall team shape, how they adapt to the flow of the game and so on, illustrated here superbly by Quan Tran Tue on Twitter
To make it easier to visualize, here's the video including some goals from previous matches. Kyogo Furuhashi is offside until he isn't. pic.twitter.com/Y6AmlbLEDq https://t.co/Hx5gJJ8tHq

— Quan Tran Tue (@QuanTue) August 28, 2022
Kyogo remains dormant, in an offside position, until play catches up with him when he then, perfectly legally, joins in, a tactic used by players such as Lionel Messi and others in the past.
It's why you get some less well informed pundits, managers and supporters claiming offside. Simply because they don;t know any better.
The team is starting to become streetwise, it may not yet have the experience required to perform at the highest levels, but that will come of the manager can keep this squad together.
Which brings me to talk of a few bids for a few of our players.
Yes, they are happening, and as far as we can ascertain, with the exceptions of those such as Alben Ajeti, well, alright, Alben Ajeti in particular, they're being given short shrift by the manager and by the players being asked about.
There's still a few days of the window left, so anything can happen, but it seems like Celtic Park is one big happy family at the moment, and no one wants to leave.
Except alben ajeti, of course, who has had not only his squad number taken off him by the manager, but his capital letters removed from his name by at least one website.
We all got what we wanted when Real Madrid came out of the hat in the UCL group stage draw , and the general narrative seemed to be that the prospect of facing one of the elite and probably the most famous football club in the world had got the Spaniards all excited.
We were the same, I suppose, at learning we were playing them.
We shouldn't discount Liepzig and Shaktar Donetsk, as they are both capable of a high standard as well, but you'd have to say it's probably the kindest draw we've had in a while, and at least this time we've a manager who will not be by any means complacent.
Combined with a home opener against Real, which might just give us a bounce into the competition, there's no reason to be anything other than optimistic about going into the knockout stages…..
And….just think how much better our players….and managers will be when they've read this……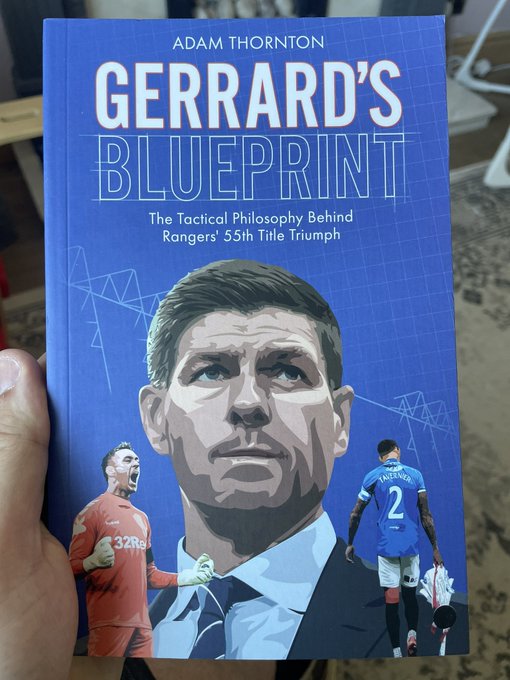 The author deserves great credit for managing to identify and explain any tactical philosophy in operation that season, and no doubt Gerrard himself has picked it up again as he strives to keep his job at Aston Villa….
Of course, everyone is an expert when it comes to tactics….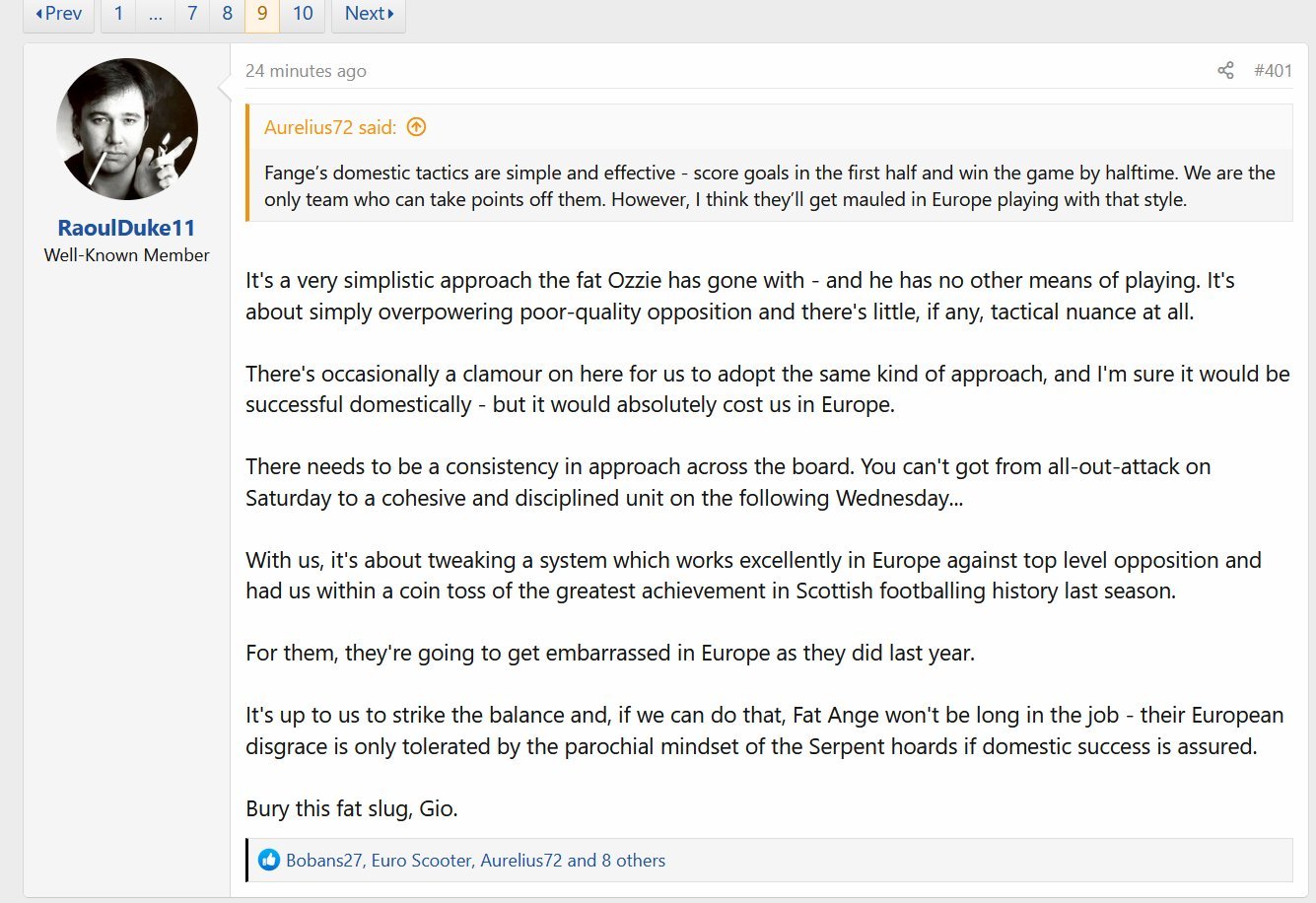 There is a real fear running among our city neighbours, who genuinely think that Ange Postecoglou is just someone who got lucky, someone who is waiting to be found out, presumably by their own manager, who admittedly has done well with the collection of cart horses at his disposal, but what scares them most is that they have peaked, their moment in the sun was the Europa league final last term, and whislt they thought it was the start of something special, the loss of two key players while Celtic continue to strengthen has terrified them.
They've started on the referees, with Don Robertson neglecting to send off Jimmy Sands for a red card offence when he was already on a yellow, after just fifteen minutes when their eventual 4-0 win over Ross County was still a 0-0 draw…robertson can;t really be blamed, he knew if he sent him off he;d be "Collumed "…that is, sent to the First Division for a few weeks, until he's remembered what the company line is….
Last time out we had this….