Celtic welcomed two more players to the fold yesterday, with Moritz Jenz and Aaron Mooy putting pen to paper.
Mooy, an Australian international will add a wee bit of industry to the midfield but perhaps more importantly that bit of savvy that has been missing since Scott Brown left.
Ange (Postecoglou) was my coach for about three years in the national team so I know the standards he wants, and I'm looking forward to working with him again," he said. 
"I've known Tom (Rogic) a long time, and we've spoken lots of times about Celtic. I was always interested to know what it was like for him in Scotland, and he's obviously had an amazing period here with lots of success, and I'm sure I'll be in touch with him shortly." 
"It's an amazing feeling and I'm just so happy to be here. It's a massive club with a huge history, and I want to be part of it, so I'm looking forward to the challenges ahead, 
"I'm going to do everything I can do well and be successful and try and help in any way I can. I've had a few weeks without the ball so I'm looking forward to touching the ball again and getting my fitness up and meeting my new team-mates and the staff."
"I'm delighted to be here now and I just can't wait to get started and join in with the group." 
He will have quite a bit of work to do to get himself up to speed, given his absence from the top level over the last few months or so, and it's probably why Ange needed assurances that the player was up for it, hence the time it's taken to get this one over the line, but it is still a remarkable window in that Celtic are getting these deals over the line…
It appears there was another club..or company…that were looking to acquire his services, but at least one news outlet doesn;t want you to know that, having pulled this article less than thirty seconds after publishing it online……
Maybe someone should ask Gavin Berry what the story is there…..
The second signing of the day was even more delighted to be at Celtic…..
Since last year, I've been in touch with Matt O'Riley who's been my best mate since we were young and together at Fulham,"  "He's told me a lot of great things about the season and how it went. It went really well for Celtic; they won the league. It's just fascinating and a dream come true.
"He texted me immediately after he signed, saying" 'Listen, tell your agent to try something and push, it would be nice to have you here'. It's finally happened. It's always good to have a friend that can help you settle in quickly. I also met the lads today and it;s a good group of people. Very open, very nice and I look forward to work to get as far this season as possible and achieve great things. 
"Not only because of last season, but one of my former coaches, Peter Grant, was a big player for the club. I used to listen to his stories. He told me he played with Andy Thom, who was here also. I've always had an eye for it. A special club, special logo, special shirt and special history so there was always a desire to play for this club. I think maybe it was destiny."  
Reading between the lines, not just the lines spoken by these two, it could be deduced that word of the Angera is spreading amongst the footballing community.
The Celtic squad has improved beyond recognition since the wonder from down under took the job, and a glance at what we have now is quite inspiring…..
However, it's more than just filling up the squad, it's about how it's being filled….someone seems to be thinking about it, as Twotter's moravcik 67 explains…
Our CL Squad quota of 17 non-Scottish trained players is now probably – Hart, Siegrist – Starfelt, CCV, JJ, Bernabei, Jenz, Jullien – Jota, Guchi, O'Riley, Hatate, Moy, Abada – GG, Kyogo, Maeda Sign another and we have to leave someone out. Unless someone like Jullien goes. 
No change in the Celtic/Scottish trained players making up the other 8 places in the squad. We can pick from *Celtic Trained – Forrest, McGregor, Ralston, Welsh, Johnston, Hazard *Scottish trained – Turnbull, Taylor, McCarthy, Bain At least 4 have to be trained at Celtic. 
There's nothing to stop us using all 10 players trained in Scotland. So, if Jullien goes we could include Welsh in his place, then select Forrest, McGregor, Ralston and Johnston as the Celtic trained players. Hopefully more signings to come, though. Nice problem to have. 
Compared to twelve months ago, it isn't really a problem at all…..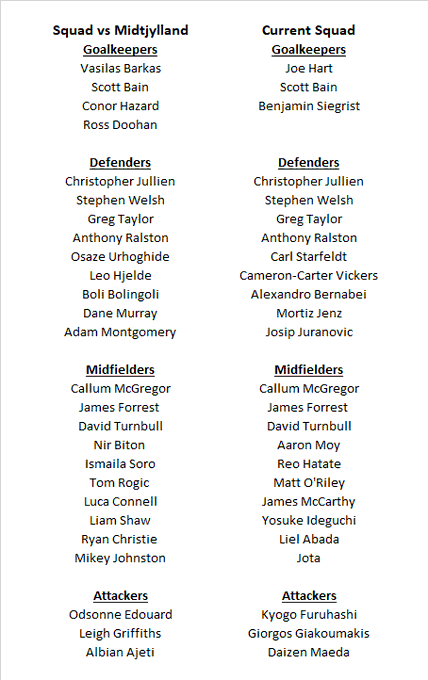 ( As Moravcik 67 points out, Abada was in both sqiads, but there's still a massive difference in ability and depth between the two. And attitude )
Tonight Celtic face Legia Warsaw, who have promised not to field any illegible players this time, ensuring the result will count.
The recent history between the clubs may well ensure that revenge is on their mind for their elimination from the european qualifiers of a few years ago when someone forgot to check if one of their players was allowed to play.
The match itself is a celebration of the career of Artur Boruc, the shy, unassuming goalkeeper who played for both clubs.
It's on Premier sports, kick off is 4.55.
yesterday, we had this….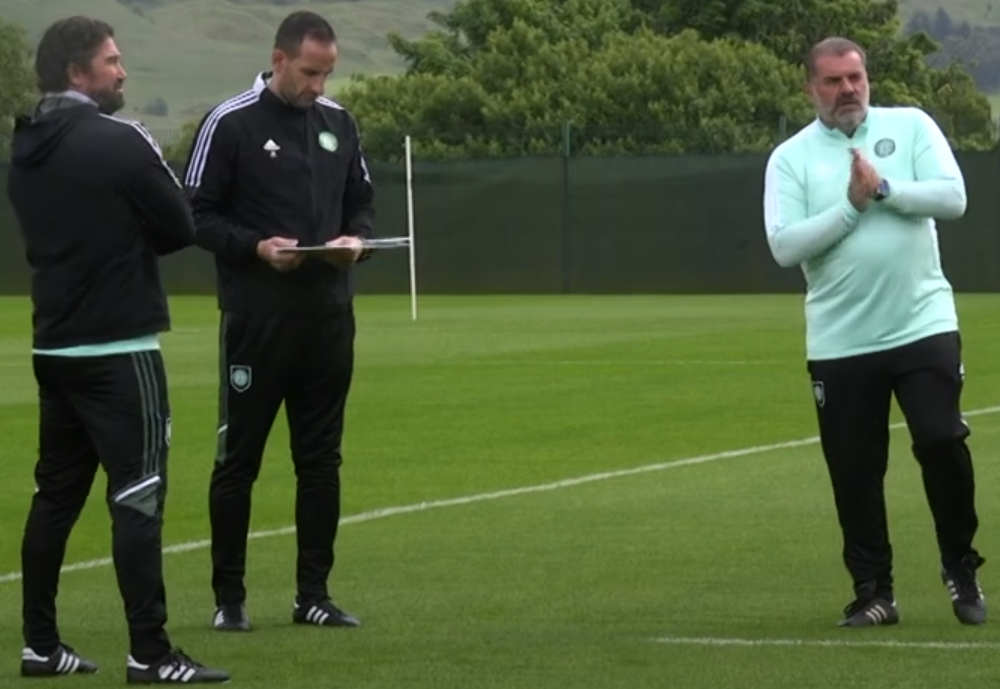 Paul cochrane
"Boss, where's the stop button on this ? "
" Have you listened to a word I said ? "
Today