The final places on the list of the twenty six automatic qualifiers for the Champions League were filled over the weekend as league seasons finished all over Europe.
Milan won Serie A, and Manchester City won the pantomime that is the English Premiership.
That means the line up looks like this, as the teams are placed into pots according to co-efficients and tv audiences, with one from each pot forming a group…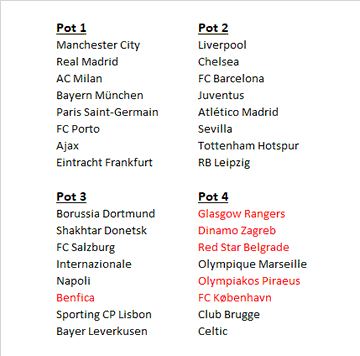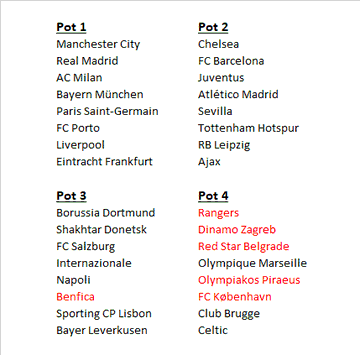 The only thing left to sort out is where Liverpool and Ajax end up. Liverpool need to beat Real Madrid to get into Pot 1, if they don't Ajax are in.
Those in red are the seeded teams expected to qualify via the play offs, those in black already made it.
The draw is on august 25, and whilst Celtic could end up with Eintracht Frankfurt, Sevilla and Sporting Lisbon, it's more likely to be Bayern, Barcelona, and Inter.
Or Real Madrid, Juventus and Leverkusen.
We know what's more likely….
Doesn't matter, we've earned the right to be there, so we might as well give it a shot.
Moravcik 67 , as ever, gives the definitive rundown on how it all works…
Pot 3 might look slightly different. If Benfica don't qualify then a team will move up from Pot 4 – Rangers, if they qualify. Pot 4 might look very different, as that's where most of the qualifiers will be. There aren't enough of them to move us up, so Celtic will be Pot 4.
As you can see, the potential for our usual group of death is pretty high. I'm already envisaging some kind of Real Madrid, Liverpool, Inter Milan abomination. It would be nice to see the best players in the world at CP, but it'd also be nice not to get pumped 6 times.  
Money. Celtic will get €15.64M just for turning up. We also get a payment based on our 10 year coefficient. Based on the teams projected to qualify in the pictures in the 1st tweet, it'd be around €8M. But it depends on who qualifies. 
We'd get an extra ~€1.1M for each of Benfica and Olympiakos who fail to qualify. So it could go up to over €10M at best. But it could also drop ~€1.1M for each of Monaco, Dynamo Kyiv and PSV who qualify, although only 2 of them can 
Frankfurt winning the EL meant they overtook us in the 10 year ranking, costing €1.1M. But it prevented Rangers from qualifying automatically, which would have cost us ~€3.5M in the Market Pool. So fair enough. Of course if Rangers qualify we get hit with the double whammy 
If Copenhagen qualify then we'll be above them in the 10 year rankings only on the basis of the bonus points we get for our win in Lisbon in 1967. That's worth ~€1.1M to us. The Lions are still contributing to the club, more than 50 years on. 
As mentioned above, we also get money for the Scottish market pool. The amount has fallen recently. It's probably worth ~€7M to Scotland. It's all ours if Rangers don't qualify. If they do qualify then we share it. It's complex. Easier to say we'll get 55%, they'll get 45%. 
Finally, we get money for our performance – €2.8M per win, €930K per draw. It's clearly much harder to win a game in the CL. But 1 CL win is worth more than 4 EL wins. To put it into perspective, we made about ~€2M from performance payments in this season's EL groups.  
This is all before our usual revenue from tickets and sponsorship, etc. So, there's a fair chunk of money coming our way. Hard to quantify it at present, but you're probaly talking €25-32M before you even consider performance payments and ticket sales. 
.
Other scottish clubs. Rangers start in CL QR3, and will face one of Monaco, Midtjylland Sturm Graz, Royale Union SG, Fenerbahce or AEK Larnaca. In the playoff they could also meet Dynamo Kyiv or PSV, along with the above, depending on who makes it through. 
Hearts start in the EL Playoff. The draw for that is pretty weird these days. They could initially be drawn against Dynamo Kyiv, Midtjylland, Fenerbahce, AEK Larnaca (whichever of those are knocked out of CL QR2), or Partizan Belgrade or Slovacko. 
If not, they could then be drawn against a team knocked out of QR2 of the champions route of CL qualifying. So who the hell knows who they'll get. It could be anyone from Dinamo Zagreb to Hibernians of Malta. Which would be kinda funny. Okay, maybe not. 
If they're knocked out the PO, Hearts will drop into the conference groups. They have a chance of being Pot 3, but also might slip back into Pot 4 depending on who else qualifies alongside them. It's a great chance for them, and they can earn some cash doing it. 
Neil Lennon's new team, Omonia Nicosia, are in the final of the Cypriot Cup. If they win, it looks like they'll be in the EL PO alongside Hearts. Frankfurt's win bumped them up from QR3 so it doesn't look like there'll be a welcome home party at Tynecastle for him. 
Motherwell start in QR2 of the Conference, and will be seeded. It really will be luck of the draw, as there is a mix of teams from places like Denmark, Sweden, Poland and Turkey, and another batch from places like San Marino, Malta, etc. 
If they make it through they'll be joined in QR3 by Dundee Utd. Both will be unseeded, and could face the likes of Basel, the Prague teams, Young Boys, PAOK, AZ, Basaksehir, Anderlecht, Twente, etc. Depends on the draw, of course, but it's a longshot to make the groups.  
A big test coming up for Scotland. We'll start the season ranked 8th, with a 10pt gap up to 7th, and a smaller 4.9pt gap down to Belgium in 10th. Unfortunately, the further up the rankings we go, the harder it becomes to generate the points to maintain the position. 
We'll play in fewer qualifiers again, next season. We get a fair few points from those usually. We all need to contribute, now more than ever. Particularly the 3 teams in the groups. And yeh, that includes Celtic. Unfortunately, that's easier said than done in the CL.  
 From the figures above, there's little doubt that UCL money is fundamental to any ambitions beyond maintaining the Old Firm brand that the club may have.
 On a recent podcast, we discussed the potential within Celtic for growth, which is surprisingly huge.
 We concluded the club was ripe for takeover, and with serious investment could increase turnover and profit quite significantly, something which was an alien concept to our board under Peter Lawwell's somewhat conservative…or blinkered…outlook.
 Have things changed under Michael Nicholson ?
 Did the review carried out by Ross Desmond point out to his dad that Celtic is a sleeping giant that needed a few quid to wake it up ?
 If the likes of Lindsell Train were investing, did someone point out to Desmond that he was neglecting what was possibly a huge opportunity to invest in something that will pay dividends further down the line, and with him not getting any younger, have one or two people convinced him of another way forward ?
 One telling sign of which way the club is going will be the summer transfer window.
 If Celtic continue to build the team the way Ange Postecoglou wants it to go, we're in for a hell of a ride.
 It is entirely possible there has been a road to Damascus moment in the boardroom, and if we see a few changes in there soon, that would be confirmation that the fiscal policy has changed a bit.
 Of course, it's equally possible that none of the above bears any resemblance to reality and we'll be back selling old form scarves by Christmas, but there are some encouraging signs.
 If Brendan Rodgers can be said to have left any legacy of any kind at Celtic , it is the realisation of the value of our players.
 Finally, we're receiving the kind of fees that mirror the players that are leaving the club.
 From Tierney to Frimpong, from van Dijk to Dembele and several others, there's a second lucrative line, equally as fraught with danger, but equally lucrative if managed correctly.
 Whilst we are fully aware that Ange Postecoglou is rebuilding the team after a little bit of neglect, is someone else rebuilding the club after a similar blaise approach to things ?
 Or is this whole article just another excuse to post that strangely hypnotising gif ?
 On Friday, we had this….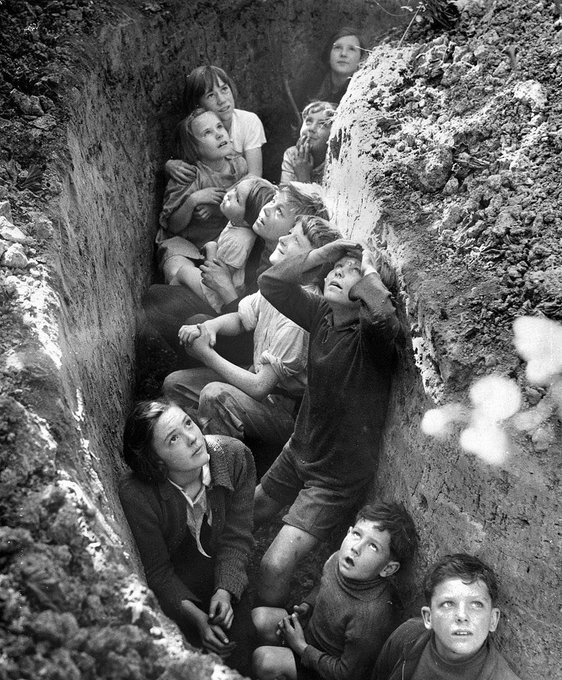 Henkesdreadlocks 
 As Ryan Christie gears up for a crack at the Premiership, local Bournemouth schoolkids take appropriate action. 
 Today….