Last night, the church bells in the fair city of Seville rang out mournfully, warning of what is to come…..
The fairytale rise of a new club continued as "rangers " made a European final a decade after starting out in senior football. And all they had was the millions of pounds scooped up from fans of another club who at that point would have latched on to anything that told them it was their club, which had been placed into liquidation by a previous owner, who in turn had bought what was left of it after another owner had failed to realise that one had to balance the books where the business side of things was concerned.
You have to tip your hat to them. There's a movie in there somewhere.
A rag tag collection of players that no one else wants have been somehow transformed into a sort of 21st century Wimbledon, where the idea is to hit the ball as hard as you can towards the opposition goal and hope for the best.
When they're not kicking the opposition that is.
And in European competition, it works.
Combined with stout and diligent defending, they've got to a prestigious European final earlier in their history than any other side since continental competition began.
But whilst they rejoice in their triumph, and it truly is remarkable, one wonders if somewhere out there, outwith the confines of our own intrepid Scottish mainstream media, another outlet will record this achievement for posterity, so the rest of the sporting world can sit up and applaud this unique achievement.
It's common knowledge they aren't actually the same club as once graced…if thats the right word…the famous old stadium, itself undersold as part of a basket of assets when a Yorkshireman with big hands saw a way of filling both them and his bank account.
His part should not be overlooked, as indeed , neither should the part played with agreements such as the Five Way, which gave the new club the kick start it needed as it saw light for the first time in the lowest league.
Or how their business partners at Celtic Park..and other clubs… failed to pursue the many, many allegations of misdemeanours that cost other clubs millions, and cost Scottish football it's reputation as a genuine sporting competition.
How we laughed at them when they had to cancel a game against Kelty Hearts when their licence didn't come through on time..
In that short decade since then, they've burned through over one hundred million pounds, and are reaping the rewards now as the eyes of Europe are upon them.
Everyone will want to know their story, all the little details that make up this triumphant tale of how football was the winner, how the support rallied round and created a new entity from the flames of the old.
How together they journeyed from Stirling to Seville, from ashes back to sashes.
It really is a hell of a story, and deserves a huge audience.
But will it be told before the game, or as part of an inquest into the reason why Sevillians are now sending their children to live with out of town relatives ?
Will it be told even as the shutters are placed over windows, as streets are barricaded and churches, mosques and synagogues are placed under police protection ?
Whilst hapless Scottish hacks type fawningly over what they see as Rangers getting to a final in their 150th year, what are real reporters seeing, and when will we see their version of events ?
There is a story that should be told, and with all good stories, someone will tell it.
By the way, if they need any paperwork to back up the truth, I'm sure I could oblige…..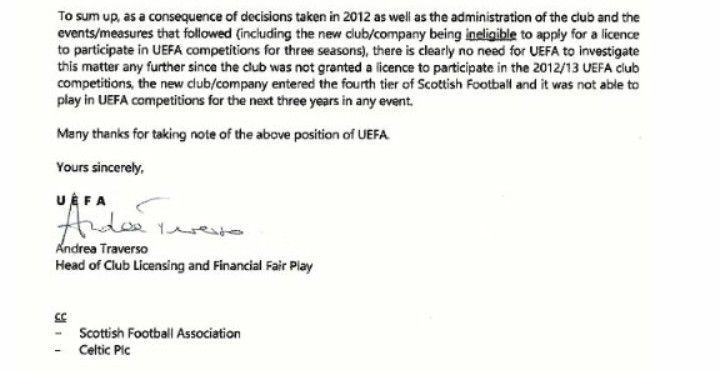 There's plenty more where that came from….
In fact, sometimes, when I'm bored, I go to bars where Scottish journalists hang out, and leave it lying around on the tables.
The landlord asked me to do it, usually at last orders, as it clears the place quicker than a smoke grenade.