Now that he's finally found another job, Neil Lennon has spoken out a little more candidly about his time at Celtic last year, and the months immediately afterwards.
It's well documented on these pages that when the truth finally does come out, he'll get a little more sympathy with regard to his attempts to hold things together during the Covid season.
It's also well documented on here that he did try, and perhaps deserves a little more sympathy than he's been getting.
So you think he'd try to set the record straight, rather than just repeat the lines he's been feeding us about how it wasn't his fault and he's got nothing to prove.
Indeed, although he's talking a lot lately, he isn't actually saying anything.
"For the first three or four months after Celtic, it took me a bit of an adjustment,"
 "I'd gone from a kind of regimented sort of lifestyle to civilian life almost.
 There is an accepted term for this situation. It's called unemployment,
"Not having to worry about players, media, board, supporters, social media. 
And then he was rendered surplus to requirements, and lost his job.
Oh, wait, maybe he means after he lost his job…it's hard to work out.
"That took a bit of adjusting to. Then I started thinking, 'This is alright, you can relax for a bit' — but then this opportunity came up.
"The way it ended at Celtic was very disappointing. 
Yes, it was. And whilst there were mitigating circumstances, until they are revealed and examined then all we are going to get is a repetition of it's not my fault.
But I think overall we had a hell of a lot of success. 
We did, and for that the support is grateful, but all things that end invariably end badly, and the least Lennon could do is out together a case for the defence.
"Do I want to prove something? Not to anybody in Scotland. 
That arrogant attitude is driving him further and further away from what should be a rightful place amongst the clubs legends.
"
"The final season at Celtic might have overshadowed everything else I'd done at the club because it was so recent.
"But hopefully, further down the line, there will be a recognition, it shouldn't overshadow what was achieved before. Both as a player and as a manager."  
Well, we can safely say that the ball is in his court….
Lennon is a legend, he has done his bit, but perhaps cutting the cord from one who may have had an unhealthy influence on him would probably allow him to speak a little more freely about last season.
"I speak to Peter. I've had the occasional text from Dermot Desmond.
"They have been very good to me. Peter was positive about this chance and I respect his opinion.
"He's a personal friend too. He has his finger on the pulse when it comes to European club football."
Then again, that closeness in the relationship between manager, CEO and owner may well explain the collapse last season without the need for any further investigation….
Speaking of building cases for the defence, statistics show that the current Celtic defence, often much maligned, is actually a lot better than we give it credit for.
Whilst constantly under fire , for instance, due to a large percentage of the total goals conceded coming from set pieces, it's worth noting that if you flip that statement, then teams struggle to score against us in open play, which suggests a greater level of concentration and organisation than we might think.
 Bhoysanalytics on Twitter has given us food for thought, and it's certainly worth thinking about…
Ange's Defence
Ange has made Celtic more effective defensively than ever before domestically Which is even more astonishing given how little he had to work with initially. He's created an entirely new backline that has kept the opposition more limited than ever before 
 (unless you're German, Spanish or Norwegian , but this is domestic form, so fortunately we will avoid them in the run in. )
We concede less shots than ever, but the most important factor is shot quality. Which again Ange has lowered to it's lowest levels since
@Wyscout
began recording data. Pundits like
@stephencraigan
can criticise individuals but the system works regardless as it's a unit.  
 The whole team, substitutes included , works as a team, a single unit that is better than the sum of its parts, so that should really not come as a surprise.
And this has been accomplished without a natural 6 like Brown protecting the backline. So huge credit has to go to McGregor, taking on the leadership role, improving defensively and moving the ball quick & effectively. He had huge boots to fill and has done it with ease  
 As we discussed on last night's podcast, at this stage of the AngEra, Macgregor is probably the only player where a like for like replacement doesn't exist in the squad. The eventual replacemant/understudy might already be there, but isn't ready to become the whole package.
 Whilst statistics can be used to argue any point about anything, in this instance it's nice to see something that I would usually dismiss backing up what I've actually seen, which is the right way to assess this sort of data, as opposed to finding the data and then moulding the environment around it.
 Over on the dark side of town, they're a little less enthusiastic about facing Celtic three times in the next month or so, and to cheer themselves up, one or two of their staunchier fans have bought a genuine replica ( eh ? ) of the original white shirt worn by the gallant pioneers who formed their original club back in 1872.
So i ordered the anniversay "boxed" founding fathers shirt priced £105 & charged £105 only to receive this….non boxed, non pro founding fathers shirt, hardly the collectors item advertised. What a joke.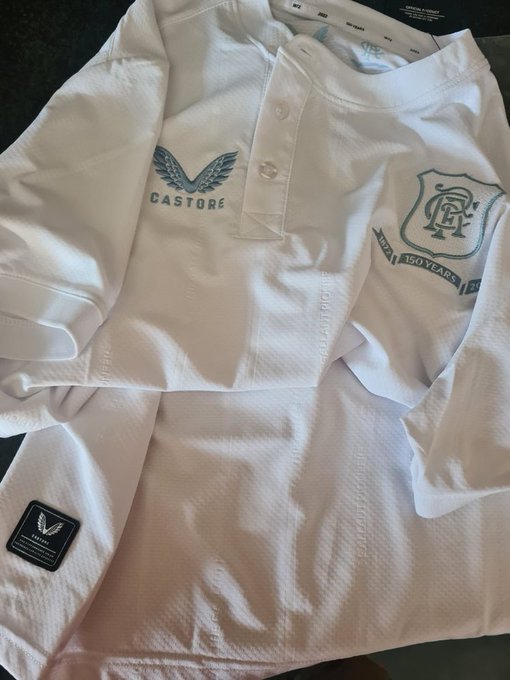 The original Castore label is still prominent, which is a lovely touch, from that special day when they first walked the earth back in 1872.
Or 73,
Or whenever it was.
 I can't figure it out myself.
 In 1972 , their centenary year, if you accept they were formed in 1872, exactly one hundred years later , the now defunct Rangers won the now defunct Cup winners Cup, a coincidence that seemed to slip their mind at the time.
 That was because they thought they were formed in 1873, as this programme for their centenary game, in 1973, shows….
 Then again, numbers were never their strong point.
 Fifty five titles in ten years for the new club shows that this is one tradition they won't let go.
 Wait till the hordes find out that as a support act they won't be getting a share of the ticket sales in the upcoming Sydney cup…..
 Like all support acts, they're just getting appearance money and the bus fare home.
Our last caption competition provided this image…..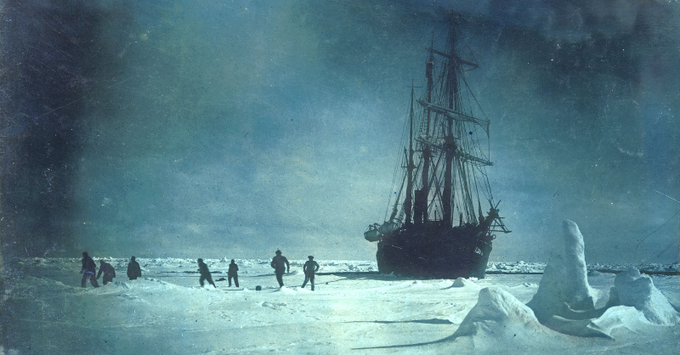 R.St. Parsley 
 Sevco's ship finally comes in as hell freezes over  
 Today, we have our latest offering….