Celtic are preparing for tomorrow night's return match with Bodo Glimt, and already there's been a bit of a surprise. apparently, with high winds, sleet and snow expected, the manager has decided against the customary training session on the Norwegians home ground,
Instead, the players will have a couple of games of cards and a few beers to get in the mood.
New fitness coach Len Neilson is taking charge of matters for the first time, and this radical approach could pay dividends….
Roma didn't train on the pitch either before they were cuffed 6-1 , and it may be that as it's an artificial pitch , the manager simply wants to save the injuries for the actual match.
Celtic need to win by three goals to proceed, or after a penalty shoot out, and that's the bottom line.
The scrapping of the away goals rule has been mentioned as an advantage, but it's difficult to see how. Fair enough, a 2-0 win takes it to a shoot out, but in all reality Celtic are going to concede.
We're not that well organised at the back from set pieces, and when Calum MacGregor outlined that the hoops
…. understand we have to put a wee bit of risk in the game 
it became clear we're going to stick with Joe Hart.
Although Hart is a top class keeper, he seems to have had less input into organising things at the back than when he first arrived, and maybe the novelty of playing for a big club in front of regular big crowds is beginning to wear off for him, but he really needs to up his game tomorrow if Celtic are to progress.
And i'm not buying into this idea that elimination would help prioritise the league campaign.
If we don;t want to win a tournament then we shouldn't enter, and even more worrying is that when a lackadaisical approach to games creeps in, it can be difficult to shift.
Calum MacGregor does seem up for it…
"This group of players has shown we can win big. We're that type of team. We want to be aggressive. Even if we go away from home, we want to play the same way and that'll get us chances.
"It's about being clinical and ruthless when the chances come. That can be the small difference. We've still got a chance to rectify it."
"We've come a long way and we've got a hell of a long way to go as well. It keeps us grounded and makes us understand we have many layers to go.
"It's a learning curve and we have to take that on board.
"When you play European competition, no matter the team you come up against they'll always be fit and organised and that's why it's such a good level.
"You can't drop, you have to be more aware, play quicker and make good decisions and when you don't, that's what happened to us last week.
"Conceding the early goal didn't help us – we then had to chase the game and they're a good outfit.
"They've shown that in the group stage – we knew the threat they had on the counter and that gives us a mountain to climb.
"We started to get control, had some good moments and lacked a bit of quality, which we haven't done recently.
"That's the difference at this level – they have three chances and score and in numerous situations we struggled a little bit but it's a learning curve as a group.
"You can't think you're doing well then you come up against a tough side and they beat you 3-1 at home. We have to try to rectify it this week and see where we can be better.
"I've seen enough in the game. Sometimes you come off the pitch and think it was tough – and it was tough – but there were also a lot of good situations for us. We have to dust ourselves down and go for it."
Celtic certainly aren't out of it yet, and the players, if they approach the game with the right mentality, are more than capable of producing a performance that will get the right result, and if the players do tighten up on the passing, and press that wee bit harder that wee bit earlier, then there is a chance.
Just being that wee bit more focused when timing runs, or when making decisions will make a huge difference, the question os are we ready to make that step up yet ?
Elias Hagen of Bodo has been talking to the media, and he reminisced about that 6-1 win over Roma, but also gave us a clu as to how they will approach tomorrows game….
"…. we had nothing to lose and just went for it and it was an incredible match which was really enjoyable. 
This time, they have everything to lose so it's unlikely they will take many risks.
It's also worth noting what he said about the Italian side…
"Roma were complaining about the conditions from the moment they landed. They were using their energy in the wrong way." 
It's going to be very cold out there, and with high winds and sleet or snow, probably even colder than our worst expectations, which is why it's debatable whether or not to sample the stadium ahead of the game, but frankly it's probably better to wrap players in cotton wool if it helps them to rest and relax.
I'm not that concerned about them being lethargic.
The wind will soon wake them up.
With a big game ahead, it's not surprising the media are trying to cause a little bit of unrest, and maybe even a split, in the Celtic dressing room.
Georgios Giakoumakis gave his opinion on new rivals "rangers ", which was an honest and open assessment of things shortly after his three goals had helped open up a gap at the top of the table…
"It gives you motivation, and a little bit of pressure if you know the bad result of your opponents. We showed that we are a better team, that's obvious. I think that we will win the championship."
It may have been that he couldn't find the right words in English to express his true feelings, as we hear what he actually meant was…
"They're shite, skint and their star player is a fat talentless twat "
Although in fairness I might be allowing my own opinions to override his.
But, oh the kerfuffle.
Andy Newport, at the Record…you'll remember him as the one who started the death threat stories about cheatin John Beaton..and old pal of his….gave Maurice Ross…google him, I had to…. free reign to have a moan…
"It wouldn't surprise me if that laddie has been dragged in to see the manager first thing in the morning.
"Ange will be saying, 'What you doing, mate?'
"Celtic have been good recently and we must give them credit for that.
"But you've been top of the table for a week, mate! Come on, settle petal!
"I'd be saying, 'What are you doing? This is not how you behave at a top club. We're humble, we win with respect and we lose with respect'."  
Actually, I'm not sure that's what he'd be saying, or , indeed, if any of his players would even listen to him…..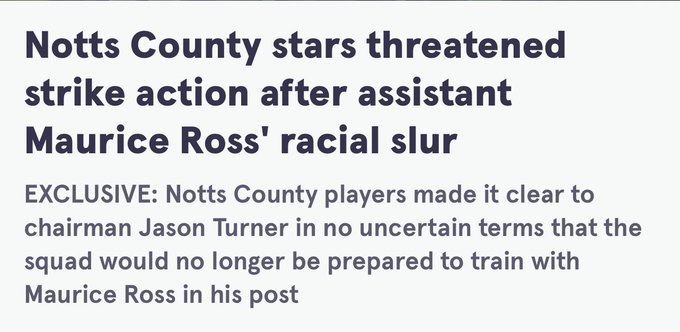 As you recall… as the Record said at the time…( May 2021 )
Former Rangers star Maurice Ross has apologised for his "clumsy and insensitive" comment that ultimately cost him his job as Notts County assistant.
A remark uttered towards substitutes regarding Dutch winger Enzio Boldewijn, who is black, prompted an outcry among the National League side's squad.
Ross, who also turned out for Aberdeen, Motherwell and Livingston in his playing days, resigned from the club within 48 hours as rumours circled as to what the ex-Scotland star really said and whether it was an issue of racism.
And he's now owned up to the remark as he admitted he questioned whether Boldewijn's passport had been altered, a vulgar stereotype towards players from Africa with racist connotations.
Top of the table for a week….he must have been really pissed off when Celtic won four consecutive trebles, and nine consecutive titles.
Top of the table for a week is a statement indicative of just how their memories are quite selective.
Ross wasn't the only one to have a moan, Brian Laudrup, who spent his career trying to live up to his big brothers ability, and Barry Ferguson, who is still waiting for that call to sit in the Ibrox managers chair, were equally miffed, but again, it comes down to selctive memories…
Very selective, in fact, as I'm quite sure there wasn't the same kerfuffle when one or two Ibrox heroes made similar claims…
Of course, all of this could just be another distraction from another share issue at Ibrox yesterday…. the fourteenth since December 2020.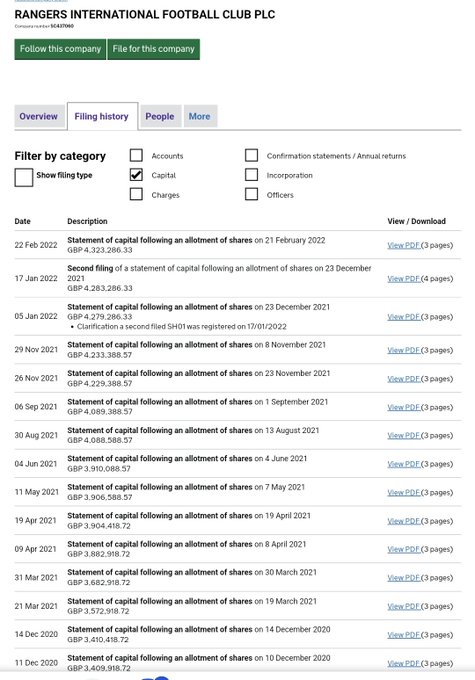 Although the Scottish Sun described it as
IN THE MONEY 
Rangers issue a further four million new shares as Ibrox side receive February cash boost
It really isn't.
the Sun said;
ANOTHER four million shares have been issued in Rangers' holding company – at a cost of £1m.
The latest transaction in the shares of Rangers International Football Club PLC went through yesterday and was communicated on Companies House today. 
A total of four million shares were alotted – and bought at 25p per share.
It's the second such transaction this year, after five million shares – at a cost of £1.25m went through back in January.
The Ibrox outfit recently released their annual report, which highlighted an operational loss of £23.5m for the last 12 months.
The Gers said they needed £7.5m before the end of the season although the club were confident that the funds would be raised.
An agreement between chairman Douglas Park and vice-chair John Bennett was outlined in Rangers' annual report, whereby they would provide additional loan facilities.
It said: "They (Park and Bennett) will provide additional loan facilities as necessary to meet shortfalls to the above requirements and any further amounts that may be required a result of variances to forecast cash flows.
"The Board has considered the level and timing of additional funding that may be needed and is satisfied that any such amounts will be made available as and when required."
That's not actually what it was….as GrandOlTeam on Twitter explains, and since he doesn't work for the Sun, and never has, I'll take his word for it…
Rangers share issues. Today's allotment wasn't new cash, but conversion of old loans. I'll explain.
The RIFC 2021 AR, signed 27 Oct, said £8.5m in loans were taken since 30 June, with another £7.5m needed by YE. The TRFC AR, signed 15 Dec, said the £7.5m was filled. 
Of the £7.5m, we know from the TRFC AR that £4.25m was received for Gerrard & staff. Assume the other £3.25m was loans. So, £11.75m total in loans since 30 June. Today's allotment means 23.4m shares have been allotted this year, or £5.85m. That excludes the Tifosy issue.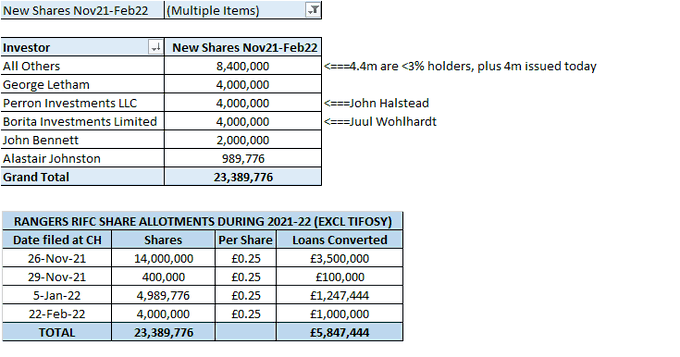 So, including today, Rangers have converted about half the loans taken since 30 June. Almost £6m in loans remain unconverted. Does that mean £6m more in upcoming conversions? Not necessarily. Some investors have been granting repayable loans instead of accepting shares. 
King had a £5m loan repaid. Bennett had £5.5m in loans repaid. There is a £5.25m, 6%, 7-year loan to 3 investors. Some of the remaining loans may be repayable and will not be converted to shares. We won't know until the next RIFC AR. 
In conclusion, I expect more conversions of outstanding loans. There may also be some repayable loans. Today's allotment doesn't signal impending doom for Rangers. Nor will further allotments in the near term. They're just converting months-old loans.
Had the Sun been remotely interested in reporting facts, instead of doing feelgood PR for the club/company, that's what they would have said, but that could have led to more questions being asked at Ibrox, which as we know, simply won't do.
But a Celtic player thinking that his team will win the league because he thinks they're a better side….