After the euphoria of dumping the league leaders the other night, Ange Postecoglou will gather his players around him today and remind them that getting to the top doesn;t count if you're only there for a few days.
He faces what may be a difficult job to get them back into focus for the visit to Motherwell on Sunday.
To paraphrase Billy McNeill , speaking of the 1970 Feyenoord defeat after overcoming Leeds United, we don't want to stumble over the molehill at the top of the mountain.
Motherwell make things difficult for us, in fact, they make things difficult for everyone, largely by kicking everything that is in front of them.
The pace set from the off on Wednesday made it difficult for "rangers " to kick anyone, as their targets had either released the ball or moved past them by the time they figured out what was going on, and it's that kind of tempo that will be needed again.
The steelmen will be far better organised than the shambolic efforts of Gio van Bronckhurst, already being put under pressure from the Ibrox support, and so Celtic , too, will have to bring their A game.
With fourteen games to go, the message is clear.
Win them.
There has been a lot of attention all over the world on Wednesday's game, with the atmosphere and the performance sharing the spotlight. Sunday, by comparison, the players will maybe even be a bit flat.
If we've spent hours watching re runs of the match, or incidents from the match, or even just talking about it, for those who took part the comedown could be even deeper.
Maybe thats why Ange will be glad to have a couple of players back from international duty, to freshen things up.
Tom Rogic and Daezen Maeda could well start, with Reo Hatate and Georgios Giakoumakis given a rest, although the latter is probably more suited to the robust and enthusiastic style favoured by the Fir Park club.
Although it's sometimes a mistake to change a winning side unless you have to, Celtic under Postecoglou is less about individuals and more about the team. No matter who starts, the style doesn't alter,
As the weeks go by, there will be more injuries and suspensions, but we are in a position where not only is the squad considerably stronger than in recent years, but also much more aware of the role they have to play.
When you factor in that nine of the eleven who started on Wednesday were Ange signings, it's a hell of an achievement to have them gel so quickly, not only with each other, but with those already there.
One other thing that seems to have changed is the enthusiasm of John Kennedy.
The much maligned coach was often a forlorn and even disinterested figure on the touchline as last season fell apart, but this clip from the match on Wednesday showed he , too, has bought into whats happening behind the scenes and perhaps rediscovered his love for the job…..
Kennedy… pic.twitter.com/YdnLeLQgsq

— Richard McGinley (@Richiestoke) February 4, 2022
We were hearing all sorts of stories about what was going on behind the scenes last year, and one of them was that Kennedy was the de facto head of team affairs.
He clearly wasn't enjoying himself, and it may be that he felt isolated and to a degree, responsible for the demise of the team on the pitch.
He seems to have cheered up a bit, and it's interesting that ange has kept him on.
To keep him on Ange must have seen something he felt he could work with, and the change in Kennedy is as surprising as it is welcome.
Even though there has been massive upheaval at the club, it's good to see some continuity somewhere.
With the manager having to adapt to the Scottish media and it's particularly unique style of interviewing, it was good to see him relaxed and chatty when talking to an Australian radio show host.
In this interview, he comes across like a son talking to his father about his new job abroad, and it's quite revealing in one sense, as it shows firstly the regard he's held in over there, but also the confidence he has in himself…..
With the serious stuff out of the way, let's have a look at some silly stuff.
And this is silly, perhaps disturbing, but silly…..
https://twitter.com/i/status/1489314578760613895
It's Friday, and it's time for us to nominate our Etims
Knob of the Week  
there's a few who didn't quite make the grade…. from ordinary fans
to experienced and respected experts….
PLAYER SAFETY 
Celtic star Reo Hatate's Old Firm opening goal should NOT have stood says ex-Rangers ace Neil McCann
 But there is one who stood out from the crowd as he displayed his raw emotions along with his even rawer intellect on Sky TV…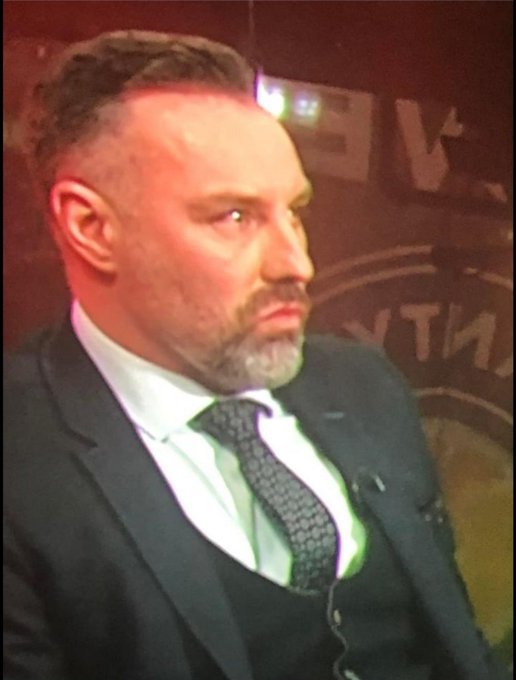 Not for the first time, and almost certainly not for the last, Kris Boyd is this week's Etims
Knob of the Week  
Yesterdays caption competition……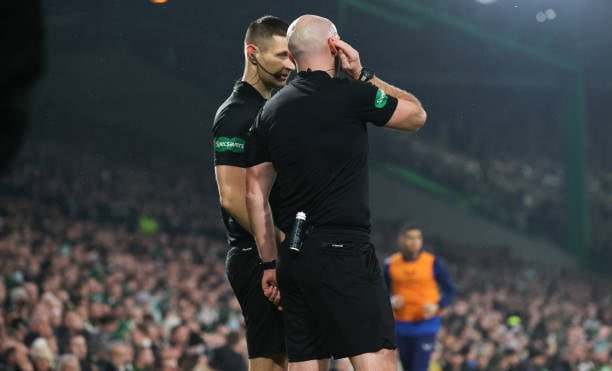 The Cha 
    4th official, observer, tv and radio gantries, someone give me a plausible excuse to chalk off the goal 
Later in the game, they were picked up by an amateur radio enthusiast discussing the rules about match abandonment and voiding….
Today….