Maybe I am wearing a larger than usual tinfoil hat, but there does seem to be an ever growing narrative designed to take our attention away from something.
That something is the SAR (Save another Rangers ) campaign.
It manifests itself in the form of decisions on the football field, honest mistakes which when analysed are neither honest nor mistakes.
But as they continue, the media focuses on other stories, many of which appear to be entirely constructed from within the fourth estate, and clearly with an agenda.
At the weekend, Celtic overcame a fiesty Motherwell to secure another three points. The 1-0 win, courtesy of a Tom Rogic goal, was marred by some novel and refreshing refereeing, with the free reign given to the clogging club to , well, clog away to their hearts content.
With Celtic's current injury crisis, that's exactly what i'd do if I were minded in the same way as the current crop of Lanarkshire graduates seem to be. Let them kick lumps out of the main title rival in the hope that someone gets hurt.
The media have jumped aboard this particular ship, with Kyogo Fuhruhashi now labellled as a diver, effectively a cheat, when all he has done is have the temerity to fall down when pushed, or to bruise when assaulted.
On Sunday, it seemed that every time a motherwell player hit the deck, it was a foul. Which broke up play, an understated tactic of referees for quite some time now, and again no early cards were awarded to the visitors, while one Celtic player was booked for walking on the cracks in the pavement on his way to his car that morning.
I'm exaggerating, but you get the point.
No doubt on January 2, some Celts will be booked for putting their socks on the wrong feet early in the game….
Ross county are up next, a difficult away trip at the best of times, and i can;t be the only one who's noticed that Celtic seem to find quite a few spirited performances from lesser sides, whereas another side from over the river always seem to catch these teams on an off day….
When Celtic at boardroom level condone and collude with the SAR campaign, you wonder what other clubs are prepared to do to maintain the old firm status quo….
When Celtic closed the top tier of a stand when the other lot were finding their feet in their new world of senior football, it wasn;t down to lack of demand, it was to enforce the myth that there was a lack of demand.
We're being played, and there will be more evidence of that as the season goes on.
In the meantime, we protest against the appointment of a man, Bernard Higgins, that hasn;t and quite likely won;t be made. in fact, i'd wager that the club had no intention of appointing him, but used it as a means to deflect attention from the real issue, the SAR campaign, which if it were seen to support would cause rage among their customer base.
A complaint was made by the club regarding referee chief Crawford Allen and his comments on Kyogo, but when  the Sun reported it, they included a story about a woman getting a question wrong on the telly in the same article, which deliberately trivialised the issue.
Elsewhere, a contestant on The Chase was asked when Celtic were founded – but she got the answer incorrect.
Lucy, 25, was in the middle of her face-off with The Beast when she was asked about the Parkhead club on the hit quiz show.
The London zoology student was quizzed on the year that appears Celtic's badge, which shows when the club was formed. 
Her options were 1666, 1777 or 1888.
Lucy guessed incorrectly as she chose option B, 1777, the correct answer being 1888.
---
Before the blunder she told presenter Bradley Walsh that football questions were not her forte.
She said: "I really didn't want a football question to come up."
---
But the veteran host was quick to reply when he said: "It's more about history really."
Chaser Mark Labbett answered correctly. 
There's a serious debate about referee's, and a serious breach of protocol when their boss condemns a player, but the sun puts this in the same category as a woman getting a question wrong on the telly.
And they all ignored this…..
Rangers have 2 new directors at TRFC: David Graham and Kenneth Barclay. Graham is their PR guy and is a Worshipful Master of the Orange Order and a member of the Royal Black Preceptory,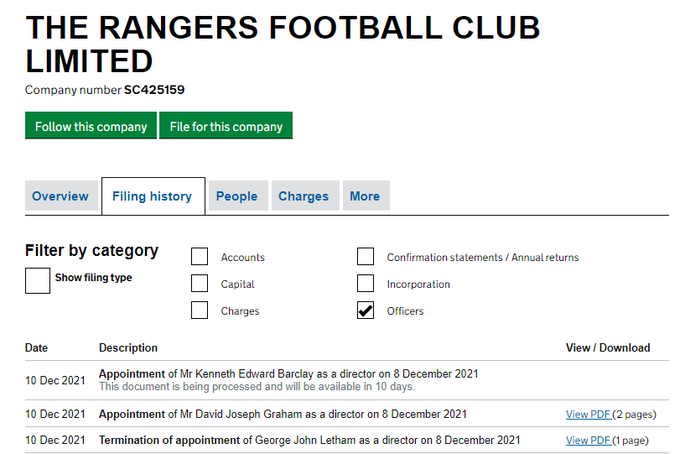 As for Celtic, they'll keep us talking about things they've already settled, with the added bonus it will make them seem like they're listeing to fans, and while they do,  we'll keep seeing protests such as the Green Brigade sulk, which serve only to disrupt the team, as the board are positively encouraging it by remaining silent on the issue.
If we're moaning about something that they have already decided won;t happen, then we won't be moaning about the events on the pitch, and the media narrative to break our players concentration, especially Kyogo, who is the major threat to SAR.
They won't be able to handle a full strength Celtic on the field, and with three Glasgow derbies to come, the plan is currently to get "rangers " into a huge lead, presumably just in case anyone does buy any of their key players.
All of which are for sale, and none of which will be turned down if it's even remotely close to their own ludicrous valuations.
Despite what the media tell you, despite what their board tell you and despite what the lunatic fringe of their support tell you, they are losing money weekly, and without player sales in January, there will be major issues.
It appears to me they're borrowing on the strength of UCL money next season, that automatic group entry, another narrative thats not strictly true, which would wipe away the soft loans and clear a few bills.
In short, it would save another Rangers.
Player sales are essential, and the Record got on board when they published their top ten players of 2021.
Curiously, Joe Aribo, (he's the one with the pony tail, if you, like me, wouldn't recognise any of their players if you bumped into them in Asda, even if they were in their work clothes, was named as the second best player in Scotland, and described as follows…
For a guy of 6ft 2ins, his first touch is like velvet. There isn't a player in Scotland better with a ball at his feet in tight situations. Aribo could keep a beach ball off you in a phone box. 
It isn't, there is, and he couldn't.
Looks like this week the store are promoting Aribos…..
Presumably interest has dried up in Nathan Paterson, and it's interesting to note that Barisic has "snubbed " Gerrard to stay at Ibrox.
I'd be surprised of any of their players fetched more than their manager when it comes to cash.
It's depressing to think that Scottish football is prepared to go down the same path it travelled that led ultimately to the liquidation of one of it's clubs. There are better ways to save a club than cheating, and surely the fact it didn't work last time would have made them more cautious this time round.
Except, of course, they're already waste deep in doo doo at the SFA/SPFL, and so a few more inches won't make much difference to the smell.
All we can do is win the league this year.
That will put them back to sleep until the next regeneration, and that requires full support for the team, full anger at the authorities and complete awareness, above all, of what is going on here.
Ignore the higgins thing, it's not going to happen, and if you can;t, simply bombard the club with emails, protest outside the ground, or if need bem a mass exit when the game is won.
But don't fall for their shite, more than at any other time this is the board versus the fans, and we need to play by our rules, not by theirs.
Be angry at whats happening, not what might happen.
The last caption competition was last week…..
Caption. See Agnes, I telt ya climate change wis real.  
Today