I took the dogs out as usual yesterday morning, and as I passed one of my neighbours house, I realised I hadn't seen the old fellow for quite some time.
Turns out no one else had either, so a few of us got together and chapped the door. No answer, but when i tried it, it opened, and immediately there was an overpowering smell of urine, defecation and general decay.
Sadly, our worst fears were conformed when we looked into the living room. There was a big poster of a fellow on a horse. Our neighbour had moved out and "rangers "fans had moved in.
The moral of the story ?
Appreciate what you have when you've got it.
Ange Postecoglou has learned how to handle the media in Scotland, thats the general view of the support as time and time again he ignores the immature stenographers when they ask stupid questions.
His relaxed and confident manner defies the early reports that he wouldn't cope in the goldfish bowl of Glasgow, as he handles the "pressure " that has broken others by simply treating it with the contempt it deserves.
One hack asked him about ticket allocations for the League cup final….he replied
Nah, you are not going to ask me about ticket allocations," 
"We are playing Leverkusen in a big game tomorrow night. Don't waste the opportunity.
"I have no desire or any incline to get involved in ticket allocations, that is not my brief.
"I will let you pass on that one. I will give you a freebie, give me another question."  
The big game is tonight, and Leverkusen require only a point to guarantee progression to the next stage.
Celtic require a point to make the final game against Betis a winner takes all.
I'd say that if a draw suits both, then a nice , friendly evening kick about is the most likely outcome.
The players should be intstructed to take it easy, be nice, ask the Germans how they're doing, can we get you anything, how's the kids and so on.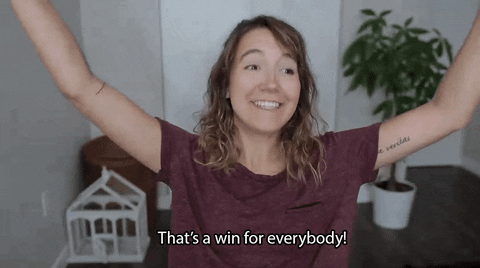 Of course, I'm not suggesting that our club would have anything to do with helping another club because it suits us…. our board is stacked with honourable men.
So it's quite surprising that. for instance, they're looking to hire Bernard Higgins, a former Police Scotland gruppenfuhrer who was behind the persecution of Celtic supporters when they did outrageous things such as wear brightly coloured shirts in front of oncoming traffic, walk on the cracks in the pavement and speak before they were spoken to,
Higgins is not a popular choice, and an open letter was put together this week, which has almost universal support among the support….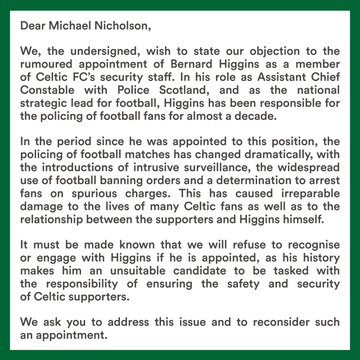 There has, as yet, been no response from the board, which kind of fits their "hope it all goes away " model of dealing with customer complaints.
The honourable men have form for this kind of thing, as anyone who has been following the Resolution 12 story will tell you.
At the last AGM the Celtic Trust gathered some signatures and put forward a resolution that was voted up in the room but voted down by the larger block vote that is always used against this kind of insurgence. It kept Bankier and Wilson in their  jobs as well..
All of which means the whole episode was pointless , right ?
Well, yes and no.
It certainly brought attention to the issue, again, if not an explanation of what it was all about.
And there are one or two things that aren't quite sitting right with me.
On the Celtic Trust website, there is a summary of the AGM , and this is the conclusion they came to…
As a result of some extremely hard working and creativity by the Celtic Trust Communications Sub-Committee, the number of individual proxies to the Trust were as high as they have ever been.  However, that amounted to 390 individual shareholders out of a total of almost 28000.  Think about this – if you knock 30 at most from that figure as those who are the 'big guns' then that leaves…well…almost 28000 of people like us – ordinary supporters.  We got less than 400 to proxy their vote to us.  In terms of shares voted, around 80.3 million shares were cast – that is around 75% of those shares that could be voted.  The vast and overwhelming majority of that 75% is in the hands of the big investors.  The missing 25% is mainly ordinary, small shareholders who, year after year, don't bother to vote.
The votes in favour of our resolutions and against the re-election of Bankier and Wilson were between 940,000 and 989,000.  That amounted to around 1.2% of those cast.  A paltry figure in itself but one which could be increased significantly if we could get those other 25% of shares (held by around 28000 people) voted.  Just over 26.8m ordinary shares were not voted and if even half of these were voted then we would start to see change.  The change would not come because this constitutes a majority – it doesn't.  Change would come because of the dynamic effect of a real challenge to the power of the existing Board.  Minds would start to turn towards to possibility of change and some of the larger shareholders, who themselves are not happy with the Board, might start to believe that change can be achieved and join with us.  Most of the people we regard as the big guns now have a far smaller stake than 25% so our combined power is not insignificant if we can only mobilise it.
So, to sum up, they got their vote out and we didn't get ours out.  That is the long and the short of it.  Hence that is why we need to now turn our attention to the Drive for 5 campaign and really get to work.  This is a long game, and it might take us a while yet, but change is possible, it is necessary, and we have a clear mechanism to achieve it.  Join us and make it happen!
Why ?
In short, the Trust altered the original resolution because it was defamatory, against company law and incoherent.
Quite how an accusation of misgovernance and a demand for clarity can be defamatory is unclear, it's fairly simple. There's evidence that there was misgovernance, and clarity is needed on how the club dealt with it.
Company law is open to interpretation, and as for incoherent…if someone at the Trust didn't want to back something because they didn't understand it, then perhaps someone who did should have dealt with it….
To my mind, the low level of support for the Trust is down to a lack of trust, and before they start lashing out at that, they maybe want to look inside themselves first.
Do they really represent the wishes of their members ?
I've seen a few things that cast a little doubt on that assertion.
And bear in mind, I rarely ask a question I don;t already know the answer to.
It's becoming perfectly clear to me that whilst we already knew we couldn;t trust the board, it's disappointing that there's a feeling we can't trust the trust.
But I'm sure they'll clarify any doubts I have.
The offer of a right to reply is extended to any and all of them.
Elsehwere, and maybe this is part of what we need to fight against, and why we need to all be singing from the same hymn sheet.
Celtic B played Clyde the other night, and whilst our youngsters are learning their trade, it appears Chris Gentrie, the referee, is excelling at his….
https://twitter.com/i/status/1463512862408728578
So  , bringing back an old favourite, today….
You Are The Ref !
Using your skill and judgement, study the clip above and using your knowledge of the laws of the game, tell us, in your own words, how the suffering fuck that was a penalty.