With yet another international break upon us, there's a temptation to review the season so far, to assess how the new players are doing, how the manager is settling in, and even the difference it's making having fans back in the ground.
No doubt someone else will be doing that, though, and as ever, we try to do something a little different on here. A wee bit of thinking outside the box, which usually involves a degree of paranoia, or , if you want another word for it, awareness.
And I think we need to be aware of a number of things that are going on outside the box right now.
On Sunday, "rangers " got what some would say was a helping hand from referee Nick walsh when he sent off Ryan Porteous of Hibernian, an enthusiastic lump of a lad who likes to throw in a meaty tackle.
All things considered, the referee could have given a yellow and told him to calm down, but on reflection, it was a nasty lunge, and had it been a Celt on the receiving end, let's be honest and say we'd have wanted him sent off.
Except, of course, that wouldn't, and hasn't happened in the history of our club. Especially recent history where referees appear to make decisions based entirely on the financial affairs at a club south of the river…
It's not the sending off that raises my eyebrows, it's this incident later on, where a Hibernian player is dispossessed by a similarly enthusiastic tackle….
https://twitter.com/i/status/1444988120429178880
Not even a foul.
doubts are therefore cast upon the integrity and impartiality of the referee, Nick Walsh, and it wasn;t long before a photograph of him in an outfit that suggested allegiance to a certain club/company appeared on the interweb…..
Oh wait, wrong one.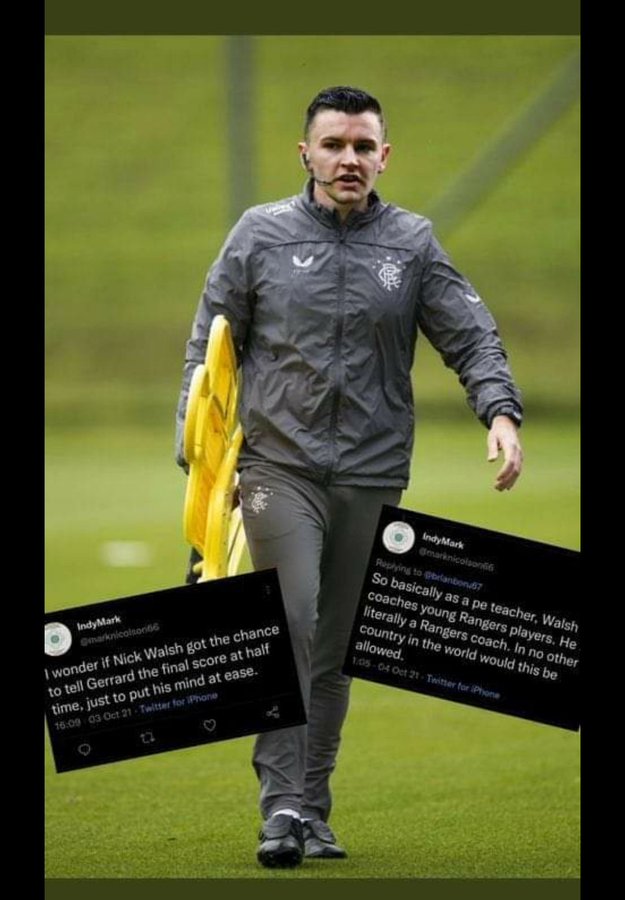 It doesn't look real, and probably isn't.
But the perception of bias that has been allowed to develop means some will have already decided it is real, and whether or not it was an honest mistake becomes irrelevant.
When you remember he sent off Calum MacGregor against "rangers " you start to wonder, and when you fond out he sent Ryan Porteous off against "rangers " previously, you might even start to point a finger, but the truth is Hibernian were already well beaten in that game.
And in fact, Walsh has sent quite a few players off, and there's no pattern to any of it. There is no evidence to suggest any impropriety, as they say, and certainly none that suggests a bias towards "rangers ".
But the perception of bias is there, and will remain there.
In fact, one wonders if he's being sacrificed to protect others who may have personal opinions that can reasonably be expected to contribute not only to a perception of bias, but an actual bias that is an extension of their own environment and therefore, shall we say, outlook on life.
Take this man, for instance….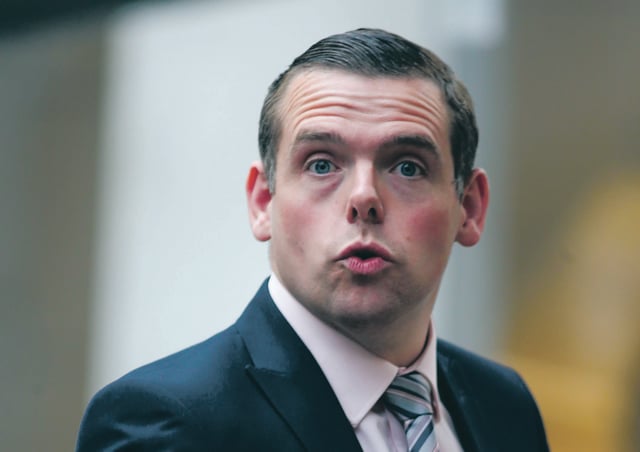 He's the regional branch manager for the English Conservative party in Scotland, and has been known to publicly state his feelings about those who are, er, different from him in one way or another….. as the National reported;
Speaking in 2013, Ross told The Northern Scot of his frustration after a Scottish Government official granted a Traveller community a chance to stay at a settlement they had created.
He told the paper: "I have to say I am disappointed and frustrated that we seem to have to bend over backwards for this ethnic minority."
Ross added: "These actions are not reciprocated by their actions to the planning department and the council."
Ross's committee's one-kilometre ruling was labelled a form of "apartheid", an attack the now Scottish Tory leader said was "very inappropriate and deeply insulting".
In the same article, Ross was also accused of saying ……
In comments made in 2010 while a councillor for the Lhanbryde and Fochabers ward, Ross suggested it would be "too much" for people who live near a land-fill site to also live near a Traveller community.   
He has regretted that people remembered him saying them, at least that's how it appears to me, but that somewhat elitist ideology when combined with the surge in anti Irish racism in Scotland surely brings into question his suitability for a role as a Scottish football official ?
If only to avoid that perception of bias….
Then there's bobby Madden, of which little more needs to be said.
But I'll say it anyway. The former Rangers former season book holder gave up his ticket when he became a FIFA referee, it's alleged, but that does beg the question as to whether he had one when he was a mere SFA referee.
And as to why a known supporter of a club is allowed to referee their games, or any game that where the result may enhance the position of "rangers " in any competition.
Then there's John Beaton, who needs even less of an introduction. Beaton was photographed in a bar with "rangers " fans shortly after a performance against Celtic that, er, left him wide open to the perception of bias.
Incidentally, that bar also provided the fans who filmed themselves racially abusing Kyogo Fuhruhashi on a supporters bus…
All of this points to a somewhat sloping playing field, and of course the argument against it is that Celtic have just won nine consecutive titles, and in that period had an unprecedented run of four consecutive trebles, all of which happened whilst "rangers " were in the Premier league.
So it must be bollocks , right ?
Well, not really.
In what would lead  to their eventual liquidation,  Rangers were skint. The club had been badly run by David Murray and was living beyond its means, and champions League money was needed to help balance the books. They got more than a helping hand from officials when they needed them, the evidence is well documented elsewhere on this, and other sites.
The question is, with "rangers " also admitting to severe financial problems, and a failure to qualify for this seasons UCL, does the guaranteed place in the group stages mean they will receive a similar helping hand this time round ?
Evidence so far suggests that there is at least a perception of bias, and that must be challenged.
There is a saying about learning from the mistakes of history in order not to repeat them, but if that history is not recorded correctly, then how can those mistakes be avoided a second time ?
The mainstream media has changed it's record on the liquidation of Rangers…somehow they survived it and went on to record a 55th title, and next year will celebrate 150 years of existence, which will be lauded in the media, even though it is simply not true.
What seems to be more important is a continuance of the Old Firm brand, the major selling point of Scottish football , but this seems to be only in the eyes of those who sell it.
No other country markets the unique brand of hatred and poison that exists between two of their clubs, and the need to do so is called into question when you realise that Scottish football receives far less money from television and sponsorship than countries of an equivalent sized market.
Indeed, the SPFL have a sponsorship deal with a second hand car company that is under threat because one club/company aren;t happy with it. that in itself is shambolic and an indication that one club/company feels it doesn't have to abide by the rules set out for the rest of them.
As for TV money, that is dependent on four "Old firm " games, which in itself breaches sporting integrity as there is every possibility that one of the two sides won;t make the top six.
Celtic because they are in a transitionary period, and "rangers " who face the perennial threat of points deduction due to going concern issues. Though, of course, neither will be allowed to happen.
It's a mess, and there is little sign of a desire to change.
That needs to come from all of the clubs affected, and not just Celtic.
Rumours remain that Dominic McKay had seen the environment Celtic play in, and wanted to change it for the good of the game. He's now no longer at Celtic, replaced, possibly temporarily, by a "safe pair of hands " in Michael Nicholson.
Another piece of tittle tattlle is that he'll be replaced by Roger Mitchell, who himself was replaced at the top of Scottish football for having a few daft ideas, which may not have been so daft after all.
What is concerning is that Scottish football is refusing to move forward. Largely becuase moving forward needs fresh ideas, and an entirely fresh policy on a club/company that has a core element that is unacceptable in the 21st century.
The modern football game is about image. The professional club and player needs to be of a certain standard of cleanliness . for want of a better word, in order to attract the best possible return from sponsorship.
Whilst the occasional personality who might be a little , er, maverick , will be tolerated as everyone likes a likeable rogue, dishonesty and a lack of integrity will not be accepted in any shape or form.
We cannot bank on support in the mainstream media, and our own club has done little to sway any of our concerns, let alone the concerns around the direction of the overall game.
The only thing they listen to, and indeed every club listens to, is the sound of the tills ringing.
And thats where we must start the fight to reclaim our game, before it's too late.