..that we won away !
Celtic beat Aberdeen at Pittodrie yesterday, and, as no doubt you've been reminded, recorded their first away win since the formation of the Scottish football league.
Or something like that.
Significant ?
Well, the chairman of Bayern Munich rang the owner of Real Madrid last night, and in hushed tones informed him that…
Verdammt noch mal, die Kelten sind zurück  (fucking hell, the Celts are back )   
 And if we were all honest, we'd admit to ourselves that we quite enjoyed that game, and it was far more fun than previous years, when a trip to the north usually meant the three points were easier to get than a shock from an Aberdonian bar bill.
 Celtic left it late, but it's not surprising really. The intensity of play, on and off the ball, means that the players need a bit of a rest during the game, before rallying near the end. As fitness levels increase, that period will get shorter and shorter, and the games less exciting or unpredictable, so enjoy them while you can before we return to the norm of sweeping domestic opposition aside, winning everything in sight like we did in four of the last five seasons.
 After the match, manager Ange Postecoglou praised the character of the players, highlighting that it's not about all about expected goals and other pointless statistics….
"We obviously had a disappointing night (against Leverkusen), and we know our troubles in the league, particularly away from home, so with all those factors, and even the manner in which we did it … I thought the players showed tremendous character at 1-1 not to settle for that and to try to get the winner and I'm really pleased they got their rewards." he said.
"It's important because there's no doubt this year we've played some good football, but probably the one thing we haven't shown is that when we needed to get ourselves out of a hole or whatever situation we've been in, we've struggled to do that.
"I think the players will get tremendous belief out of today. It's not an easy place to come and win. They were desperate for points, throwing everything at us."  
Football is played by footballers, with a real ball, in good weather and bad, after long road trips and short, and not on a computer screen somewhere, with the curtains closed so that the neighbours think you're watching another genre entirely, like normal men do.
There's an international break now, with Scotland facing Israel…I didn't even need to look that up, they're always playing Israel, and probably someone else.
All we, and Ange , can hope, is that the players away don;t pick up any injuries. Scotland players in particular are at risk, as they can fall off their chairs asleep whilst listening to Steve Clarkes team talks.
As the wizard of Aus and annihilator of Aberdeen said;
"The last international break wasn't great for me so I'm not sure how I feel about international breaks," 
"It is good having that positive feeling and the next two weeks give us the chance to get some players up and running who are out injured, and get some work into some others who need it.
"Fingers crossed they all get through the international window and we have a stronger squad to then sustain a bit of a run after everyone gets back."
Maybe things are starting to come together, maybe it's just a flash in the pan, but what is certainly encouraging is that the manager is already making plans for the January transfer window….
"We've identified targets and begun discussions before we get to January so that we can conclude deals a lot quicker than we did in the previous window."  
Not only is that a signal of intent, but it's perhaps a window into how these deals are made, and how much time has to be put into making sure you get the right player at the right price. With only two windows a season, it may be that the market needs full time attention rather than just an attitude of "we can buy someone now, so let's buy someone.
Instead of targeting a deal by the end of the window, work on it so it can be sorted at the beginning. Obviously some players and agents will want to wait and see what else appears on the table, but surely it's worth building a relationship with a target early, so that all parties know where they stand, and whether or not a player is worth pursuing ?
Despite the euphoria of the win yesterday, Celtic are still sixth in the table, and are still six points adrift of leaders "rangers ", who managed a 2-1 win over Hibernian despite going behind after just eight minutes to a Kevin Nisbet goal.
Fortunately, that conveyer belt at Lanarkshire has thrown up another one for the future in Nick Walsh, who sent off Ryan Porteous on the half hour mark to help his team, after the Hibee slid past a "rangers " player causing him to move out of the way.
From at least one angle, there appears to have been no contact, and it's thought that Porteous was sent off for thinking about committing an offence.
"Well, it was either send him off or award a couple of penalties " said Walsh, down at the lodge
Which reminds me, Bobby Madden was the flautist, sorry, whistler, at Pittodrie, and he managed to award a free kick to Aberdeen for the other new rule, which states that Celtic cannot retain possession of the ball for ninety consecutive seconds.
Amazingly, Celtic committed 27 fouls on Aberdeen players, who only had the ball for about half an hour, whilst the Dons only committed ten.
Or one every ten minutes or so…. despite Celts having the bulk of possession.
Now this could be down to the aggressive side of Celtic play, fighting to win back the ball, but if you look closer it's more likely it's all about breaking up play, upsetting the rhythm of Celtic, who play the game at pace.
These subtle little tweaks to the flow of a game have an enormous influence on the outcome, and are less visible than penalties and sending offs.
Of course, there is the perception of bias, with a number of officials having supported "rangers " in their younger days, even to the extent of holding season books.
In England,, they do it differently….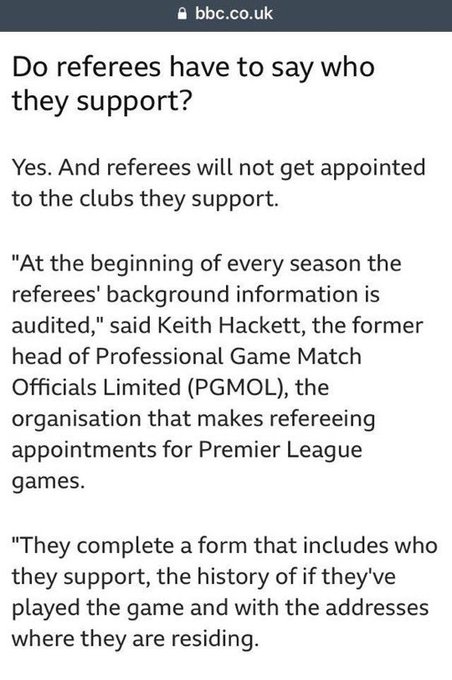 If any referee has any connection to any club, they must not be allowed to referee their games. It's that simple, and although that will probably see an increase on supporters of Partick or St Mirren, any subsequent evidence that links them to a club, must result in instant dismissal.
That would remove the perception of bias.
With the Celtic board under Peter Lawwell's diktats not interested in pursuing anything, no matter how illegal or immoral, that would upset the Old Firm brand…including liquidation of one half of it….. there is a feeling that they may be compromised and therefore unable to call out any ,er, perception of bias.
However, since all Celtic fans are fully aware that the board don't give a shiny shite for how we feel, and we know that they care more about that brand than petty things such as sporting integrity and fair play, it's hard to see how they could possibly think their image would be further tarnished by such revelations.
In short, that barrel the SFA/SPFL think they have the Celtic board over, it doesn't exist. we already know they're a shower of bastards who give not a toss for either the club, the support or the image of the club, which worldwide is down to the support and the players.
So there is no reason not to call them out.
The board need to know that there really isn't anything they could do that would make us think any less of them 
Elsewhere, and Roger Mitchell, who helped to put Scottish football where it is today, had a few words for the Celtic board on his twitter account…
"There should be two dossiers before the board at Celtic PLC.
"'What they do and we don't' is the heading of both reports.
"First one Brugge, second one Brentford.
"Both clubs would be considered by most Celtic fans as 'not as big as us'. How quaint."  
Now, isn't that interesting ?
If you don't think it is, then you haven't being paying attention……
Caption competition…..
Caption:
"I'm getting leather, subtle tones of insole and just a hint of sport sock."    
Today….