We can relax a little bit now.
Celtic made the group stages of the Europa League after a display of grit and determination against one of the best sides we have played for a long time.
A 2-1 defeat on the night meant a 3-2 aggregate win, and although there are still some out there who would happily swap most of those who put in a shift last night for new players , we have to recognise an achievement when we see it.
Especially from players who know that there are still some fans out there who would happily swap them for new players.
A couple of defensive mistakes led to the goals after Celtic had taken an early lead on the night, which put the spotlight back on a defence that is still gelling and has worked hard on eradicating the mistakes of last season.
At three up after Kyogo found the net again, there may well have been a subconscious relaxing of concentration, that sort of thing is only natural, but the players mentally regrouped and saw the game out.
If anything, in the long term, the philosophy of never stopping will have been strengthened by this lapse, with lessons being learned about keeping up the tempo and keeping their minds on the job.
And before you look at it in a negative slant, had the games been reversed and Celtic had come away with a narrow defeat in an away first leg, we'd all have been optimistic about overturning it at Celtic Park.
Technically, we overturned it in the first game, which when added to the early goal , meant that alkmaar had to throw the kitchen sink at us. Which I'm not entirely sure is in the rules….
A glance at their home form suggests even more credit is due to the players for making the next stage….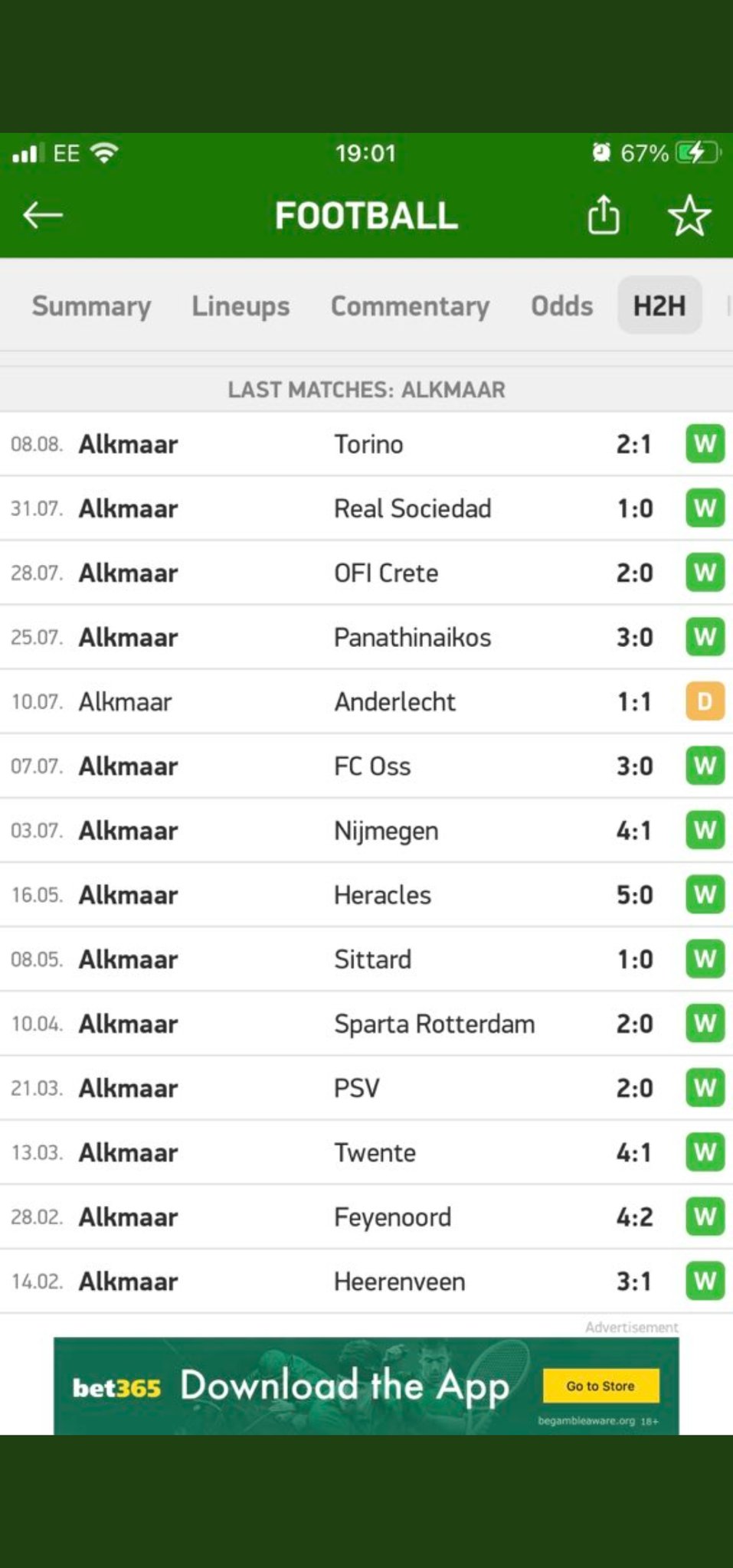 European group stage football has been attained, and although the money isn't as good as the UCL, at least we'll be playing real clubs who are in it to play football, which should lead to some great games under the lights. The alterations to the competition mean that third place in the group means a play off for the knock out stages of the lesser Conference tournament, so there is even a safety net of sorts to ensure knock out football, where anything can happen.
Especially as the team gets stronger, so it's hard not to look forward to whatever the draw throws at us.
And it does look interesting….
Pot 1
Lyon (FRA)
Napoli (ITA)
Leverkusen (GER)
GNK Dinamo (CRO)
Lazio (ITA)
Olympiacos (GRE)
Monaco (FRA)
Braga (POR)
Pot 2
Celtic (SCO)
Frankfurt (GER)
Crvena zvezda (SRB)
Leicester (ENG)
Rangers (SCO)
Lokomotiv Moskva (RUS)
Genk (BEL)
PSV Eindhoven (NED)
Pot 3
Marseille (FRA)
Ludogorets (BUL)
West Ham (ENG)
Real Sociedad (ESP)
Real Betis (ESP)
Fenerbahçe (TUR)
Spartak Moskva (RUS)
Sparta Praha (CZE)
Pot 4
Rapid Wien (AUT)
Galatasaray (TUR)
Legia Warszawa (POL)
Midtjylland (DEN)
Ferencváros (HUN)
Antwerp (BEL)
Sturm Graz (AUT)
Brøndby (DEN)
It doesn't matter who we draw, though i would like another crack at Midtyjlland, West Ham and Lazio. The latter purely because we know we could beat them, and the other two because we should have.
And we need a hook to get the crowds in, because , as we mentioned , the money isn't great….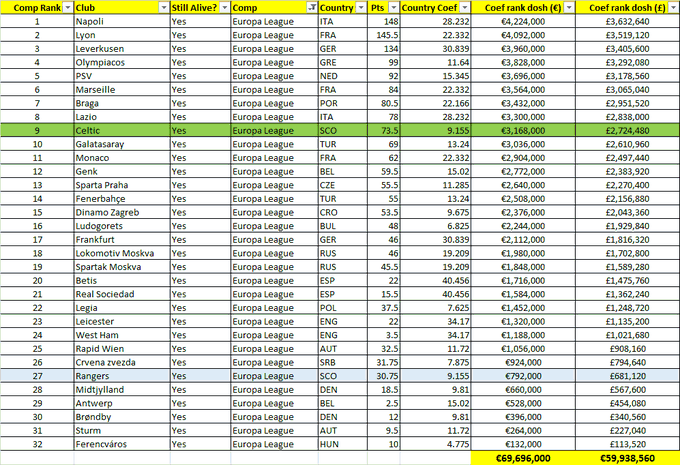 Although interestingly, the basic payment for the UCL would only have been £7.8m, which isn't how the media report it. The add ons make the money up, such as win bonuses and progression payments.
And of course, crowds.
It's even less for Scotland's other representatives, who scraped a 0-0 draw in Armenia against ten men to enter the group stages, and it's quite a conundrum for them…do they want the big guns and humiliation, or the diddy teams and the money ?
Problem is, there is only one diddy team, and UEFA, unlike the SFA, won't bow to their demands, and allow them to be in a group by themselves.
There is a new appetite among the Celtic squad that will go some way towards evening things up on the field, as these pictures show….
The Christie one is interesting, as he certainly isn't behaving like a player that wants out….
Back at the ranch, stories have been circulating that James McCarthy has contracted Covid, and as far as we can ascertain, there seems to be something in this one. We also think one or two others may have been infected, but having said that, there can't be many who haven't already had it.
Whatever the outcome, one would hope that an independent tester is brought in to make sure there are no players on the field carrying the virus, simply because of the risk of infection to other players.
That game can wait, however, though no doubt the media will begin selling it as soon as they can…in fact, they've already started to choose their favourites, with last nights results and achievements being given a different twist ,,,see if you can spot a pattern….
note also the choice of picture….given that there were ones such as those above available….
Ease ? The other lot had ten men and they still couldn't score…..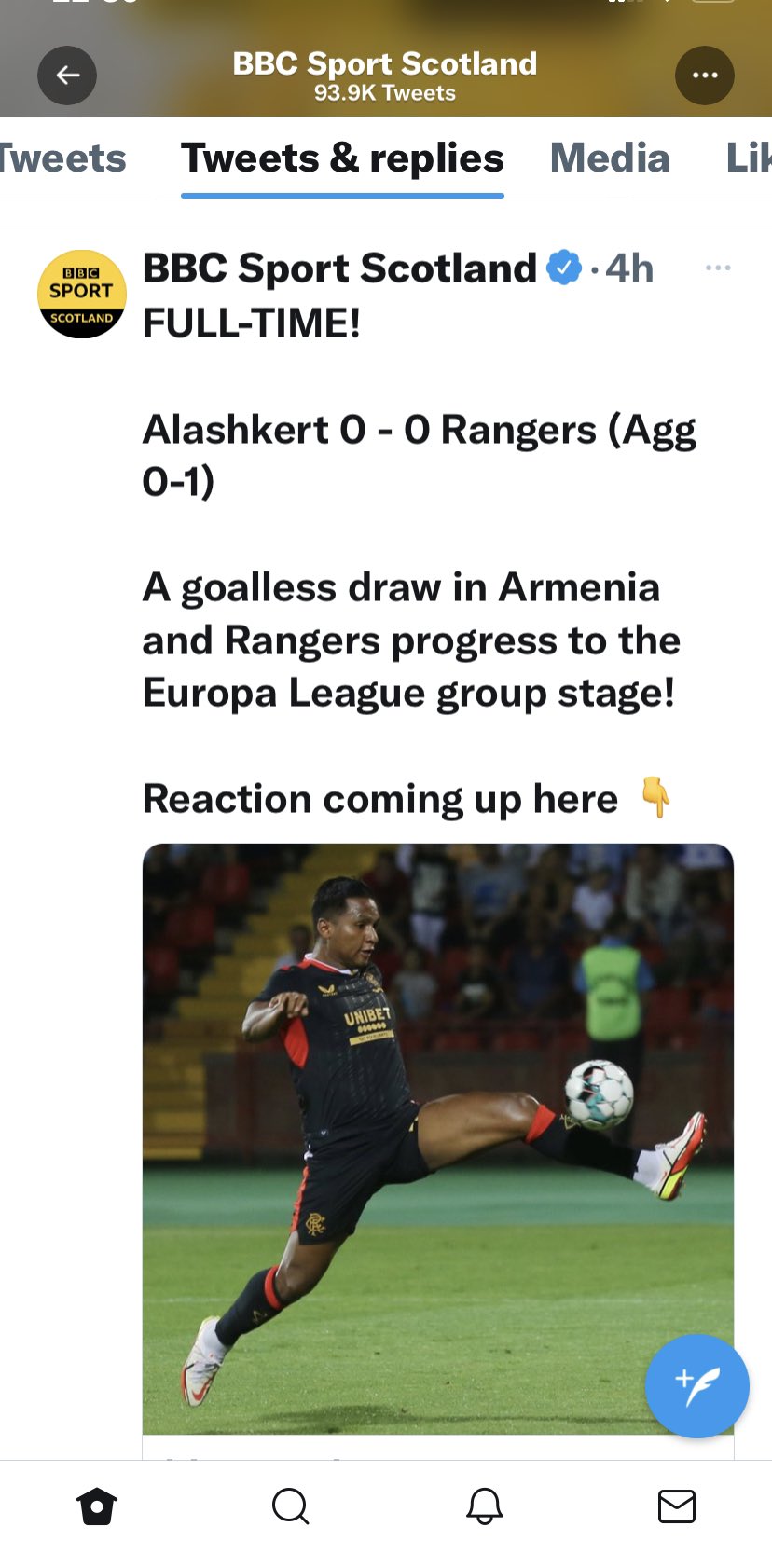 Progress !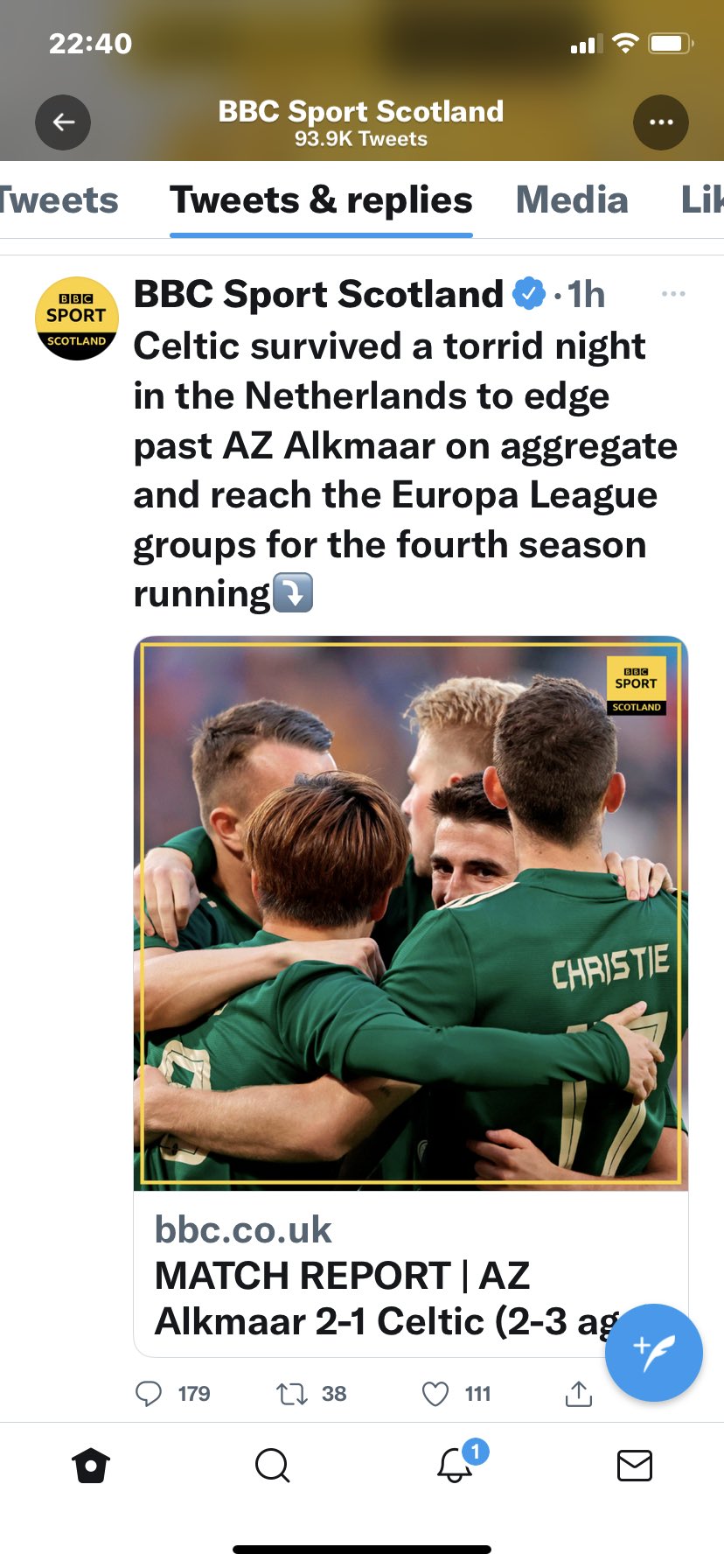 Survived ! Torrid ! Edge !
I prefer how manager Ange Postecoglou summed it up….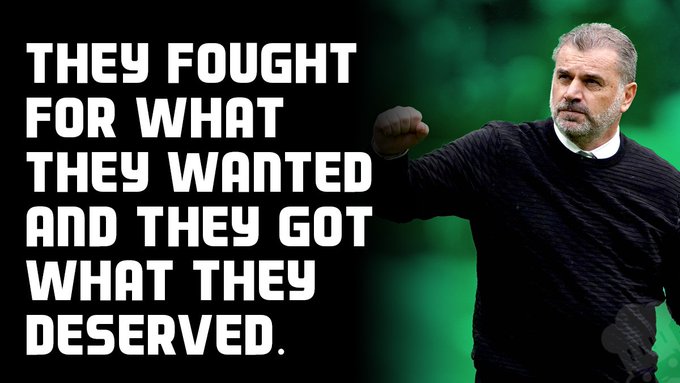 With the group stages complete, we can also expect some new arrivals, Liam Scales should be the next one in, and some departures, certainly the likes of Bolingoli, and possibly even the likes of Barkas and Griffiths.
Curiously, those who play down the win last night cite the AZ loss of some key players, and yet no one has mentioned that Celtic had released their influential captain Scott Brown, or others such as Ntcham and Ajer.
Whilst Ntcham had lost his way, Ajer and Brown were big players, and again it shows that the revolution is well and truly underway, and so far, we've highlighted the improvement on the field, but not the complete change in the culture.
Brown was a major influence, and MacGregor may take a while to reach that level, and yet he's flourishing.
Stephen Welsh and Tony Ralston have strengthened the defence virtually beyond recognition, and Greg Taylor looks more relaxed, probably because the resonsibility is being shred more eveny now.
And Joe Hart might still have a few mistakes in him, but you can;t fault his focus, involvement and concentration….
It's Friday, and from the plethora of penile behaviour on view this week, it's time to choose the Etims
Knob of the Week
This week, it's whoever is behind the website/blog The 4th Official, who/which comments on Scottish football through blue tinted glasses, as they showed earlier this week when the plague hit Ibrox…

No matter what club you support, please don't celebrate football players contacting covid and missing out on games. Frankly, it's in disgusting taste and beneath any decent person.
Well, if they've gone out of their way to contact the virus it's difficult to feel any sympathy for them, but who knows what lengths they'll go to over there to try to avoid defeat.
But the 4th Official seems a little inconsistent with his views on the virus and infections…..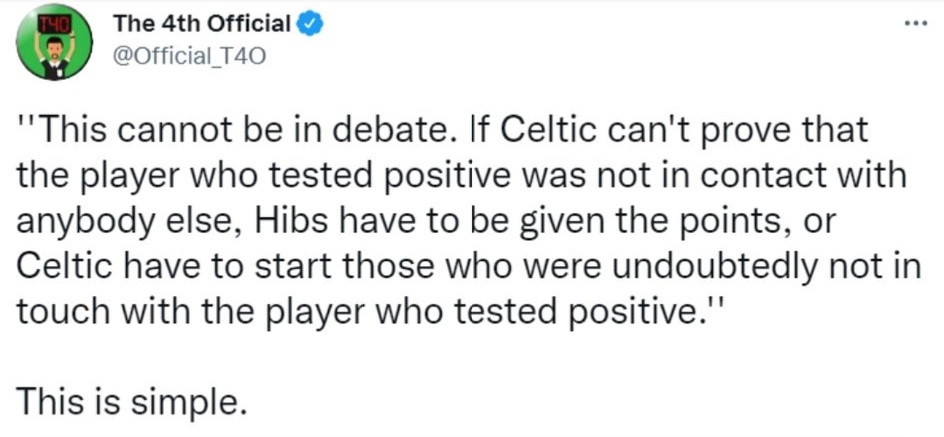 Well, something or someone certainly is….
Anyway, it's always nice to see someone rewarded for the time and effort they put into their work, so congratulations to the 4th Official on his first
Knob of the Week  
Yesterday, we had this….
Caption:
"Ye try tae book Charlie Adams fur Sportsound and they send ye a tube full o' pish".
Today….