The close season draws to an end this wekend with Celtic set to face new Scottish champions "rangers " in a glamour friendly on Sunday.
The fledgling Ibrox club will be wearing 55 on their shirts to celebrate 55 tiles, as they seem to be allowed to add the titles of another club on to their own tally, which somehow makes them feel better.
Then again, when you compare the histories of the three clubs, two of them don;t really have a lot to shout about.
Celtic, for instance, have innumerable great players and several historic achievements.
From McGrory to Larsson, from Quinn to Dalglish, and all of those inbetween.
And thats before we mention the greatest of them all, Jimmy Johnstone.
Celtic were the first to lift the European Cup, the first to seven, eight and nine in a row titles, as well as the first , more recently, to a second nine in a row, and treble and quadruple trebles…
So its little wonder they are making a big thing of 55, even if it isn't actually 55.
We hear they are also planning to celebrate the anniversary of the first Rangers man in space, the first Rangers man to isolate the genetic code for malaria and of course, the introduction of a safe covid vaccine , apparently discovered at the start of last season and tested on their players…..
Well, how else can you explain the plague free environment over there ?
Last season ended when Celtic lost out in the Scottish Cup, and since then there has been a quiet period of reflection at Etims, largely down to the little arrow on my laptop disappearing. An appeal on twitter for help solved the issue…
No idea mate, Phone Ibrox they're the ….wee arra peepul   
 And so the problem was solved….
 Dominic McKay has now officially taken up the reins at the club, but it appears someone has locked his office door from the outside, and so we haven;t heard anything from him. With Peter Lawwell still doing his magic behind the scenes, we might not hear from him for some time, although there was something about John Kennedy moving upstairs to help the new man….
  He is in line for the post of sporting director, which is one step above running the paradise windfall, and somewhat bizarrely was encouraged by unofficial club website Celtic Quick News as a good idea becuase he knows where Tannadice is.
 Apparently John Barnes didn't and it was why he was a shite manager.
 If Eddie Howe is to take up the manager vacancy, then he won;t need help from those who would be tempted to help him acclimatise to Scottish football, as he'll end up making the same mistakes as we made last season.
 We don't want an advisor who will advise him not to criticise referees, or the SFA . I keep hearing the line that it's not how it works in Glasgow, and the problem is that the way things work in Glasgow is geared entirely to the satisfaction of whatever club is playing out of ibrox at that particular moment in time.
 Apart from that, Kennedy , along with Lennon, Brown and Lawwell…the gang of four (At Ibrox they call them the gang of 58 ) is responsible not only for the total collapse last season, but the manner of the collapse.
 We can accept losing, but we cannot accept losing without a fight.
 Yes, there were reasons for the collapse off the field, but there can be no excuses for the lack of fight on it.
 Which is why every player who wants to play for Celtic should be looking at themselves today and making a decision they must stick to.
 Do they want to be here next season ?
 If not, they shouldn't play in any of the upcoming fixtures as there's a difficult Champions League qualification to prepare for, and we need players who are up for the battle.
 Which pretty much excludes most of the first picks from last season.
  That reminds me, did you notice the fury around the new European super League ?
 Yes, you probably did….and it probably meant you didn't notice the changes to the Champins League, which is more or less the super league with France and Germany in it.
 There will be about 200 games before it gets to the last 16, which means the same teams from the same leagues will be playing each other over and over again as its now a formula that makes everyone money, and despite the claims that football needs Celtic Ajax Benfica and so on, it appears the teams who really need to form their own league aren't the ones who thought of doing so…
 European football is eating itself, with or without the super league, and sooner or later it will burst….
 Although I wouldn't, from a Celtic point of view, overly worry about that right now. the way things work, the first game in the qualifiers is the most important, as winning that tie guarantees group stage football at some level.
 Which brings me back to the importance of the run of friendlies from now until May.
 And the importance of getting the new man bedded in.
 It's fairly obvious he'll have a few quid to spend, as quite a few players will be sold. Frankly, as good as some of them are, they didnlt perform this season, and showed little to suggest they will perform next season.
 The purge of the gang of four is almost complete, now let's get rid of the imposters on the pitch.
 Or, put another way, of the three cliques in the dressing room, let's keep the Celtic minded one…..
 The return of the diary means also the return of
Etims Knob of the Week. 
And I don't know who it is !
It's whoever came up with this idea…
We will unite with clubs across Scotland for a social media boycott this weekend. The boycott is in response to racist, discriminatory and personal abuse online aimed at players, staff, supporters and others associated with the game
 Scottish hacks and authorities have united behind Glen Kamara, who may or may not have been racially abused by a player from Prague.
 We didn't hear it, so cannot conclusively say it happened.
 However, we did hear this….. at the St johnstone "rangers " cup tie….
https://twitter.com/i/status/1386964372233334785
Someone on the Ibrox staff referring to a "dirty fenian …"
 Not a word in the media….the wrong kind of racism ?
 Still, at least they didn't call it a social media blackout…..
 Caption competition….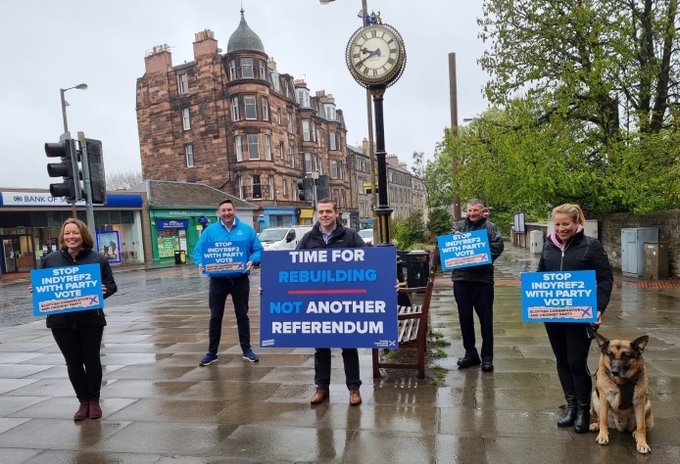 Finally, the world of politics braced itself for another scandal last night….
| NEW: Boris Johnson is said to have personally fingered Dominic Cummings over the leaks Via