Nick Hammond, the guy in charge of whatever he was in charge of, resigned yesterday..which was a major surprise to me.
I thought he'd gone ages ago.
He becomes the fourth member of operations to be asked to clear his desk before its thrown onto the street in just a few short months since the internal review.
Makes you wonder why someone didn't think of doing the review a little sooner.
Next up should be the medical staff.
Having cost the club millions by permitting an unfit Keiran Tierney to be played into virtual invalidity, which resulted in a cut price deal to Arsenal, there is a real prospect that their incompetence could be repeated with other players.
We have endured a couple of years of somewhat excessive injuries to players, which may be a result of training methods, unlikely given the fact that anyone in a hooped shirt these days is knackered after taking the knee, with some players requiring assistance to get back on their feet.
Sports science is just something that happens at other clubs, it seems, and despite offers of help, those in the cocoon of the department have obstinately refused to listen to any other viewpoints rather than their own.
Though they did record a major breakthrough the other day when they succeeded in striking a deal for the supply of leeches from a wholesaler that could save the club tens of pounds in the future.
Fair play to Dominic McKay, who hasn't been doing much talking since he announced he'd taken on the task of bringing Celtic back to life after it fell asleep a couple of years ago.
He's doing what all good managers should do, and using his eyes and ears in proportion to his mouth. After all, you need to find out whats wrong before you can put it right, and the word is he's already on the job…so to speak.
One thing that has delighted onlookers is that he seems to be ready to listen to supporters, and thats where the old regime not only fell down, but rolled off down the street to meet a cataclysmic end under a milk truck.
We hear this guy seems not only to know what he's doing, but isn't afraid to do it.
Celts for Change, a new group designed to represent the thoughts and wishes of the support, may well have a little more success with this guy, as he will at least listen to their opinion.
Their may be something to gain by simplifying their initial thoughts into something a little catchier, as the man will have a lot on his plate for some time yet, but there certainly seems like theres room for manouevre. If i could spell it, that is.
And another thing, we hear that Desmond is still angry, his bad mood now into it's fourth month, and he has underestimated the strength of anti Old Firm opinion amongst his customer base, so we can expect a pulling back from any more joint ventures with that lot.
With another million or so shares being distributed among their "backers " yesterday…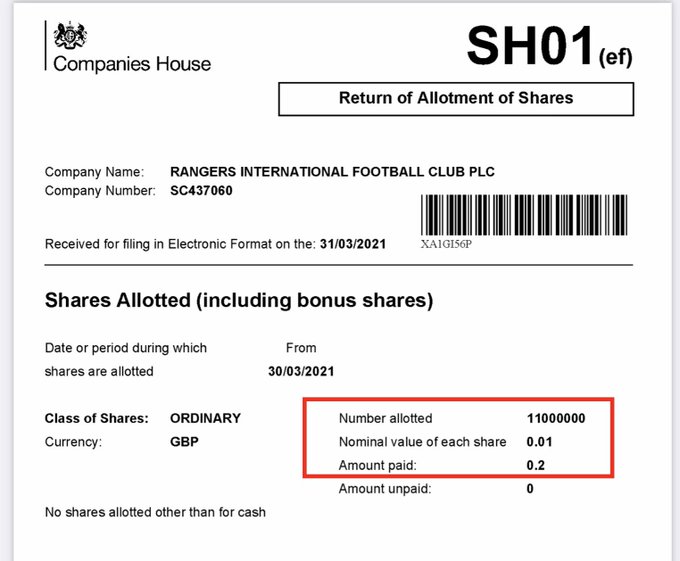 added to those given out a few weeks ago, there are serious issues at Ibrox, which would undoubtedly have been raised on the continent had they not got friends in high places.
The somewhat relaxed view of the Ibrox board to financial regulations may yet come back and bite them if they are expelled from Europe next season as a result of the Kamara incident, which they are desperate to keep in the public eye as a race issue, when in fact they face severe repercussions for the events after the game, which as UEFA "own " Ibrox for the duration of European games, they are more than interested in the claims from the Czech club….
Of course, any racial abuse is abhorrent and deserving of severe punishment, but we've only one mans word for what was said, and UEFA don't convict on the balance of probabilities….
But they will on video evidence of rules being broken.
They could, of course, sell the ground, or the training complex. Or at least borrow money against them.
They could if they owned them, that is.  And we hear that someone is inquiring about becoming the new owner, largely because for some reason he's a little bit pissed off at their antics over the last couple of years, and for what it would cost him to really piss them off is small change to him, and he;s the sort of guy who is gracious in victory, but in defeat seeks revenge….
More and more I'm starting to feel that as one period, the quadruple treble years, have ended, we are about to see a new Celtic, one with an eye on regaining its seat at the table of great European clubs.
Yes, I am aware of the date, but the parochial Peter has been replaced by the dynamic Dominic, and we might just have struck gold with this guy.
Note…the author reserves the right to change his mind if McKay invests in a heated driveway.