So, thats that then.
After a spectacular lack of interest from Celtic in attaining ten consecutive titles, yet another insipid performance in a long line of insipid performances finally put the lid on this most forgettable of seasons.
We'd like to show our graciousness in defeat and congratulate the first club outwith the Old Firm for nearly forty years in winning  their first title, and perhaps heralding a bright new future for the game in Scotland, as it emerges from the nightmare of a global pandemic.
Well done.
We'd also like to note that should Celtic fail to win the Scottish Cup, and lets face it , if they are forced to play any other team to do that, it's quite likely they won't, it will be the first season in the history of the game that the Old firm haven't lifted any of the major trophies.
And that is a small consolation for Celtic fans everywhere…at least it isn't our now defunct former rivals who are celebrating.
The disappointment at losing the title will subside, because deep down we knew there was something not quite right at the club, and now we have the opportunity to find out exactly what was wrong, and put it right.
Sometimes you have to make an arse of things to know when you are getting it right, and whilst it didn't have to be so spectacular , at least we now know we have work to do.
Its already started, with the principal architects of the demise either gone or going, and we can look forward to next season, maybe with a little more confidence than we should realistically summon.
We'll get over it. We always do.
However, there are a number of problems on a wider scale that have emerged this weekend, that need to be dealt with at a higher level.
For instance, we received this from a somewhat confused reader…
I'm wondering if you can help me out?
I'm filling out an insurance form and they're asking how old I am on my next birthday and I've said 55. They've then asked what year I was born and I've put 2012 and it's coming up error???
Can any of you good chaps explain where I'm going wrong  ? 
It's probably going to come as a shock to this fellow, . but I'd say that of you were born in 2012, then you most certainly won't be 55.
When the new Scottish champions, the new "rangers "  adopted the colours, home and even name of the now defunct original club that rivaled Celtic, they also inherited their customer base, and with a nationally driven PR campaign, managed to convince them that they were actually the original club, using the tried and tested three word soundbite that has become the trademark of others, such as the current Westminster government.
"going for 55 ",  entered the narrative in the way that "Brexit is Brexit " and other meaningless phrases have , giving some people, who could just as easily have pointed the finger of blame at those who caused the destruction of for many what had been a lifelong financial and emotional commitment, something else to focus on.
And as those in charge would rather they didn't ask questions about how they ended up without a club and were fleeced of millions of pounds , they tolerated all sorts of misdemeanours over the last few days…
And we all know where appeasement leads when faced with an aggressor.
After the new club beat St Mirren at ibrox to set up the possibility of a title victory this weekend, the players flouted Covid rules to run to their fans and celebrate, mingling with the mob who had congregated at the ground.
Now surely SPFL or Scottish Government need to say something about this. pic.twitter.com/a7Jr9ng27X

— Ian Thomson (@bhoyian) March 6, 2021
At this stage, it was apparent that when the title was actually secured there would be large, illegal gatherings at certain points in the city of Glasgow.
Not least because  Police Scotland tweeted about it…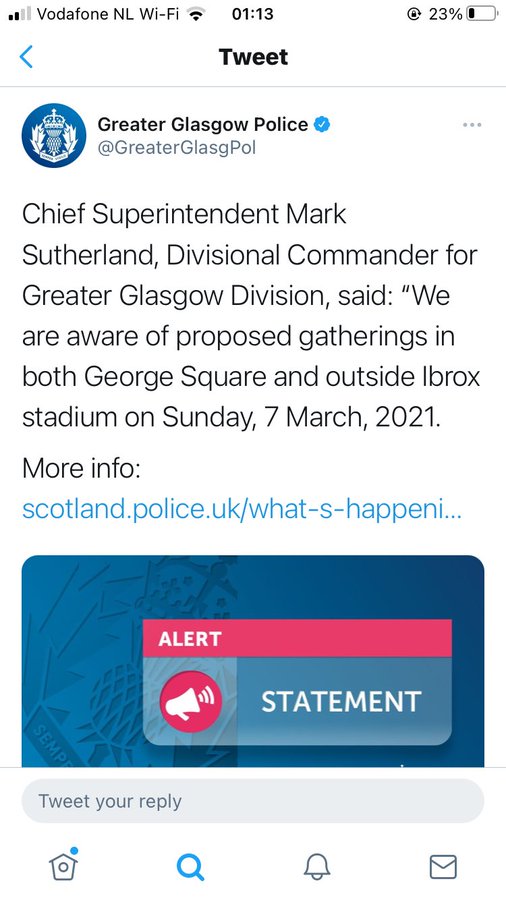 Not only were they aware of them, they seemed to join in the proceedings….
https://twitter.com/i/status/1368695375201267713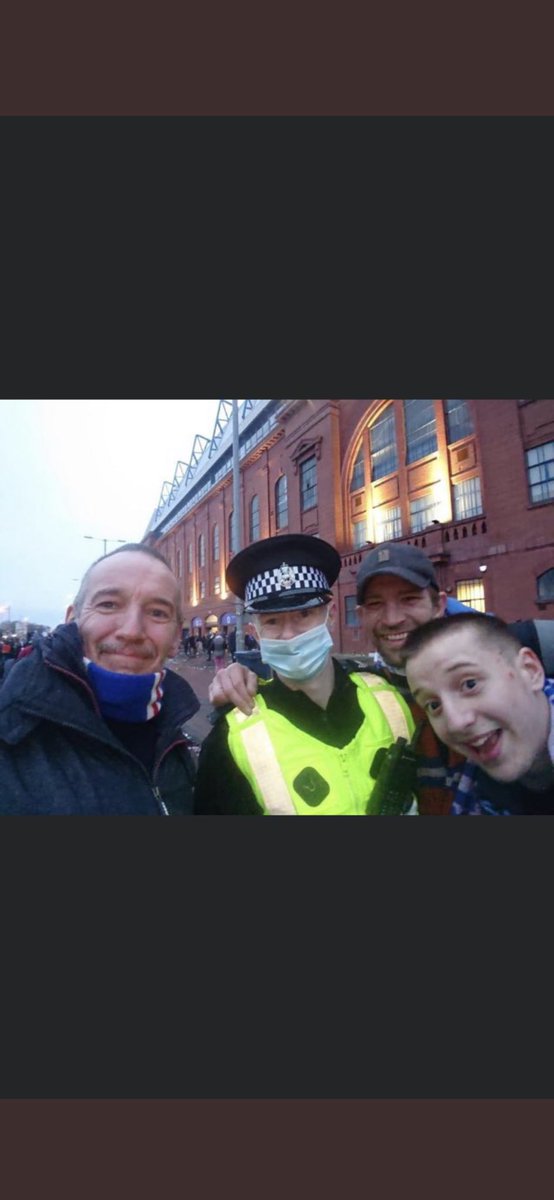 The police even offered and provided an escort to get the offenders into the city centre, presumably so they didn't miss any of the festivities…
And of course, given the nod of approval from the forces of law and order, despite the severity of lockdown conditions in place, we were forced to endure these scenes… somewhat embarrassingly shared around the world…
The mess left behind stands comparison with the damage done by supporters of the original club in Manchester back in 2008, which still seems to have not registered with those at our own club as the singular most insurmountable issue with Celtic and an ibrox entity joining the cash rich EPL, even though the other Scottish clubs would positively encourage it.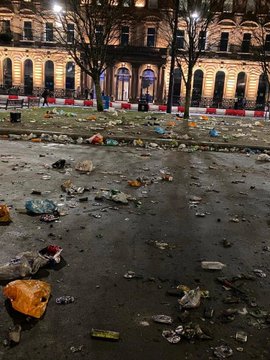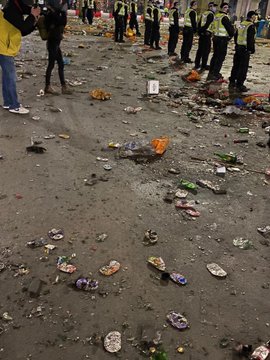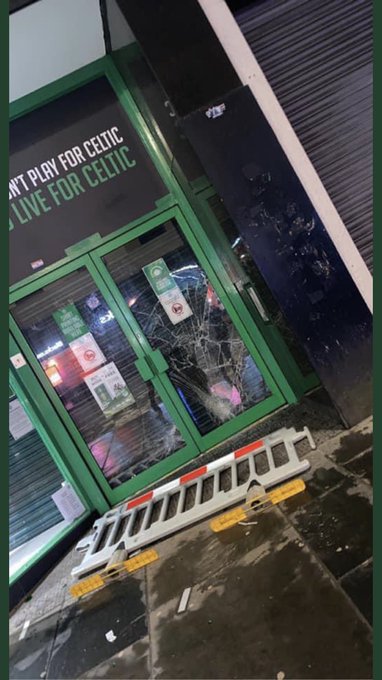 Given that during the pandemic pubs, bookies and restaurants were all closed, and public toilets are a rarity these days anyway, one can only assume why the ground is wet….
Though some did make a noble effort to avoid public urination, and probably defecation as well….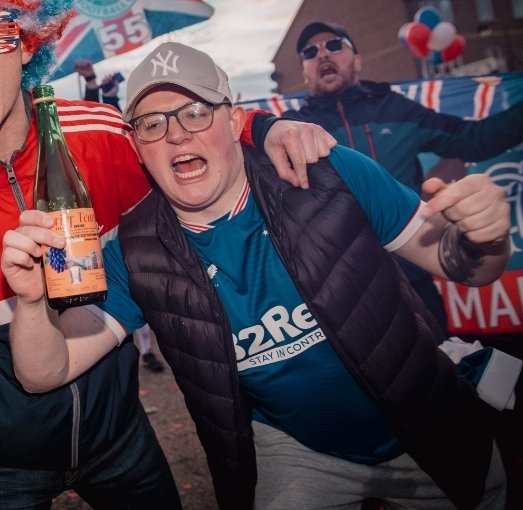 The police stood by and allowed a flagrant breach of current health guidelines.
We live in an era where we cannot comfort dying loved ones in their final hours, nor formally pay our respects at their passing.
We live in an era where health professionals are overwhelmed with huge numbers of patients who are at risk from a life changing or life ending infection, which has mutated thousands of times to become more infectious, so much so that we are now depending on a vaccine to at bring the cases down to a manageable level.
We cannot even visit meners of our close family, yet thousand sof football supporters were allowed to congrgate in a city centre, free from fear of arrest or prosecution, despite huge numbers of police present.
And let's just remind ourselves of what the Glasgow high heid polisman said…..
Chief Superintendent Mark Sutherland, Divisional Commander for Greater Glasgow Division, said: "We are now asking people to disperse and make their way home from George Sq.  For those not in attendance, please do not make your way to Glasgow City Centre.
Those who refused to make their way home would be, er, asked again shortly….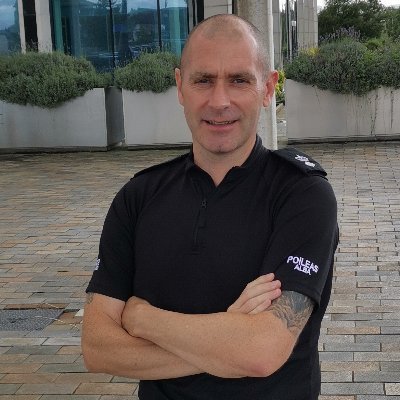 Incidentally, we are assured that this is not his tattoo….
Actually .let's remind ourselves what a police officer's duty is… their core principles…..
Role of the police
The police have core operational duties which include:
protecting life and property
preserving order
preventing the commission of offences
bringing offenders to justice.
The police have additional duties that are prescribed under legislation and common law.
When planning a police response, it is imperative that commanders have a clear understanding of the role that police will perform during the operation. Once committed to undertaking a role outside the core or otherwise statutory and common law duties and obligations, individual commanders may be held accountable for any police activity or inactivity regarding that commitment. Chief constables (or their equivalents) are also likely to be held responsible (eg, when taken to court). Chief constables, as the employers of police staff, may be accountable in respect of police staff actions.
Sutherland failed on all four counts yesterday.
As it says above,
may be accountable in respect of police staff actions.
And to whom does it fall to hold him, and his force, accountable ?
We can, of course, forget the media…with perhaps one notable exception….
Nicola Sturgeon gave us a glimpse of what life could be like if , after independence, she is returned as First minister…
I share folks' anger at this. Everyone has made so many sacrifices in the past year & seeing a minority risk our progress is infuriating & disgraceful. It is deeply unfair to the entire country, and the police have a hard enough job already. Please ask fans to go home
The First Minister is echoing the response of the police, so in a sense she is supporting them.
She did not, however, appear on the steps of Holyrood claiming to have, in her hand, a peace of paper that guarantees peace in our time…..
As ordinary, non footballing folk now consider their options, having seen that punishment is unlikely to be handed out for breahces of the rules, has she paved the way for evryone to party this next weekend ?
Can we visit family members, friends ?
As we have seen, a precedent has been set…
Well, that depends on any retrospective punishments.
The SFA, who are responsible for the governance of football in Scotland saw fit only to congratulate their chums at Ibrox on their win, and with Celtic collapsing spectacularly, they hardly had to intervene to assure the financially distraught entity earned a crack at European money…and lets face it, they have form in this respect.
It's unlikely the Ibrox club will face any action from the SFA for the behaviour of their fans, espcially given that their players had been regularly flouting the rules without punishment…although they might get round to handing out fines or bans to players who have given that the league is now over.
It falls to parliament to deal with the situation, and there must be drastic action.
Football must be stopped now.
That includes the Scottish cup, and all international fixtures should be either postponed or cancelled until medical opinion deems it safe to attend matches.
That includes the Euros, and the Europa League.
Games can be played elsewhere if needed, but certainly not in Scotland, as crowds cannot be trusted not to excite themsleves and endanger others.
Which brings me to my next point.
On March 21, Celtic are scheduled to face "rangers ". There are potentially two other Glasgow derbies, if the Cup is allowed to take place.
The risk of civil disorder is high, and the precedent has been set that misdemeanours will be forgiven.
Once again, those that shamed Scotland under a different badge have proved that they cannot be expected to behave themselves.
The rule of the mob…not an acronym, by the way….cannot be tolerated under any circumstances.
Ineffective leadership that endangers society cannot be tolerated, under any circumstances.
The cancer that should have been removed at the start of the last decade has returned, and its more aggressive than the original.
It needs to be removed for good, or else the patient will not survive.