It's looking more than likely that "rangers " will secure their first major title over the next couple of weeks, and the acceptance level among the Celtic players and management is quite worrying.
Even the support, long accustomed to the clusterfuck of this season are worried about them winning it at Celtic Park, and indication of how far we have fallen. A possible Celtic win doesn;t seem to have been factored into this scenario.
Surely all concerned should be vowing not to allow this to happen, rather than worrying about lying down to Dundee United to day to ensure it doesn't ?
The resumption of the Scottish Cup provides a fresh start under a fresh manager to try to salvage something from this term, and you'd think that all hands would be on deck to give it their best shot.
That wasn't the impression I got when John Kennedy spoke to supporters, and although he's been praised for soundng like he knows what he's on about, the talk of players been helped to make decisions, or to be comfortable on the ball, was hardly inspiring.
Even the talk of players moving onto spaces that become available failed to get me off my seat, and one can only imagine what its like in one of his training sessions, which undoubtedly fly by and leave everyone begging for more.
The malaise that has affected the club this season is still there, judging by the manner of Kennedy's interview.
Never has a clean break been so important.
Sooner  rather than later, we need to realise where we are, and begin the climb back to where we were.
Today would be a good time.
The media are spinning the fact that this will be  their 55th title, and as I've said before, for the support, they can call it what they want, its their money and their choice, but the facts remain that its their first.
However, there's no harm in jumping on the bandwagon….

I've got replicas of the actual pound coin that began this journey for Rangers when it was spun across the table to David Murray by Craig Whyte. A must have for all loyal fans. Only £55. Includes postage and packing.
I'm sure that deep down, they all know the truth, and any 55 nonsense is purely with the intention of winding us up, and therefore I'm sure you'll all join me in congratulating them on their first when it arrives.
The darker side of the game is perpetuated with the same club myth, and it means that once again the game is divided into two camps, the Old firm and everyone else.
When Rangers began their demise, as long ago as the eighties when Aberdeen, Dundee united and Hearts made the Premier League one of the most competitive in Europe, money was seen as the answer.
David Murray embarked on what would ultimately ruin the club by using everyone elses money to live beyond their means, and thus raised the bar for competitors, who tried to do it legally.
Celtic and others were pushed to the brink, but not quite over the edge as they tried to keep up, and instead of working within their own limitations, Scottish clubs tried to compete with the larger market down south, and the two glasgow clubs wanted a piece of it.
Unfortunately, for a variety of reasons, the English neither wanted or needed the two clubs, and as one had rather hoped they would to clear some of its debt, the inevitable happened, although there's been a massive degree of revisionism.
They're now at the end of their "journey ", and will have something to show for it. What they won't show, and what no one in the media is asking them to reveal, is how much it has cost them, and where they got the money from.
Repayment is also off the agenda, but history has shown us that the establishment will close ranks and offer as much support as they can to bring in external income, such as champions League money, and this has been done with hekp from Celtic who have turned a blind eye to the bending and breaking of certain rules.
We are at a crossroads.
Will we adopt a seat at the back of the bus to allow them a shot at financial stability, or do we go all out to regain our dominance ?
The choice of manager will tell us a lot.
The word from the ranch is that we are going big, but thats all they are saying.
An announcement made at roughly the same time as the winning of the title by "rangers " would take the steam out of their celebrations, but more importantly it would send a signal to us that the club is wounded, and intends to do something about it.
The somewhat unusual events surrounding the last year have taken their toll, and Celtic haven;t coped very well with it, but it should be a lesson to us to avoid future complacency.
The only way is up from here on in, and whilst we will ave to weather a storm of triumphalism from the other side, remember that it isn't really Rangers, so it certainly isn't 55.
So, no falling on our swords, lets start swinging them instead.
There's talk of Oddsone Edouard leaving for Leiceister in a cut price deal, which can be filed alongside other bullshit that you'll read over the next few months.
There'll be quite a bit of mischief making , but its best ignored.
What is needed now is a massive feelgood PR campaign by the club, to give us something to look forward to.
And they could start by putting an end to this old firm nonsnese and setting their sights on European success, because even at that level we've been usurped by a mediocre side carrying an extraordinary amount of luck.
Lets see a wee bit of ambition, and send out a firm statement that this is merely a poor season, and not an indicator of a new policy.
In other news…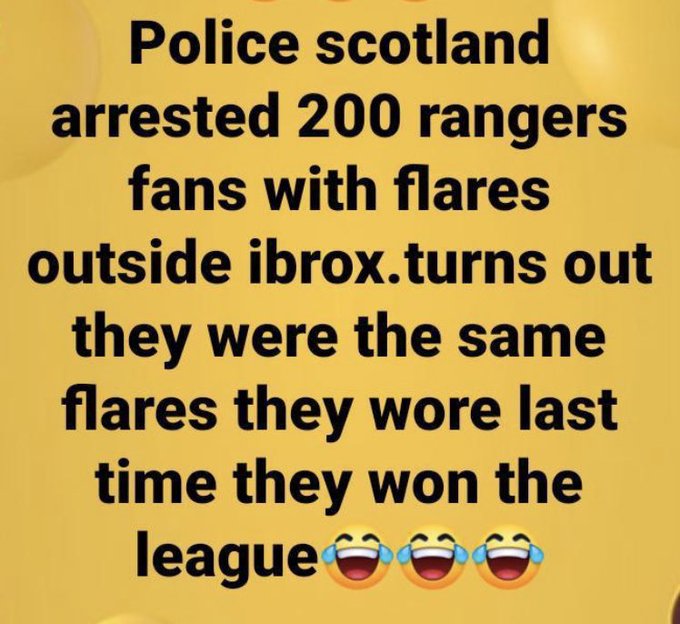 Rangers have written to the SFA and the Scottish government, asking for permission to allow fans into ibrox stadium to celebrate their first title win The request has been granted but the only fans that can gain entry are the fans that saved the club from liquidation
and finally…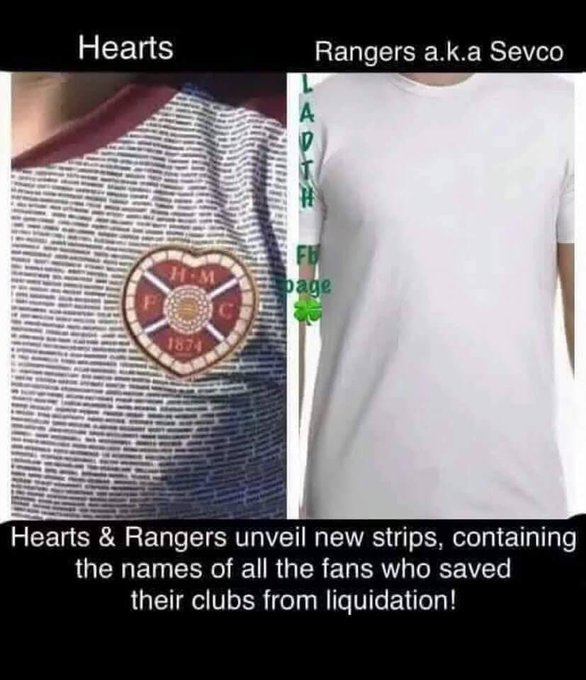 Caption competition time, and on thursday we had this….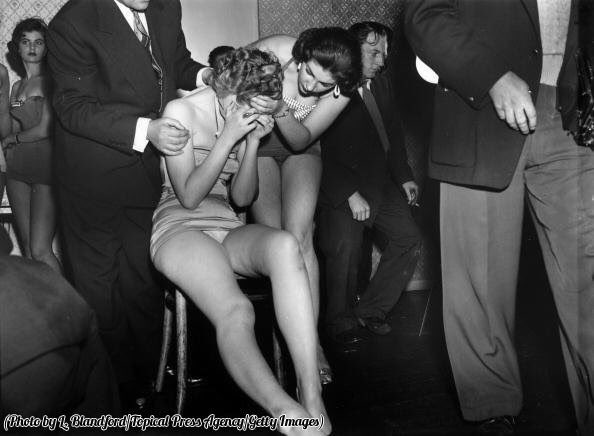 Caption:
"Whit's wrang, Senga?"
"Ah threw away ma 99 cos the flake wiz shaped like a knob. Noo Ah've been charged wi' makin' an obscene cone fall".
Today….