Pontins, the family orientated holiday park company, made the headlines yesterday when someone let slip that they had a policy that excluded a section of society from using their, er, facilities.
People with certain names, which all had something in common, were told that there were no vacancies when they tried to book….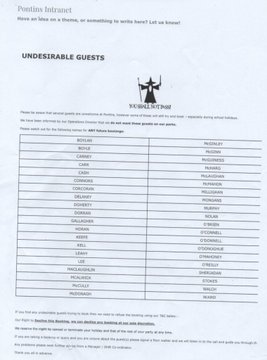 My own name is on that list, meaning I'm barred without at least having the tale to tell of how I got barred, although an incident in torbay involving this statue …..
and a fairly ambitious attempt to climb it and tie a Celtic scarf around its neck might have been enough. I spent years dreading one of those CCTV programmes starting a clip with " and here's a fucking idiot trying to climb up a statue when he's pissed "
That is in Brixham, where we had visited a Pontins as they had loads for the kids to do and we could take the dog.
That place was alright , but a later visit to one in Weston super Mare was a nightmare, and we left early.
And anyway, when they found out we were booking different sites for the kids from where we were staying, questions were beginning to get asked.
In the 21st century, no one should discriminate on grounds of anything in any aspect of life. It's that simple.
It's a throwback to when the white working class was taught that certain places were "not for the likes of them", which evolved into no blacks and no Irish, and latterly has become the Brexit mentality.
The list actually has been seen before, as Shutts on twitter pointed out...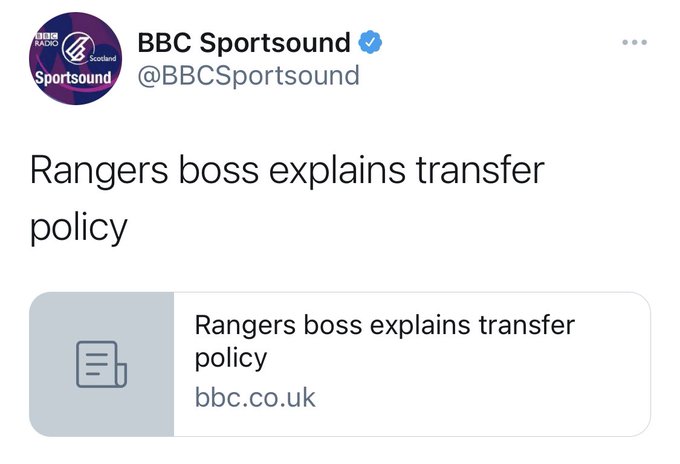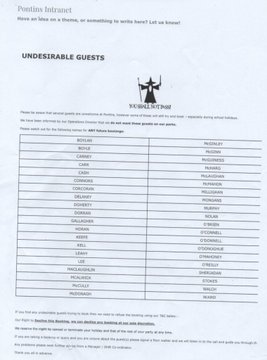 Though in all honesty if I was the child of a travelling family, I'd be really pissed off at having to take my holiday in a caravan.
I mention this because it seems to be a part of a revival of conservative ideals, a response from the establishment to the rise of the Irish diaspora from the back of the bus to the driving seat, and its not a long way from the reaction we're seeing towards the Scottish independence movement, or even Irish re-unification.
History has taught us that paranoia is actually awareness, and when the establishement goes all out to protect the second version of its favourite football club, we know that we have to run twice as fast to stand still.
They're just a few points away now from their assisted title, and there is talk at the ranch that one or two who were compromised by the establishment, in about five ways,  have influenced in a quiet but firm manner of our own demise this year.
Whilst not encouraging a laissez faire approach, they haven't kicked back at the situation the way they should have, and that has apparently upset one of the more successful members of the Irish diaspora, who probably never stayed at Pontins, but understands the mentality of that particular ideology.
There's a reason why the bookies are rotating names as favourite for the Celtic manager job, and thats becuase they don't know squat.
Neither do we, but it doesn't take much to work out that if it was anyone who is currently at the club, they'd have been given the job by now.
Gordon Strachan, who is close to Desmond, may well have realised that change is on the way when he ranted about the players, who it seems he is blaming for his son's upcoming Universal Credit application.
We've heard whispers, and they are only whispers, that Desmond is about to make the signing of Brendan Rodgers the second biggest seismic shake in Scottish football, and thats why things are taking so long.
Whispers that may get louder after Steve Clarke said, when asked about the Celtic job..
"I'll be going on a long holiday after the Euros.
"And I'm contracted with Scotland until 2022 when I'll hopefully be taking us to the World Cup in Qatar." 
Just to clarify, he isn't calling the Celtic job a long holiday. Though others in the past may have treated it that way.
Now, we've been wrong before, but we can safely, well, fairly safely, say that this season is no longer a glitch, but a pause for thought and reflection, where those who run the club have considered where they want to go with it, and it seems they want to go big.
The end of the Lawwell era appears to have ended a certain , rather frugal,  mindset, and steps are being taken to make sure that money is invested wisely, and the performance on the pitch is at least as important as the performance off it.
But, as ever, we'll wait and see, though there is a little more enthusiasm about next season than there was a week or so ago.
There are signs from the media we might be onto something, with Clyde Superscoreboard going a little over the top with their pre title celebrations…
Rangers fans are set to have a March to savour, with their team just three wins away from the league title. 
Any excuse to get the sashes out…
 Hugh Keevins also claimed that Eddie Howe has been spoken to by Celtic, but he's spoken to other people as well. It's unclear what his point was, though its thought to be to do with breaching lockdown rules.
 Keevins famously once said he'd seen a contract that Artur Jorge had signed to be the manager of Celtic, much to the delight of the club who were taking the piss out of him.
 Don't be surprised if they do it again, in fact, don;t be surprised if they do it with a number of hacks….
Mind you, with the caliber of presenter such as Gordon Dalziel, what do you expect ?
https://twitter.com/i/status/1365702364825604102
Yesterday, we tried to remain topical with this….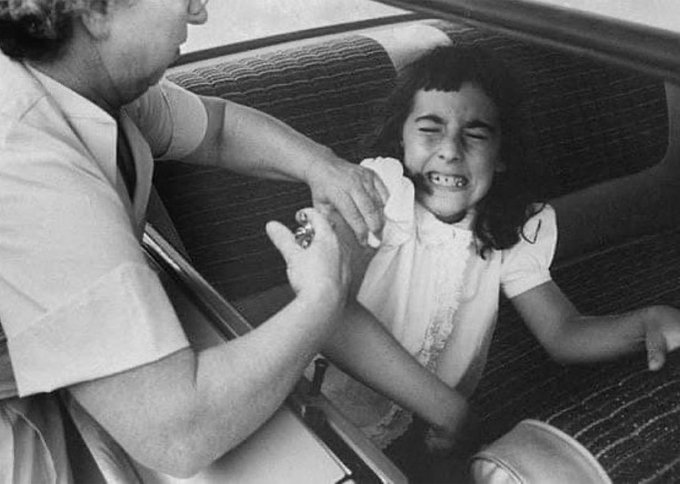 Caption:
"Diego Maradona's drug-fuelled descent begins"   
Today….