Neil Lennon offered his resignation as Celtic manager yesterday, and this time the club accepted it.
Then someone told the Sun, who broke the story just as many of us were settling down to watch the Celtic fans documentary on Al Jazeera.
Very quickly, others picked up on it, and it was confirmed this morning.
As a player and a manager, Lennon's record stands comparison with anyone's , yet there is a growing consensus that he'll be remembered as the man who blew the ten.
A glance at the league table sort of backs this up…..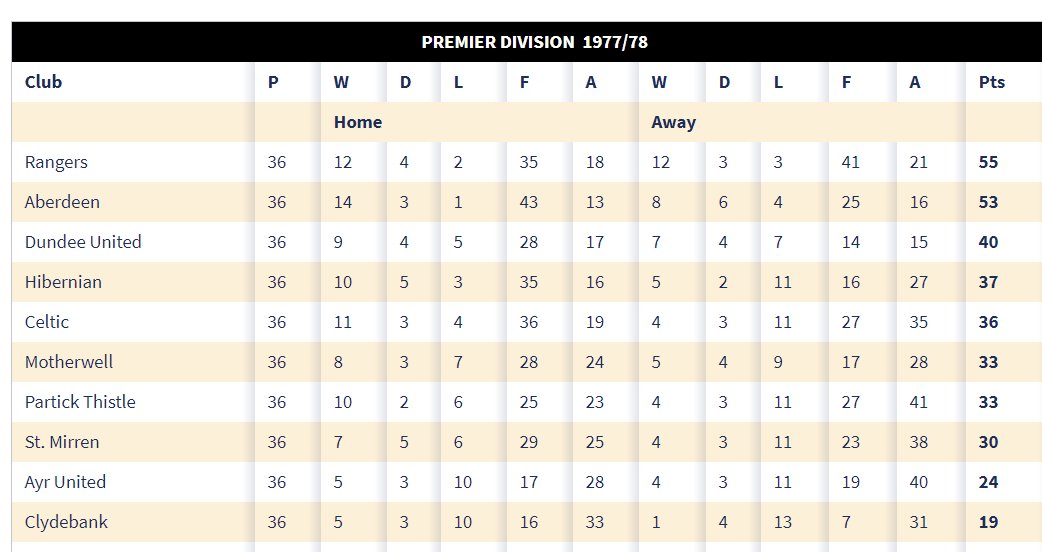 Ah, wait, that was the last time someone "blew the ten "…. none other than Jock Stein, who it could be argued also failed to keep pace with the changes in football towards the end of his tenure.
Whilst Stein is the benchmark of Celtic managers, Lennon , this season apart, can hold his head high.
Quite simply, the combination of pressure , external and internal circumstances and a piss poor attitude from a number of players all proved collectively to be a bridge too far.
We wish him well, and we ask you to bear in mind that the full story isn't out there yet, and to reserve judgement until it is.
After all, the ranch is still in shock, no one, no one at all was expecting this last night.
And so, what now ?
There is a sense of relief eminating from the ranch, not only because the head honcho has gone, but because he can't do any further damage to himself . contrary to popular belief, he was extremely well liked as a man , on the whole, just not the coach that they hoped he would be.
Lennon was never going to be in charge next season, he was told weeks ago that his contract would not be renewed, so it follows  that the search for a replacement was already underway, and with the first leg of the change already public knowledge, the retirement of Peter Lawwell, the regeneration was already underway.
Back in the early days of this website, we used to visit this place a lot…..
where we could chew the fat and listen to al sorts of tittle tattle.
Known as the Rumour Mill, I took a trip there this morning, though due to lockdown rules, my role was played by a look alike as i sat and listened to the barman tell a few tales…..
Of course, the first thing I wanted to know is who is going to be the next manager.
Thing is, there might not be one, and lets face it we've turned up with no defence for quite a few games this season, so it shouldn;t be a surprise if we dispensed with the use of a manager.
However, our host thinks a Director of Football and a head coach is likely, and that Dermot Desmond, now pulling all the strings, is looking to install a partnership with the long term eye of getting the show back on the road.
By the show we mean the three core income streams referred to in yesterdays Diary.  UCL, player sales and season books.
To do that, especially if you want to attract players with higher sell on values after the right development, you need two things.
The first is identification, it seems obvious, but talent isn't the only thing to look for.
Analytics play a large part, and its felt that the balance between a players stats and a [players personality has been a little askew of late, and given the current circumstances with the plague, maybe that has been a larger part of the collapse than we have been led to believe.
With Brexit having changed the rules on foreign players coming to these shores -except in a dinghy with about four hundred others – recruitment will have to change, and be more loacalised.
So, someone with an insight of lower league or second string first class english football would be fairly high on the agenda, and talk has been of Fergal Harkin, currently working for Manchester City…who offers this CV
Manchester City Football Club

11 years 9 months

Football Partnerships and Pathways Manager

Football Partnerships Coordinator

Scouting and Recruitment Information Manager

Football Marketing Manager (Players)

Ireland Sales Manager

Key Account Executive
Celtic have worked closely with Manchester City over the years, and will know him well enough to know if he is ready to take control of operations, and its thought that he has already been interviewed, along with a few others.
Our host feels that the time is right for someone to come back to Celtic ark with increased responsibility, possibly as first team or even head coach, and although opinion is varied on how much he and his family enjoyed glasgow the first time round, maybe the promotion would persuade all of them to give it a go, although we have heard he was perfectly happy here the first time, and it was purely the lure of working for his national team that meant he left.
Damien Duff is our hosts choice, but he doesn;t know what position he would take.
And he explains thus…
There was another fellow in just last week, he says, and this fellow worked for a TV company who need something to sell. Frank Lampard lost his job at Chelsea recently, and the tv execs are going to push for him to be the next Celtic manager.
They think Lampard v Gerrard would be a ratings hit outside Scotland, especially now that Gerrard could finally win something.
With the TV company having ties with a bookie, don't be surprised to see Lampard figure highly in stories about him being approached, considering or just simply linked with the job, and then the bookies can also a make a few quid as people put a bob or two on it, as after all, it was on the telly….
See how it works ?
Finally, as i got up to leave the mill, the host reminded me of one thing.
Dermot doesn't hire foreigners, in fact. only Strachan wasn't Irish , so I'd be forgetting about Martinez, or Ragnick, or anyone else from overseas , for that matter.
It'll be a British or Irishman.
Or two Irishmen .
As I set out for home, I wasn't any wiser, and I was pretty dumb to start with…..so for any other nonsense, or not nonsense, you'll have to wait to see what we come up with on the podcast tonight….