Super Celtic powered their way to a decisive victory over Ross County last night, ruthlessly extracting a level of revenge that has the highlanders begging for mercy as the hoops ran them ragged with what could be described as total football 2020.
David Turnbull scored what would have been goal of the season if Leigh Griffiths hadn't bettered it to consolidate a win where the scoreline just doesn't do justice to the level of power, pace , creativity and skill on show at Celtic Park last night.
If you hadn't seen the game, and trusted my viewpoint, you might believe that bullshit, and it would serve you right.
We'll come back to trust a little later…
Celtic were bloody awful again, but County were bloody awfuller.
We're taking longer to turn this season around than John Hartson used to take to turn in the penalty box. And I've watched ships on the Forth in real time from the Easter road stands do quicker turns than the big welshman.
Though I must apologise to the big fellow, because his attitude on the pitch is exactly what we need right now, and if we don't find it from somewhere soon the quadruple treble could prove to be the biggest false dawn since John F Kennedy told his wife he thought his headache had gone.
We're now at the halfway stage of the season, and given the ongoing health crisis the league could be called at any stage and awarded on a points per game basis, just as it was last year.
The table does not make for satisfactory reading..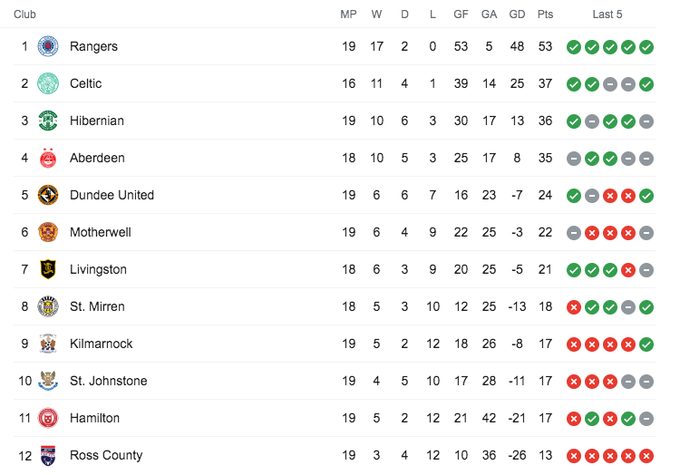 Yesterday, two of the three games in hand were rescheduled for February and March, which could turn out to be an advantage of Celtic do manage to put a convincing run together, but also a huge disadvantage if they don't.
And there are no signs that we will.
Lennon started with two strikers last night, which did give us a bit of hope that he has identified a problem in the way we set up, but given that one of those strikers is still recovering from a mental illness and the other a severe physical one, did we really expect them to gel immediately?
Griffiths has the heart but not the legs, and Edoaurd isn't the same player he was pre covid. We'd be better off waiting until he is.
Goals win games and although the team has been criticised for not being creative enough, perhaps we're blaming the wrong department. Maybe the midfielders aren't making that crucial pass because there isn't enough movement in front of them.
Maybe thats why they are forced to pass sideways.
David Turnbull and Ismael Soro have made a difference, but there needs to be more change around them if Celtic are to overcome this years challenge, and it needs to be soon.
The defence still looks shakey, and talk of Fraser Forster coming back may or may not prove to be right, but the probelms are in front of the goalkeeper, and the persistence with wing backs who can't defend leaves us vulnerable to any side that can whip in a few crosses, and thats exactly how the new club at Ibrox set themselves up.
We're in a lot more trouble than we think, and it's going to take some brave decisions from the management to make any changes that will actually make a difference.
Can we trust him to do that ?
Do the players trust him enough to have confidence in is overall plan ?
The evidence on the pitch suggests otherwise, and it looks like we'll stumble along until the Ibrox game in a week or so, which may yet ultimately decide the future of Neil Lennon and his staff…..
It's a strange season all round.
One could be forgiven for thinking that "stopping the ten " is being given more attention than recognising the possibility of a club achieving that milestone,,,,records are there to be broken, and in sport it should be encouraged to go out and do better than those who have gone before you.
Yet the media and even to an extent those running the game have all decided that an unparalleled run of success is in fact a bad thing, and must be stopped.
So, can we trust them to ensure a level playing field ?
We know that the referees are somewhat less inclined to be impartial, and with a more than acceptable number of them perceived to be supporters of one club in particular, one would think that media scrutiny would be at an extremely high level, given the possibility of a club achieving unprecedented honours in the game, such is the hard work and dedication required to attain that level of consistency, and yet time after time, little rules are flouted , game changing decisions are made, and the playing field becomes slightly lop sided.
There appears to be one set of rules for Celtic, and another for everyone else.
Only in Scotland is sporting excellence frowned upon, and actively discouraged. Or is that because of who is reaching that level ?
Again, there is more than enough evidence, played out on a weekly basis in front of an audience of millions, that at the very least there is a perception of bias, and that alone should mean everything should be done to ensure that level playing field, which is all any of us ask for.
And this is where we get to the crux of the matter.
Do we actually trust the club-the board-to draw attention to this, and more importantly, do we trust them to do something abut it ?
Which brings me to the Celtic Trust…who recently asked for money to buy shares with , which would give fans a collective voice to help ensure that those in the boardroom not only listen to our concerns, but do something about them.
Which , in turn, leads me to wonder why they said that Res 11/12, now in the hands of the club, who have said they will pursue the matter, was a "futile and pointless exercise " during their recent zoom meeting ?
They haven't even got a seat on the board yet, and appear to be indulging in their policies already.
I hope I'm wrong, indeed, I fervently hope I'm wrong, but after claiming to be the voice of fans, and asking for contributions to ensure that they become that voice, why then would they describe supporting the single most important issue of the last decade, that which concerns possible collusion with those who sought to damage the club financially by allowing both a club and the authorities to ignore rules on admission to the cashpot of the champions League, and all the benefits that come with it, as a
"futile and pointless exercise "
Is Lawwell approving their agenda before or after it is declared ?
Trust has to be earned, simply adding it on to the name of an organisation does not earn it.
I'm hoping for some sort of clarification from the Trust on this one.
Are they going to take up the mantle against corruption and help to force the club to either act on the issue or at least explain why they won't, or are they, too, looking to see it swept under the carpet as Scottish football looks to re invent the Old firm brand ?
They may well, have underestimated the depth of feeling on this one, and it might also be worth pointing out that should "rangers " win the league, then thats not all that they will win.
They will have won back their name, and in doing that they will have made it perfectly acceptable to cheat, lie and steal their way to sporting success, and it will all be lauded by those in a position to do so as a good thing for the game.
Which is unacceptable to anyone who follows sport for the right reasons, anywhere in the world.
But hey, Scotland isn't anywhere else in the world.
Not when it comes to the Old Firm and its marketable hatred….
In effect, did we get distracted by our success of the last nine years, perhaps even appeased ?
I can't help but feel we've been played….and if that sounds like paranoia, just remember that in the past, we weren't paranoid enough.
By the way..