A few days late, to be fair. But thats work for you, as thousands rush to shop online, despite the efforts of governments to keep the high street open.
Seriously, shop local, and give me a break.
It's christmas, and the unmistakable sound of sleigh bells ringing, children singing and that fucking Stop the Cavalry song fill the air, and this year, like any other recent year, they have been joined by the sounds of bottles crashing over on the other side of the river.
True to form, although as we have seen, form is only temporary, the Gerrard Juggernaut has collided with Santa's seigh and come to a shuddering halt.
It nearly happened last weekend when matchwinner Steven McLean failed to send off Alfredo Morelos for a forearm smash, which would have left his team a man down for around eighty minutes, but McLean deemed the offence worthy only of a yellow card, and anyway, the manager said of you look closely Morelos didn't elbow anyone, a day or two before he accepted a retrospective two match ban for the player, presumably because he saw him do something else.
They won that game, but St Mirren were a different proposition last night, having spotted that if you force the two Ibrox wingbacks inside, the team then is forced to look to the bench for a plan B, and even if they had one, the fact its taken nearly three years to get a plan A means they are unlikely to adopt a different style any time soon.
There was also a major injury to a key performer during the warm up which almost certainly had a bearing on the result…
Gerrard, interviewed  after the game –
"You could see from early on we were missing him"
Reporter – "Alfredo Morelos?"
Gerrard – "Andrew Dallas  
Dallas, the orange who didn't fall far from the tree, was ruled out, and with Madden, Beaton and McLean also unavailable, it was always going to be a struggle for the team in blue-incidentally, a new blue strip was worn last night, one with no Castore insignia, no shirt sponsor and a bizarre claim that it was a retro kit specifically introduced for cup games.
I only heard the result around ten oclock, and was surprised to learn St Mirren were awarded a penalty, as i hadn't heard anything on the news about a murder in Paisley. It became clear when it was explained that Dallas hadn't made the game.
One reason for the lack of shirt sponsor given by some was that the cup sponsors, a betting firm, refuse to allow other betting firms on shirts, but that cannot be the case, as this picture of Ryan Christie after the Ross County debacle shows…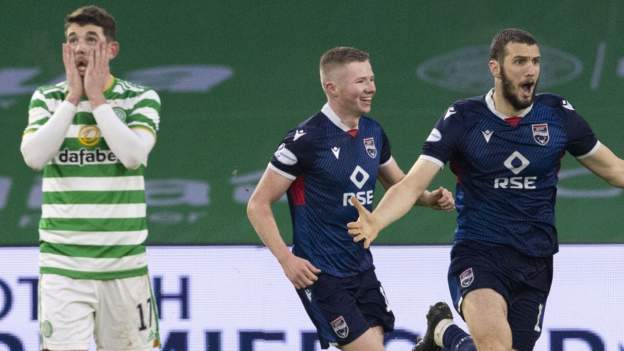 The retro kit, though quite which period of their near decade existence is from is unclear, in fact, it bears no resemblance to any kit the old club used either.
Maybe there's a clue in the recent announcement they were being investigated under competition law breaches, and maybe there is something coming down the line that the media, as ever, are reluctant to divulge.
The UK competition watchdog has launched an investigation into Rangers FC and sportswear retailers over the price of replica football kits.
On Wednesday, the Competition and Markets Authority (CMA) confirmed it has opened an initial inquiry into potential "anti-competitive behaviour".
It said it is probing Rangers and Hummel, which used to manufacture the club's kit, as well as retailers Greaves Sports and JD Sports.
The investigation process, which is expected to take six months, will look into suspected breaches of competition law, it said.
The regulator said: "At this stage the CMA believes that it has reasonable grounds to suspect one or more breaches of competition law.
"The CMA has not reached a view as to whether there is sufficient evidence of an infringement of competition law for it to issue a statement of objections or, ultimately, an infringement decision, to any party under investigation."
It stressed that not all investigations lead to objections or an infringement decision by the CMA.
A spokesman for JD Sports said: "We are cooperating fully with the investigation and are unable to comment further at this time."
It is the latest investigation into JD Sports by the CMA, coming just weeks after the watchdog's decision to block the company's £90m acquisition of rival Footasylum was reversed by the Competition Appeal Tribunal.
Maybe that explains why Dave King sold his shares , or is trying to sell his shares, to the gullibilly pressure group Club 1872.
Before they become worthless. Well, even more worthless, to be completely accurate.
With Celtic and Aberdeen both out of the tournament, "rangers " were favourites to lift their first ever trophy, and in fact some were even hinting at an invincible season….
'There's now a real belief amongst pundits, Rangers fans and maybe even fearful Celtic fans that this Rangers side are the real deal. I believe they could emulate the Brendan Rodgers invincible team in the league' – Neil McCann 
That was a really brave thing for McCann to say, stupid, but brave.
But for all the merriment about last nights result, and the crisis of confidence it will bring to an Ibrox side whose captain once said, only recently…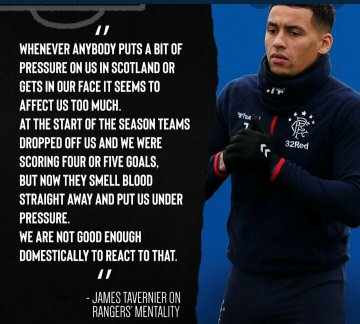 ..nine of it matters if we don;t get our shit together.
A second consecutive win, the first time it;s happened since October, against Kilmarnock may still only be part of an exercise in papering over the cracks, and there is still a bit of work to be done , most notably in the managers eyes after he said post match that the players who had reached the final deserved a chance to try and win it.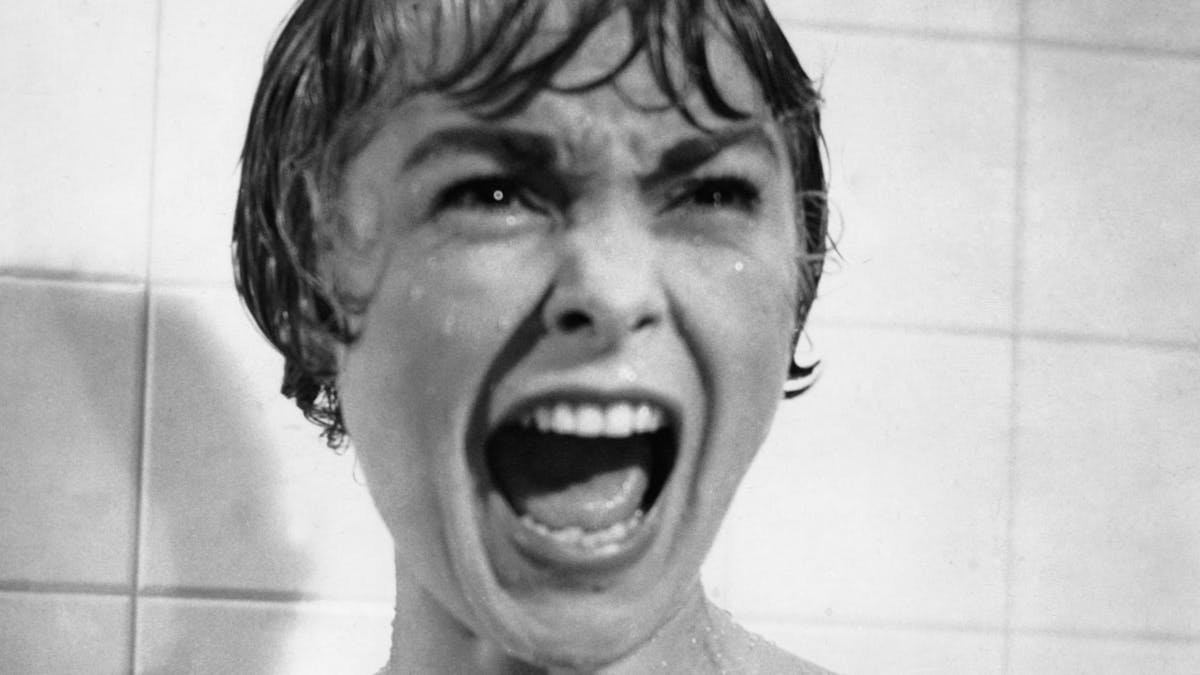 Perhaps he was only bluffing, as even he couldn't be that disconnected to think bringing back the side that did so badly for a couple of months will suddenly find their form again.
To break up a winning side is poor management. To do it ahead of a cup final is downright stupid.
Earlier this week, speaking of a sense of disconnection, the board held their AGM and assured us that they were, in fact, the good guys, and only had our interests at heart.
When we picked our collective jaw from the floor, we absorbed a statement they put out that will probably be remembered as the longest suicide note in history.
Effectively, they told us to put up and shut up.
Like they do, except the bit about putting anything up, when it comes to asking questins about collusion and cheating at the SFA.
Their silence on their decison not to pursue Resolution 12 continues, not in itself a revelation, but perhaps a sign that they are compromised by what they knew about the scandal and when they knew it.
If you throw in the fairly obvious desire they have to continue the Old Firm brand and reluctance to challenge what appears to be a repeat of the circumstances surrounding the first Ibrox financial meltdown, then we are looking at a board who are now openly disregarding the wishes of shareholders and supporters alike, which will only end one way.
But for it to do that, we must start to organise the revolt.
They had their chance, and they have blown it. blown it in a way that shows that they have no interest in the spirit and ethos behind the club we support.
It's time to remove them.
And we must do whatever it takes to get there.
Away from all that, and to lighten the tone a little, it's our turn to ask for your money.
Etims has been invited onto a 24 hour podcast by A Celtic State of Mind, and we've been given a one hour slot to fill the airwaves with our own brand of rambling pish, and it's all for charity.
We'll be on at a time to be confirmed on either this Saturday or Sunday this weekend, and hope you can show your support one way or another.
We did have a few sponsors lined up to ask, such as Superscoreboard and the Daily Record but for some reason they keep hanging up on us, so if you happen to have a spare coin or two, let us know in the replies and we'll get back to you with a brown envelope to put it in.
In the meantime, its back to the caption competition…
Pilsbury Dough Bhoy 
 Caption: New Timetable still " bedding in ", announces Scotrail  
Today…