Whilst Dermot Desmond has delayed his appearance on the scene, another name in the current batch of stories swirling around Celtic Park found it's way into the headlines.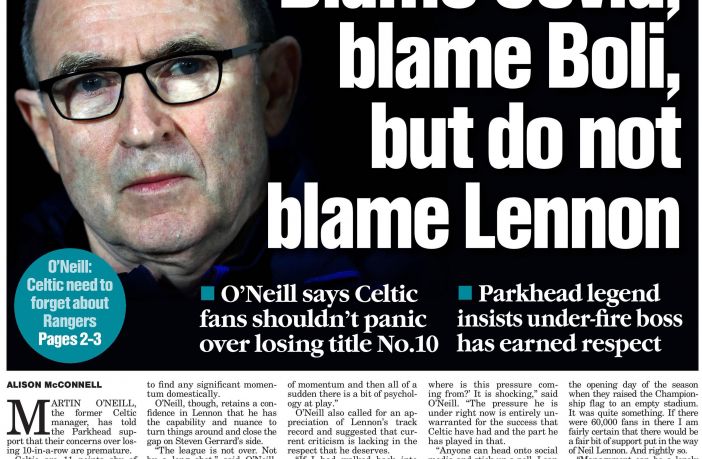 The dramatic headline , the dark and brooding picture, all tends to point toward a circling of the wagons around the beleagured Celtic boss, which is probably the last thing he needs.
You see, when someone isn't doing their job properly, and its hard to defend Lennon on this count, the last thing anyone should do is make excuses for them.
However, O'Neill is correct in that Lennon should not be abused, and any criticism should be confined to his professional performance, and whats worrying me is the longer it is allowed to go on, the more it will take its toll on Lennon's physical and mental health.
The job of Celtic manager is probably the best job in the world, when things are going well. When things aren't going well, I'd imagine it has an equal claim to be the worst.
It's not just that things aren't going well, two wins in eight games is almost unheard of, at least for a long time, and the problem is there are an awful lot of rabbits in headlights at the moment and because of that, we get the impression that the emphasis is on finding someone or something to blame instead of looking for someone or something to actually sort it.
One things perfectly clear, however, and that is that doing nothing is no longer an option.
I'm almost suspicious that Lennon may now be removed, and when O'Neill takes over, the narrative will be that fans forced him out, and not his performances of late.
Whatever thunder Lennon brought to Celtic has gone, and we need to feel the wind of change.
It doesn't please me to say this, as there is no one who I would like to see lift the trophy more than the likeable Irishman, but this is an important season, you know, the ten in a row thing, and all that…
Or have we become rather obsessed with winning ten in a row ?
Have we inadvertently revived the Old Firm brand ourselves by placing so much importance on this achievement ?
The old club is dead, ten in a row pales into insignificance when this is taken into account.
Sure there's a tribute act playing to the gallery , but it;s not the same club, merely followed by the same sort of people who followed the old one.
The more sensible among them know it's a new club, and they are , to coin a phrase, just at the wind up.
Whether or not Celtic get ten in a row is irrelevant when you consider that they are never going to see their club win anything else ever again, For them, it is over, and that is that.
And the tribute act, created purely as a vehicle for a few shysters to fleece an extraordinarily gullible support, appears to have been created to milk their own obsession with stopping the ten, because European money or not, they won't be around for much longer.
We have bought into the same club myth perhaps a little more than we care to admit….
To go back to the media yesterday, every outlet carried the story that Lennon was being backed by the board, which seems a little bit of an over reaction to an although detailed, rambling paragraph of pish on a website, and although social media does carry a lot of criticism from the support, they hadn't seen fit to mention their support before.
I still maintain that change is going to happen, simply because the same basic story is coming from several different places, and whilst sometimes there is smoke without fire, when faced with these kind of stories, Lawwell usually refuses to give them the oxygen of publicity.
As they say in politics, never believe anything until it's been officially denied.