Several pish stained drunks, and you have to admire their resourcefulness these days in maintaining that status with the pubs shut, have been in touch to say that Dermot Desmond will arrive in Glasgow today, and when Desmond shows up, it's usually because , well, to illustrate a point…
Right now, things are bad, and if Desmond is indeed coming to town, then there is going to be only one outcome, especially if you factor in the stories about Martin O'Neill and Roy Keane.
In fact, even without those stories, there is little doubt that change is afoot at Celtic, given the overall downward spiral since he gave Neil Lennon the permanent post of Celtic manager, and its perhaps because he hired him personally, and taking into account what the manager has done for the club, that any changes have to be done in person.
Thats admirable, and in the coming days I'd suggest we all show Lennon the same respect.
Desmond is a man who doesn't even bother with AGMs, but when he feels he needs to intervene, he will. Interestingly, his modus operandi is to deal with his business empire, if thats the right word, via video link, which again points to something serious on the cards.
When some idiot put this out on Twitter…

Dermot Desmond in Glasgow tomorrow.  
 he discovered he may have touched a nerve.
 Almost immediately, the club called out their dogs of war….
Alison McConnell at the Herald….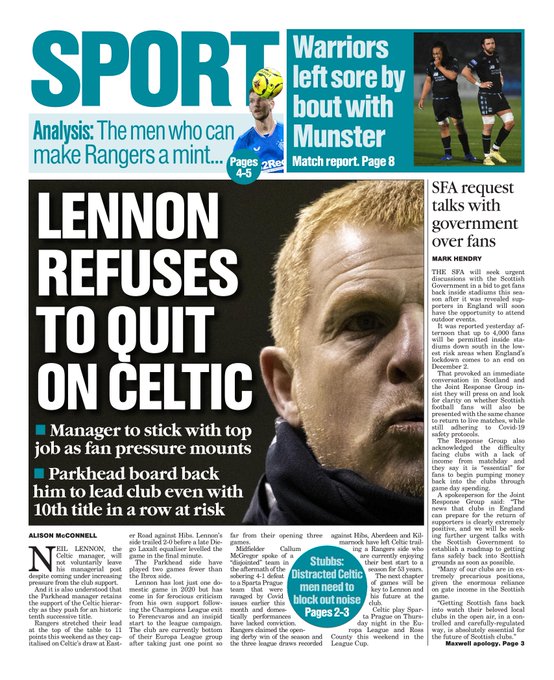 No direct quotes, just that it's " understood " he has the backing of the board.
 Stepehn McGowan at the Mail left out the content of his story when he tweeted a similar company line…
 Lets face it, I haven't looked this morning, but there are unlikely to be any quotes in there either.
 When a manager gets the vote of confidence from a board, his days are numbered.
 When a board is actually as ineffective as that of Celtic, and completely dominated by one man, such as Desmond, their views, even if that is what they told the lapdogs, are irrelevant.
  The Record are playing it a little cannier….which is unusual for them, but another sign that the vote of confidence seems to have been put together hurriedly and released only to those waiting for such scraps…..
Steven Mair wrote;
A report has claimed Neil Lennon will not walk out on Celtic as the under-pressure boss looks to battle back from a tough start to the season.
The Hoops are now 11 points behind rivals Rangers in the Scottish Premiership after the weekend's draw at Hibs, though they do hold two games in hand.
But that deficit, coupled with an uninspiring Europa League campaign that sees them winless after three games, has fans insisting the long-time Parkhead servant leave his position.
However, a Herald and Times Sport report suggests the Northern Irishman is unwilling to leave of his own volition.  
Lazy journalism, yes, but I'm not convinced someone at the Record wouldn;t have a number they could call to verify the story, and that leads me to think they've distanced themselves from what i believe will ultimately prove to be nonsense.
Whether or not the deed will be done today is unclear, but if Desmond does turn up at the ground, he won't waste any time….
The Celtic AGM is on December 14, and although it will all be done via the internet, there will be heated discusiion around Resolution 12, which is Resolution 11 this year.
The resolution, dealing with the issue of possible compliance between Celtic, Rangers, "rangers " the SFA and the Scottish League refy=uses to go away, and provides the board with a chance to explain to shareholders why they allegedly did what they did back then,when they accepted a financial loss by not contesting the decision to award a licence to the old Rangers to compete in Europe in a last ditch attempt to raise funds to save the original entity.
Of course, plan A didn't work, but plan B, a similar scenario this season, is well underway and with that in mind, perhaps its felt that disgruntled fans and shareholders can be appeased somewhat if Lennon;s head is presented on a plate, which would avoid any questions about the continuing lack of ambition which has led to a new club being in a position to challenge domestically for honours when the head start Celtic had should have seen them way out on front.
It's mismanagement on a grand scale, and the board have, or will have had questions to answer.
The removal of Lennon would get those answers in early.
One thought does come to mind, and its that our board comprises individuals who are succesful in theior own fields, and yet they have come together in the east end of Glasgow to oversee negligence and possibly even corruption that is at best incompetence and at worst criminal negligence.
Desmond may well have all of this on his mind as he makes his first move in putting the club back on track.
All of which will,leave his own man, Peter Lawwell in a precarious position. I'm not entirely sure if this is significant, but there is one name missing from the AGM agenda, and although it might be nothing, it might also be something…..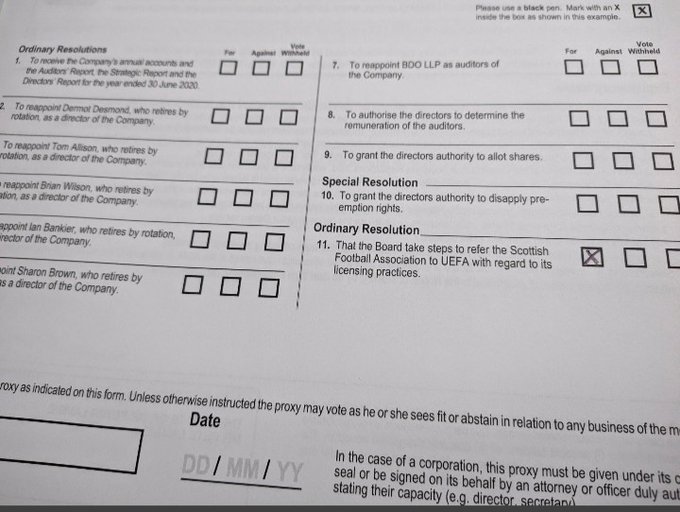 By the way, re Resolution 11.
It needs supporting, and if you want the kind of club that Celtic used to be, your support is vital.
There will be more on how you can do that nearer the time.
For now, though, it appears that change is on the way, and the very fact it's being openly discussed on forums and in the media means that even if Desmond doesn't show up at Celtic Park in the next 24 hours, it won't be long before he does.