All work and no play, they say , makes Jack a dull boy, and when he wasn't particularly bright to start with..
As work patterns have changed to prevent drivers from falling over in the dark, the diary has not appeared for quite a few days, and although the intention was to try to do it at night, being a fat lazy bastard has hampered that plan, for now at least.
But I'll try to get things back on track.
A lot has happened since we last put together this nonsense, and a lot has happened, flirted with the front pages of social and mainstream media, and then been largely forgotten.
Scotland qualified for a major finals, and whilst everyone was over the moon at this once in a generation occurence, it was largely seen as being a "bit grumpy " to mention any further Covid infections from travelling with the international party.
The SFA will receive around nine million pounds for the participation of the national team, which explains why they want everyone to cheer, but when supporters, such as myself, pondered the possibility of travelling abroad with the tartan army for a week on the beer, it all went a bit squibby when realsiation that two games would be at Hampden and the other at Wembley.
The players, of course, are delighted. Filmed dancing around the dressing room to the sound of seventies pop classic Yes Sir, I can Boogie, a loose euphenism about a loose woman, they all seemed rather pleased, and the emotional breakdown of Ryan Christie didn;t get the attention it deserved, although more than anything else it showed why some players turn up for Scotland despite how fans or their clubs feel.
Put simply, they want to play for and do well for their country, a fact overlooked by many fans who have no interest in international football.
As for Scotland's chances in the 2021 Euro finals…well, with two games at Hampden, and possibly three going forward from a group containing England, Czechia and Croatia, you'd have to be optimistic, and then in the knock out rounds, the new found competence in penalty kicks could see us through, especially given Stevie Clarke's Wattenacio approach…
But that's for next summer….
This winter, with the plague not only still in town but actively putting down a deposit on some premises, little looks likely to change.
Fans have been allowed into some matches, in low enough numbers to terrify clubs who will lose money on the reduced attendances, as season book holders, who have already paid, get priority.
Quite how putting five or six thousand fans into Celtic Park will help the team is not known, as the cavernous arena will merely amplify voices which will prove more of a distraction than an encouragement, and as the side has quite a dismal record at home of late, perhaps we should work on the current problems rather than introduce new ones.
One of those problems, of course, is the Covid pandemic, with Kris Ajer and Mo Elyannoussi the latest to be exposed to the infected, and they may yet have to isolate and therefore miss the visit to Easter road at the weekend.
That takes to more or less a full team that has been unavailable at one time or another due to the virus, and the medical staff could do a lot worse than ask their colleagues over the river how it is that no "rangers " players have yet to be affected or infected…
In fact, the world class medical facilities at Auchenhowie should be made available to the Scottish government as it seeks a way out of the pandemic, as its quite clear they are doing something right at Ibrox that the rest of the world could use.
Yet, oddly enough, the mainstream media hasn;t picked up on this, where surely it would be beneficial to everyone if their knowledge and practice was shared among us all….
Then again, when you remember the mainstream failed to ask questions about the two Ibrox players who were fined for a breach of covid rules..or are about to be fined, information is rather hard to come by…or the police failed to investigate and fine others who were at the party held for Scott Arfield…which he didn't seem to attend, and only two of his team mates turned up, despite the beer and women being ordered in early, one wonders if there are questions that have been asled, but the answers held back for whatever reason.
After all, it's only two reserve players who have been banned from playing, and not key men like Ryan Kent, Alfredo morelos or Andrew Dallas.
The latter managed to show his dislike of Celtic again as the hoops powered their way to a 4-1 win at Motherwell, with Mo Elyannoussi showing what he is capable of when he puts his mind to it.
Dallas did his best for the SFA , who want "rangers " to win the league to get acces to UEFA millions, which means they won;t have to hand over the nine million they'll pick up for Scotland's adventures.
When "rangers " get a free kick , for instance, Dallas is quite relaxed about the rules, such as the ten yard rule…
Crimes against Celtic players tend to invoke a similar laisse faire attitude from Dallas, the assault on Frimpong by new Scotland hero Declan Gallagher a case in point, where the Celt was scythed down brutally, not for the first time lately, and Dallas kept him on the field , presumably to give him a second shot at ending the career of the Celtic right back.
However, its reached the point now where he doesn't even try to hide it….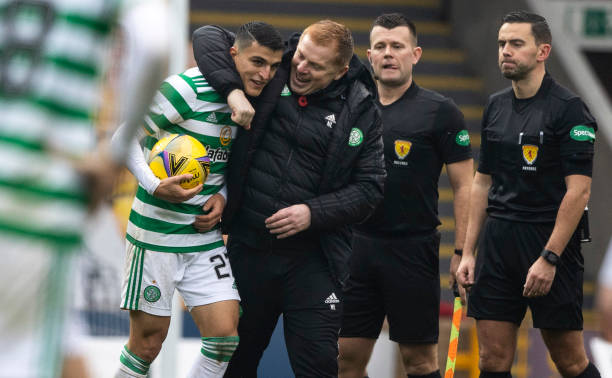 Gerrard must be angry that he can;t even sell his biggest assett…..
After all, as we know, the brand is key, the Old Firm is Scottish football, at least in their eyes, and they need one half of it to get back to the same level as the other as quickly as possible.
This means that unless Celtic start to defend not only their honour, but their players, this will continue, and the level of assistance given if not to further the Ibrox league camapgin, but certainly to hinder that of Celtic has to be addressed.
Odd how these days when new movues are scarce, we are forced to watch a repeat of an old one….
Celtic announced yesterday that the "virtual " AGM will take place on December 14….
One of the Resolutions put forward will be this one…
Stop fucking condoning cheating, and start to stand up to it  
Alright, it might be worded a bit more diplomatically, but there is little doubt the time has come for a showdown, and all supporters and shareholders need to get on board with this, because if we don't get on board with it, the board will continue to trample over the very ethos of our club, everything that once made us a club like no other, before we became a business like every other.
A detailed article will follow on how you can help, and make no mistake, our club is at a crossroads, and the direction we take will determine of we truly are a club like no other, a club to be proud of, or we're just another money making operation for an organisation that has sought to keep us in our place for decades… 
Either we a part of the corrupt and despicable Old Firm, and its; parent company the SFA, or we are Celtic, a proud club with values and integrity, there to be a part of the community, not a part of that which destroys it.  
We need to let them know where we stand…