Celtic restired a bit of pride yesterday with a fairly comfortable 3-0 win over Motherwell. It won't go down in the memory as a classic, and it certainly won't be out on DVD anytime soon, but it might just be remembered as the game where Neil Lennon remembered he was the Celtic manager.
Criticised heavily for not starting with a striker against Ferencvaros, despite having spent a fortune on them this summer, he opted to do exactly the same thing against Motherwell, which drew sharp intakes of breath from a now thoroughly distressed Celtic support.
But, it turned out nice again as this time he remembered that substitutes can be used at any time during the game, and Patrick Klimala entered the fray, which gave me a chance to try to spell his name right.
The man described as a tank by his team mates in pre season training hustled and bustled, and caused enough of a problem to allow Celtic more of a threat in front of goal, and although he didn;t score this time, if Oddsone Edoaurd does leave soon, then we might be okay with a partnership of Klimala and Ajeti, with the latter keeping up his record of scoring every time he touches the ball.
Well, nearly every time.
James forrest looked to have put his woes behind him and was more like his old self, especially when he scored which means he has now scored in twelve succesive seasons for the club, putting him up there with names like McGrory, Lennox , Gallacher ,Quinn and Cascarino in the lists of Celtic greats.
He'll still get stick from some fans, but I'm quite certain those other legends had their off days, in fact had social media been around back when football was played in black and white, one wonders if the constant abuse would have got to those who went on to be immortal.
Then again, Jock Stein would probably have been in prison for sticking someones phone where the sun doesn't shine given the protective aura he had around his players.
Speaking of abuse, can we leave off Greg Taylor ? He isn't Keiran Tierney, and probably won't be if supporters don't get off his back. Even with no fans allowed in the ground he must still hear their voices in his head as he gets blamed for anything that goes wrong and everything that tries to do right.
Although it would be nice if Lennon allowed his swashbuckling qualities in training to be used on matchday…then again, his confidence could be that low that he's afraid of making a mistake.  Notably, he's deleted his twitter account….
So, are we all happy now ?
Lennon has proved he has the balls of a tiger and will face down any pressure or criticism from those of us who think we know better, and so it's all going to be fine from now on ?
He even may have tried to nail a leak in the dressing room… a bit silly if you ask me..if you nail a leak you create another leak….not to be tried on a boat….by releasing early team news on the quiet that suggested wantaway stars Olivier Ntcham and Kris Ajer weren't in the team, and the bait was taken by certain outlets which would have allowed the manager to pinpoint the source.
The ranch is a big place though, with lots of gaps in the fences.
The problem is there is little point in trying to find out early team news, as it doesn't take a genius to work out who will play in any given game, bar the occasional surprise, and it;s usually such a surprise that everyone knows about it ahead of the game anyway.
What it could mean is that Lennon has been shaken out of his lollygagging with a form reminder of his responsibilities from the CEO and quite probably thats becuase the CEO has had his arse kicked by the majority shareholder.
When Lennon is in this mode, firm, decisive and unswerving in his cimmitment, he can be quite a good manager, it;s when he doesn;t appear to give a toss that we have problems, as all of that attitude filters down to the troops on the ground.
but if you look at the reactions of a couple of players when the ball hit the net yesterday, you'll see what happens when Lennon is back to being his fiery best.
The players are too.
We now go into an international break, which gives everyone time to take stock and reflect on the season so far. There are clearly probelms, but it might just be that the management has a handle on them.
thats not to say a freshening up of ideas within the staff wouldn;t be a bad idea, it would be a very good idea, so we'll wait and see if that thought has occured to them as well.
Shane Duffy is expected to conform he's joining us for the season on loan at some point today or tomorrow , which takes our total of natural central defenders to two, and allows us to fulfill our obligations to new goalkeeper Vassilis Barkas, who was promised at least that when he joined, as its what most clubs have.
According to the Record today…
Shane Duffy set to head to Glasgow tomorrow to seal dream Celtic move 
If only we had a private jet so he could "jet in " …times are tough indeed as he;s merely heading to glasgow, probably hitch hiking or getting a lift off a pal when he finishes work.
Rugby started to have fans back at grounds this weekend, but any hopes that football would follow soon may have been dashed as staunch fans of Scotland;s newest club/company showed yet again that they can;t be trusted to follow basic gudelines…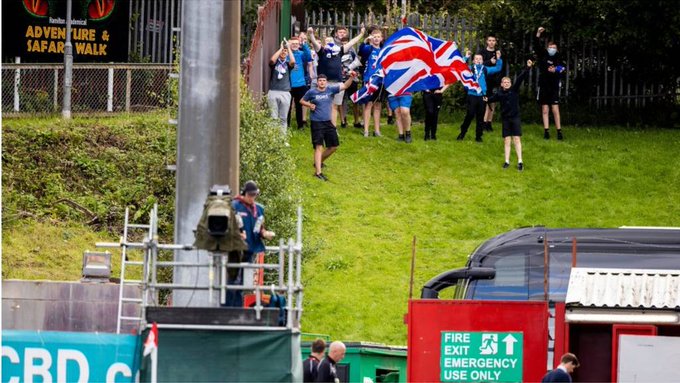 Although i may be mistaken, perhaps, as the sign suggests, some entreprenuer has set up a sort of wildlife walk, and they'r emerely the wildlife.
I don't suppose you'd be allowed to feed them, but you can listen to them grunt.
Meanwhile, Desi Mond rewrote the words to Nothing Ever Happens, by popular beat combo Del Amitri, to describe the mood among Celtic fans after another early Euro exit, it;s elsewhere on the site, and he received critical acclaim from none other than Del Amitri himself , whose real name is Justin Currie
( Have I got this right ? -Ralph )
(Have you fuck -Ed )
On Friday , we had this…
Monti 
Today…