The long awaited and much anticipated partnership between sportswear giants Adidas and football behemoth Celtic got underway yesterday, with supporters gleefully pre ordering all sorts of merchandise that will immediately transform them into athletes.
With no football to talk about for a few months, there was finally something new to talk about amongst ourselves, even if it was only a set of strips and a tracksuit.
And as usual, as soon as the inevitable website crash occured, the press chose to concentrate on that, rather than on the enormous volume of sales that will have put a few quid into the Parkhead bank account.
Celtic Adidas range: Online store crashes as thousands of fans flock to buy training gear
(Evening Times )
" That's nothing, " said our source at the online store " wait until you see the arse we make of virtual games. "
The Times report said;
CELTIC's online store has crashed after thousands of Hoops fans flocked to buy the new Adidas range.
The Parkhead side's five-year deal with the German sporting giants started on Wednesday after their contract with New Balance ended.
Although the strips for next season haven't been officially revealed, the fresh training kit has been unveiled to fans.
Thousands flocked to the online Celtic store this morning to purchase items, which has ultimately caused the club servers to crash.
The store's official Twitter account said: "We've had high traffic before 8am, trying to get sneak peaks.
"Having an issue getting every product ready to go for you guys. IT working on it ASAP and we will let you know as soon as we're ready!"  
Thats just the training kits….wait until the strips hit the streets…..
It's not yet certain who will be wearing the new Adidas goalkeepers kit, but Fraser Forster is still the main choice of manager Lennon, but football is a funny old game, and the reality is that although Forster said last year that he would take a pay cut to stay at Celtic permanently, now that he's seen exactly what that would entail, he's having second thoughts.
Thats not to say he's changed his mind, it's just that whilst words can be cheap and things can be said in the heat of the moment, Forster could be looking at a pay cut of around a quarter of a million pounds a month, and for a man who looks sometimes to be a little short on self confidence, the added responsibility of actually having to play every week in the highly pressurized Going for Ten campaign may have made him pause for thought.
He has every right to take his time over this, and every right to expect people to allow him the time and space to do that.
Which is why the column from Chris Sutton today seems to be badly timed, and adds perhaps a little bit of pressure thats not needed.
Fraser Forster deciding not to sign for Celtic would be a devastating blow to Neil Lennon.
There'd be no point in trying to dress it up any other way.
My belief is that the two main pieces of business which had to be concluded at Parkhead this summer were keeping Odsonne Edouard and getting Forster back up the road.
If it becomes fact that he has chosen against would be a big disappointment for Lennon and it would hurt.
This is a manager who gave Forster his big chance by signing him in the first place from Newcastle when he was untested and he helped him become a star in Europe and get into the England squad.  
He gave Forster the platform again to go out and show what he's all about.
They say there's no loyalty in football any more and, if it's the case that Forster does snub Celtic, that'd be a slap in the face to a manager who's done more for him than anyone.
Now, could it be that Sutton knows something we don't ?
Now, of course, I am not armed with all of the details.  
Er, maybe it would be a good idea not to jump the gun then…..
Southampton boss Ralph Hasenhutti may actually have revealed the real reason for any uncertainty when he said, of Forster….
"We have not decided what we do next season with our plans in this direction," 
"Of our loan players, some did a very good job there and it's also clear that loan players don't want to go again on loan.
"Normally they want to go permanently somewhere and we will find the right solution for every player in the summer.
"When the right moment is to discuss it, then we do it."  
Any number of scenarios can be drawn from this statment, but the main one seems to be that it's Southampton causing the hold up, and not Forster or Celtic.
Any number of scenarios for the actual season when ..or if..it finally gets underway can also be envisaged, as at the moment we don;t know of it will begin in August, if it will be 38 games long or even if we'll be allowed in to see it.
I still think it will be declared null and void sometime before Christmas, for whatever reason, leaving a section of supporters happy enough to claim that Celtic never got to that ten in a row, even if a resumption in 2021 would technically be the tenth consecutive season, bearing in mind that declaring something null and void means it never happened.
Now that's paranoia…
But just in case we do have a full 20/21 season, there are still those in the media who will do their bit to champion the new club/company on the other side of the river as they attempt to stop the charge of the Celtic juggernaut.
Gary Ralston of the Daily Record is chief among them, as we can see by his recent articles in the paper.
Today, for instance, he says;
Scottish football is about to become a Rich man's game and his first name is Charlie.
It's time to talk, like the old country crooner, about what goes on Behind Closed Doors. 
No, I haven't got the faintest idea who Charlie Rich is either.
Peter Lawwell is leading the calls for football to be played in front of a live audience as soon as possible.
The Celtic CEO knows the importance of revenue streams running at their maximum.
So this is one thing that may be on his and others' minds: the longer the game is played without supporters, the more likely it is to produce a lottery of results.
By courtesy of their enhanced playing budgets, Celtic and Rangers will continue to lead the way when the Premiership gets under way on August 1.  
What he doesn't want to admit is that Celtic will lead the way, simply because none of the other teams have a single player who would get into their first team ahead of the ones that are already there.
He then goes on to point out the obvious, in that football will be different when played in empty stadia, although Manchester City did prove with their win over Liverpool that some teams are used to it.
But the longer matches are played in empty stadia, the greater the likelihood of shock results in a campaign when Celtic are going for that fabled 10.
Last week, there were five victories for away teams in 10 matches played in the Premier League.
A recent study in The Conversation, a news website written by academics and researchers, revealed home teams win 46 per cent of matches on average.
However, in 191 games played behind closed doors in Europe's top leagues between the end of World War II and the start of lockdown, that figure fell to just 36 per cent.
On average, away teams win 26 per cent of their matches in front fans, but 34 per cent when the stands are empty – apparently, home teams score fewer goals behind closed doors.
What he doesn't say is what he really means…"rangers " have a chance of upsetting Celtic, and whilst its more in hope than expectation, it's clearly his own wishful thinking rather than any serious piece on how the new season will go.
He might as well have dug up some figures on which teams score less goals when it's raining for all the value in his "research ".
Other recent "news " items from Ralston include;
Alex Rae hammers home the Rangers dream behind those 32,000 acts of faith in Steven Gerrard
The club's astonishing season ticket numbers amid a pandemic have given the former midfielder a pause to cheer. 
Rangers blast back at Sports Direct kit claim as jaw-dropping 50k sales figure nears
The sportswear company claimed in a social media post that they would be selling the club's new Castore kit exclusively.
and the somewhat distasteful headline…
Rangers legend tells Steven Pressley he's talking out of his h*** over Craig Gordon vs Andy Goram claim
John Brown reckons Steven Pressley is miles off the pace with his assertion Craig Gordon was better than Andy Goram.  
The kit story, which was intended to counter the publicity that would accompany Celtic's deal with Adidas , is interesting. Castore is a small comapny which doesn't have the production capacity to produce such volumes at short notice, and will have had to outsource orders.
Clearly, with Dave king out of the way, there has been some sort of discussion with Mike Ashley to placate the Sports Direct boss who is owed a not inconsiderable sum by the Ibrox club, who don;t have the sort of funds availble to pay the bill.
In short, Ashley could well hold power of life and death over the new entity, which hasn't pleased the support at all.
And he's been asked to stop hanging around Ibrox  taking the piss …..
Nonetheless, Ralston..and others…are trying to whip up support for the plucky, cash strapped club who are fighting a never ending battle against oblivion, hailing little triumphs and ignoring any major problems.
But the hordes can see through it, well, some of them , at least…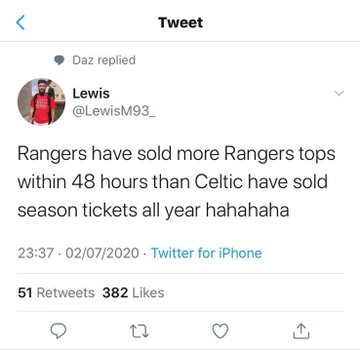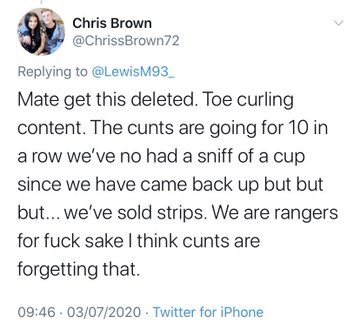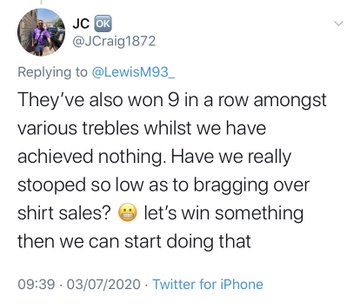 This stems from a report in the Sun, from David Fowler, another hack worth keeping an eye on for a while .which quoted Castore boss Tom Beahon. (thats interesting, he's the boss, not the owner…)
Meanwhile, Beahon revealed Rangers fans from all over the world snapped up the entire allocation of 50,000 kits in just 36 hours.
He added: "I have not dug into the sales data in huge detail yet, it is probably something I will do on Sunday, but based on the high level data I have seen from our finance team during the peak period, we were doing three orders a second through the website."
One other development worth mentioning is the rise of a section of the Hearts support in an attempt to wrest the title of world's dumbest but staunchest support from their Glasgow  cousins…..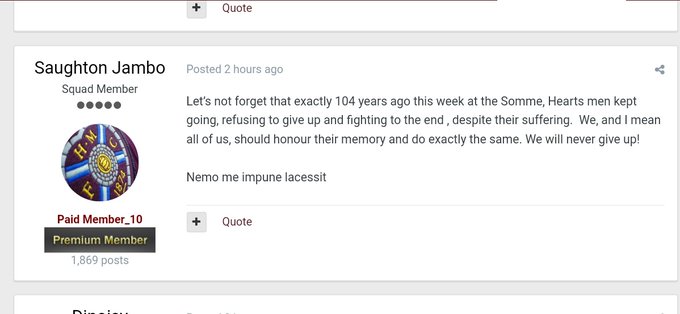 The Latin bit means no-one provokes me with impunity, which is the motto of three Scottish regiments in the British army, and means roughly the same as the old Ibrox banner that declared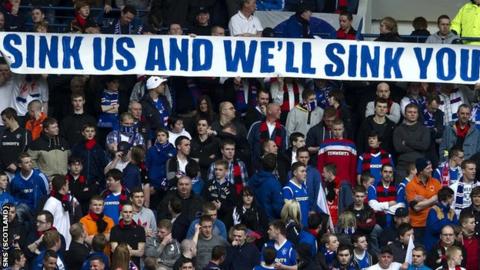 Not really the most productive policy, as the liquidation of Rangers showed…
Hearts, of course, have been told by the courts that their problem with the SPFL is a matter for the football authorities, which must come as a relief to them.
Imagine the judge asking them why they feel they are entitled to compensation as a result of an action they voted for …..
On Wednesday, we had this…
My pal has named his pet bear after the Ex Celt Moussa D.
No idea why!
Today…