The chief of the SFA Stewart Regan – never trust a man with a surname for a first name, the correct first name is Stuart- has been thrown back into the internet limelight again, with blogger John James going as far as to threaten crowdfunded legal action in a reply to one of his recent articles..
There is a significant difference between now and 2011. There are individuals watching Regan like a hawk, including readers of this site. One false move and i will be all over him like a rash. The SFA as licensor has an ONGOiNG responsibility to ensure that any member club proposed is compliant with UEFA FFP. He cannot just pass it over the wall on the 31st March and wash his hands of it. If he has pulled this stroke again I will pursue him relentlessly, including crowdfunded court action if necessary, to bring this sly bastard to his knees.
This will take you to the site. Have a wee look. John James Article
Every now and again, JJ goes off at a tangent, but when he focuses he's often on to something.
As you're probably aware, a few people point a few things out to us, and with the issue of UEFA licensing under the spotlight at the moment, largely due to suspicions that we may see a repeat of the SFA shennannigans that shoehorned an ineligible Rangers into the champions League, its only right that we chuck in our tuppence worth from time to time.
Where Regan and his incompetence/collusion is concerned, there's value for that tuppence.
You'll note that the reader is free to decide for himself whether Regan is incompetent or corrupt . Or both, or maybe he is the right man for the job.
While you decide, consider this answer he gave Richard Gordon on Sportsound in 2013… which kind of suggests he wanted to wash his hands of a similar situation back in 2011…
And take into account this reply to a tweet, undated, but still relevant..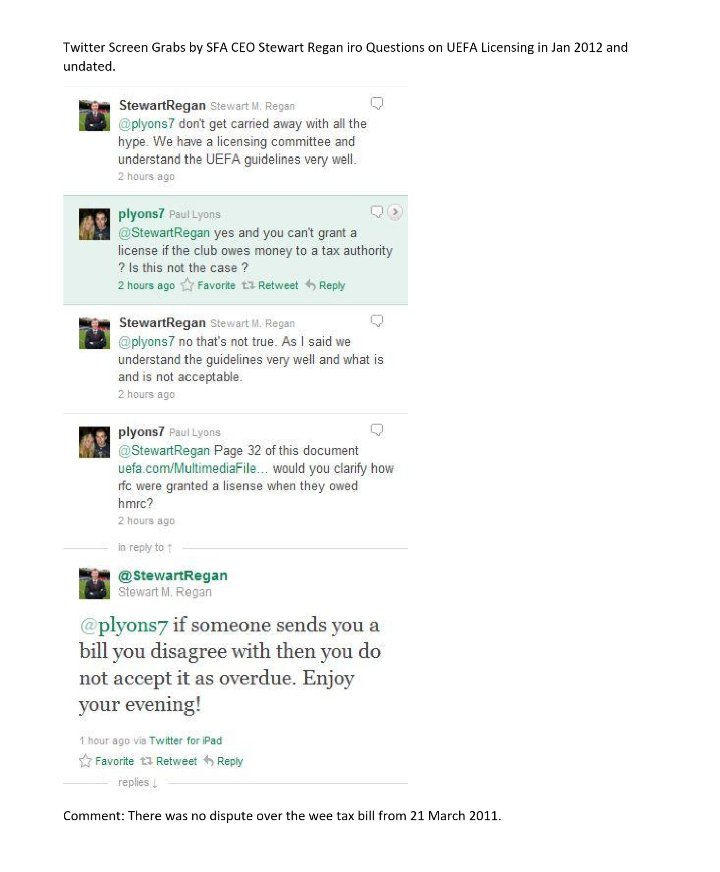 As we know, Rangers were found liable for those payments, and therefore had an outstanding tax bill. Actually in the end, outstanding is an understatement if used to describe their tax bill. It's positively stupendous.
In the tweets above, Regan is saying that the bill is being disputed by Rangers .
And that a licence can be granted irrespective of any tax bill.
He then tries to clarify it, in 2012…
Oops…
In September 2011, the BBC reported, in a Q and A on Ranger's tax problems…
 This one emerged in the club's accounts this April and is related to a different tax avoidance ruse operated between 1999 and 2003.
Called a Discounted Options Scheme, it is a more complicated version of the EBT as it funnels what experts call the "disguised remuneration" through a "money-box company" set up in a tax haven. The beneficiary then gets shares in the company and you can guess the rest.
It was, for a while, a popular way for bankers to avoid paying tax on their bonuses but HMRC closed the loophole and has been chasing up lost tax ever since.
The sum Rangers owe – and they have agreed this much – is £2.8m in back taxes and interest. What they continue to dispute is the £1.4m HMRC is demanding in penalties. The undisputed amount is due now, in fact, it's overdue again, if that makes sense. 
Oddly enough, the BBC were banned by Rangers just a month later.
When he took the club over, Craig Whyte admitted the liability in his takeover speech, again from the BBC, we note when the bill was made public.. in May 2011
At the outset of talks, ( November 2010 ) it appeared that the former chairman would recoup around £4.5m from the takeover.
However, when a £2.8m tax bill was made public in Rangers' half-yearly accounts, the deal was renegotiated and he agreed that it would come from his share.
Murray waived the remainder of the sum due, with Whyte agreeing to invest that sum into the club. 
The SFA are obliged to inform UEFA of any changes in circumstances that may affect any applications for licences.
Or of any concerns over any possible changes.
Thats what Regan meant when he said it was up to UEFA after March 31.
Consider also Paul Murrays words on the wee tax bill, also from the BBC,  in October 2011
Mr Murray said he doubted Mr Whyte's logic in taking on an unspecified tax bill.
He added: "From my experience of buying and selling companies over a 25-year period, I've never ever seen anyone take on a liability of that nature before." 
He's got a point. what sort of idiot takes on a bill that is not specified-or to use the correct term-crystallised ?
Logically, the bill must have been crystallised. It doesn't make sense for Whyte to take it on otherwise.
Yet in the answer to Richard Gordon,  Regan says that after March 31 its down to UEFA to check these things, which if they had, they would have spotted.
Except, of course, they only look at issues raised by the local yokels.
Regan clearly didn't raise the issue.
Why not ?
Make your own mind up, but at the very least its time to drag him out and ask him.
That should be interesting, as he's probably forgotten what he said back then, which is what happens when you don't tell the truth.
Some might argue that Celtic should take up the case, but at this stage, its worth it for them to wait until all the facts are in the public domain, after the supreme court makes its ruling.
There's still much more to come out, and as we've waited this long, a little while longer won't hurt.
After all, its about the SFA and its lack of competence, its lack of transparency, and the accusations of corruption.
That sort of thing doesn't have a time bar.
What we must also be concerned about is whether or not he is at it again.
I would like nothing better than to think our game is being governed properly, fairly and in the interests of all clubs and supporters.
Neil Doncaster of the SPFL refused to deny collusion or corruption when asked, via email.
Will Regan deny it ?
Are we going to ask him to ?