Partick Thistle popped across town to become the first side to face Celtic since the hoops secured this seasons title, and although they provided a guard of homour, that was pretty much all they let us have.
Though if they fancy letting us have Liam Lindsay, who seemed to have mastered omnipresence in the Partick defence, I'll be okay with that.
Celtic took the lead through the reborn Scott Sinclair and didn;t seem to be in any bother until rendan rodgers thought he'd liven things up with a couple of substitutions. The team was fairly settled up until then, but by removing Emilio Izaguirre from the left flank and just sort of hoping the others would fill in as they went along, he gave Partick an opening which they pounced on.
It led to an equaliser and a fairly exciting last quarter of the game, a sense not dulled when Tomas Cerny saved Scott Sinclairs penalty kick.
After that, any lap of homour was going to feel rather forced.
The manager made the changes to allow some players to get a bit more game time, and others to have a wee rest, especially those who had put in up to two hour and a half shifts most weeks.
Funny how when things are going well we can accept tiredness as a factoe, yet when it goes badly they are all lazy bassas who run about a football field twice a week.
Eboue Kouassi made his full debut, and despite a nervy start kept it simple and straightforward, presumably doing exactly what he'd been asked to. There were starts for Gamboa, Izaguirre and MacGrefor, all of whom would be regulars anywhere else in Scotland, and they all slotted in quite well, it was just that the urgency maybe wasn;t there.
Thats to be expected, but what also needs to be considered is that when the momentum is lost, it can be difficult to get back.
Take into account that teams will be battling a wee bit harder as the games become more important for them, combine that with a feeling that they might think Celtic have taken their foot off the pedal, and we may well find it harder to keep winning than we maybe thought.
The players need to get their focus back very quickly, as our upcoming Cup game-thats the one on the 23rd, the league game is on the 29th, as a pedant pointed out, will see a side-although fairly limited- come up against is who will be fighting as though for their lives.
And I want to win that treble.
After the game, manager Rodgers explained the changes he made.
 "After the weekend our next peak is the semi final. So that's what we are building towards.
"This is why I needed to make the changes tonight. If I didn't make them tonight and I made them against Kilmarnock, and then we are building into the Ross County game and then the Rangers games.
"It might mean some players who are asked to play in the Rangers game, if they played tonight then were rested against Kilmarnock they would maybe have got one game in 18 days.  
"You're always trying to gauge the momentum of your team and I thought this was the game to make the changes. But over the course of the next couple of games the team will be pretty stable to give us that momentum to hopefully arrive in a peak condition for the semi final.
Later today, he's agreed to come on and explain the explanation.
For now, however, he continued;
"It was probably a fair result in the end after playing so well to clinch the title and making a number of changes so players get game-time, against the second form team in Scotland, along with Aberdeen.
"The plan beforehand was to give players game time who haven't played so much of late. We wanted Tom Rogic to get half an hour and in the moment when we made the changes we make a mistake and Partick scored.
"We got the penalty and I haven't seen Scotty miss a penalty since we were at Swansea and we played Manchester City when Joe Hart made a great save.
"Their keeper makes a save and we couldn't find that final touch or goal to win the game." 
He sounds tired.
There is a curious kind of limbo between now and the cup game. Its going to be difficult to maintain the momentum, and even harder to get it back.
However, the semi final, and hopefully a final to follow, will be difficult games.
One because a team will try anything to win, and the possible second one because that team are playing very well at the moment.
Maybe everyone should switch back on.
One player especially seems to be losing focus, and it was evident last night..
 "Since January, I have not figured as much as I had hoped. It is the first time in my career, I have sat on the bench and not been selected, although in fact I'm fit. It is not optimal and it is a new situation I must deal with." 
 "If he has decided that I am third choice, I will do everything to prove that I must be one of the two in the middle. And the thing that strikes me is that I train really well, and I feel in good shape. Right now it's frustrating." 
Thats our Erik, talking to Danish newspaper BT , and probably already working on his lost in translation excuse.
It had to happen sooner or later, its almost impossible to keep everyone happy when the squad is as big as the one currently using up all the lockers at Lennoxtown. In fact, we hear that not everyone has got one, such is the overcrowding these days as no one seems to want to leave.
With Sviatchenko starting to wonder about his future, what will happen if Celtic secure the Romanian midfieder currently on the clubs shopping list ?
Tom Rogic is back. Stuart Armstrong and Scott  Brown have been outstanding. What about MacGregor, who has performed admirably, or Biton ?
Or Eboue, Henderson and Kristoffer Ajer ?
The Romanian midfielder story is in all the papers, and since the media tend not to get any sort of transfer news before the multitude of drunks out there who pass on this sort of tittle tattle, then I'm sceptical.
Usually this kind of interest is a smoke screen to give the recruitment guys a bit of peace to get on with their jobs.
Anyway, with no doubt a sense of mounting excitement, the Record's Mark Walker, wrote..
Celtic are eyeing a move for top Romanian midfield prospect Ovidiu Popescu after they sent a scout to watch the Steaua Bucharest playmaker.
And Steaua's owner has revealed he's already held talks with the Hoops about their top player, who he believes will one day be worth £25 million.
The Scottish champions watched the 23-year-old at the weekend in the derby between Steaua and Dinamo Bucharest.
Popescu, who has seven under 21 caps for his country, cost Steaua £200,000 last year when they signed him from Poli Timisoara on a bumper six-year deal. 
And he's blossomed into one of the best players in the Romanian League.
Outspoken Steaua owner George Becali immediately inserted an £8 million release clause into his contract.
And he's waiting for Celtic to follow up their initial interest in Popescu, who can also play right back.
I never heard of an escape clause being inserted into a contract before when another club expresses interest, as the article hints, but this is the Scottish media, and anything can happen.
Becali said: "Celtic came to watch him at the weekend and we've talked.
"There has already been an offer for him, although I won't say from which club it was from.
"He has a release clause which isn't unrealistic. Anderlecht paid us £8million for Nicolae Stanciu and Ovidiu is just as good…probably better actually.
"When we signed him, I told him within a year or two I would guarantee him a move to a big club in Europe where he is paid a big salary and that's what will happen.
"He's the most exciting player to come from Romania in years. He's not going to be sold for nothing." 
 "Ovidiu is the same type of player as Frank Lampard at Chelsea.
"He will be worth £25 million one day. He's a central midfielder, who can also play right back – he's so versatile.
"He runs at opponents and humiliates them when he gets past them. No one can keep up with him with that initial five yard burst of pace."
So his gaffer says he's the most exciting player to come from Romania, which reminds me of the old Everest window advert where they told us they were the best.
What do we know about Popescu ?
Not very much, it appears, which means that all we have to go on is what his boss says, and when you buy a player for 200,000 Euros ( june 2016 )he would have to be pretty special to see his value jumpo to £8m within a few months.
He may have potential, but thats it.
What is notable, however, is that we have heard that £8m was the price Celtic were prepared to pay for Bojan of Stoke, but the players wages were the issue.
If all this is true, then the ceiling has been lifted and the club is going to have another tilt at Europe, and there can;t be anyone among us not relishing that.
Over on the other side of the city, the team who will get first crack at stopping the treble, gained another point against an improving Kilmarnock side, giving them yet another cause for celebration.
And when you consider they didn't lose any further ground on champions Celtic, then its shirts into the crowd and beer on the bus home for the new "rangers " as they settle into life under their latest Pedro, Patsy Caixinha.
Sorry, latest patsy, Pedro Caixinha
Pedro blew into town on a media driven gust of hot air, and has still to taste defeat in his opening three matches.
He too, will have one eye on making a name for himself with the Scottish cup to play for, and whilst Brendan Rodgers can be said to be a little predictable in his team selections and tactics, Caixinho is waving a red sheet in front of him which is disguising what goes on under his hat.
He followed a 4-0 debut win over Hamilton with a draw at Ibrox aganst Motherwell last weekend. During that game, he replaced three defenders at half time and gained the plaudits of a fawning media with his "unpredictability "
Last night they forced at draw at Rugby Park, and as Kilmarnock boss Lee McCulloch said, a point is important..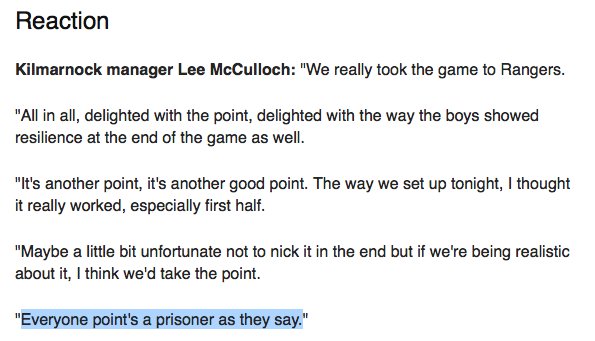 As for Patsy, the hordes are revolting already…
Thanks for the memories Pedro but it's time to go 
They won't admit it, but there does seem to be a significant silence on their chances of winning the cup…
And all is not well in the camp…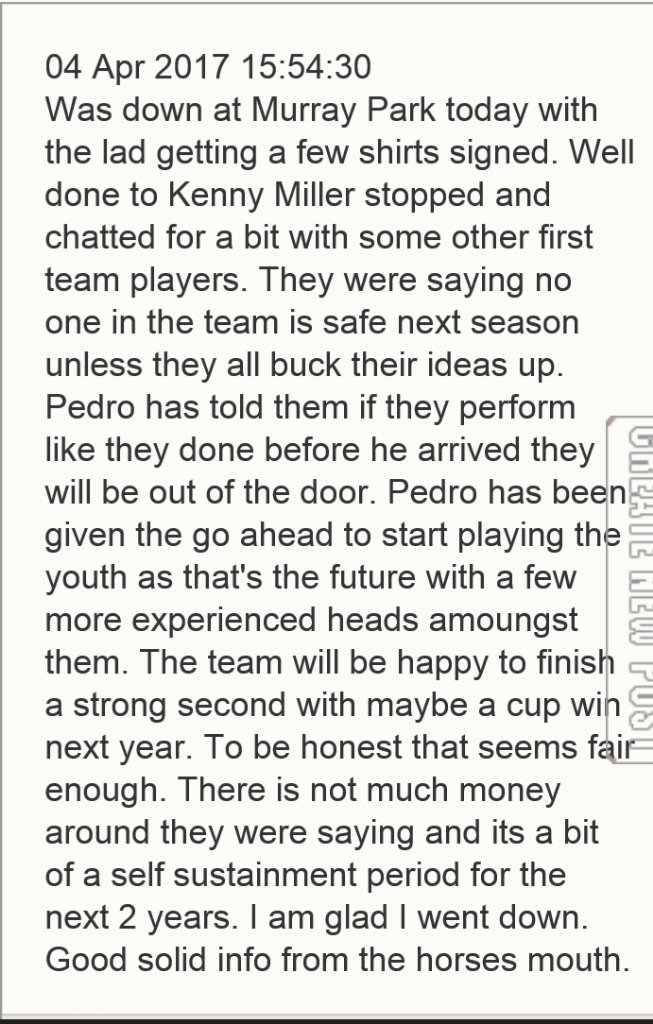 You shouldn't believe everything you hear from a horse.
The chap who went down to speak to the "rangers " players didn;t get one of their world class breakfasts, but to be honest, that should ad a few years onto his time on earth..
Yesterday, we gave you this picture..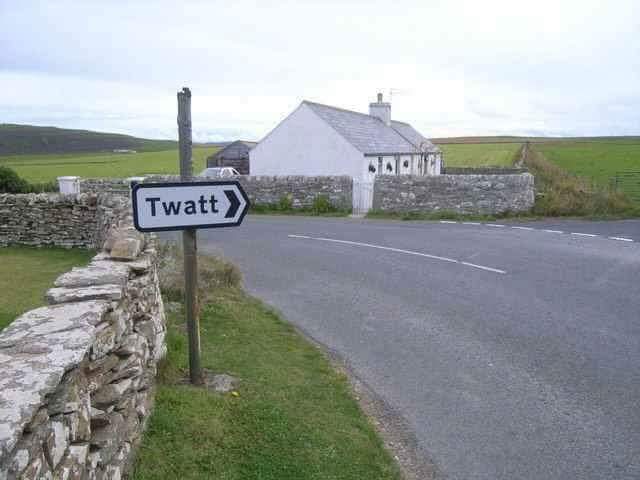 Elsewhere on the site, there is a forensic examination of one of Scottish footballs major issues. It is long, but it is comprehensive.
If there is anything you can;t quite work out, please ask,. the only stupid question, after all , is the one that doesn;t get asked.
We would like everyone to be perfectly clear on how everything works. The reason for the complex article is because the rules are complex, and we are just trying to make them more transparent.
That way, we can gain more support against those who make the rules so complex that no one knows when they are breaking them.