Aberdeen beat Partick last night 2-1 to move within a point of Celtic at the top of the league. That makes Celtic's visit to Firhill a little more important than it ought to be.
Suddenly, it's time for the players to wake up and realise that they have a fight on their hands.
The dons even recovered from a setback when the Jags took the lead, something that almost never happens to Celtic, and it proved that they are up for the fight.
Four years ago, we bemoaned a lack of competition, and now that its here, we're moaning that we allowed it to happen. It was inevitable that a challenge would come from somewhere sooner or later. It's taken four years, but now it's here, and there's no excuse for not getting behind the team as they strive for a fifth consecutive title.
Every game now is important, more important than the upcoming Cup semi final, which I vaguely remember reading about somewhere, and perhaps it would, as Rebus suggested yesterday, be an idea for the club to announce that Celtic have a number of important games coming up, nd the semi final is just one of them.
And get the players to sing from the same hymn sheet.
Except Leigh Griffiths. He's not allowed to sing anything. Anywhere.
Having exhausted the line of former players who think that Second Rangers actually have a chance in that game, the press have now moved to hint that a couple of Celts are on their way out, which is their plan B.
Scott allan has been linked with moves to Derby, Nottingham forest and Bolton, while James Forrrest has the chance to go to Norwich,
All speculation, of course, but the former story has added to the faux confidence over at Ibrox, as website Ibrox noise points out;
It was with a great deal amusement that news broke recently regarding former Rangers fan and club target Scott Allan's link with a move out of Parkhead. Information received over a month ago by this site (but which elected to remain unpublished due to relative unimportance) was that he had expressed his desire to leave Celtic due to lack of playing time.
With Derby, Nottingham Forest & Bolton all reportedly interested in the playmaker, it highlights just how bad a decision he made to leave Hibs for Celtic rather than just waiting a few months to sign a pre-contract with Rangers, his supposed 'boyhood club'.

Right now Scott Allan would be likely frozen out at Easter Road, true, but he would be looking forward to the Premiership with Rangers next season and a bright career with the club he loved. Or claimed to.
But now he is looking at the midriff of English football if he is lucky, and a career which had so much promise but is now threatening to fall apart entirely.
Put simply, the pettiness of Celtic was to stop Rangers signing him by snapping him up themselves – and consigning him to the development team because they had no intention of ever using him. If ever the value of money was trivilialised, it was the £350K signing of Scott Allan by Celtic just to stick a middle finger up at Rangers. 
Now Rangers do not even need him, with Jason Holt blossoming in ways Allan could only dream of, while the team as a whole grows and improves in readiness for the Premiership and the clash with Celtic next month. 
They do look at things different over there. Even if there's some truth in the story, and there might be, " now he is looking at the midriff of English football if he is lucky " presumably instead of plying his trade in the underbelly of Scottish football is proof that the fans of the new club have exactly the same mentality as those of the old one.
Had Allan gone to Ibrox, it's unlikely anyone outwith the newspaper and radio offices of Scotland would even have noticed him, as evidenced by the plethora of bids for those who do ply their trade at ibrox during the last transfer window.
If he is to go, and I don't want to see that happen, then at least he's got somewhere to go to.
However, there was more evidence of more than a little sensitivity from another Ibrox supporter when he complained about a headline in the Scotsman;
"pandering a wee bit to the Sevco crowd " is, of course, an allegory for "telling the truth ".
Or this one, which somehow managed to connect the word "bigot 2 to the headline;
Whilst simultaneously ignoring his own intolerance.
There was a little touch of realism from Chris Sutton yesterday, the former Celt who , in all fairness , speaks from the heart and changes his opinions to such a level we've considered asking him to write the Diary. With typical forthrightness, Sutton said;
 I look at them player-for-player. It's difficult because Celtic have so many. But how many of the Rangers players would get in the Celtic team?
 You have to look at form but all things being equal if you asked Mark Warburton whether he would take the majority of the Celtic team over his team then (everyone) would say yes. 
The majority of the Celtic team ? Which of the Celtic players wouldn't get into the Ibrox line up ?
Conversely, however, he's spot on, not one of the Warburton wunderteam would even make the bench at Celtic Park, especially if there was a game on.
Tom Boyd was even more forthright;
"there's nothing to fear from a team that are in a lower division.
"They are taking some plaudits for the way they are playing, but we are sitting top of the league, four points clear and in the semi-final as well.
"So if we can get our act together, get the boys up for it as we did against Morton, then I think it will be a little bit tighter in terms of the overall standard of the game, but I still see us coming through this because we do have the better quality players.
"It's just about making sure they turn up for the occasion and I can only see victory." 
But we'll leave that game there, because there is a much more important Glasgow Derby to deal with first, and it has become a bit of a season definer. In fact. I've opened a wee b and b where you can get away from all the hype as a first division club tries to make themselves feel all important.
 Should Celtic lose, the impetus, which is arguably already firmly encamped in the north east, will grow stronger, and like a side that were three up at half time only to find themselves level with ten minutes to go, Celtic could struggle to shift back up a gear.
Ronny needs to pick his first team squad  with his best eleven starting every game, and stick with them now until the league is won. No more farting about with players, pick a team and stick with it.
Aberdeen have clung on until March, and there's no reason not to expect them to keep clinging on.
Hell, its what we needed to waken the club up from their slumber and maybe remind the fans that we have no divine right to win anything just because our former rivals aren't there anymore.
Contrast our own somewhat spoiled attitude with that of Aberdeen manager Derek McInnes
"It will be a rollercoaster between now and the end of the season. There will be more games like tonight.
"But I am loving it. There's going to be tension and times fraught with nerves.
"We need to stay calm and focused to get the job done. We believe we can win games.
"It was really important we got back into the game and got those two goals. It was down to quality and determination.
"It was never going to be easy for us. Thistle are a good side and that's a tough fixture out the way. I was proud of that performance tonight. They never know when they are beaten."
…..we are enjoying winning and we don't intend to stop.
"We have a team with total trust in themselves and total trust in me. We have a tight, hungry squad.
"The supporters were brilliant, they got behind us. There is a bit of momentum there and we need to keep that with us."

Looks like we've got that excitement we were craving. I suppose I'll have to get off my arse and out the pub and get into the ground from now on. 
In other news, Erik Sviatchenko is making ingratiating himself with the support…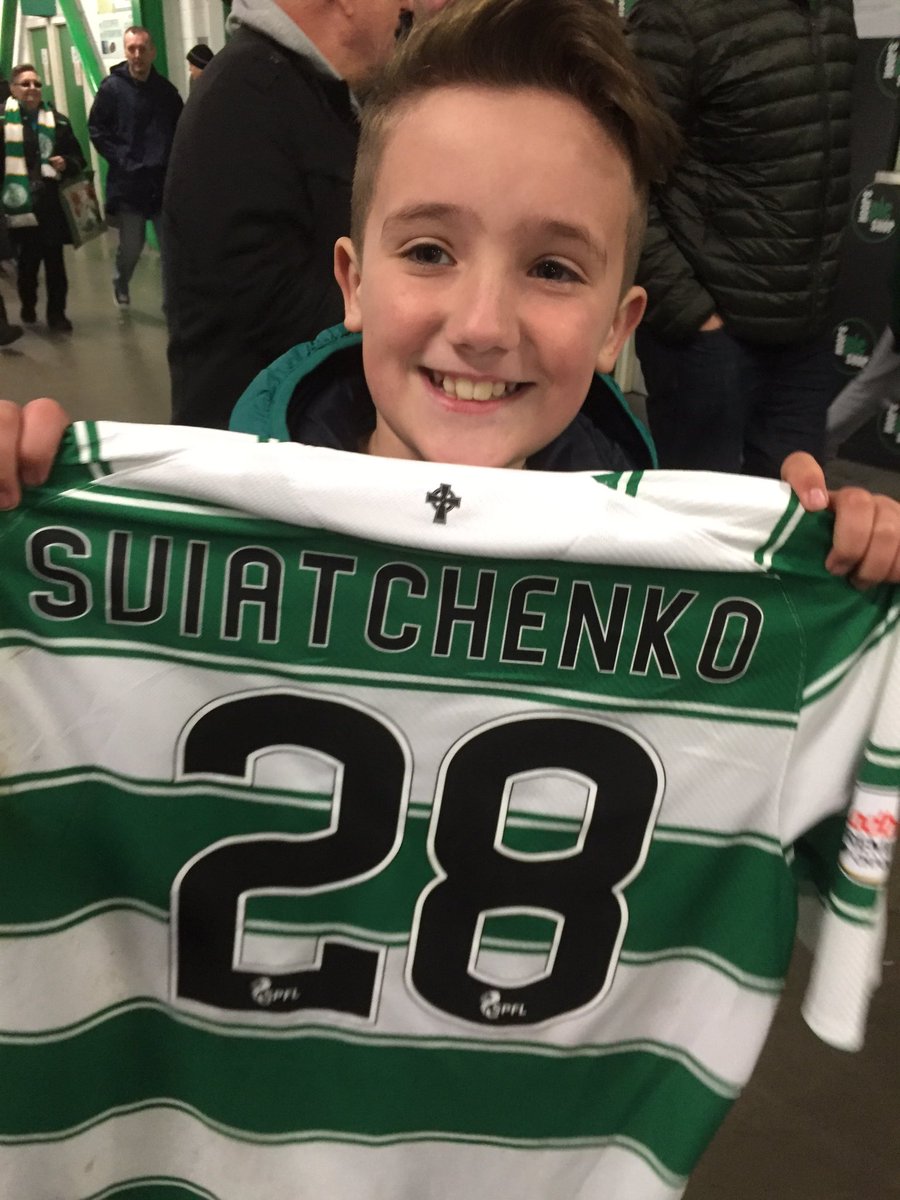 This young lad got a post match gift from the big Dane, which is pleasing to see, and other players should take note and do a wee bit more themselves.
Or at least let us know what they are doing.
One of the criticisms the Diary has levelled at Celtic in the past is a lack of information regarding the charitable side of the club, because although its kind of crass to blow one's own trumpet about this sort of thing, it does no harm to let people know that you have a trumpet and are using it on occasion.
Which is why I was pleased to see that there is now a Celtic FC Charity foundation newsletter, which highlights the work of the Foundation. Its very well put together, with a mission statement and details of work they've done, as well as a what's on timetable to allow people to get involved.
Now thats the Celtic we support.
I've tried to copy a few bits from it to give you an example of it, but as usual failed miserably, but I'll see if those smarter than me -i.e. everyone can do something.
Anyhow, if anyones interested I'll see if I can work out how to get you a copy, and alternatively I'll see if the club have a way of distributing it so you can get your own copy.
It's a good wee read.
Susan Murphy took the caption competition yesterday with this line, and no doubt that's the first of many.
So, today, see what you can do with this one…
By the way, can you remmeber my pal in your prayers. He is in a bad way in the  hospital after taking an E. Ttupid I know, as the security staff on Countdown don't mess about.