A 2-0 win over Den Bosch at St. Mirren Park last night heralded the start of the new campaign.
Or as the Scotsman headline says;
Celtic 2 – 0 Den Bosch: Hoops win friendly:
The Bastards.
For the avoidance of doubt, I added the last two words, although if they had used them, it would have set the tone for the article, and saved them loads of space.
Seriously, this is how Lindsay Herron saw Deydrick Boyaytas first game in the hoops;
The Belgian defender captured from Manchester City looked comfortable and composed on the ball, although he had little to do against Dutch second tier outfit Den Bosch.
And when he was asked to produce a bit of pace on one or two rare occasions the speed was undoubtedly there.
He partnered Virgil van Dijk in a 4-4-2 system within which Ronny Deila ended up using 21 outfield players over the course of the match.
However, whether this partnership will be a fixture remains to be seen given Van Dijk's very public desire to move to the Barclays Premier League and it could be that fellow new signing Saidy Janko, who will complete his move from Manchester United today, will be utilised in a central position. 
Anyway, back to the positive stuff….
Gary Mackay Steven took three minutes to signal his intent for the season when he notched the first goal, and it was the laughing cavalier himself who forced the error that led to the own goal which completed the scoring.
The pace of the Celts was too much for the Second division Dutch side, who resorted to a few tasty tackles, but even Derk Boerrigter came through the game without having to call in at the new hospital on the way home, so all's well that ends well.
The team sheet, which was altered substantially during the game, read;
CELTIC (4-2-3-1) Fasan; Lustig (Fisher 40), Boyata (O'Connell 60), van Dijk (Findlay 60), Tierney (Waters 60); Henderson (Lindsay 60), Rogic (Thomson 60), Mackay-Steven (Boerrigter 60'), Donnelly (Duffy 60), Armstrong (Nesbitt 40, McManus 82), Scepovic (McMullan 60)
Not used: Hazard.
The man not used is keeper Conor Hazard, and so that he doesn't feel left out, here's a picture of him during a Down Milk Cup match, where he saved two penalties during a shoot out.
Which must have taken some concentration. ( not that sort of shoot out, you idiot-Ed )
 A few debuts were handed out, and a few old faces got a run out to either show Deila what they are capable, or, more likely, impress any watching scouts who need to fill space in their treatment rooms or benches.
Afterwards, Ronny was all smiles as he looked back on the game;
" It was good to get a game The boys have trained since last Tuesday so they needed a game.
"There was some good play, especially in the first half and some good individual performances as well." 
One player in particular stood out for the Norwegian, the Australian enigma ( can I say that word ? ) Tom Rogic;
Ronny said :
"He's a great player and a great person,He works really hard and has been very unlucky with injuries in the last year.
"Now we have control over his body and you can see what kind of player he is. There's a reason why he got brought to Celtic and he's very hungry to show what is in him.
"Today he played excellent and you can see he's so good at scanning and getting his touch forward.
"He looked very quick today as well and his footwork is getting better every day. He's going to improve with more training." 
Over in Australia, they are even more pleased that Rogic is back, so maybe he really is their golden boy;
Celtic boss hails 'excellent' Rogic after friendly win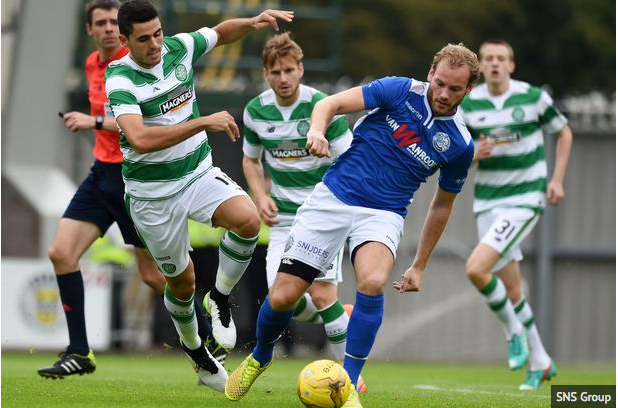 Rogic caught the eye in a superb 60-minute outing as Celtic ran out comfortable 2-0 winners against FC Den Bosch.
Well, it's good to see him back.

Then there was new man Deydrick Boyata, where Ronny saw pretty much what he expected to see;
He plays with calmness and you see he has a very good understanding of the game. He's good in the air and he's going to be a good signing for us,
  Boyata himself  seemed to enjoy his first start;
"I was happy to win the first game. It was hard at the beginning, but I thought we played well. I thought we won with something to spare. We have worked a lot this week on how the team will play and I think I got a lot of information at once. The way we play suits me.
"I think I can deal with it. I don't think it will be difficult. I like the way we play, so that makes it easier.
"My partnership with Virgil is good. We have still to play a lot of games, but the first match went well. We will analyse the game to see what we can do better." 
This is an interesting snap, taken from the Evening times. Both central defenders are focusing on the same thing. Quite possibly a first in the history of Celtic Football Club.
Unless it's the photographer.
Those already mentioned apart, the other debutants, Luke Donnelly and Leo Fasan were given a chance to show what they could do, and whilst neither stood out, what they did do is show that they can fit comfortably into the system that has been drilled into all the players at Celtic from the kids teams through to the first team. Again, it's a sign that the foundations are in place and now we can start building on top of them.
Which leads us to the next piece of the structure, new signing Saidy Janko. He has joined on a four year contract after failing to break into the Manchester United first team, and now he must try to break into the Celtic one instead.
Does he think he can do it ?
 Ronny has thrown down the gauntlet;
 "Saidy is a young player we want to develop.
"He's a talented full-back. Saidy has to show himself in training like everyone else but the road to the first team is there if he shows himself to be the best."
 What hasn't received the publicity that it should have done is that this time, unlike with Jason Denaayer, Celtic have bought the player. Ronny was criticised last year when he said he diodn't want to develop players for other clubs, and then promptly went on to develop Denaayer for Manchester City, it has turned out very well for him in the long run.
 Having elevated Denaayer from Man City reserve to Belgian international within a season, other players, lurking on the fringes of other clubs, have noticed, and Janko, as well as Boyata will see that if they do their bit, they will progress. And fair play to the club, because it may well be now a condition of taking a player on that they sign permanently.
 Remember, these players are not getting a game due to a lack of ability, it's due to a lack of opportunities, which is entirely different. English clubs want a ready made solution to problems, and don't seem to hang around trying to solve it themselves. It's far easier to dip into the cash box to find what you need. Often it seems they spend on players just for the sake if it, probably to reduce tax bills or something, and it's the player who suffers.
 If the reaction of a few Manchester United supporters on twitter is anything to go by, we might have found our own "Denaayer "
Unfortunate to lose Janko. Another player not given a shot in the #MUFC team. Sad. 
Why have we let Saidy Janko leave? He's 18, this better not be another Pogba #MUFC 
Saidy Janko has joined Celtic on a 4-year deal, quite surprised as he looked the part for the reserves. Hope it's not a Pogba part 2!
I've included so many comments because it's very unusual to see so many comments about a player who has played just forty five minutes for the first team….
Well, good ones, anyway.
Does this mean that someone will be leaving. Probably, but then we know some players will leave anyway. Unusually for Celtic , though, we're getting replacements in before they go.
So, Aiden Mcgeady or not ?
It's either the biggest hoax story of all time, or there might just be a return for the , well, how do you describe him?-footballer on the cards.
So far, he's been out on the town with Celtic players, had his car delivered from Liverpool to Glasgow and is apparently building a big house in Bothwell, which means , in all fairness, he might be considering a switch north.
Everton fans seem like they would be glad to see the back of him, while Celtic fans are divided on a possible return.
The story is that Celtic have bid £1m.
"@FourthOfficial_ Celtic have made a £1million bid for Everton's Aiden McGeady" TAKE IT AND NEVER LOOK BACK
 Get him in, give him six months to get to the fitness level of the others, and see what we have then. well worth a gamble, especially as you consider that we are around £9.5m ahead on the deal already.
Another on the "radar ", Dundee Uniteds Turkish liability Nadir Ciftci has turned down a move to Wigan ( Thanks for trying, anyway, Gary) sending shivers of fear throughout Timdom that he might yet end up in the eat end of Glasgow.
 Come on Middlesborough. Do us a favour. We gave you Bobby Murdoch, remember.
You owe us.
 A new financial crisis is set to engulf cash strapped Second Rangers, according to the Scotsman, who say it's according to the Sun.
They won't even report it as a story at the Scotsman, such is the fear of upsetting the Ibrox hordes;
AT least six former Rangers players are set to slap the club with a claim for holiday pay, according to The Sun.
PFA Scotland have reportedly been contacted over the possibility of bringing action over a payment that 'could approach a six-figure sum'.
The players believe they are due holiday pay thanks to a contract clause which entitles them to 35 days of holiday leave a year.
The axed sextet believe they are due money as the only paid holiday time they are entitled to is during the close season – despite their contracts expiring on May 31st. (Scottish Sun)  
Wonder if one of them is Ian Black ? Islamophobic former Ibrox director Chris Graham gave us his thoughts on the midfielder…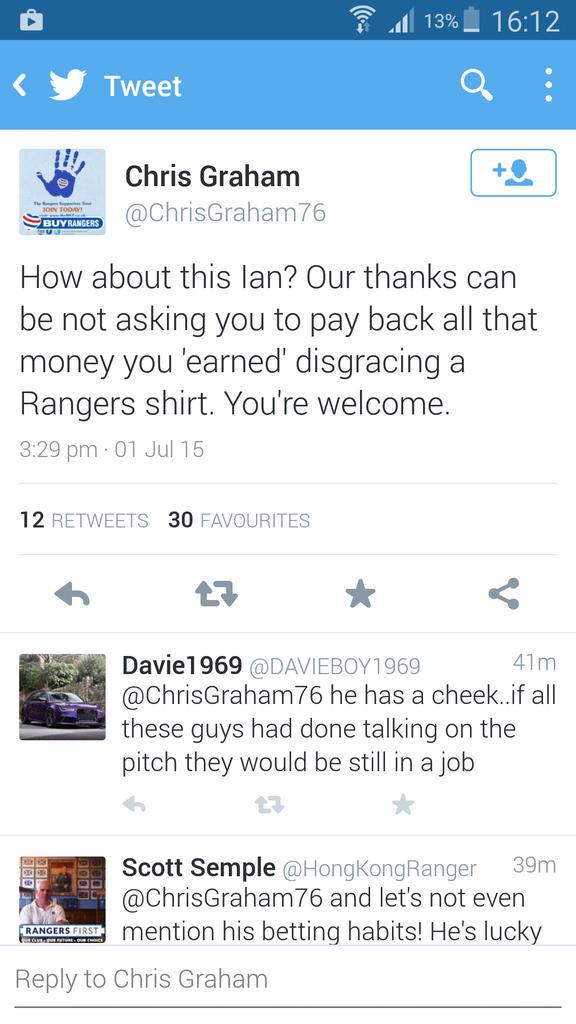 So, Chris Graham, forced to resign as an Ibrox director within a couple of days of being appointed, who publicly endorsed a homophobic and Islamophobic cartoon is saying that Ian black disgraced the "Rangers shirt " , by simply not playing well and having the odd bet on the game ?
Standards are just something that apply to other people according to Graham, it seems.
Another plug for the season books, this time from Dave King himself, via the Daily Record;
DAVE King has urged Rangers fans to keep renewing season tickets with the Ibrox club on course to hit 40,000.
According to Rangers, 21,500 fans have already renewed, with details of a general public sale to be revealed in due course.
King said: "It has been really encouraging for the new board to witness this phenomenal response from the club's supporters in advance of what is going to be the most significant season for the team in recent years." (Daily Record)
 According to Rangers ?
They're not even Rangers, so it might be wise to take King's news with a pinch of salt. Like you should with anything he says.
Might not be enough for everyone , though.
Speaking of Dave King, if you've not finished your coffee yet, have a look at this excellent rundown on his finances, as Layton Bhoy asks the question that the press won't…
On fields Of Green-Layton Bhoy
 But away from all that. memories and thoughts on these two guys, please….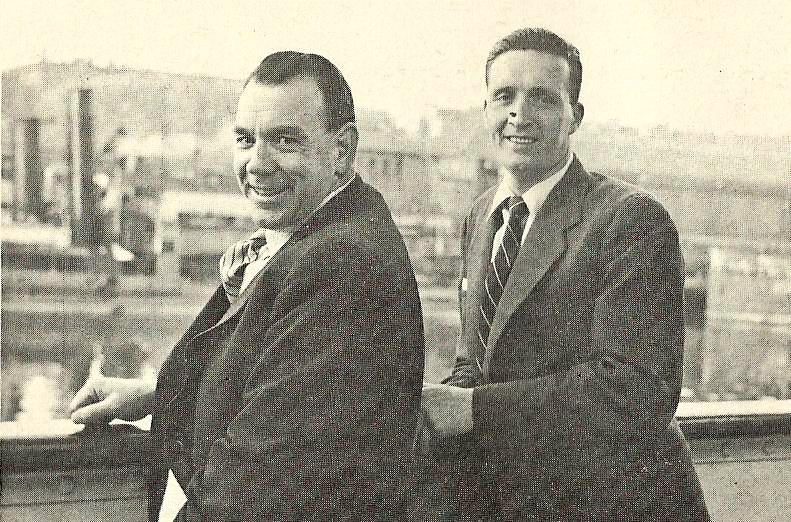 And for younger viewers, identify this haircut and it's owner… from Lisbon lion on twitter.