Celtic stormed back to the top of the league with a 4-0 win over a Motherwell side who whilst wearing football strips , did a pretty poor impression of  a football team. Having been forced to abandon their original plan, and park the team bus in the car park along with all the other vehicles, immediately after kick off their players raced over to where their goalkeeper was, in order to keep him company through what was going to be a long, cold , winters night.
As usual, they offered their fair share of meaty tackles ( waiter, could I have a fair share of meaty tackles , please) , which reached a peak in the second half with a blatant headbutt on Stefan Johnasen, which, if you watch carefully, was only a little more than an outright  assault. Note the defender looking at Johansen, who had been poleaxed, before deciding it would probably be a good idea if he went down as well.
In fact, some of the fouls were that bad, and that obvious, that referee Bobby Madden was actually forced to award free kicks for them, something no doubt he'll never do again.
The Celts persevered though, and Virgil van Dijk and Leigh Griffiths both finished off pin point anthony Stokes crosses to put the Hoops two in front by half time. Although, as usual it could have been more, but the Celts had difficulty in getting past a defence which at times appeared to be more numerous than the away support. Appaently, there were problems with the trains.
The pattern changed slightly after the break, Motherwell did venture into the other half of the pitch, but that was clearly because they had forgotten that teams change ends at the break, and Celtic contnued to lay siege to the Lanarkshire sides goal.
Adam Matthews, who had had a decent game, was replaced at the break by Mikael Lustig, to give him a bit of game time after a prolonged absence, and he was the eventual difference betweem the sides. Two goals, one a classic diving header, which in these days of health and safety gone mad, are becoming increasingly rare, and one off the bar, made supporters decide instantly that if Europe changed its rules to just one Swede per team, we knew which one we'd keep. and frankly, even Henrik Larsson would have to prove himself.
Lustig was outstanding, and as long as we have him on lasts nights form, then we probably don't need to worry about anything ever again.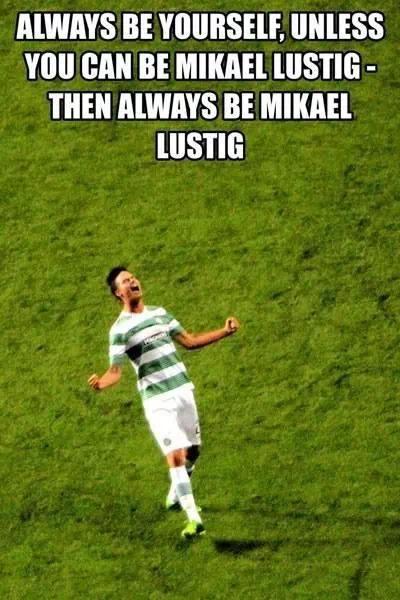 Someone else who grabbed the limelight last night was Leigh Griffiths, who worked hard, battled for every ball and topped it all off with his goal. John Guidetti, when he realised that the third substitute was Scepovic, and not him, disappeared up the tunnel in disgust. Thats not, by the way, a euphanism for disappearing up his own arse. He did that a few weeks ago.
Griffiths spoke to the media afterwards, and didn't call any of them names;
…..this is the club for me and I don't want to go anywhere else. I love playing here, I love everything about the place.
 The good thing is that the manager also made it clear that he wants me to be here."  
 "The attacking options we've got here is great so the manager has a selection dilemma.
"He knows that whoever he plays up front will be doing well so I'm glad I've got the jersey now and hopefully I'm doing enough to keep it."
We said in the Diary months ago that Griffiths, if he knuckled down and worked, and lost the rough edges in his off field personality, had the chance to be a legend. It looks like , so far, he's doing his bit, and thats becoming evident on the park.
There were several other good performances last night, Nir Bitton did his bit when called on to protect the defence, and his distribution was much better, Anthony Stokes linked well with an outstanding Emilio Izaguerre, himself unlucky to score when he hit the bar as well, and Craig Gordon deserves praise for managing to avoid hypothermia.
Ronny Deila, predictably and quite rightly, was delighted;
I'm very pleased with the performance It was very hard to play a team who stayed so deep but we kept them away from our goalkeeper for 90 minutes and it's another clean sheet. We were very professional and hard-working throughout the match.
"It took a little bit of time to open them up but we had two good deliveries from Stokesy and two good headers in the first-half.
"In the second half they had to go forward more so they got more tired and they opened up. That gave us even more chances and I'm happy for the defenders as well as they scored three goals, but it could have been four if Mikael Lustig had scored his third. 
"It's good that we get the full-backs so much into the attacks in the last third and also scoring goals." 
"Mikael has good experience now coming back from injuries and I'm very impressed in what he's doing and how quickly he adapted after coming back.
"He's an important player for the team and we have a good squad now. Stokesy is back, James Forrest is back, Lustig is back and also Charlie Mulgrew, who played in the Under 20s game last night.
"We had been a bit unlucky with injuries earlier in the season so hopefully we can keep some consistency in the squad now.
"There are a lot of players back and we know there are a lot of big games coming up. So that's good now when you look at the period we're coming into and we have everyone available. 
If we can get to February third and he's still got "everyone back " I'll be happy.
Deila mentioned the Under 20s game last night, and he was referring to Celtics 1-0 win over Villareal in the English Premier League International cup, a result that puts Celtic into the knockout stages.
Five trophies in his first season ? No, surely not…..
Stephen Frail, in charge of the youngsters, but not remotely interested in becoming the third manager of Second Rangers this mointh, was happy as well;
"We're really pleased  
It was a tough game against a top side. There wasn't much in it in the first half but they probably edged the opening part of it and then we came into it and started to have a wee bit more confidence.
"We played more, scored a good goal, springing the offside trap from a free-kick. They were complaining it was offside, so we will need to look at it again. But Charlie has the composure to lift his head up and slide it through to Paul McMullan who finished.
"It was a good time to score. We were looking as if we were going in at 0-0 at half-time after they had a couple of decent chances early in the half and then we started coming into it. We had a good effort from Joe Thomson, a shot that narrowly went wide of the post.
"We were in the ascendancy and it was important we got the goal and once we got it, we had something to defend and hang on to. And from Leo, all the way through to the boys who travelled down and weren't involved, it was a fantastic team effort.
"A lot of the second half was backs-to-the-wall, and there are loads of things for us to work on when we are getting pressed like that by a good team. But the way they worked off the ball, along with their commitment and desire to win the game, was first-class." 
 An optimist might say that the Deila plan is beginning to work, and its beginning to work at the right time. Last night was the first time a Celtic side didn't look knackered after  about seventy minutes-the game at Hamilton was too hard to judge for that, as its a smaller pitch, and the players still looked lively at the final whistle, which incidentally came after just one minute of added on time. Despite three substitutions per team, and the break in play while Johansen left the field after his headbutt. That break was quite a long one, as the police took statements from witnesses, and they had to phone ahead to the Infirmary to make sure they had a bed and trauma counsellors ready.
Anyone would think he didn't want to see us having a good time.
Ronny Deila has a chance to make history, there are trophies up for grabs, and we have a chance of recording a memorable season. You have to take these chances when they present themselves, or you will live to regret them for the rest of your life. Like the time I met Margaret Thatcher when i was just a mere babe;
 Elsewhere, the Second Rangers saga rumbles on. With Dave King filling out the wrong forms to register his share purchase, it appears the club-or comapny-now have a chance to reject his calls for an EGM.
 Then Turnbull Hutton, who knows a thing or two about business, decided to sell tickets to away fans for the upcoming Raith -Second Rangers games direct to the away support, all hell broke loose-in the papers anyway. Words such as "rage" and " fury " were bandied about , and you really can;t blame the big man. If he sent the tickets to Ibrox, how cab he be sure the club-or company- which is struggling for cash will give him his cut when the time comes. They might spend it on their own bills.
 Oh, wait, they don't pay the bills down Ibrox way.
 Away from football, and spare a thought for former Rangers player-well, he didn't actually play for them, but you know what i mean-Gordon Ramsay, who has just lost a legal battle with his father in law, and is facing a potentially insolvency event with a bill of £1.6m
 If you want to get an idea of what it feels like to get a potentially crippling financial demand, take someone out to one of his restaurants and after you've eaten, ask for the cheque.
 Koln, in Germany was the stadium in yesterdays picture, and heres another ground for you to name. Perhaps a little easier this time;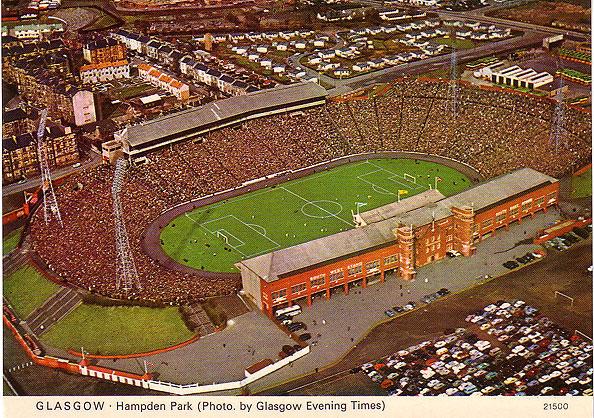 ( Largely because the name is at the bottom-Ed )
With the Second Rangers League Cup game just a week or so away, one of their fans has picked his eleven to face Celtic;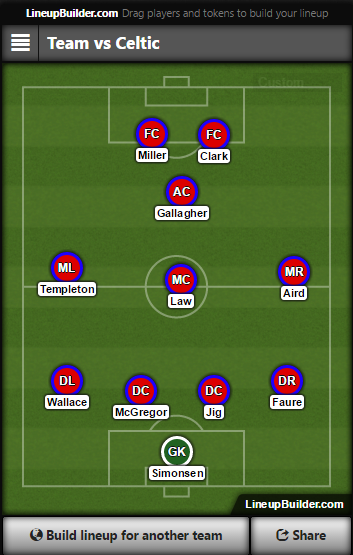 Can you do better ?
What do you think will be their line up for Sunday the first ?