Apologies for yesterdays non appearance. New corner settee arrived, and it took me hours to sort it out. Proving yet again that if you need something doing, and doing properly, I'm the last person you should ask. Something my wife is fully aware of, to be fair.
Celtic completed their short programme of fixtures in the canaries with a 3-2 defeat to Sparta Prague, and although the result went against the hoops, its safe to say it was a better performance. Leigh Griffiths and youngster  Joe Thomson got the goals, but sandwiched between their strikes were three from Sparta, so the Czech side and PSV will fight it out for whatever trophy is up for grabs.
All we can hope is that the players ignore the results, and come back fully refreshed.
Gary Mackay Seven, the Dundee Utd winger, was up at Celtic Park last night to discuss a move to Glasgow. He's out of contract in the summer, and there is talk of a few hundred thousand changing hands so he can join in the push for honours this season. Significantly, this could see a shift in transfer policy from Celtic, as Lawwell has previously said that Scottish players weren't good enough for Celtic, but having noticed that an exotic sounding name isn't a guarantee of greatness, at least the money will stay in the Scottish game if we sign another dud. Lets be honest, we've brought in more bad than good of late, and something had to change.
Interestingly, with Ronny away at the moment, he seemed a little surprised that we are talking to anyone;
 "So far as I know we haven't made an offer for anybody. So that's news to me. We are looking at the best Scottish players but we have not done anything. 
"He is one of the players who have done well and we are looking but we have not done anything official." 
 If you don't count asking for permission to speak to him and taking him on the stadium tour, he is probably right.
 So it seems that Deila is not entirely in charge of who is being brought to the club, and this policy, which has been denied by the club, hasn't worked in the past, with few exceptions, and its a little surprising that we are going down the same path again.
 At the very least, you would think they could get their stories straight.
 Sean Maloney, the wigan midfielder who doesn't spell his name right, preferring to use "shaun", which is actually one of a number of things that happen to sheep, looks set to join Leicester, to the relief of an already overworked medical team at Caltic. A fee of £1m has been agreed, although its not clear who is paying who.
 Another ex Celt is on the move, Greek forward Georgios Samaras is to leave West Brom after Tony Pulis decided he was surplus to requirements at the Hawthorns. Samaras hasn't started a game since he went there, and new boss Pulis has concluded he has no use for the man, who presumably can't chuck the ball far enough.
If ever a picture told a story….
 Strangely enough, Sammy out wide with his pace and strength would have fitted perfectly into Deilas system.
 Go on, Ronny, you know you want to. Bring him home. I hate to see him like this.
We won't be signing Max Diskerud either, he's off to New York to show exactly how ambitious he is, which means that someone at Celtic has decided that if he has no inclination for playing serious football, then we have no need for him. Or it could be that he got fed up waiting for the call, what with the first couple of the weeks of the transfer window inconveniently falling on the very tow weeks Celtic had pencilled in for a few days off.
Ahmad Benali, another bargain basement midfielder, is attracting interest from Everton. The Libyan England under 17 international is said to favour a return to the EPL, after his last stint ended in defeat to his manager in a crucial game of Rock Paper Scissors , and forced Manchester City to buy Brazilian Robinho instead.
 When asked about a possible move for Efe Ambrose, Deila told the Daily Record ;
"He is going to stay," .
which will either alarm, terrify or amuse the support, depending on which side of the Efe fence you sit on.
 Virgil van Dijk is no nearer a move, but everyone wants him.
 And Murdo MacLoed, who recently formed a new PR company with such luminaries as James Traynor, has told Celtic not to sell Kris commons, as the media crank up the presure in their campaign to get Kris's rent paid.
"It could make the difference between Celtic winning and losing the league if Kris Commons leaves this month," said MacLeod.
"If he did leave this month, to replace him like for like with a younger version would cost around £4 million or £5m. But a younger version of that quality is not available to come to Scottish football these days.
"You would find it difficult to replace Commons. There are not many players aged 23 or 24 who are going to get you between 
25 and 30 goals a season like Commons can.
"I think the Kris Commons situation at Celtic is the strangest situation in football just now. I watched him last week at Kilmarnock and, by a country mile, you would pay money to watch him more than any other player in Scotland right now.
"Even compared to someone like Alexei Eremenko, who is a terrific player for Kilmarnock, Commons was just miles ahead. He scores goals. Celtic are looking for a goalscorer just now and with John Guidetti off form, the manager doesn't know who to play up front.
"Stefan Johansen is a good player, but he can't fill that goalscoring role just off the front in the same way Commons can.
"It is a poor situation when you have Scotland's reigning Player of the Year who is still desperate to stay at the club, yet they are making it difficult for him.
"At some point, if it doesn't happen, he will go. He will be squeezed out of the door if he doesn't get what he wants.
"Celtic are a poorer side without him, there's no doubt about that. He is the one player in the team who has got a spark.
"Against Kilmarnock, he was hitting balls from all over. He hit the bar twice, had a couple saved by the 'keeper and curled one just past the post. He was involved in everything and he lifts the team.
"If you are playing in a team that is having lots of attempts on goal, then everyone wants to get involved. If you are in a team where it's just pass, pass, pass without having shots at goal, you go nowhere.
"If Celtic continue in the form they are in at the moment, not scoring enough goals and with Guidetti not scoring, they are under pressure. Commons is better than anything else they have, yet he doesn't get a start every week.
"They have got to look at that. They have to look at the system they play. Johansen is playing where Commons played last season. Commons has been a revelation in that role and Celtic need to have him there.
"I think a deal can still be done with Commons, but it's up to the club. I don't know whether it is Ronny Deila's intention just to let him go. Sometimes the manager has an influence on the board and he has to make sure Commons stays.
"With contracts for players over 30, you have to make exceptions for exceptional players. He is only 31. He is fit, he's not injury-prone, he is always ready to play. Even players in my era, if they weren't injured, played on until they were 34 or 35. When Commons is in top form, Celtic are a better side." 
 Wow, thanks for that Murdo, anything else ?
"I think they have to clear the decks," added MacLeod. "Ronny has got a massive squad and a lot of them are not getting a chance. So what's the point of keeping them?
"Just move them on, save a wage and bring in something better than what they've got. They have to bring in players who will go into the team and make a difference.
"With Aberdeen putting in a challenge just now, Celtic have to start thinking about bringing in better quality. Over the last two or three years, Celtic fans have been waiting and looking for better quality.
"If it doesn't come in this month, then it's going to be a real challenge. If you spend some money on a player of real quality who fits in right away, then he is going to make the difference when it comes to winning the title." 
Okay, anything else ? What about John Guidetti ?
 "I think he should just concentrate on getting into the team and scoring goals, never mind targeting Rangers to score a hat-trick.
"There have been a million players in the past and will be in the future who would want to score a hat-trick in an Old Firm game.
"But it is a big statement to come out with and if it doesn't happen then it's not the best statement to come away with." 
Well, its a good job its not an Old Firm game , then, because if you remember, Rangers went into liquidation a couple of years ago.
Really, Mr. MacLoed, if you want to be doing PR for people, you'll need to spend a little more time researching what you are talking about. That way , you'll find your clients have more confidence in you, you'll obtain a level of professional resect, and above all, you won't get part time diary writers pointiung out what a pathetic attempt all that was to gain a bit of publicity for your new firm.
 Oh, and by the way, keep an eye on that James Traynor, he's got more faces than Big Ben, and won't hesistate to change his opinion on a subject if it suits him. You'll notice neither the BBc or the Daily Record wnat him back now he's returned from australia, and if you can't get a job with either of them, then its maybe time to go on some sort of journalistic refresher course.
 See, my advice comes free, and its a little better thought out than anything Traynor will tell you. for instance, if he asks you to pop to the pie shop with him, and tells you you won't need a coat, put one on. And a hat.
He never gets anything right.
Even if he does, he'll change his mind.
He was slightly out with the final cost.
Then he proclaimed their death, in june 2013;
"No matter how Charles Green attempts to dress it up, a newco equals a new club. When the CVA was thrown out Rangers as we know them died.
"They were closed and a newco must start from scratch although their fans will insist the history will be boxed up with the strips and balls and carried into the future with the new club."  
Before his own attempt at re-writing history;
 Meanwhile, that very support, or at least whats left of them, have been camping out overnight to make sure they get tickets for the biggest game in their clubs short history.
 All thats missing here is a bottle of buckfast and a wee cup to chuck loose change into. Bless them, for they know not what is being done unto them.
According to Benny McGuireCSC on twitter, a few of them did move upmarket a little;
With that big game coming up, the press are determined to give it as much hype as possible.
They even called in Peter Lovenkrands, famous for falling over dramatically when faced with a lethal close range stare from Alan Thompson. Hey, hang on, maybe thats why Scott Brown is forever staring at opposition players, he has probably seen the damage a well placed and firmly held glance can do.
With Murdo Macloed earlier telling us this about the upcoming semi final,
"It doesn't matter who is the team on form. Celtic are in the top league. They have played so well in some games but have been so ordinary in others.
"Celtic are so inconsistent. They have got a battle on for the league right now so this is a massive game right now.
"The players are all taking about winning a treble so this is a big game and they will need to be up for it." 
Loovenkrands couldn't wait to concur;
"A lot of people are saying Rangers are not as strong and Celtic are this and that but in an Old Firm game, form goes out the window. It's going to be a battle. It'll be hard and the atmosphere will be crazy.
"Anything can happen and the fact it's a cup game too means it doesn't matter what league you're in. It's three years since the last game and it'll be chaos but hopefully it will be a good atmosphere and game."
Er, as any statistician will tell you, form did not go out of the window in those games. what went out of the window was good football. The matches had become tedious, predictable and the atmosphere never quite lived up to the hype.
 Thats why a lot of us don't miss them.
 This new club, which will bring a lot of the support from the old club with them, have never played Celtic. Theres even an outside chance that the atmosphere will reflect the occasion, with a lot of the old bitterness and hate removed. As unlikely as that sounds.
 Back at the ranch, the trip to the Canaries may have refreshed the players, but with the manager on a sojourn as well, there has been no activity on the transfer front, despite a lot of speculation and tittle tattle. Theres a lot of work to be done when the manager gets back, and it needs to be done quickly. The visit to Hamilton won't be easy, although they did lose ground when Dundee Utd narrowly beat them in Lanarkshire on Monday, but we shouldn't take anything for granted.
 The Tayside men narrowly beat us as well.
 Okay, the wife lets you go to the Canary islands with the lads from work, you tell her its all serious stuff and you'll be training and practicing and so on. She meets you at the airport when you get back, and you look like this.
 Hands up anyone else who would be spending a few nights on the couch ?
David Murray, the man who killed Rangers, has been in the news. Well, the classifieds, at any rate.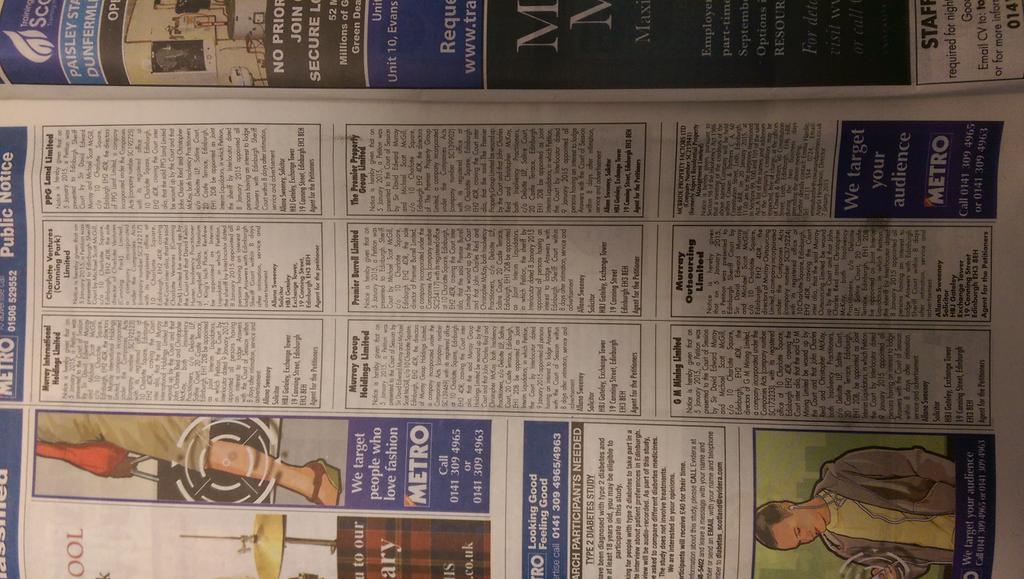 Six more of his companies have gone down. Wonder if he'll offer his knighthood and businessman of the year awards back ?
The papers should be full of this, but predictably, and sadly, they aren't.
That was Willie Garner in the picture on Monday. Older readers will remember his spectacular contribution to the cause when he joined Celtic from Aberdeen in 1981. He scored in both of his appearances, but unfortunately not actually at the right end, and left the following year to manage Alloa. I suppose he did less damage in the dugout. He later had two years as assistant to Alex Ferguson at aberdeen, so i suppose that would have made him feel better, but no matter how bad you think any of our current lot are, they will never reach the dizzy heights of Willie Garner in the hoops. I still feel bad for him, but he's probably over it by now.
In November of last year, he was in charge of East Region junior side Ballingray Rovers, when they went out of business, so in fairness, its probably not worth copying his lottery numbers if you bump into him at the paper shop.
 Another defender now, a more recent acquisition. Anyone remember him ?