On May 1, 2010, Faisal Shahzad drove a car into Times Square, New York which had a bomb in it,
It wasn't the only thing of note to happen that day,
Just six minutes into his debut, when he replaced Aiden McGeady in  what was to be a 4-0 win over Motherwell, James Forrest scored the first of his one hundred goals for Celtic.
And now that he's rested his ankle for a bit, we can safely say one hundred and counting,
Having signed a new contract in the summer, most supporters thought it was a kind of thank you for his service, and the player knew he'd play only a bit part for the duration, but he did steal the show on Saturday with a hat trick in the 6-1 win over Hibernian,
A result that could turn out to be significant in a variety of ways.
First, and most importantly, it was a convincing win that gets the confidence back, espeically in front of goal. a largely inexperienced forward line has struggled of late, and most forwards thrive on confidence,
when experience is added to a team, no one thinks of bringing in a forward to steady the ship, but that;s what happened on Saturday, Forrest has been around a long time and knows what is needed to be a part of a successful Celtic side.
He understands the unique attributes needed to succeed at the club, and understands fully how a player can go from hero to zero and back again, in his case in less than a few weeks.
However, as you can see from his picture in 2010….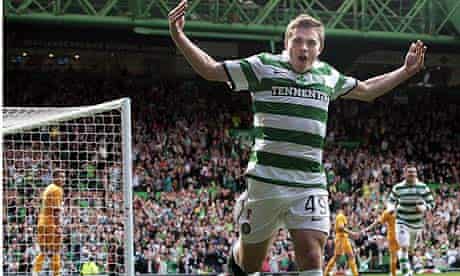 to his picture now….
…he appears to have been drinking at the fountain of youth, or at the very least found a face cream that works,
His boyish good looks….a cross many of us have to bear….mean that although he is approaching the veteran stage, he doesn't look like a veteran, which means that newcomers to the club probably don;t believe him when he says he's been there and done that.
So to speak.
Jota, Liel Abada and Daezen Maeda could certainly benefit by watching how Forrest goes about his business….
Forrest not joins the exclusive 100 club for goals scored, alongside some of the greatest names in the clubs history, as well as Charlie Nicholas and the last player to achieve such a feat, the underachieving Leigh Griffiths.
More interestingly, there's an even more exclusive club, the 100 goals and assists club, where there are now only three members….Jimmy Johnstone, Henrik Larsson and James Forrest.
I'm not too sure of the veracity of that last claim, as it seems odd that the likes of Frank McGarvey, who played alongside charlie nicholas and George McCluskey in the swashbuckling eighties side, and others like Kenny Dalglish and Bobby Murdoch never made that level of assists, but even so, Forrest is deservedly in exalted company.
These days, one club players are rare.
Even long term  servants such as Scott Brown and Calum MacGregor have plied their trade elsewhere, if only on loan, but Forrest has never left Celtic, and never wanted to.
For a support that wept when Keiran Tierney put down his megaphone to board the London train, maybe sometimes we take some players for granted.
Next up for the hoops are Motherwell, in the League Cup, and the return to form, domestically at least, will be of confort to the manager, who if he repeats or betters the trophy count from last season, will be lauded for his relentless single mindedness and faith in himself and his players.
If he doesn't, he'll be a stubborn Aussie git who won't listen to common sense.
Motherwell did make it difficult for Celtic recently, and cup games are, of course, a one off.
But if Celtic continue in the way they played against hibernian, then we should have little to worry about, and ,maybe we do have, domestically at least, the strength in depth we thought we had.
With the referees again becoming the focus of supporters attention due to their inconsistency at best and downright bias at worst, there have been calls for Celtic to say or do something about it.
Dermot Desmond is on record as saying that he prefers for the club to do that sort of business away from prying eyes, but that does little to placate a support who are clearly unhappy with how games are being officiated.
But there may be a way to force the issue, as outlined over on SentinelCelts…..
To AGM 4th November, 2022 (11:30) 
(Items to be submitted 24 hours earlier.)
"Shareholders are reminded that they can contact the Company at any time during the year with questions or suggestions via  www.investorcentre.co.uk/eproxy. Further, shareholders are again welcome to submit questions in advance of the AGM via this email address, which the Board will endeavour to address at the AGM. 
Now, if we were to email them with a question along the lines of
"The perception of bias among the Scottish Refereeing fraternity is making it difficult for referees to do their job, so will the club be taking the matter up with the SFA, perhaps to the end that all referees must declare any allegiances, past or present, to any club, and forbidding their involvment in any matches that directly or indirectly affect their own favourites, which would then remove them from that perception of bias ?
And if not, why not ? "
Before it becomes an issue, and costs the club a trophy…again…or the financial benefits of perhaps a UCL place.
The Celtic Symphony, possibly the least IRA related song in the crowds repertoire , has enjoyed a moment in the sun as it has entered the higher reaches of the hit parade, on the back of a bit of chanting from the Ireland ladies team after they beat Scotland to a World cup place, which may not be entirely unconnected with all the hullaballoo.
As we are well aware, anti Irish racism in Scotland is a major problem, especially at football grounds, and it was left to James MacLean to draw attention to it …again.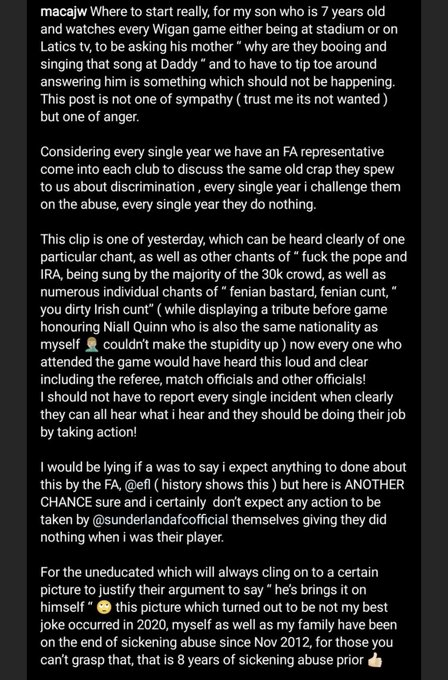 Maybe that's something else for the AGM……