Ange Postecoglou is doing the rounds in Australia, and it seems like he's in great demand.
He took time out to meet a young fan, who had dressed for World Book Day back in August, as the Celtic boss, perhaps somewhat missing the point of the event, but ended up being flown to Sydney yesterday where he got to meet the boss.
Which should help the locals build an appetite for the upcoming Sydney Cup, an event which will took place during the World Cup in November, which means that there'll at least be something to hold our interest during FIFA's latest attack on basic human rights.
But there was one thing Ange said yesterday that had me thinking, and since there's an awful lot of space between my ears, I managed to come up with a theory, based entirely on nothing but my own fertile imagination, that our team is still evolving…..
"We've already started planning & identified targets we need." "We'll look to bring in players in January that hopefully insulates us in case any of ours are taken off our hands."
We know that a few offers came in for a few players, and should Celtic not be in the latter stages of the UCL, then it's entirely possible that one or two players may leave to further their bank accounts.
That's not a criticism, by the way, what they do and where they want to do it is up to them, and although I'd much prefer they wanted to do it in Glasgow, not everyone has the same feelings for Celtic as we do.
The one that may well have had his head turned is, at least in my own musings, is Greg Taylor.
He's been with the Scotland squad and spent time with Keiran Tierney, who has made a lot of money at Arsenal, and also seen his career prolonged as the London club have allowed him to have the time needed to help with his dodgy hip.
Curiously, Four Four Two magazine carried this story….
Greg Taylor's tips helping Kieran Tierney to adjust to new
Arsenal role
Kieran Tierney admits he has been seeking tips on his new Arsenal role from Scotland team-mate Greg Taylor.
Gunners manager Mikel Arteta has recently adopted the inverted full-back system which Ange Postecoglou introduced to Celtic last season.
I stopped reading after that bit, mainly because it's behind a paywall, but also because it doesn't take a genius to spot that Arteta would have been alerted to someone who knows how to play the role, and has earned plaudits for his performances…
Then we had this…. (Glasgow Live )
Andy Robertson explains when Celtic transfer could happen
and the situation which would end 'dream'
The left-back is currently one of the top players in his position at club level with Liverpool but hasn't shut the door on a possible return north of the border. 
Andy Robertson has always hoped he gets to pull on the Celtic jersey – but he doesn't want that to be when he's in his twilight years.
The left-back is a standout at Liverpool and an ideal world would grant him the chance to finish his career at a club where he's won the Champions League and Premier League titles. But every time he sees the Parkhead club, it makes him think about a move to a club he hasn't hid support for.
If his perfect situation doesn't happen, Robertson says Celtic would be an ideal alternative, although he'll only go if he feels able to contribute. The Scotland captain told BT's Currie Club: "Every time I watch Celtic, I consider it. When you watch them and see a packed Celtic Park, as a fan you always have that dream. 
"Ideally I want to finish my career here at Liverpool. If I can stay at the top of my game, at the top of the tree my whole career, that's the route I want to go down. 
"But also, when I look at Celtic and when I was growing up, I was thinking I wanted to give them my best years. When I was at Queen's Park I had a dream of still playing with Celtic and always dreamed of giving my best years to Celtic.
"I don't want to go as a 34 or 35-year-old old guy that my uncles start hating on me because I can't move any more! Time will tell. I don't look too far ahead and I don't often look back. There will be a time for that."  
It may be a massive leap to think that two out of the three best Scottish left backs of this generation have made their fortunes down south, and the third is casting envious eyes, whilst another looks at coming home, but let's face it, it's not really that big a leap.
However, it could all be bollocks.
Celtic do need to keep improving, and the manager has said that we will. One of the reasons for that is . it seems, we're still playing catch up with our new neighbours over the river…..
Every Rangers FIFA 23 player rating revealed as James
Tavernier crowned best player in Scotland
The game is set to be released later this month, with the stats sure to provide scope for debate amongst Rangers fans.
And presumably, to provide scope for uncontrollable laughter amongst everyone else.
The FIFA 23 Rangers player ratings have been revealed ahead of the new EA Sports game launch later this month.
This season's game will be released on Tuesday, 27 September, and as fans eagerly await that date, the player ratings have been revealed. Amongst them are the Ibrox outfit, with the latest player stats no doubt creating grounds for debate again this year.
Some of most notable ratings include skipper James Tavernier who takes top spot with a 78 overall – making him the best player in the country ahead of Celtic's Callum McGregor (77). Stars such as Ryan Kent, Connor Goldson and John Lundstram also fair pretty well rating 76, 75 and 75 respectively. Gio van Bronckhorst has had a bit of a striker dilemma in the opening stages of the 2022/23 campaign, both domestically and in the Champions League, with new face Antonio Colak and Alfredo Morelos competing for the jersey. But FIFA have put one a whole four points above the other with Morelos still rated highly.  
Read that again. Whoever did these ratings has Ryan Kent as the third best player in Scotland.
Looks like we've found out how Kris Boyd earns a few quid on the side….
Anyone would think that there's been a meeting at the Record and hacks have been told to find something cheerful to write about.
That's because the planned series of Ibrox legends talking about the unacceptable face of Scottish football ….the Celtic supports anti monarchy protests…. has been quietly dropped.
Scotland fans made their feelings known ahead of the Ukraine game, and with the national team facing Ireland tomorrow, it's unlikely to see a sudden outpouring of grief for the passing of Elizabeth the Last, which means the media can't whip the hordes into a frenzy about disrespect being a purely Celtic issue.
One aspect of the unprofessionalism was laid bare by Irish journalist Phil MacGhiollabhan yesterday on his web page, which still remains the most accurate source for any insight into what's happening down Ibrox way.
However, the Donegal man handed out a short sharp lesson in journalism to the stenographers in the Scottish media when he did the most basic of journalistic tasks yesterday .
He sought clarification on a story.
A couple of days ago, Chris MacLaughlin (BBC? ) claimed that Celtic were the subject of an investigation from UEFA for their supporters banner that suggested they did not entirely support the monarchy.
Since one of the fundamental differences between Celtic supporters and one or two other sets of fans is a deep lying mistrust of the media…imagine if they told us we were the same club….there was considerable doubt on social media as to the veracity of the claim.
As nothing official had appeared on the UEFA website, doubts began to grow, until Phil had the barnstorming idea of actually asking UEFA if it's true, a concept that is entirely alien to hacks in the SMSM.
Turns out they have opened an investigation, but the point here is that we have a perfect illustration of a lack of trust in our own media, which is not entirely unsurprising, as it took a foreign journalist just to do the basics, and somewhat worryingly, the hacks don;t seem to be concerned about that, which suggests a lack of professional pride and integrity.
For those who doubt a level of collusion between the media and Ibrox, have a look at this , from 2011….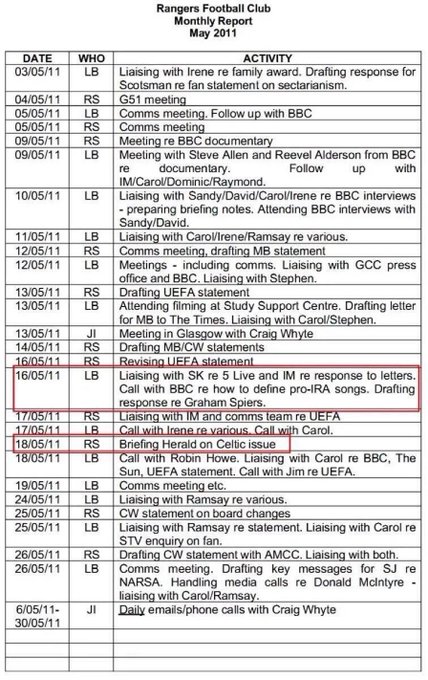 The recent Sounness and McCoist rants appear to be a continuation of that theme, and although it appears to have been discontinued, that doesn;t mean they'll come up with something else to either deflect from their problems or try to create some for us.
Which brings me to this weeks Etims
 Knob of the Week
It would have been Alan Hutton, who working as a pundit for a company which clearly has either a low budget or his agent on the board of directors said ;
"For me it's more than a yellow, maybe not a red, but it should be more than a yellow"  
Is he advocating something in between, maybe an Orange Card ?
Or is he looking for a spot at the Lanarkshire referees college, by impresing them with his knowledge of the rules ?
But then this happened
Current SPFL player. Wonder if action will be taken against him? pic.twitter.com/dvE2GRNnRa

— Celticunderground (@celticrumours) September 21, 2022
Since it would be immensely hypocritical of me to condemn the silky winger for the "Fenian Bastards " comment, largely because I'm wearing an LDTStore Fenian Bastard t shirt, I'm not going down that line.
But how much dumber than the hole in a cows arse must a man be to let himself be recorded doing something that at the very least will earn him a punishment from his club ?
That's why he's this weeks
That's not him, that's Record hack Keith Jackson in a photoshop we made earlier.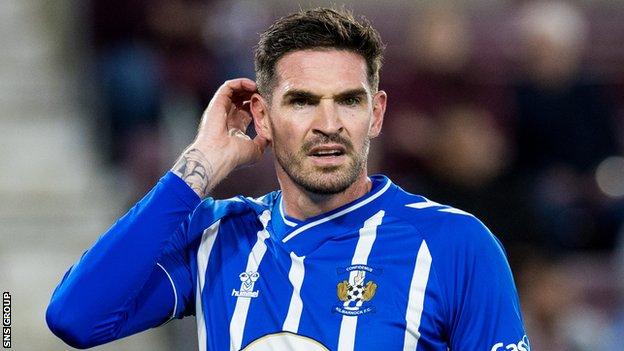 That's him , wondering why he can't hear the phone.
Yesterday, we had this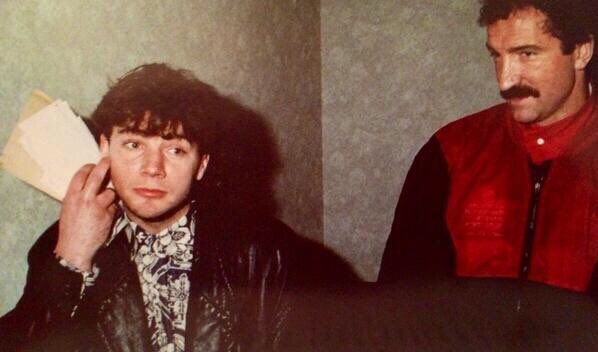 Caption: Ally do you think I look like Selleck?
Fcuk the Celtic gaffer.
Naw you wee fat tube Magnum!
Well, eh….maybe the almond wan.
No you little arserag P-I!
Ah'd love a pie boss.
The American detective you diddy!
Ironside? I think Mr Murray looks more like him than you dae.
Ally away and polish my boots.
 Today