After all the screaming and crying after the extra time own goal defeat to plucky newcomers "rangers ", which handed them an opportunity to win their first ever Scottish cup, Celtic got back down to business on Sunday and recorded a 2-0 win in Dingwall over Ross County.
Not to be confused with the leader of the Scottish conservative party , of course, as the football club has an extra vowel in it's name.
There I go again, drifting off into politics.
Hardly surprising, given the brouhaha over Angela Rayner allegedly crossing her legs a la Sharon Stone to distract Boris Johnson during Prime Ministers Question time , when realistically another fanny on view in that place wouldn't have made any difference whatsoever.
Anyway, if Rayner or her party really want to distract him, I've a lump hammer they can borrow.
Back to the football, and the win in the north may have set a few nerves jangling, mostly at the BBC , it seems as they hoped for a chink of light in the darkness of their own favourites league campaign…
Celtic will go into the final Old Firm game of the season six points clear of Rangers in the Scottish Premiership after a nervy win at Ross County.   
 Nervy ?
 Aye,,,edge of the seat and behind the couch stuff. I do yoga, so can do both at the same time.
 In fact, Celtic went to a very difficult venue to face a side that has done very well in recent months, one which boasts one of the best goalscorers in the league, and won quite comfortably with a disciplined performance.
 Though credit has to go to Kevin Clancy, who booked a County player early on to set the tone for the style in which County would have to play.
 Even after just four minutes, the offender, Callachan…spelt the Scottish way, never a good sign, had committed two reckless challenges, and by booking him, Clancy stifled the County game plan, forcing them to try to play football.
 One interesting incident took place when joe Hart attempted to take a goal kick, and the County player who tried to block him was booked.
 In the Laws of the Game, thats a cautionable offence…..
CAUTIONABLE OFFENCES
A player is cautioned if guilty of:
delaying the restart of play
dissent by word or action
entering, re-entering or deliberately leaving the field of play without the referee's permission
failing to respect the required distance when play is restarted with a dropped ball, corner kick, free kick or throw-in
persistent offences (no specific number or pattern of offences constitutes "persistent")
unsporting behaviour
entering the referee review area (RRA)
excessively using the 'review' (TV screen) signal
A substitute or substituted player is cautioned if guilty of:
delaying the restart of play
dissent by word or action
entering or re-entering the field of play without the referee's permission
unsporting behaviour
entering the referee review area (RRA)
excessively using the 'review' (TV screen) signal
Where two separate cautionable offences are committed (even in close proximity), they should result in two cautions, for example if a player enters the field of play without the required permission and commits a reckless tackle or stops a promising attack with a foul/handball, etc.
CAUTIONS FOR UNSPORTING BEHAVIOUR
There are different circumstances when a player must be cautioned for unsporting behaviour including if a player:
attempts to deceive the referee e.g. by feigning injury or pretending to have been fouled (simulation)
changes places with the goalkeeper during play or without the referee's permission (see Law 3)
commits in a reckless manner a direct free kick offence
handles the ball to interfere with or stop a promising attack
commits any other offence which interferes with or stops a promising attack except where the referee awards a penalty kick for an offence which was an attempt to play the ball
denies an opponent an obvious goal-scoring opportunity by an offence which was an attempt to play the ball and the referee awards a penalty kick
handles the ball in an attempt to score a goal (whether or not the attempt is successful) or in an unsuccessful attempt to prevent a goal
makes unauthorised marks on the field of play
plays the ball when leaving the field of play after being given permission to leave
shows a lack of respect for the game
initiates a deliberate trick for the ball to be passed (including from a free kick or goal kick) to the goalkeeper with the head, chest, knee etc. to circumvent the Law, whether or not the goalkeeper touches the ball with the hands; the goalkeeper is cautioned if responsible for initiating the deliberate trick
verbally distracts an opponent during play or at a restart  
 Although the player was booked, rightly so, he did commit three offences, so he should have been sent off and start the first game on a yellow ….right ?
 Well, no , because common sense is also a factor in refereeing, at least outside Scotland, so a booking here was the right decision.
 Though it does call into question the perception of bias when Bobby Madden refused to book John Lundstram for blocking Hart in the Cup semi final.
 It's in the rules, and it's fairly clear cut, that is,  not one for the referee to decide on intent, or perhaps allowing the game to flow to maybe come back to it later.
  Clancy adhered to that, Madden didn't.
When it comes to refereeing consistency, the least you should expect is that they all follow the same rules.
 Although in a wider sense, most of us don;t know the rules either, which is probably why they get away with it.
 Let's face it, the mainstream media are fairly selective in which mistakes they highlight.
 Maybe "fairly " isn't the right word here…..
 The situation now is that Celtic are still six points clear, there are just four games left and despite the wobble in the Cup semi final, the big prize is within touching distance.
 Hence why we maybe felt more relief than ecstasy at the weekend,
 But there is a bigger picture.
 Truth is, they can see forty million quid or thereabouts disappearing over the horizon, and the dodgy guys they owe money to will soon be round to take them for a trip into the country.
 Except for Parks of Hamilton, who must by now be thinking he might as well just write his off.
 He has come into conflict with league sponsors Cinch, and as a result, you won't see the second hand car company logo anywhere near the club/company or it's staff or premises…..like this ridiculous attempt after their win over Motherwell to cover the name up so they get no publicity….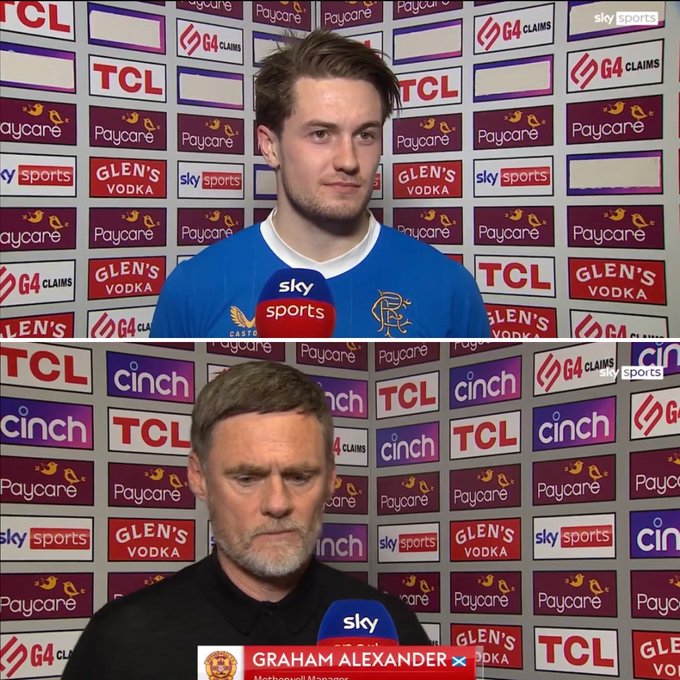 Perhaps when they put the league table in their next programme it'll have tape over the top name.
 They're pinning their hopes on winning the Europa League, though even they must realise Leipzig are a cut above anyone else they've faced in Europe this season.
 Meanwhile, in an attempt to cheer the hordes before their inevitable weekend meltdown, live from a street near you on Sunday, they held their player of the year awards at the weekend, presumably because they thought their season would be over by now.
 Alfedo morelos was a winner, of this bizarrely named  trophy…..
 Sam English was the Rangers player involved in the accidental collision that ultimately lead to the death of John Thomson, the legendary Celtic goalkeeper.
 After the incident, he left Scottish football and enjoyed a decent half season at Liverpool before fading out of the game, as he struggled to come to terms with what would probably now be described as some form of PSTD.
 English deserves not to be forever remembered as some kind of reckless hooligan who caused the death of a fellow footballer, because he wasn't.
 He scored 44 goals in a single season for Rangers, which back in the early thirties was no mean feat.
 However, the trophy that bears his name could have been named after any one of 76 players who have scored more goals for Rangers than English, or to Jim Forrest, who bagged 57 in one season.
 Or all time top scorer Ally McCoist, even, who is still around to present it.
In recognition of his prolific goal-scoring exploits during his two seasons at Rangers, English was added to the club's Hall of Fame in 2009.[6] Members of his family and Rangers supporters also commissioned silversmith Cara Murphy to produce a commemorative silver bowl containing 44 silver balls, each ball representing the 44 goals English scored in his record-setting first season at Ibrox.[6][7][8] The Sam English Bowl was then presented to Rangers and is now awarded yearly to the club's top-scorer in a season.[6][8] The first winner of the bowl was Kris Boyd in May 2009.[8]     
 The trophy was commissioned, paid for and named by Rangers supporters, many of which would know little about English, his career or indeed his decline after the incident.
 It leaves a pretty sour taste in the mouth to wonder what sort of thinking went into this, as there can be little doubt as to what English is remembered for at Ibrox, and it won;t be his goals.
 A shame, as by all accounts he was a thoroughly decent fellow who suffered greatly after the accident, and deserves at the very least for his own fans to remember him for his football.
 Elsewhere, a sort of grudging congratulations to Kilmarnock as they gained promotion back to the top league, though maybe the groundsman at Ross County should be their first signing of the summer so that they can be a proper football team with a proper pitch.
 As for Arbroath, the part time side who missed out,,for now..they took it well.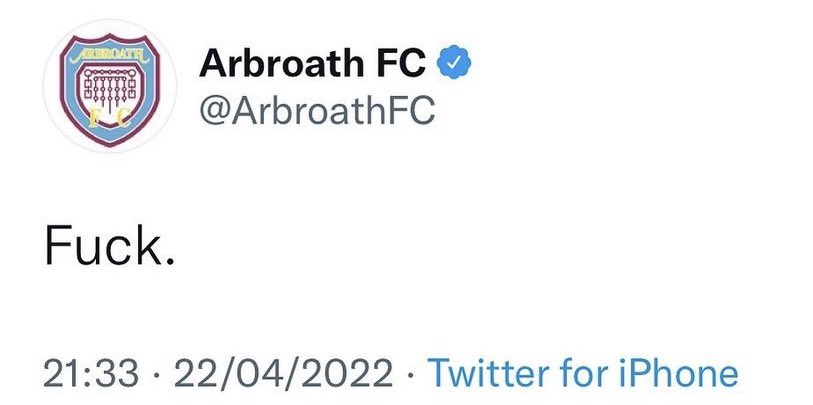 There's a whole world outside Glasgow when it comes to football, and none of it has the potential to be the greatest show on earth like our own game.
 Everything about it is unique, from honest appraisals such as the one above, to honest mistakes like we see every week and of course to the honest claim that one club won fifty five titles in just ten years.
 Wha's like us ?
Problem is, those who can make a difference don;t want to change.
 We had this for you to ponder last time out…..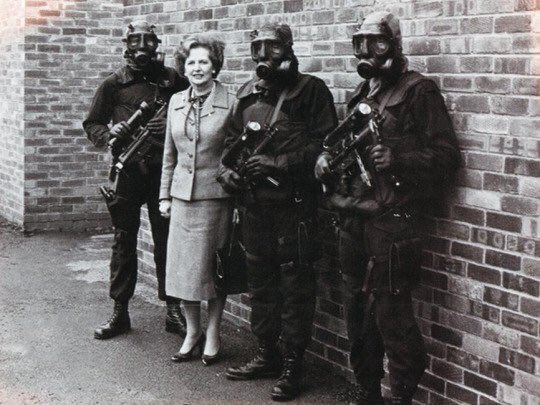 McKlintop
 Heartless cow refuses to shed a tear even during a tear gas drill    
 Today….