Another weekend, another chapter in the book of refereeing controversies.
And it was that old favourite Bobby Madden….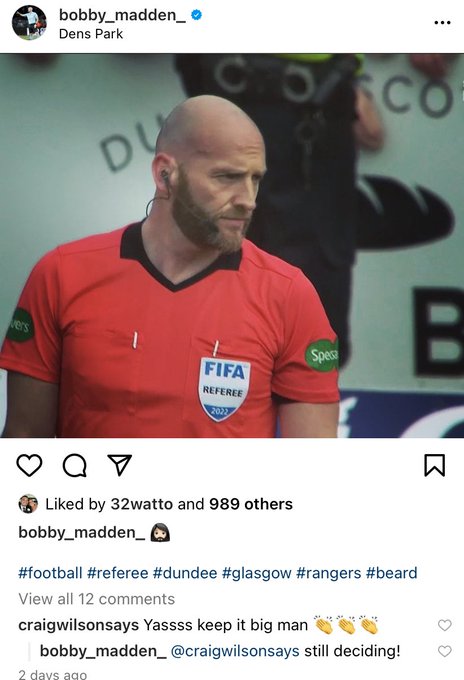 He's grown a beard, and is apparently indecisive about whether or not to keep it.
If only he could be as decisive about himself as he is about the Laws of the Game.
His decision to award a penalty to Rangers in their game against Dundee was , well, imaginative, as there seemed little reason to do so. Apparently, expert Dermot Gallagher , speaking on sky TV, said it was because of a shirt pull, even though the defender wasn't facing the forward, the serial diver Alfredo Morelos, it was the correct decison.
And so endeth the media debate, with the SMSM deciding that Gallaghers word was law.
Which will help his application for head of VAR in Scotland at the interview.
The issue was compounded when Kris Boyd said that if it was a penalty then it was a sending off, switching debate away from one wrong decision to another spectacularly imaginative scenario.
This is North Korea level propaganda. pic.twitter.com/QV9oZoDE3S

— The Jungle 🍀 (@TheJungle1888) March 20, 2022
The ball was around six feet above Morelos, though I suppose he might have got it, if he was actually a giraffe instead of just having one.
There were also a few protests at Dens from "rangers " fans, or as Ibrox stalwart Alan MacGregor described them "fucking arseholes " with regard to the club travelling to Australia to play as support to Celtic in the Ange Postecoglou show, although the real reason is that they know full well they'll disgrace themselves abroad, be roundly and soundly beaten and don't want to admit that they need the money.
The media refuse to acknowledge the real complaint being offered, which is they don;t want to share the field with a club "entrenched in child abuse ", which in turn is a response to Celtic fans who don't want to subsidise a financial basket case.
Kris Boyd summed it all up, in his own words….well, some of them are words.
— Tam sellic son (@TamsellicsonIII) March 20, 2022
All of which points to a somewhat sinister narrative designed to excuse more honest mistakes ahead of the upcoming three Glasgow derbies.
Serious analysts, at least those who pertain to be serious analysts, won;t say it out loud, but observing the form, suads and tactics of both sides know exactly what would happen on a level playing field, so they're turnng a blind eye to the adjustments being made off the pitch.
We've seen this film before, the ending is great, but the bit before that is tediously predictable.
They're afraid because the team that ange built is starting to play like a team. A real team with pace and aggression.
And three forwards who know where the goal is, ably supported by a few wingers who know how to cross a ball, and quite a few midfielders who can create.
And they're all interchangeable with no noticeable loss of quality.
Kyogo Fuhruhashi says he's recovered from his injury, which we hear required surgery to repair a hamstring tear, and will be back soon.
Daezen Maeda isn't going to Japan on international duty, citing fitness and condition reasons, and the working relationship between Postecoglou and the Japanese national team seems to have helped here, with little or no fuss created by their manager or FA.
Truth is, ahead of the part of the season where the medals are handed out, the Ibrox entity is scared.
Of Celtic on the pitch, and their own support off it.
Which in turn led to the leak to a Rangers website, presumably set up in memory of the club, which claimed that Celtic have been given 700 tickets for the upcomng trip to the 17th century,
At the time of writing ( 21st century ), Celtic have said nothing, but the media have… the Record claiming Celtic have been "handed " the briefs, and promoting the line that fans are back, presumably all down to the goodwill of the Ibrox board.
All of this is interesting, as Celtic have expressed no interest in taking less than the usual 8000, which they can't be offered as the "rangers " have sold those seats to their own.
And the narrative being pushed is that the Ibrox men are the ones offering the olive branch and trying to get things back to normal, presumably due to tv pressure.
Oh, and the fact that when they start to sing their songs there will be no whataboutery to claim as our lot won;t be there….
If the Celtic board are to accept them, then it's a shocking capitulation and a remarkable lack of awareness , as it;s clear they can;t see what's really going on.
Maybe they're just wondering how best to tell them to ram it without using the words "ram it "
We have to hope..
Things will get nasty between now and their next insolvency event.
We need our board to be ruthless. We need them to remember that they need to act in the interets of our club, not theirs.
And now to the caption competition….
Caption: Are rare view of the unsuccessful 70s Publication Information Film waring against pyros in stadia – "Banger behind the bike shed – not at the match."
Today…