Hi! It's been a while.
Though it's also been a fairly prolonged period of time that we've been harping on about the duty of care that referees, and by extension, the football authorities have towards football players, Celtic layers in particular.
I think i can say, without fear of contradiction, we're at the point now where the consequences of failing to remind the authorities of their responsibilities is a dereliction of duty from the Celtic board.
Or, should I say, another example of negligence from the board.
Having worked towards saving one entity from Ibrox, by refusing to complain about novel and refreshing financial policy, the board now seem hell bent on saving another.
Perhaps the cost of building a bigger medical centre and the rising insurance premiums will jolt them into action…
The performance by Alloa Athletic in the Scottish Cup left a sour taste in the mouth. There was simply no intention to play football from the club known as the wasps…apparently a nickname derived from their strip, and not from the mentality of their management duo…. and there was even less from referee Don Robertson to discourage such antics, which led to a number of Celtic players being injured.
Referees are obliged to ensure the safety of players , and Robertson failed in that respect.
Celtic manager Ange Postecoglou must be astonished at the level of physicality in the Scottish game, and it won't be long before his comments aren't restricted to a failry mild "the referee should have dealt with it at the time "
Indeed, one would find it hard to dismiss stories that he's already asked the board why they are not making a little bit more of a fuss about things. Their policy of having a quiet word with the authorities isn#t working, and when they accept matters such as this on the pitch, one begins to wonder what they are accepting off the pitch.
Still, it's not like they turned a blind eye and a deaf ear to allegations of impropriety that led to a possible £40m loss in revenue around a decade ago, and suspicions that they would do exactly the same thing to protect the new Old Firm brand would simply be churlish.
The evidence is mounting, the prosecution case already has enough to suggest the board are once again letting the club down.
As fans, we're used to it.
The players, however, must be wondering if it's all worth while.
Barry Ferguson, who once was considered to be the cheap and popular option to replace Steven Gerrard, must still be disappointed that they found an even cheaper and more popular candidate in Gio van Bronckhurst, and his partner in crime, Bob Malcolm sent their players out to injure Celtic players.
There has been no comment, let alone any action, from the SFA.
There has been no comment from Celtic.
That is, shall we say , concerning.
Ferguson took to the media to deny allegations that his players had been instructed to adopt a physical approach to the game…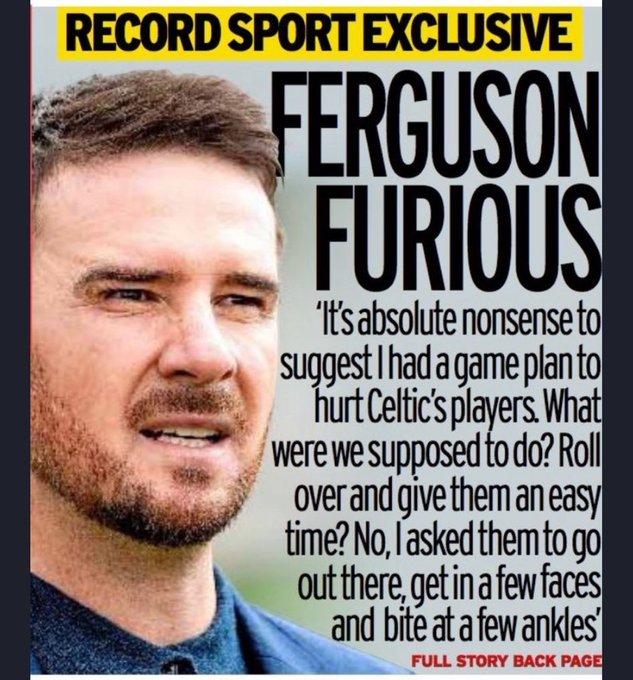 Calum MacGregor has a serious facial injury, Ideguchi a serious ankle injury.
So, his players did get in a few faces and bite a few ankles.
Bob Malcolm, his assistant , was a player at Brisbane Roar when Ange took over the side. He was released, along with fellow ex Rangers men Craig Moore and Charlie Miller,
Indeed, Malcolm made the top ten worst ever players in Australia, according to a poll in Four four Two magazine, something which is hardly likely to endear him to Postecoglou.
More interesting, or more sinister, depending on how you look at it, Malcolm knew that ange doesn;t employ hard men footballers, so he would have been fully aware that retribution on his players would not have happened, so not only would the referee ignore it, the Celtic players wouldn't kick back, though fair play to James McCarthy, who got one back in an off the ball incident.
Maybe that's the solution.
An enforcer in the style of Hay or Balde.
If the authorities won;t put a stop to it, then pop down to D wing and find someone who hits people for a hobby , give him some boots and put him on the bench ready for when someone gets clobbered.
Then bring him on for five minutes…..
Of course, all of this in the headlines , and a few other stories , are deflecting away from the real story of the moment.
Over at ibrox, they've had a moan because one of their players got sent off. The Record then, wrongly, claimed that the referee, Kevon clancy had been banned for a few weeks.
He hadn't, he simply wasn't down for a game, and that decision was made before the Aberdeen game which he admittedly didn;t have a great game. but at least he was equally poor for both sides.
That keeps the real story out of the headlines, and away from awkward questions toward the Ibrox entity.
Despite pulling in millions, so they say, from the sale of Nathan Patterson, signed by Rafa Benitez to deputise for exCeltic loannee Johnjo Kenny, a move which saw Benitez promptly sacked, they seem to be taking their time in bringing in new players.
They've signed a loannee from the USA, Wolfe Tone or something, and have agreed a pre contract with John Souttar of Hearts, who have refused a low offer for immediate release of the player, but that's it.
By the way, wait until after Celtic's visit to Tynecastle tomorrow and you'll see the next deflection, as the media try to force Hearts to release the player on the cheap…. but they won't unsettle him before that…
As the second half of the season begins, and we're focused on just getting our players through games without giving BBC writers an idea for an episode of medical drama Casualty, watch out for those little things that point toward collusion from those in the bowels of Celtic Park.
If the Ibrox club/company are in as much trouble as they appear to be, you can bet their old buddies who still want an Old Firm will be right there on speed dial ready to help.
And they've already got away with it once.