Would you look at that ?
No sooner had the bells rung there were three new players in at Celtic.
All wanted by the manager, who feels they can do a job for us, all of whom are ready for the first team.
Michael Nicholson will be raging when he gets back from his holiday break.
Peter Lawwell has kept his thoughts to himself, largely because he hasn't stopped wailing yet.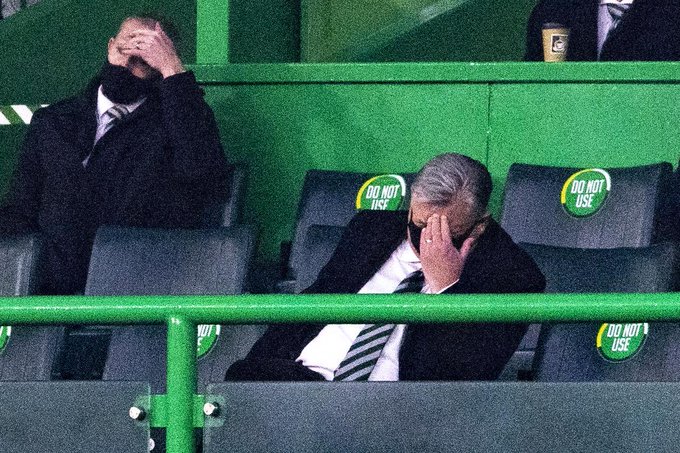 After the success of Kyogo Fuhruhashi, there are less doubts about how the trio…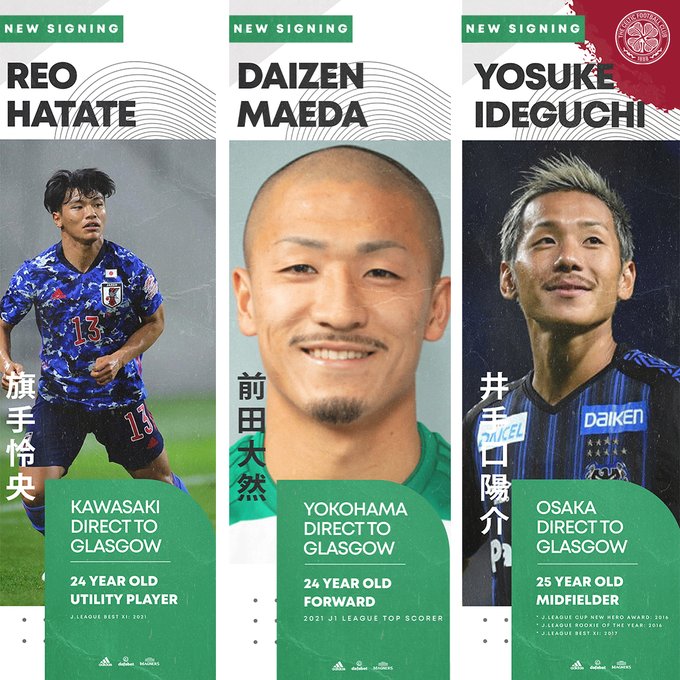 ..will adapt to life in Glasgow.
Part of that will be how much they want to do well, and so far, their attitude is superb. To a man they say they want to do their best, they want to work for Ange Postecoglou, and they can't wait to get started.
Somewhere, Shunsuke Nakamura will be nodding approvingly.
With the club also involved in what has been described as advanced talks to secure the permanent moves of Cameron Carter Vickers and Jota, the manager is slowly putting his stamp on the team.
What stands out is not the quality of the signings, although there is quality, but the decisiveness and the planning for the next UCL qualifiers.
In the past, we've become accustomed to waiting while players and agents sift through the deals on offer, and Glasgow isn;t the most attractive venue in the world, weatherwise and finacially, so often we've taken players who are here simply because there's nothing else on offer, sometimes we've even had them on loan, presumably because they're bored where they are, have no chance of first team football, and expect an easier ride in the SPFL where they can make a name for themselves for a few months and get a better deal somewhere else.
Not any more.
Either you want to be here, or you won't be.  And you'd better make your mind up quick.
To have players who want to play for Celtic is a massive bonus.
There are a few doubts about the fact that Ange seems set on signing only forwards, but since everyone becomes a defender when the side loses possession, thats maybe not as important to the big picture as it might have been, but then again, we'd all feel a bit better if we could get a baby eating bruiser from the Balkans in to clear the lines every now and again.
There's little doubt the football this season has been of a more edge of the seat type, and it's hard not to enjoy it, but every now and then I'd like to feel that if I missed the last few minutes I wouldn't have to anxiously check the results, just to be sure…
The weather, it seems, is about to take a turn for the worse, as climates change all over the world, and we may even see the return of an old favourite, illustrated below from Ireland, when the game was played with an invisible ball, so that no one hurt their feet , which could cause toes to remain in the boot when they were removed….
Boxing Day, 1995:

Glentoran play Linfield with an invisible football.

A @Crap90sFootball Christmas present to the world…pic.twitter.com/ezsqyjoJoj

— A Funny Old Game (@sid_lambert) December 26, 2021
For all the brouhaha , weather, plagues and the perennial uncertainty of games actually going ahead means that a winter break is a good idea, and to bring it forward when the plague especially is running rampant again, is merely common sense,
Although from the reactions of some you'd think that football is more importnant than life or death, which it isn't.
Euan Henderson looks set to leave for Hibernian, and we wish him well. Shaun Maloney may still be viewed as the wee fellow who stood in for Sutton/Hartson/Larsson but since then he's been away and learned how to be a coach, and is a little more weather beaten than his appearance suggests.
Hibernian will be ones to watch in the second half of the season, and may even be a good bet for the Cup, having narrowly missed out on the League Cup.
Which brings me to the new club, and as you can see, it is a new club, no matter what anyone tells you, no matter how loud they are when they tell you, and no matter what else they point to as evidence.
The media are touting Nathan Paterson, a promising young right back straight from the Auchenhowie conveyer belt that gave us Fleck, Gilmour and McKay.
It seems Everton are willing to pay anything between £3m and £16m , with add ons, depending on how gullible they think the reader is.
That Rafa Benitez, the Everton manager has his coat on a shoogly peg matters not a jot.
They are hell bent on selling him, as they feel that he is the player they're likely to get the biggest wedge for, which will help fund the somewhat overwhelming deluge of final demands either already on their doormat or in the postmans bag.
Losing a million notes a month means something has to give, and with Paterson having been unable to master penalty kicks in training, he's the one to go as without Tavernier's expertise in this discipline, they'd be in real trouble.
The talk of Hagi leaving has been replaced by news that Alfredo morelos is being watched by three EPL sides, presumably via a wide angled lens, and is set to rake in millions for the Ibrox side.
Of course, the fact that the heartbeat of their defence, Conor Goldson, can and will sign a pre contract elsewhere this month is played down, as indeed the simple fact that with the club/company teetering on the edge of oblivion, there will be a real fear that they will go bust and watch their assets fail to remain assets in the way that Davis, MacGregor et all did back in 2012.
Something which the media have airbrushed with as much enthusiasm as the players themselves.
What happens over there is irrelevant, apart from the shits and giggles, and with Celtic forging ahead into the Angera, it may well be that the policy enacted by the previous CEO has now been an acknowledged failure.
Putting all their eggs into the Old Firm basket, despite public denials and pretending they hadn't seen the Five Way agreement , has shown Celtic to be every bit as parochial as their former and new rivals over the river, and it's not a good look when there's a new Asian market emerging and the real possibility of a manager who knows how to manage a club making a mark at a higher level than Scotland.
More than ever, the narrative should be "Open to all " .
Given some of the comments recently from such as Dick Campbell of Arbroath , who wants players beside him you'd have in the trenches fighting the Japanese, there is some way to go for Scottish football, but we don't have to take them with us as we head for higher things.
We might be stuck in this league, but the time has come for us to do our own thing, and ignore those who wish to keep us down.
We can use these games to practice for the real stuff.
If my suspicions are right, we've finally shaken off the shackles of the Lawwell era, and the indications are there, and we're in for a few seasons that will put the club back where it belongs, at the top in Scotland and feared and respected throughout Europe.
Paul McStay would have said there was a buzz about the place…. he wouldn't have been wrong.
New year, new caption competition….