It looks like we've finally discovered why the board have been extracting as much urine from the support as they could.
They're throwing it up our backs and telling us it's raining.
Fannies and gaslighting.
Brian Wilson, who somehow ended up on the board despite the availability of people like Ian Paisley junior and Donald Findlay, penned an obituary in the Guardian yesterday for Walter Smith, the former Rangers and Scotland manager.
In it, he said.of Smith's second tenure at Ibrox;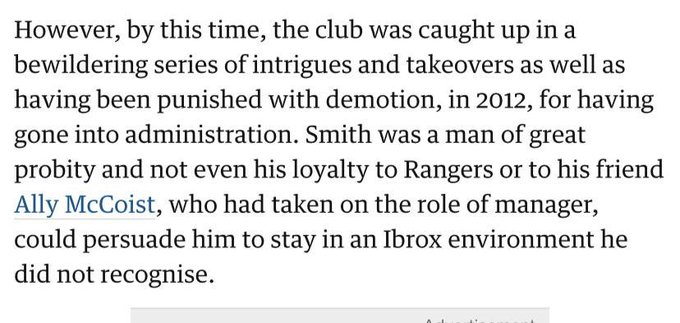 "having been punished with demotion… for having gone into administration "
The Guardian, of course, is famous for it's typographical errors, but even by their standards, this is a belter.
Unless, of course, it's not an error. Perhaps Wilson really does believe, or wants the wider UK readership of the Guardian to believe, they really were demoted as a punishment for going into administration, in order to preserve the Old Firm brand and to perpetuate the same club myth.
Oh, and it would help deter serious journalists from outwith Scotland into looking to closely at such novel and refreshing sporting standards as the Five Way Agreement and the discounted asset sales to venture capitalists that have resulted not only in compensation paid by the taxpayer running into millions, but the loss of income to the state of tens of millions due to accounting techniques that are perhaps just the other side of legal.
By describing the events of 2012 in the way he has, on a public platform, he is hiding the truth.
By describing them in this way, he is complicit in all that happened and is still happening, and by describing them in this way in his position as a Celtic director, he is, in fact, acting as a spokesman for the board.
Which tells us all we need to know about their position on the matter.
They were at it as well, weren't they ?
All this bullshit about us not needing another club, and not being one half of anything is merely their way of deflecting attention from their own part in the scandal that rocked Scottish football, and still threatens to destroy it.
Glasgow Derby my arse, thats not what they call it in the boardroom.
We used to do a Knob of the Week feature on Etims on Fridays, but all such knobbery pales into insignificance with what Wilson wrote yesterday.
The man should be fired. No thank you, no pay off, just a fuck off.
And if the board do not do that, then it is apparent that they feel the same way about the events back then and if they do, we need an explanantion as to why.
Then again, they certainly know how to show us they don;t actually give a toss what we think….
Conversation

We are disappointed to have to report that Celtic Football Club appear set to appoint ACC Bernard Higgins to a senior role within the club. Higgins was personally responsible for a vindictive policing campaign which targeted the Celtic support and fans of all clubs.
Thats this guy…..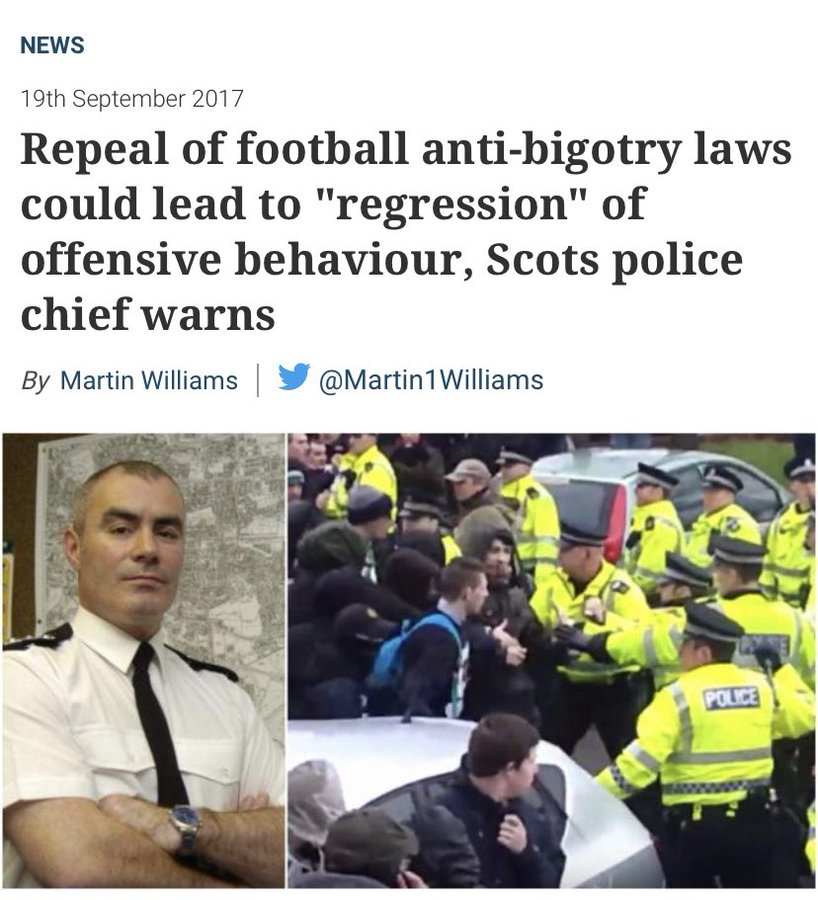 One wonders if this job is a thank you for not highlighting safety concerns after the Janefield Street crush a year or two ago…. a sort of backslapping and knob pulling agreement between the police and the board to not blame each other for the fiasco outside the ground which could well have resulted in several injuries or even deaths….
Nothing would surprise me any more in the murky world of Scottish football.
We may only be small shareholders, or even merely customers, and they may feel that they can piss up our backs and blame the weather, but the price of those shares that they hold is entirely dependent on those customers and what they decide to do with their money.
Or, of course, we could just head to the car park.
The accusations of bias within refereeing circles in Scotland has reached a point that rivals the time the men in black went on strike, only to be shown up as bloody useless and heading back to work before anyone pointed out the fact.
The media seem to be concentrating on the introduction of VAR, where a referee can head to a telly and watch the incident again or perhaps refer to an independent panel of three other referees to help him make a decision.
Not content with having one incompetent official with questionable motives, there will now be four, all of whom can blame a computer for their honest mistakes.
What a load of bollocks.
Here's an idea.
Why not bar referees from taking part in matches featuring their favourite team, or even in matches that could affect their favourite team ?
That alone would create openings for honest chaps, you know the ones i mean, who give up their Sunday mornings to be abused by hungover players and violent supporters. guys who actually love to be involved in the game for their love of it, instead of those involved because of their pals at the lodge.
The perception of bias has moved onto allegations, and not without foundation.
Meantime, the media stay silent, merely discussing the symptons and not the cause.
And heaven help anyone who says anything critical about anyone from Ibrox….
Over on the bear pit, a forum for "rangers " supporters, there's a campaign to oust Michael Stewart from the BBC, one of the few analysts who isn't afraid of speaking his mind.
Saying bad things about "rangers " results in being Spenced….the term used for the removal of critical thinkers at the state funded broadcasters, in honour of Jim Spence, who spoke freely during his time at the BBC, which of course isn;t allowed these days, and those sensitive and delicate flowers in the bear pit are after Stewart now…..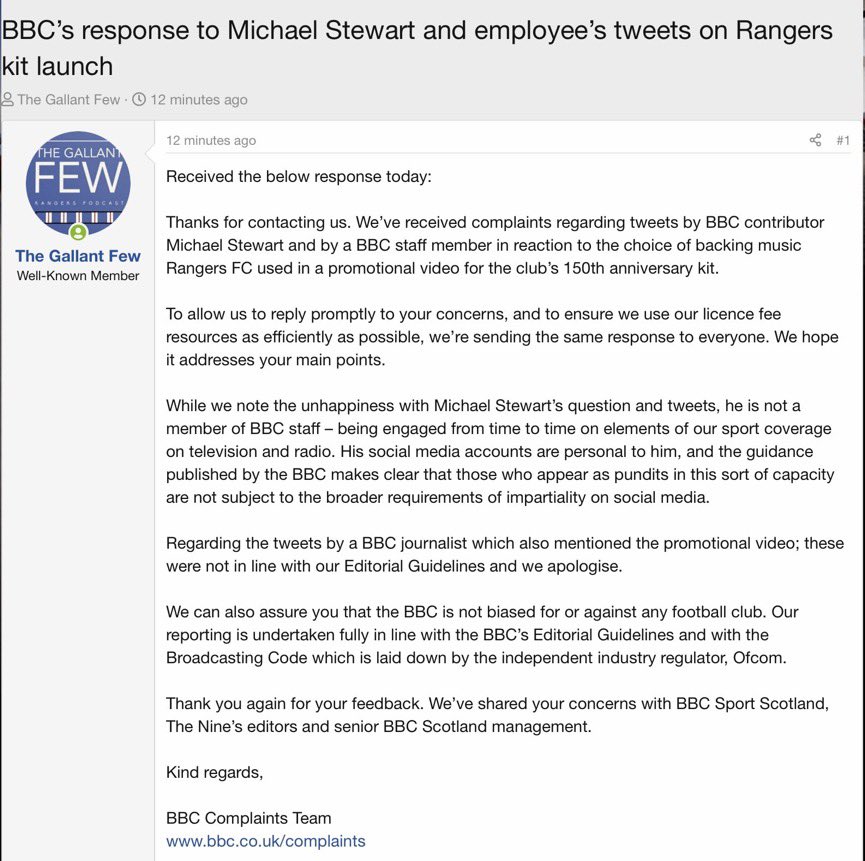 You can email the BBC to express your admiration and support for Stewarts work, or you can tweet them.
It would be nice if they could retain at least one person who tells it like it is……
But then again, Scottish football doesn't like people who tell it like it is, which means we need to support thise who do.