The balance of power, if such a thing exists in Scottish football, is shifting again.
After the collapse of Celtic last season, a line has been drawn and the rebuild is well and truly underway. Maybe so far only the foundations are in place, and maybe not even that, but the architect is probably happy with the work thats been done.
It looks like a couple of full backs will be here, probably even announced today, although the two in question, Liam Scales and Josip Juranovic played for their current clubs in europe last night…both scoring, incidentally, surely they won;t be allowed to play in the return matches ?
There's also talk of a striker, with the Greek fellow Giorgas Giakoumakis apparently in negotiations to join beofre the window closes.
Should all three end up in the hoops, and have even half the effect of those who have already joined, it will be an astonishing window.
Perhaps the best ever.
But we'll see. Let's not get ahead of ourselves, as there is a long way to go.
Hang on, sod that.
The Europa League final is in Seville this year….we've unfinished business over there, and I might just have a look at hotels and flights for next summer.
Why shouldn't we be optimistic.
Whether you're optimistic or pessimistic about something won;t alter the outcome, so you might as well be cheerful  during the process….
Then again, he said, as he crashed back down to earth, the best we can hope for this season is that the team gels and we have a squad capable of handling the intense style of football demanded by the manager.
What's interesting, and probably a huge advantage , is that the core of his team will all be on long term contracts as they signed at the same time, which means that we do have a couple of years to get it right, and with automatic champions league group stage entrance should Celtic win the league this year, the sky really is the limit.
Ironically, the one time when players are in place to handle the qualifiers could be the one time we won;t be in them.
But we are getting ahead of ourselves.
St mirren are next up tomorrow, and there must be no sign of complacency, which may yet become our biggest enemy.
As we saw last season, empires crumble from within, although the emergence of a couple of new leaders on the pitch in Hart and MacGregor point to that being a one off.
Maybe history will prove last year to be a glitch…or maybe there's more to it than that.
Some time ago there were whispers of additional work being done on players at certain clubs, and whilst i've no idea if its true, its certainly something that got me thinking.
Liverpool apparently introduced a three year plan which , given certain scientific advice, re training and supplements , would see them peak in year 2 of a three year cycle.
They did, winning the champions League.
After that they kind of fell apart.
A club..or company…in Glasgow was rumoured to have undertaken the same course of treatment, and they may have peaked in year two as well, with a league championship to their name.
This means they are now in year three, which means they will fall apart.
Of course, there is no evidence for any of this, save a few whispers on the wind….
Everyone at Ibrox looks pretty normal to me…..
and concentration levels are still high, with attention to detail a priority…..
The manager isn't panicking at all…..
"I've got confidence and belief we can get going and restart and show we can get back to the form we need – but we need to wake up now.
"We're in competitions and we're at a club where you can't afford to be where we are right now. 
"We should have made this game so much more comfortable than we have. We've only got ourselves to blame.
"It was way beyond tactics in the first half. Before you kick a ball or worry about tactics, you've got to show fight, desire and heart.
"You've got to be committed. You've got to run through walls. You've got to show these fans here that you're prepared to be all in.
"The first half performance was so far away from where I wanted it to be".
Mind you, the support are right behind him…although he'd probably rather they were in front of him where he could see them..as there seems to be the sound of steel sharpening in the air…

43′ 0-0 | RED: John Lundstram picks up a second yellow card.
Al drive him back to Sheffield if use want  
 An idea which didn't seem to appeal to at least one person in Sheffield
 The standard of their few signings this summer so far can be judged by the reaction of the supporters of the clubs they left…
 Factor in the immediate need for cash and they seem certain to lose a few players to raise the desired amount…as it is now clear their share issue failed….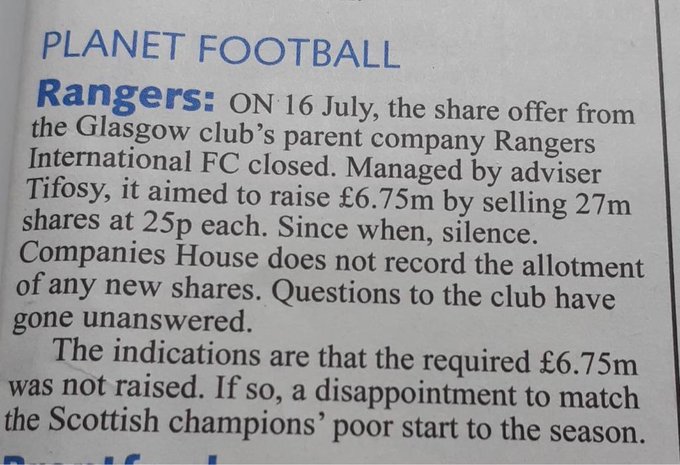 The reason I mention all of this is not to gloat.
 Well, not entirely to gloat, but to serve as a warning.
 They are in serious trouble, on and off the field.
 Back in 2012, I mentioned that this particular cancer needed to be cut from Scottish football in order for the patient to survive.
 The cancer is back, and the patient is seriously ill.
 This time, no five way agreements, no hiding behind a compliant media or complaining about the top tier being shut.
 This time make sure it's gone, and take away enough of what surrounds it to ensure it won't come back.
 We have a second chance, and it must not be wasted.
 Which reminds me, it's Friday, and that means it's time for the
Knob of the Week
 It's a blast from the past, so younger readers might not remember that this guy once more or less made the title his own.
 Well, he's back to claim what is rightfully his…..
 Recently, almost unnoticed…and if it wasn't for videoCelts, i wouldn't have seen it…regan offered his opinion on the current political scene…where he condemned those involved in "cronyism and corruption "
 Stewart Regan, former head of corruption at the SFA, this week , you might well have earned your place in the
 Yesterday, we had this….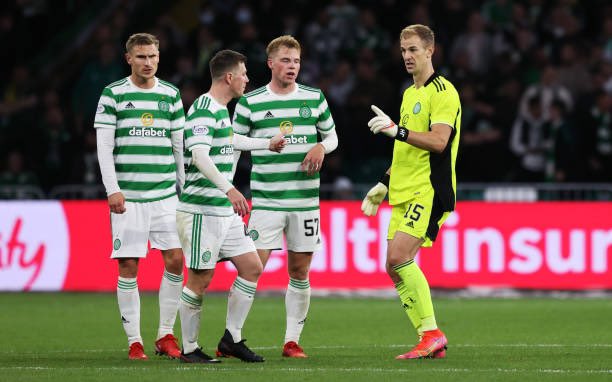 the Real Anton Rogan  
 I'll sort out the back line, you sort out the rest   
 Sometimes it's better to tell it like it was….. which means an honorable mention for this one….
Caption – 'Tactics? What is this witchcraft and sorcery you speak of..??'   
Today….