Amidst all the statistics and analysis on last nights match, only one bears any kind of relevance.
Jablonec 2, Celtic 4.
Oh, and the fact that for the first time in a long time, Celtic didn't concede any of their goals from a set piece.
Let's face it. analytics are bollocks, and the case for the prosecution rests on evidence such as this…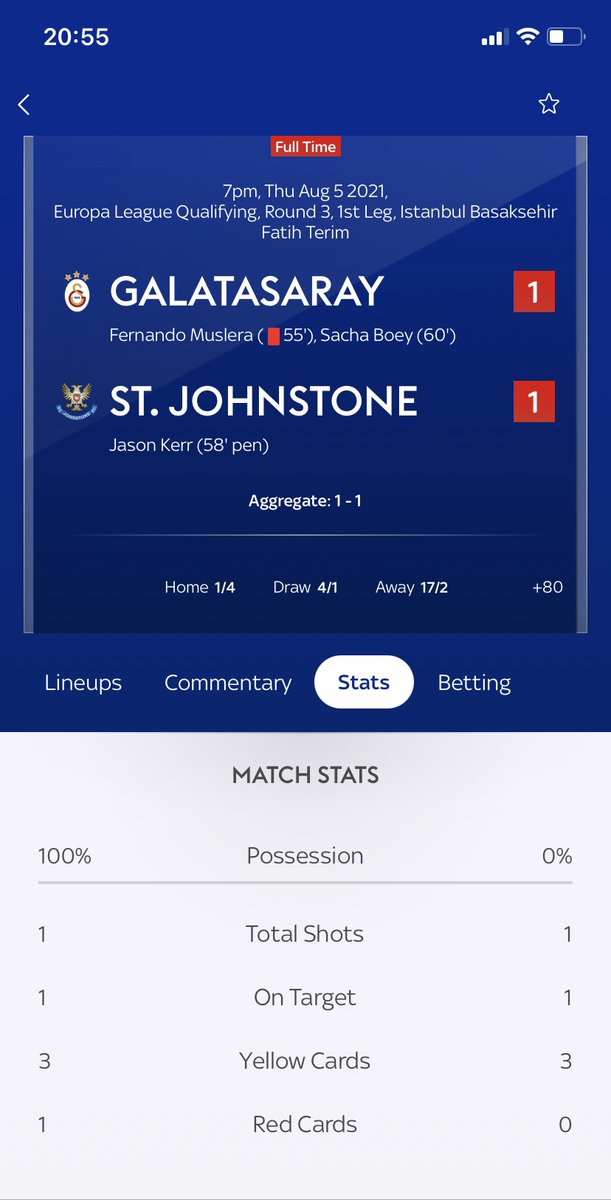 An outstanding result for the Perth men, made even more remarkable by the fact they never actually had the ball.
So you'll forgive me, if as in life itself, I restrict my comments to what I saw during the game, and not how many times a player lived up to his expected goals or matched his average heading count.
Joe Hart made his debut, and the immediate impact was that Celtic looked optimistic if not confident that corner kicks could now be successfully defended…and they were. Same with free kicks.
Hart has a presence, and is fairly vocal as well.
Even though it was an entirely new back five, and he was in a completely new environment, he looked in charge, and that takes not only balls, but confidence and experience.
Which is what we've been missing.
Carl Starfelt is no shrinking violet either. He needs a bit of help back there, and an understanding with whoever eventually ends up being his two regular partners…Ange wants two more centre halves, not just one…and then we'll be a little more capable of nullifying that old chestnut of a forward running between our two central men who simply look at each other hoping the other makes a move.
That will come, and the manager has clearly decided that during the current rebuild, it's not fair to throw that responsibility onto the likes of Murray and Welsh, whose time will come.
There's a section of the Celtic support who prefer to criticise rather than praise, and the manager will not expose the youngsters to their wrath.
Quite rightly, as well.
Ralston and Taylor at full back need to develop their pace to play the inverted full back role, which leaves them exposed a wee bit to counter attacks, but they are willing and able to learn, so whilst they may be deemed scapegoats for now, their mental strength is way beyond their years, and they are coping with supporters who still blame them for not being Danny mcgrain and Keiran Tierney.
The key here is to love the ones we're with….
In midfield the movement is getting quicker, the desire to move forward when it is safe to do so seems to be becoming almost natural, there's still a ways to go, but at least that way isn't sidieways, and this is ably supported by the movement of the front three.
It's difficult to spot off the ball running and movement via the medium of television, and even more difficult to do it with the graveyard whispers of Liam MacLoed and his mournful sidekick Charlie Mulgrew, but if you turn the sound down, you'll spot that the front three never stopped moving into space, never stopped looking for the ball.
Which meant there were plenty of chances, and although it's been a long time since Celtic scored four goals away from home anywhere, it really could have been more.
Which brings me to Kyogo…I know he was apparently a winger, at least according to reports, but he has a  strikers instinct, and if you watch his goal, he chips the keeper after perhaps noticing that previous Celtic attempts indicated that the keeper would go low.
Perhaps we should check the stats…
In fact, Kyogos goal was a refreshing move from the usual Celtic strike policy of hitting the ball straight at the keeper, and although a small change, it's an important factor in the way the players are beginning to think.
Something else that can't be measured in stats, while i'm harping on about it, is attitude.
Ryan Christie put his head where the boots are normally flying to score Celtic's fourth goal.
The team are ahead away from home in Europe, and he flung himself at the ball to score. Sure, he could have got injured, but the hunger to score is indicative of the way Celtic are going to play.
The manager is getting his ideas across.
We're not there yet, there's a hell of a way to go.
But we are at least heading in the right direction.
One other thing…the away strip…did it make it easier to find a team mate with a pass, or spot his movement ? There's a reason why Real Madrid wear white, you know….
Of course, this new Celtic, the one that is taking root and beginning to flower, is not the one that the media want to see.
So , largely, they have ignored it and continued with their own narrative,  which as ever, is only loosely connected with reality.
Martin Watt , of BBC Scotland, watched the same game as we did… tweeted under the headline;
Postecoglou earns nervy first win as Celtic overcome Jablonec in Europa League 
he went on to describe the action….
Having fallen in the Champions League qualifiers to Denmark's Midtjylland, Celtic's second chance in Europe brought much-needed respite for Postecoglou amid a tumultuous start to this tenure.
The drop in stature from Europe's premier club competition was illustrated by the sparse, 6000-capacity stadium, with one end populated by trees rather than seats. A glamour tie this was not.
Postecoglou pitched former England goalkeeper Joe Hart straight in for a debut and made a big call at the other end of the pitch by dropping Odsonne Edouard.
The off-form Frenchman could have few complaints after two goals in his last 11 games and his replacement, Furuhashi, marked his first start with a lovely finish for his first goal.
However, two soft concessions undermined Celtic's positive attacking play and their defence looked ill at ease throughout.
Celtic were in control and cruising – then their defence crumbled. A simple lob down the middle caught the visitors static and Vaclav Pilar strolled through to stab the ball past the helpless Hart.
The Scottish side looked to reassert their authority against opponents who finished a distant third in the Czech top fight last season.
Abada, McGregor and Turnbull all went close and Furuhashi blazed over from four yards after Abada's deflected effort rebounded off a post.
Celtic should have been out of sight, but sloppiness crept in as Jablonec gained a foothold. Vojtech Kubista volleyed over, Pilar had a drive saved by Hart, and Marek Plasil's snap-shot took a nick off Greg Taylor to whizz narrowly past.
Forrest quelled the growing unease, with Abada again integral. The Israeli burst through the middle, had a strike parried by Hanus, and Forrest squeezed in the rebound from an awkward angle.
But Celtic were again caught out at the back as Malinsky skinned Carl Starfelt and his curling effort was touched on to the post by Hart, with Bitton's attempt to clear off the line ending up in the net.
Substitute Christie finally settled a breathless contest, diving to meet Forrest's delivery and put Celtic within touching distance of the next round. 
 Reading that, we were lucky….. and nervy ?
 You'll note he dwells on the negatives…whereas all I saw were positives.
 Make your own mind up.
 However, just as a smile was creeping back onto my face, and possibly even yours, we get this…
#CELFKJ
tickets on sale to STHs!
 With an increased capacity crowd permitted to attend – it's time to get Paradise rocking once more, as we are given the green light to bring our supporters home!
 Full details,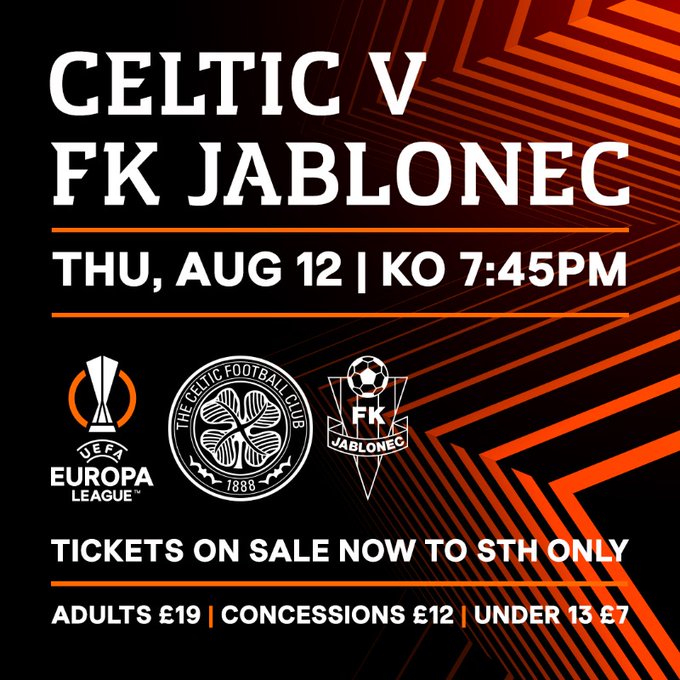 Instead of seeing it as an emotional return to our spiritual home, and marketing it as such to supporters who have shelled out around 12 to 1500 pounds and have yet to see the product they've paid for by announcing it's free to season book holders, the board have shot themselves in the foot , and pretty much most of the leg, by charging for it.
As a character created for me when it's my round says…..
If they keep treating us like customers we'll start to exercise our consumer rights….and stop consuming.
Friday it is, and so as the Diary gets back to its own somewhat elastic routine, it's time for that old favourite , the Etims
Knob of the Week 
The Scotsman, which along with the Herald, used to be a newspaper of note. A worthy addition to any living room.
Their  broadsheet size made them an almost statutory requirement in thousands of households every morning…
Sadly, as the years have gone by and central heating has improved our day to day lives, these newspapers have had to rely on content rather than shape, and the Scotsman hasn;t got the hang of it yet.
Murdo Fraser is an MP at holyrood, which is a mystery right up there with anything Arhtur C Clarke presented, and he produced this drivel for the paper…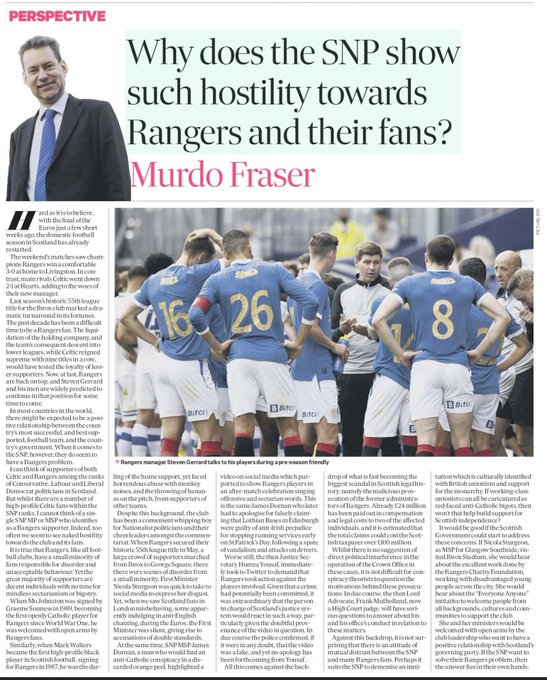 This contribution to Scottish opinion has earned Murdo the title of Etims
Knob of the Week 
And i get the feeling it won't be for the first time.
And now, your thoughts please, on this….