It was inevitable really.
Wealthy young athletes with enough money to retire for life at an age where most people don't even know what they want to do with their life are told to stay at home for a few months due to a global pandemic that they  they think only affects old people and those who already had a cough decide that they are bored.
We saw Aberdeen players go out on the beer at the weekend, and now we've seen a second Celtic layer decide that whilst its all very sad that people are dying in their thousands it doesn't really concern them.
Bolingoli Boli had a few days off in the week, and chose to go to Spain for whatever reason. He then featured for the last five minutes of Celtic's horror show against Kilmarnock, where frankly the whole team looked as though everything going on around them was of little concern to them, and put the whole squad and their families at risk of infection.
Whether or not you agree with the decision of the British government to impose quarantine on travellers from Spain, or indeed the lack of a written statute confirming it as law, is irrelevant.
What matters here is the gross disregard for safety when dealing with a virus that is surrounded by so much misinformation and confusion, a young man has decided that he knows best and to hell with the consequences.
Scotland has managed to avoid a covid related death for a couple of weeks now, and that has largely been down to strong leadership from Holyrood and common sense from the public.
Why do footballers think they are above all that ?
With Leigh Griffiths holding a house party it appears, on the face of it, that management has not stressed enough the importance of complying with the rules, and more importantly perhaps, the question os out there as to whether or not anyone cares.
It would be unfair to make Boli a scapegoat, because undoubtedly it's not just a Celtic or Scottish problem, as we saw a week or two ago when a few clubs disregarded the rules on regular testing, saying that they had misunderstood the rules, which hints again that they are not taking the threat of a resurgence in deaths seriously enough for the industry to be allowed special status ahead of others.
It's certain that it's happeneing in england as well, but as the company that shows the football is owned by the same people that by and large write about it, much will be kept away from the public eye, although one or two "sex parties " have been documented.
From this, its clear that although there is a desire for football to be back on the agenda, thise involved in the sport simply cannot be trusted to behave in a way that is safe and responsible, and so with that in mind, the season should be suspended until they can.
Which judging from the first two weeks of action, won;t be any time soon.
It's time to put things into perspective.
Football is not more important than life or death.
Boli issued a statement last night which confirmed the stories about his jaunt are correct…
"I have made a huge mistake.
"I want to apologise to my manager, my team mates, the supporters, everyone at Celtic and so many others for letting them down so badly.  
"I am guilty of a major error of judgement. I know what I did was wrong and I know that I must now deal with the consequences."
One report suggests that two subsequent Covid tests have proved negative, but thats not the point.
The point is that football is in a priviliged position, and there are rules to be adhered to. It doesn't take a great leap to realise that if they aren't then there will be no football, and the game should decide to call a halt now before something serious happens.
First minister Nicola Sturgeon will issue a statement at some point, but advisors have told her to wait until she has calmed down….
Elsewhere, Celtic will face Ferencvaros or Djuurgarden should they overcome Reykjavik next week in the second Champions League qualifier, should the game go ahead in the first place.

UEFA have confirmed the kick off time and date on their website as one week from today, with a 7.45 kick off at Celtic Park.
Meanwhile, despite all that is going on, Celtic still have to plan for this competition as though we expect to actually play in it, and Moravcik 67 gives a little bit of information on the squad, and why we are a bit light…
Celtic have until 11pm on Wednesday to name our List A squad for the 1st round match against KR Reykjavik.
What does this mean?
Here's a look at how the squad system works, and why we still have places for some new additions. 
UEFA allow each team 2 squads to call upon.
List A and List B.
List B is the easy one. It's for the youngsters – any player born after 1/1/1999, who has been eligible to play for the club for 2 uninterrupted years since their 15th birthday. 
For teams with a good youth system, or who sign young players to develop, List B is a godsend.
It adds depth to the main squad.
Last year, among others, we had both Ajer and Edouard on List B – meaning we didn't need use a place in the main squad for them. 
This year we won't get the same benefit – Johnston, Henderson and Dembele are the most recognisable names that will be on the list, along with others around the fringes of the team – Robertson, McInroy, etc.
A club can have as many players on List B as it wants. 
List A is the main squad.
A club is guaranteed at least 17 players for the list, but it can go up to 25 players if the club meets certain criteria relating to homegrown players.
UEFA made changes in the 2000s to give clubs an incentive to use players trained in their country. 
They defined two different types of homegrown player – club trained, and association trained.
Whether a player falls into either category is decided by where they were registered between the ages of 15 and 21 – roughly.
36 months is the important time length here. 
To qualify as club trained, a player must have been registered at that one particular club for 3 seasons, or 36 months between 15 and 21.
That's a simplification.
The full regulation is attached.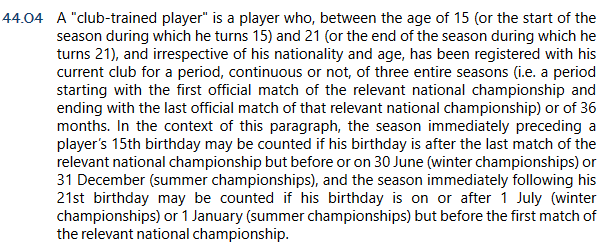 So, for example, Forrest and McGregor both count as club trained for Celtic. 
To qualify as association trained, the player must have been registered with any club in that association for 36 months between 15 and 21.
Bain, Griffiths, Taylor, Brown and Christie count as association trained.
Brown would qualify as club-trained for Hibs if he went back.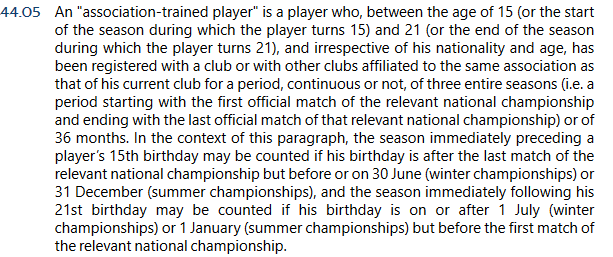 Back to the squad.
To have the full 25 players in the squad at least 8 of our players must be homegrown, and at least 4 of those 8 must be club trained.
Note that a club-trained player is also, by definition, an association trained player, so 8 club trained players is fine. 
If we don't have 8 homegrown players our squad size is reduced by 1 place for every player we're short.
Last season we could only put 23 players on List A because we only had 2 club-trained players – McGregor and Forrest.
For the full squad we needed 4. So we lost 2 places.  
Even though our EL squad had 6 association trained players to go with them, to get the full 25 players we needed a minimum of 4 players we trained ourselves.
We just got lucky that Edouard and Ajer were eligible for List B, or we'd have had to cut a couple of players. 
Note. Non homegrown players can only fill one of the other 17 places in the squad.
But homegrown playeres can also fill these places.
So we could have 25 club trained players and it'd be fine, or 4 club trained and 21 association trained.
I'm hoping this makes sense. 
Also, there are players on our List B of youngsters who would probably qualify already as club-trained – MJ for example.
While we could register them on List A, it doesnt' make any different overall. They qualify on either list, and there are no limits to List B. 
Currently, and this is just my opinion, our squad is looking a little light.
There is room for a few additions before we have to start considering taking people back out the squad.
This is our 20 man squad at present, with a few notable List B players.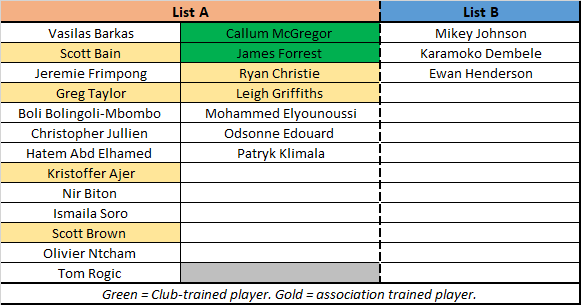 I've left out the like of Shved and Bayo, who likely won't be part of our European campaign.
Again, we only have 2 club trained players.
So we could only go up to 23 in our squad – meaning 3 more additions before we start taking people out.
Both Conor Hazard and Tony Ralston will qualify as club trained this year, and could be added for a little extra depth at no cost to allow us to go up to 25.
The only other way to reach 25 players is to sign someone who was trained at Celtic between 15 and 21. 
For the 3 remaining places, we could also add the youngsters who don't qualify for List B – the likes of Connell, Afolabi and O'Connell.
But that's last resort stuff, unless they do a Frimpong and suddenly break into the 1st team.
We'll sign more players before Oct 5th.  
Note that I'm including Ajer as association trained, rather than club trained.
I'm not 100% sure, but I think his time at Kilmarnock on loan will forever rule him out of being club-trained for us.
If I'm wrong then it would give us an extra squad place 
So who do we need to add?
The concensus seems to be at least one striker, and a CB to start with.
There's talk of a midfielder and needing a left back.
And I think we're still short on the wings.
I'm sure everyone has their own thoughts on this. 
 There's still plenty of scope for changes in the coming couple of months.
Particularly as we're clearly looking to strengthen, have some players who are in demand, and some questions about just what we're going to get out of certain players during the season. 
Final point.
Although we have to register List A about a week or so before each of the qualifying rounds, we can add 2 new players to it up to 11pm on the day before the game – as long as we stay within the squad rules.
One thought I had, if MacGregor, who was on loan at Notts County, can count as home trained, then it may well apply to Ajer.
On the transfer front, Shane Duffy has been telling his pals back in Derry that he is about to join Celtic, although there are no cross border regulations on quarantine between England and Scotland, it might be worth isolating him anyway for a while, and that bloke from West Ham who wasn't sure about Celtic is apperently sure now, and an added bonus is that we believe that there is no one in Switzerland with even so much of a wheeze so he won;t have to isolate before his medical, which is according to some this morning….
Not sure he'll be re-assured by the guys we've sent to pick him up from the airport though…
It really is turning out to be a bit of a chore, this football lark, and maybe it is best to give it a miss for a few months.
Yesterday, we had this….
Ralph Malph.. 
Griffiths.. 
Here.. 
Brown 
Here… 
Bolingoli.. 
Bolingoli… 
 BOLINFUCKINGOLI..  
Today…