Last Saturday, in a post match interview on the radio, Neil Doncaster said that the ficture list this season had 34 slots. 33 were already filled.
For Aberdeen and St Johnstone, it took just one week for the remaining slot to be filled.
Eight Aberdeen players decided to pop into the town for a few beers after their defeat to "rangers ", and two of them brought home the coronavirus along with their kebabs.
All eight are now in isolation, for fourteen days, during which the dons were scheduled to play three matches, St Johnstone being the first, which has been postponed.
The other two have been confirmed as going ahead, even though the circumstance, the Dons having eight players unavailable, are exactly the same.
The SPFL have again showed that they haven;t got a clue what they are doing.
There were certain rules put into place for those involved with football, and the Aberdeen players didn't follow them. As a result, they have to step away from the "bubble " and apart from a bit of a telling off from their club, they won't suffer any real punishment, nor will any example be set for the rest of the sport.
With a resurgence of the virus inevitable, the season is in jeopardy, and it's taken exactly one round of matches to show that there won't be many more.
Aberdeen have a first team squad of 33, and should be made to play the game.
Or should they ?
Their backroom staff and other players have been in contact with the eight, as have opponents "rangers " and their staff.
Whilst the players probably caught it during their night out, as there is a rise in infections in the area, it cannot be certain that is the case.
Therefore, it poses the question, should "rangers " have their game postponed ?
The situation has given rise to more questions than answers, and given the cautious, no nonsense approach by the Scottish government, one can only conclude that if it happens again, the season will be suspended, and then probably voided.
Which will allow Celtic fans to claim a tenth successive title next season, and "rangers " fans to claim it isn't ten in a row, pointing to the gap year as evidence.
Which keeps everyone buzzing along nicely and keeps the Old Firm brand alive….which is what everyone wants anyway.
Nicola Sturgeon was forthright in her opinion of the players behaviour…
"It is now clear that all eight of these players visited a bar in Aberdeen on Saturday night.
"In doing so they blatantly broke the rules that had been agreed between the SFA, the SPFL, and the Scottish government, which, to put it mildly, is completely unacceptable." 
"We are asking members of the public to behave in a highly precautionary manner," 
"When a football club ends up with players infected with Covid – and let's remember this is not through bad luck but through clear breaches of the rules – we cannot take even a small risk that they then spread the infection to other parts of the country." 
Football players are not noted for having a high level of intelligence, but even they should have thought that going into this bar in an area with renewed viral activity probably wasn't a good idea…..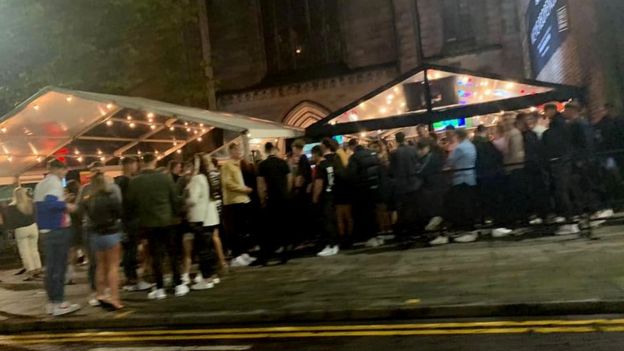 We've already seen a couple of clubs make mistakes around the twice weekly testing, which itself isn't foolproof, and the whole idea, from a national health perspective is beginning to look like it perhaps needed a bit more thought put into it.
Times journalist Graeme Spiers appeared to realise this, and immediately began to shift the blame…
I get that this is totally embarrassing for Aberdeen FC. But who was it who invited the risk of this happening by decreeing 3 weeks ago that our pubs and restaurants could reopen?
I know what he means. If those bastard Wright brothers hadn't invented the aeroplane then the World Trade Centre would still be standing today.
Sturgeon has tried to treat people like adults, but it hasn't worked. Johnson, in London, treats people like idiots and largely has retained his popularity because people don't like to hear about plagues and unemployment and poverty , but they will, so he just blames foreigners and everyone is happy because they have someone to blame thousands of deaths on.
Sturgeon is actually blaming the idiots themselves…..asking people to accept responsibility for their own actions, and some people can't actually get that into their heads, despite their clearly being plenty of space.
There is no one to blame for the Aberdeen players actions except for the Aberdeen players, and the club should either play the game or forfeit.
Or at the very least we should be told that they are postponing to avoid any risk of further infection, until everyone is certain it has been contained.
But they're not going to tell us that, and although they haven;t said as such, the season is already finely balanced between going ahead and being stopped.
Neil Lennon has spoken about the incident, and assured us that Celtic players are a little bit more mature about the situation…
"It's obviously a very unfortunate incident and has some serious ramifications for the game. It's a reminder to all the players and the staff that we have to be on our guard all of the time and follow the protocols in the right way.
"The players accept we need to tighten things up. We need to see how it goes over the next few weeks. We don't want a shutdown again, not just in sport but culturally and socially.
"We want people to have some sort of life. In terms of the players and the staff and myself, we need to be strict and knuckle down.
So, at least Celtic players are toeing the line.
HOUSE PARTY 
Celtic ace Griffiths throws surprise lockdown birthday party for girlfriend Caitlyn Melville
Had to be him, didn't it ?
There were pictures of the gathering all over social media, and although none of them appeared to actually show Griffiths being present, and there is no actual proof that he organised the bash, that isnt going to make any difference when he has to explain himself.
From those pictures it looks like rules were broken, and as it appeared to take place largely indoors, transmission of the virus may well have taken place, and that puts Griffiths at risk which in turn puts everyone else at risk.
Every thing re-opened too soon, especially pubs and clubs.
Not because the virus is still out there, but because people cannot be trusted to keep to the rules that made it possible to re-open in the first place.
Celtic face Kilmarnock at Rugby Park tomorrow, at least up until now.
If I was Lennon I'd be insisting that on the pitch layers are ruthless and relentless, making sure that they come away with three points and a few goals to make sure that when football is stopped, Celtic are at the top of the league, as anything else will see someone else declared champions, because the clubs can vote to end the season, as we have seen, and there is no lower limit as to how many games have to be played.
Paranoid ?
Paranoia is the mistaken belief that everyone is out to get you, and I don't think I'm being mistaken about this at all.
Douglas Ross, the new leader of the Scottish Conservative Party has vowed to quit refereeing if he becomes the First Minister of the country, confirming that he will be in the game for many more years yet.
This came after a picture emerged proving that all those chants towards him had basis in fact, as the somewhat expansive muscle growth in his right arm shows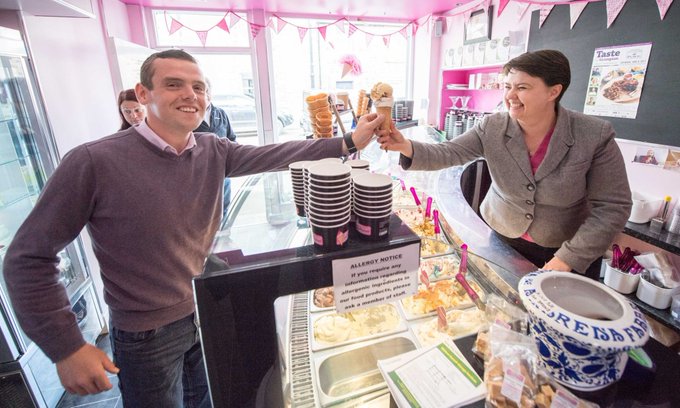 It is not known if any vigorous development of the arm took place either before or after this meeting.
Meanwhile, complaints about the quality of the new Castore kits continued to flood in, and some of them went to a Twitter parody account rather than the actual company, although he at least offered a wee bit of help…
Meanwhile, Alfredo Morelos looks to be coming to the end of the line at "rangers ". Manager Steven Gerrard has claimed the player has had his head turned by the transfer speculation placed in the media by the fledgling Galsgow club/company, and he's probably no longer playing at his full potential.
Though certainly a fuller figure than last season, in an attemt to convince suitors they'll get more for their money, there is actually a possibility that he'll spend another season in Glasgow , a prospect that seemed to delight him..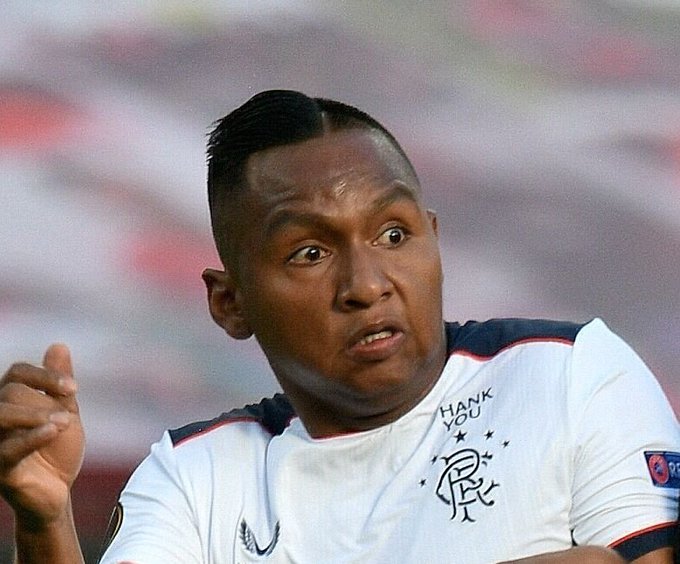 It's hard not to feel sympathy for the fellow, who has seen his value shrink from thirty or forty million down to just a few pounds, while his weight , probably down to comfort eating, rises by several pounds making it less and less likely they'll find a possible buyer, which means they won't be able to balance the books again and they'll be praying for another burst of Covid to avoid paying the bills…
With two Champions League places available to Scotland, they might have to wait until they're at least in second place before they start their shennanigans this time, but whatever or whenever it happens, we can be assured only that it will.
Back to Wednesday we go for this picture…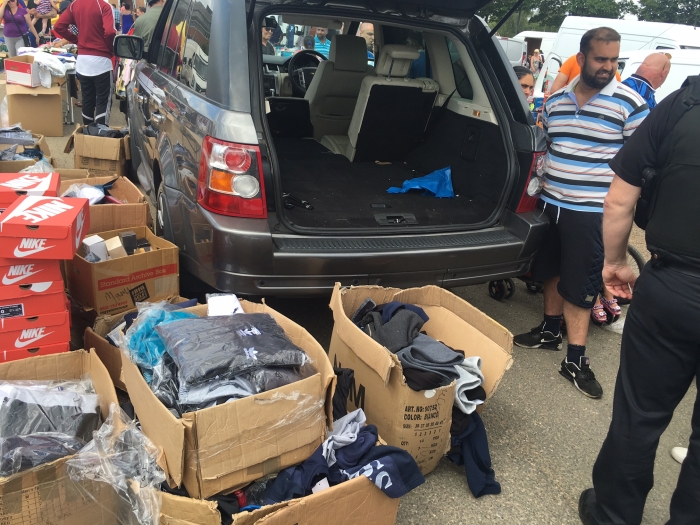 Caption,
When Mhemet sells your gear
from the back of his van
Thats Castore
Thats Castore
Today…