Crystal Palace are the latest club to be linked with a big bucks buy of Oddsone Edouard, who probably worries more about me spelling his name right than where he's going to play his football next season.
They join Arsenal, Leeds and Leicester on a list of non entities that have had the papers salivating over him leaving this summer, which would make way for Alfredo Morelos to join Celtic and show what he can do in a good team, as it appears he's told Gerrard that if
Si este lote no fuera tan horrible, no tendría que tirar mis juguetes del cochecito tan a menudo
My guess is Eddy-far easier to spell-will line up against Hamilton on August 2, should the season start as planned , in front of Sky Tvs cameras and probably not much else.
Arsenal, of course, already have Keiran Tierney on loan, which cost them a few quid, and have baulked at how much it would cost to actually own one of our better players.
The fixtures for the new season have been released, probably more in hope than expectation, and although Celtic get the traditional home start to unveil flags and things, Sky will be covering the game, so they'll probably miss that bit to show adverts or some donkey braying on about how "rangers " will mount a serious challenge.
Someone at the SPFL doesn't want that, though, having paired the new club/company with Aberdeen at Pittodrie the day before, meaning that there title challenge will be over about an hour and a half after it has begun.
Incidentally, the Celtic Hamilton game will kick off at 4.30pm on the Sunday, which hints at how much of a pain in the arse Sky are going to be next season.
Almost makes you want to see Nicola give the Johnson herd immunity policy a go……
In fairness, though, and credit must go to Sky for this, all 12 Premiership teams will be shown on Sky during August, which should make things more interesting.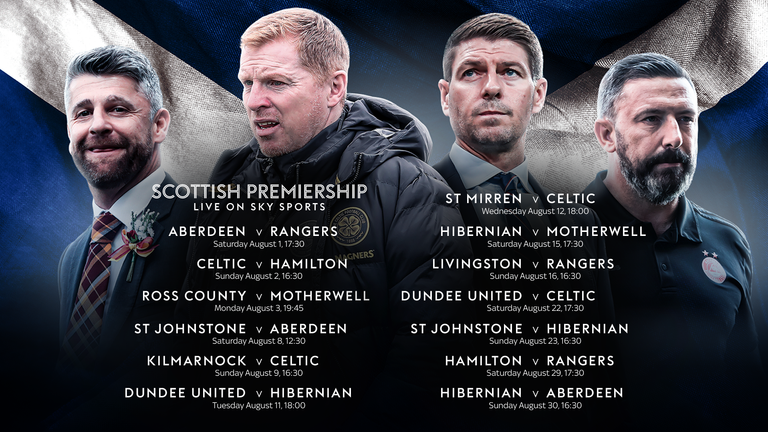 However, their presentation has left something to be desired of late, and although it's yet to be announced who they've roped in to burble on about the games, we can only hope its someone with a bot of enthusiasm, knowledge, and above all, coherence.
One anomaly from the fixture list is that the first Glasgow derby will be on October 17, which will be my 55th birthday, which is the only 55 anyone will reach this season.
you can plan your season with this handy list…. which has the other games on it.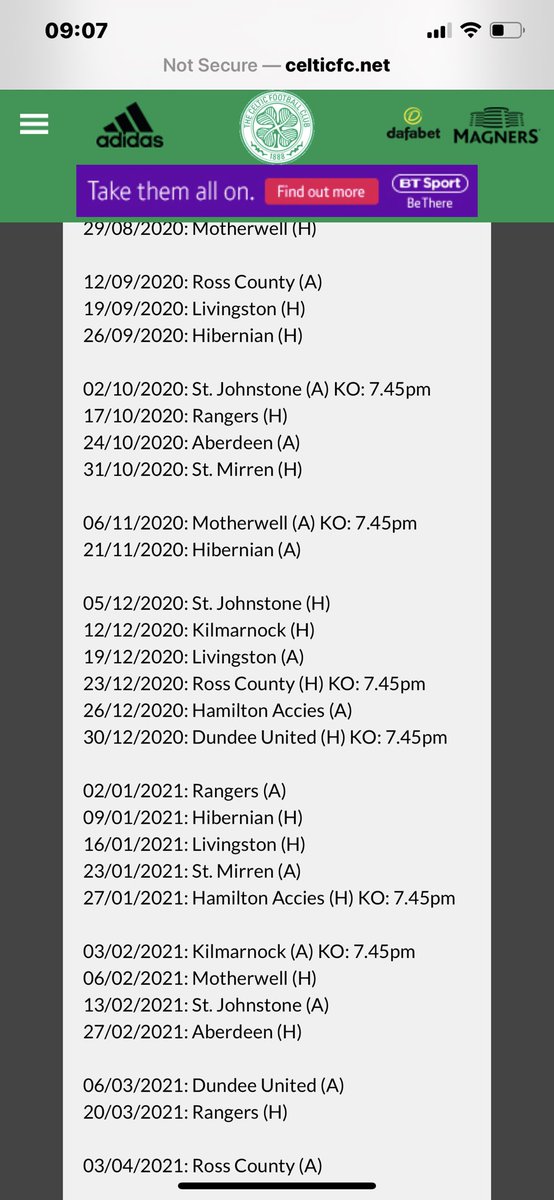 So, despite all the fuss, it's a thirty eight game season after all.
CQN have mentioned that Celtic have handed new or extended deals to eleven young players, which in a time of financial uncertainty shows that these kids must have something about them, and one in particular, Stephen Welsh, may be closer to the first team than even he thinks…..
Defender Stephen Welsh has signed a new three-year contract extension that will see him remain at the club until at least the summer of 2023, as CQN reported last week.
Adam Montgomery, Brody Paterson and Mathew Anderson have also agreed one-year extensions along with Adam Brooks and Paul Kennedy, according to the Scottish Daily Mail.
Five top kids have joined the signing stampede with their first professional contracts with the club.
Ben McPherson, Bruno Davidson, Joe Morrison and Ts'oanelo Lets'osa have all agreed three-year contracts, while Joseph Murphy has penned a two-year deal.  
Ts'oanela Lets'osa is the only one I have doubts about. I've only just learned how to spell Edouard, so lets hope he stays out of the picture for a while,
In fairness, CQN are struggling with spelling as well, with Mathew Anderson reportedly a bit miffed over his relegation to just one "t".
Speaking of people who don't like just one "t", maybe John Hartson will get a gig on Sky…
Though it's unlikely he'll give up a sunday dinner to appear at 4.30 on august 2. thankfully, that also means we might have seen the last of Kris "Klueless " Boyd on our screens, as the camera adds ten pounds and there's just no way even the widest of widescreens could accommodate that.
Gabriel Mckay joined the Daily Record's team of succulent spam suckers today, with this piece on Ryan Jack, who explained the secret weapon that has made him an even better player than he was last year….which, er, means it's no longer a secret.
Ryan Jack points to Rangers secret weapon as midfielder explains his Ibrox improvement
The 28-year-old feels his club form will bring international rewards. 
For whoever is playing Scotland, presumably.
Rangers midfielder Ryan Jack points to Michael Beale as the secret behind his progression at Ibrox.
The 28-year-old joined from Aberdeen in 2017 but initially struggled to adapt.
Under manager Steven Gerrard though his form has come on leaps and bounds, with Jack earning a new four-year contract in October.
But while it's Gerrard who rules the roost, it's first team coach Beale who has made the biggest difference. 
Actually, what really happened, is that Jack had believed all the nonsense in the papers about how good "rangers " were, and it hit his confidence, as he wondered if he could ever be good enough to get into that team.
Gradually, he realised they weren't very good at all, and he would fit right in, and so , with that much needed boost to his ego, he , er , fitted right in.
Although he puts it down to the coach, and his innovative techniques of, er, giving tips and pointers…. while he's doing coaching and stuff.
"I think the coaching we get here – Michael Beale does a lot of the coaching here and he has been excellent, especially for myself.
"He is always giving me little tips and pointers and the coaching and stuff he does is second to none and the training has been excellent.  
Presumably, Gerrard and MacAllistair don't bother with "coaching and stuff ", or even "tips and pointers ", which is why they hired a professional.
And just as i finish up, we had better start looking for another goalkeeper pronto, Southampton and Celtic, according to Neil Lennon, had a deal in place that would have seen Fraser Forster stay in glasgow, but the deal has "went cold on the players side "…
Well, bugger I down dead.
That pay cut was a bit less appealing once he thought about it properly….
He might as well stay away now, if he's not interested in being a part of history, then he can join the other badge kissers in oblivion.
Yesterday, we had this….
Caption – stevieG sends taxi round to make sure Morelos makes it to the 1st day of pre season training.  
Today….