Dossier day came and went and there were sighs of disappointment all round as it added exactly what we thought it would to the "debate " .
Nothing.
You can read the full text here, but you'll probably get fed up half way through….dossier
Effectively, there's a lot of claims, but no evidence, and the media have a problem in separating the two.
After being towed along a path for nearly a month now, the hacks must be severely disappointed in the destination.
They can be divided into three groups, largely based on their response to the nonsense.
First, there are those who slavishly consider "claims " to be "evidence "…and they all work for the BBC.
Sportsound Podcast: 07 May 20
We analyse the Rangers dossier and assess what impact it could have on the SPFL and Scottish football. Follow @BBCSportsound   
They don't analyse it, they frantically try to find something in it that backs up the claims, and when they don;t find any, they pretend they did.
We've seen how the Sportsound crew have used DUP MPs who have raised this issue in Westminster, and we've seen their reporters stubbornly refuse to criticise those at Ibrox for what can only be termed as bringing the game into disrepute, as well as the professional reputations of those at the SPFL, but not one member of the panel raised any questions about the behaviour of the new club, clearly going through it's troubled pre teen stage, and not one of them even pointed out that maybe the dossier wasn't quite what they expected.
Those stories about a detente between the Ibrox board and the BBC have certainly not been dismissed by anything we've seen or heard from either quarter.
Or this deft handling of a headline, ahead of a piece by Brian MacLauchlin…
SPFL: Rangers claim clubs unaware of £10m liability ahead of season vote
It's actually a potential liability, which is entirely different, as the first paragraph confirms…
Rangers claim clubs were not informed of a potential £10m liability and "substantial problems" with league reconstruction before they voted to end the season.
bizarrely, there is no mention of the claim that Neil Doncaster had ventured that the liability to Sky could be offset by the TV comapny taking up sponsorship of the league next season for a reduced fee, which shows he's at least thinking of other options, but that doesn't suit the narrative.
It's worth noting that the Sky option is part of the collective claim of malpractice against him, though it's difficult to see why.
Second, there are those in the media who accept that the dossier is nonsense, but still can't quite bring themselves to move on to the stage where they question the motives behind it.
Instead, they stick to the policy of building the siege mentality that is needed to shift season books…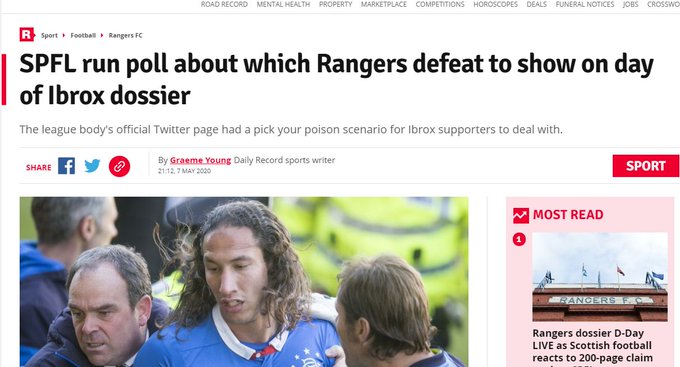 They will continue to build on that as time runs out for the new club/company, though with fans who have renewed having had their season books cancelled and the money not refunded, that might not work…
It does, however, have the sort of response from the hordes that was desired….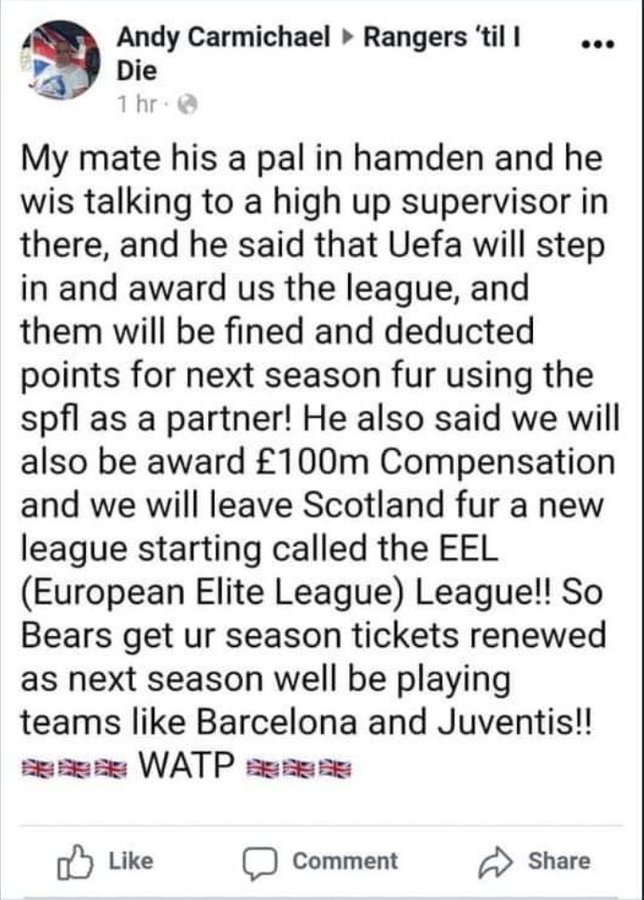 One headline actually goes so far as to report on something…
which could mean the Record hacks have had enough, but there is no real mention of what should happen next, especially when Doncaster passes this extract over to his lawyers…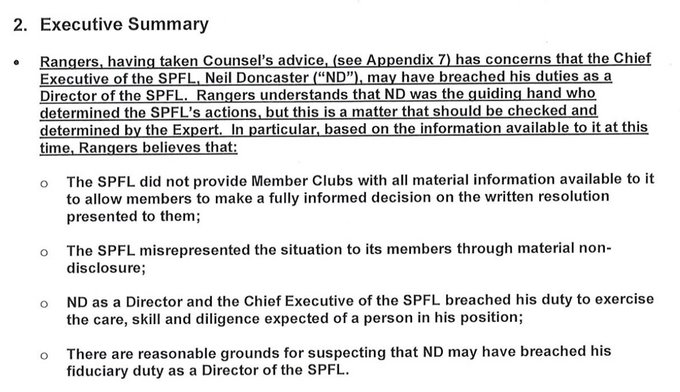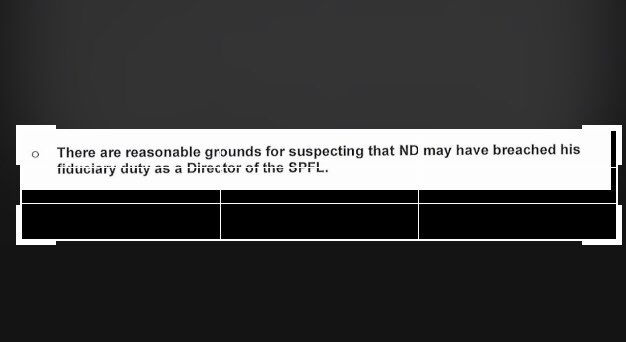 Thats interesting.
With Stewart Robertson believed to be the whistleblower who started the ball rolling with his "evidence ", one can only wonder when he'll be charged with breaching his fiduciary duty to the board of the SPFL.
The hacks know there is a story there, but can't quite bring themselves to treat it with the enthusiasm they should. They keep remembering a shop above a newsagents in Glasgow and other tittle tattle that they'd rather stayed as internet tittle tattle.
Then there's the third section of the media, which is the sole residence of Graeme Spiers…. the only one who does seem to finally have had enough of the bullshit….
Did Rangers MD Stewart Robertson seriously claim tonight: "At no point did we talk about bullying and coercion by SPFL staff; we've not said that anywhere." Have a nap, Stewart. Been a long day. 
I spend half my day reading this
#Rangersdossier
, trying to give it due time and respect, and then MD Stewart Robertson comes out with this preposterous stuff on Radio Clyde tonight. Which makes me think: what other spurious tosh is he capable of? He has derailed Rangers' case.
Robertson did indeed claim that "rangers " had not talked about bullying…speaking to Radio Clyde he said…
"At no point did we talk about corruption as they mentioned in their statement or bullying and coercion by SPFL staff, we've not said that anywhere.
"You show me where Rangers has talked about that. We haven't said that.
"Other people have created that narrative. That hasn't been said by Rangers.
"You just need to be careful in terms of these things where you go.
"But you need to be clear, at no point did we say any of the things in the SPFL's statement.
except, of course, when they did…. on April 10…
"Over the past 36 hours, we have received numerous reports from fellow Scottish clubs relating to attempts to coerce and bully them into voting for the SPFL's own resolution. We are proud that many fellow clubs will stand strong and not be swayed." 
Which, of course , will always get the hordes onside…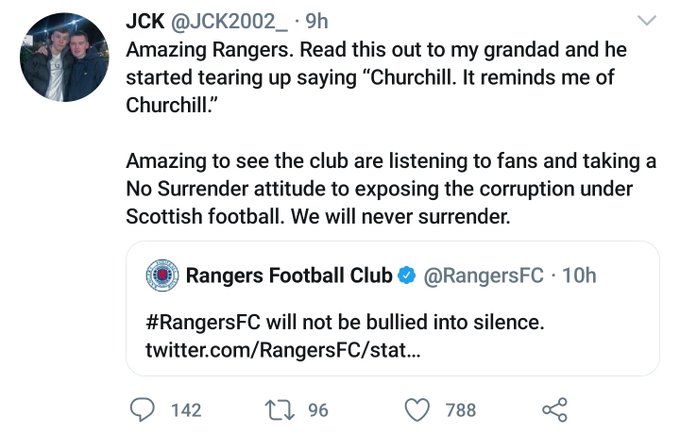 Reminds me of Churchill as well. But not for the same reasons….
We know a song about bullyingthat, don't we ?
Hullo Hullo!!! We are the bullied boys, Hullo Hullo!!!
Oot the pram we threw our toys.
We stood around in Twenty 12 surrendered then we died.
We are the Newco bullied boys.
Spiers has called it out, which will mean other outlets will follow, but expect them to quietly drop the matter.
The SPFL will now consider disrepute charges as well as breaches of fiduciary duty.
This time, though, the cancer which came back must be thoroughly cut away, or it will kill the body of Scottish football….which is already in a vulnerable state.
But that will take a massive turnaround from the media, all sections of it. That which they have been afraid to shine the spotlight on must be taken out of the shadows.
If they want a dossier that would go some way to exposing what "rangers " tried to allege , one does it exist, and it has existed for a few years now….
The SPFL are the representative body for the clubs, and the clubs have made it perfectly clear that they are no longer afraid of losing the blue pound, as its simply not value for money.
The SFA, who have remained quiet must now see that they have lost the power battle, and also condemn the Ibrox club, or at the very least show exactly what was in the Ibrox interim accounts that they will use to obtain a European licence for them, because while all of us are watching what the club/company is doing, don't forget that their pals at Hampden will be doing all they can to help them.
As Auldheid tweeted, with a certain amount of disdain….
Call that a dossier? THIS is a dossier. All claims evidence supported. Argue the meaning but dont ignore. https://res12.uk
put together by Scottish Football Monitor contributors who seek better governance.  
Isn't it a little strange that a reporter so hell bent on bringing down the SPFL refuses to comment on real evidence instead of repeating PR guff ?
Then again, it's not just the mainstream media in Scotland who don;t seem to read their own stuff back to them.
Elaine Paige, the singer, has been painted in a different light this week….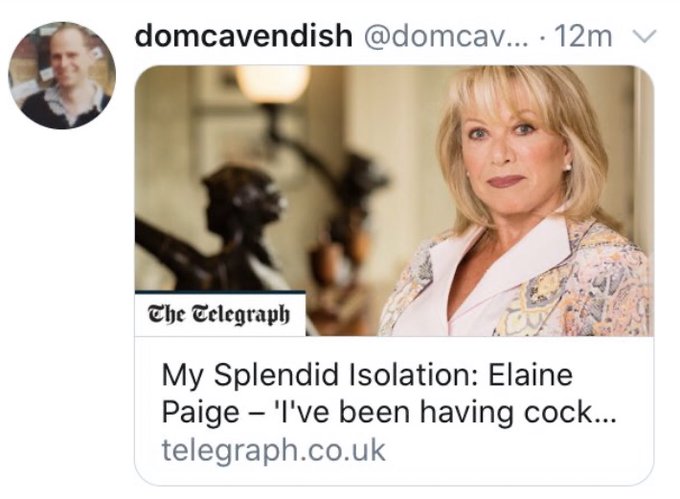 She did clarify the matter, however, which did kind of reduce the effect of the headline…
I think I need to clarify to
readers, who may have seen the truncated headline, that the full quote is …. "I've been having cocktails parties on Zoom" … really, matron!! #carryonisolation   
On an entirely different note, the Etims podcast-listen to last nights for live reaction-made the quarter finals of the Podcast Cup, where we will face the team from 90 minute cynic.
Already there have been allegations of bullying and coercion in the voting, and calls for the immediate suspension of the Etims team who have flagrantly abused their position by prompting both diary readers to vote on this this twitter page…
QF1 ETims (
) v 90 Minute Cynic (
)
 There are twelve hours left to vote, so get your fingers out.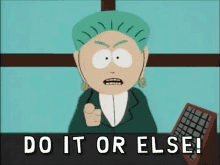 Yesterday, we had this….
Caption
Thanks for keeping the real evidence back Peter
today…